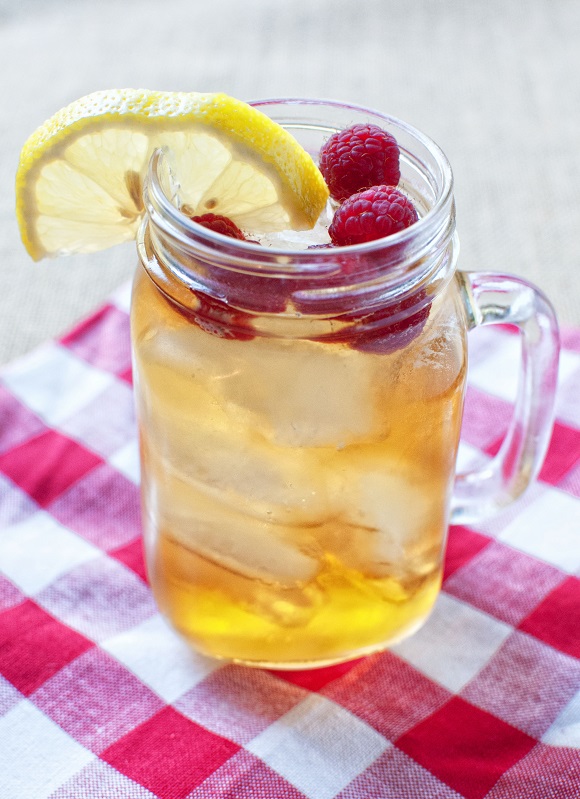 What you will get from this post:
What basic booze to have in your liquor cabinet to build a great home bar
A twist on a classic cocktail
A great way to use almost every type of liquor in your liquor cabinet
Happy Tipsy Tuesday fellow lushes. This week's cocktail is one that is, well, let's be honest I sure fire way to get you drunk. Long Island Ice Tea is a drink that combines almost every major liquor out there all rolled into one cocktail that taste surprisingly like tea…especially considering there isn't any tea in there. I chose to take just a little twist on it.
First let's talk about your home bar. I'm not going to get into the glassware, accompaniments and all that goodness, today I am just talking booze. There comes a time in your life when you transition from making vodka soaked watermelon and jungle juice in your bathtub to actually having people over to entertain and them possible wanting something more than Everclear and Koolaid. That's when you need to start building up your bar.
Now unless you have a lot of money (if so can we be friends :D? ), you are going to need to build it up over time. So first and foremost start with booze you actually really like. Then each paycheck add one bottle to your collection. If it's an alcohol you like and use often I suggest going to a place like Costco to buy large quantities. If it's something you don't use often a smaller bottle will do. A surprising place that is great for booze (not in all locations) is Trader Joe's with their own label brand being quite good!
Here's my suggestion:
Vodka: Both Trader Joe's and Costco carry a version under their label and both are good for the price. Quality and price in vodka can range GREATLY. If you are drinking it straight of course then you are going to want a higher quality. Mixing it with a ton of other stuff? Then you can go cheap.
Kamikaze, Cape Cod, Moscow Mule, Cosmopolitan, White Russians, and Vodka Gimlet are a few of the popular uses of vodka.
Vodka cocktails here on the blog are: Peach Moonshine Refresher, Spiked Key Lime Limeade, Peachy Keen Cooler, Strawberry Cherry Muddler , Huckleberry Lemonade Sipper,  and Red Velvet Vodka Fizz.
Gin: Not just a great card game but the cornerstone of making a classic martini. Made from juniper berries it does have quite a bit of flavor. People seem to really like it or really not. It comes in four varieties: London Dry, Plymouth, Old Tom, and Genever. Most people start with London Dry with Tanqueray (what I like) , Bombay Sapphire, and Beefeater tend to be the most popular.
Martinis, Pimm's Cup, Gin Fizz, Tom Collins, and a Gin and Tonic are a few of the popular uses of gin.
Tequila: Causing man a regret shots of tequila tend to get people in trouble. Served with lime and salt the tequila shot always sounds good until the next morning. 🙂 Tequila comes from the blue agave and Patron and Jose Cuervo are the two I tend to buy. If you are going to be doing shots I suggest a designated driver and sticking with silver tequila. If you are mixing it with other things you can go for the cheaper gold tequila.
Margaritas, Tequila Sunrise, El Toro Loco, Paloma,  and Chimayó cocktail  are some of the popular drinks using tequila as well as my Key Lime Sorbet Tequila Cocktail, My version of a Skinny Chick Margarita, and Key Lime Raspberry Margarita.
Rum: There is light and dark rum. I suggest starting off with light and then adding dark later. I use white rum far more than dark but that's just me. Most island cocktails involve rum and so if you are in the middle of Winter wishing you were on a tropical island just whip out the rum and pretend. Just don't drink so much that you actually think you are there. 😛
Pina Colada, Cuba Libre, Dark and Stormy, Daiquiri, Mai-Tai, Mojito, and Planter's Punch are some of the popular drinks using rum.
Whiskey: Now there are tons of different types and people will argue that bourbon needs its own category but for now just go with it. There's Irish whiskey, Scotch whisky, Tennessee whiskey, Bourbon whiskey, Canadian whisky and yes they don't use the e in Canada and Scotland. I obviously use a lot of Jack Daniel's on here for mixing cocktails and I think it's a good option if you are using it for cocktails. I'm not even going to recommend one for sipping. We do buy small local batch bourbon as well as get some from Trader Joe's for use in baking.
Whiskey Sour, Rob Roy, Old Fashioned, Mint Julip, Manhattan, Irish Coffee, and Jack and Coke are some examples of whiskey in cocktails. And of course my Jack and Coke Ice Cream Float Shots.
Orange Flavored Liqueur: I thought about not putting this in but really this is one that gets used in a lot of mixed drinks. You will see Triple Sec called for in a lot of drinks but that is a specific brand which is the cheaper version. Grand Marnier and Cointreau are the ones I lean towards. Grand Marnier is used a lot in baking. I also recently purchased (and used in today's recipe) Patron Citrónge but haven't used it enough to say any real thoughts on it yet.
Side Car, Cosmopolitan, Margaritas, Mai-Tai, Blue Hawaii, and Kamikaze are some cocktails using orange liqueur.
This weeks Date Night In has a picnic theme and so that's why I thought Long Island Ice Tea. I decided to mix it up a little by adding the raspberry. I suggest buying a mini bottle of the Chambord as it can be a costly liqueur but I do own a full bottle because we use it in baking as well as cocktails in this house…it's also great in hot chocolate. Just saying. 😀
If you haven't signed up to get on my email subscription yet you really should. Not only is it a recap of the weeks recipes you can get bonus recipes and a more quirky look into my life…with this weeks email covering my adventure to see the Star Wars Costume traveling display from the Smithsonian and my lunch with the Beeroness.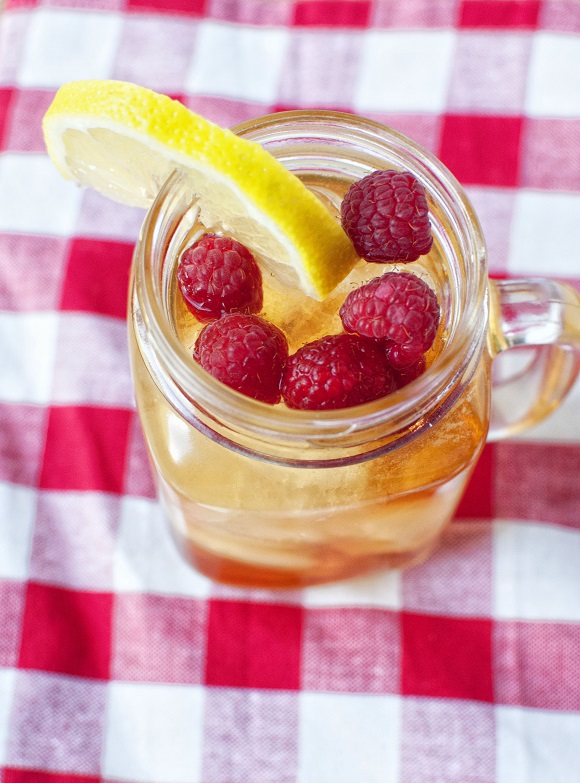 Raspberry Long Island Ice Tea
2 oz  raspberry flavored vodka
2 oz rum
2 oz tequila
2 oz gin
2 oz triple sec
3 oz sweet and sour mix
2 oz Chambord raspberry liqueur
splash of coke
Mix ingredients together over ice in a glass.
Pour into a shaker and give one brisk shake.
Pour back into the glass and make sure there is a touch of fizz at the top.
Garnish with raspberries and lemon.