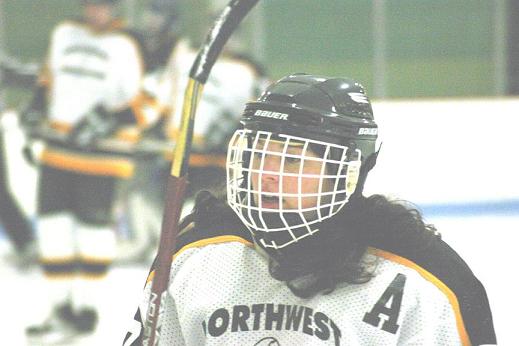 Hi!
I'm Peabody. Yep, that is my first name…go with it. I live north of Seattle, WA with my husband MDP (my defensive partner…hockey) and a crazy cocker spaniel. Every other weekend I have my husbands's two teenagers to feed so I have been moving more towards family friendly food on this blog.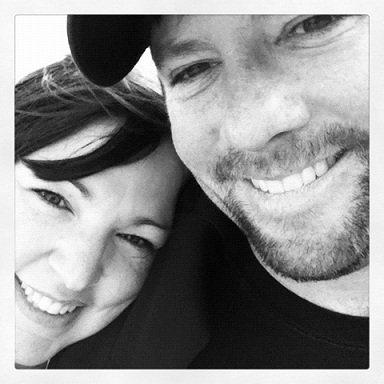 I love food. I have always loved food. More importantly, I have always loved sweets. Almost every great memory in my life can be traced back to food in some form or manner.
In March 04 I married the world's pickiest eater. The following year I saw a food blog. I pointed to it and told my now ex-husband, "I want one of those". And so it began.
Though I have had a few pastry classes along the way, it was really my mother and my own curiosity in the kitchen that has shaped my baking/cooking. This blog was created to be my creative outlet since the picky eater likes to stick to Sloppy Joe's and Chocolate Chip Cookies. 😉 My main goal on this blog is:
1. To inspire you to make what you see.
2. Make it simple enough so that the majority of you can make it.
3. Try not to get too wild with the weird ingredients so you can find them too.
4. To remind you that no life is worth living without an little indulgence once in awhile
When I am not writing my little blog the likelihood of me being at a hockey rink is very high. Not only do I score keep hockey, I play it, with guys. I score keep to get money to play hockey. 😉 So needless, to say, I have a cot at the rink.
Peabody in a nutshell:
Likes:
my all food eating husband (MDP), my husbands Wonderful teens, Crazy Cocker Spaniel, Most of my Family (including my ex-husband who I consider family) 😛
Fall/Winter, Snow, Gray Skies, Drizzly Rain
Hockey: playing or watching
Calgary Flames
Red Vines, Swedish Fish, Whoppers, Almond Roca
Big Red Soda, Stewart's Key Lime Soda, White Wine, Good Beer, Green Tea, Pumpkin Spice Lattes, Hot Chocolate (with marshmallows)
Bread Pudding, Cinnamon Rolls with Cream Cheese Frosting, White Cake with Buttercream Frosting
The smell of clean sheets, cookies baking, my dogs feet (they smell like Fritos), the smell of the ice at the hockey rink, vanilla
Monopoly, Life, Sorry, Yatzee, UNO
Alternative, Punk Music
The Big Bang Theory, Top Chef, Project Runway, Gossip Girl (hangs head), Dancing with the Stars (hangs head again), The Voice
Shawshank Redemption, Amazon Women on the Moon, Two Weeks Notice, Princess Bride, Pretty in Pink, Pride and Prejudice, Star Wars
Dislikes:
Summer, Hot Weather, Direct Sunlight (no, not a vampire)
Basketball (I suck at it and watching it bores me to tears)
The people who create drama in my life.
Detroit Red Wings
Good N' Plenty, Black Licorice
Watered Down Beer (Coors, Bud, etc)
Desserts that they make spicy (like the trend with chilies in chocolate)
The smell of dog poo on my shoe (thanks Crazy Cocker Spaniel), fake cherry smell, nursing homes
Candyland (I have played it too many times with children…and they cheat or throw a tantrum), Phase 10 (again, had to play this with nephew and nieces for hours)
Uber country songs, rap
Raiders of the Lost Ark movies, Harry Potter Movies, Lord of the Rings Movies
I think that is enough info for you now.
Thanks for stopping by and hopefully you will get baking!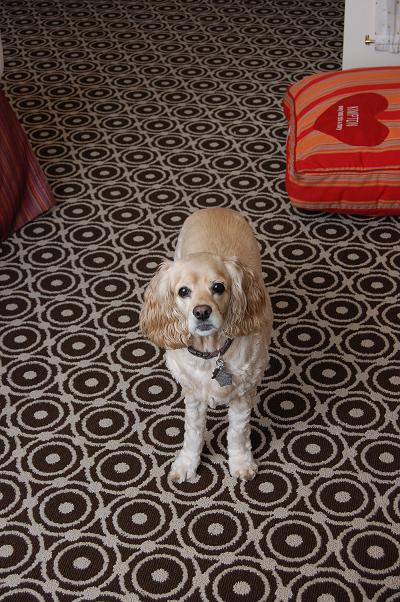 (Crazy Cocker Spaniel)