These Jack and Coke Ice Cream Float Shots are a grown up take on a childhood favorite: Ice Cream Floats. Just kicked up a notch.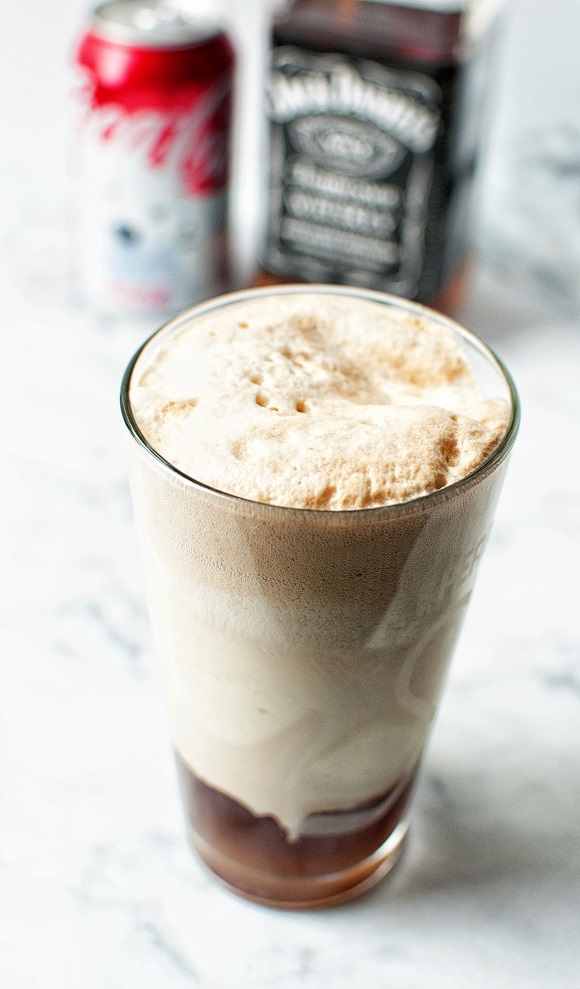 So you may have had to hunker in for Snowmagedon but over here on the West Coast it's actually been a bit warm.
In fact unseasonably warm.
So that inspired this weeks Date Night In, well that and our trip to Tennessee which around this time last year we were planning.
We of course like good little lushes made sure to visit the Jack Daniel's Distillery while we were there.
Gosh I so wish we were getting to go back to Nashville sometime soon!
I first had a Jack and Coke Float when it was offered as a dessert at one of my favorite local restaurants around here.
I figured Jack and Coke Ice Cream Float Shots would be a good thing.
My husband had ordered it for dessert (we went to a 3 courses for $30 kind of deal so dessert came with the meal).
I thought, well now this is something I can get behind.
What I liked extra about it was that it wasn't just vanilla ice cream with some Jack and Coke on top, they had made Jack Daniels ice cream.
So you know I had to too…we needed it for our dessert too: Jack and Coke Bread Pudding!
You can of course just use vanilla ice cream but this is a pretty easy ice cream recipe (no eggs) so if you have an ice cream maker I would go the extra step to make it!.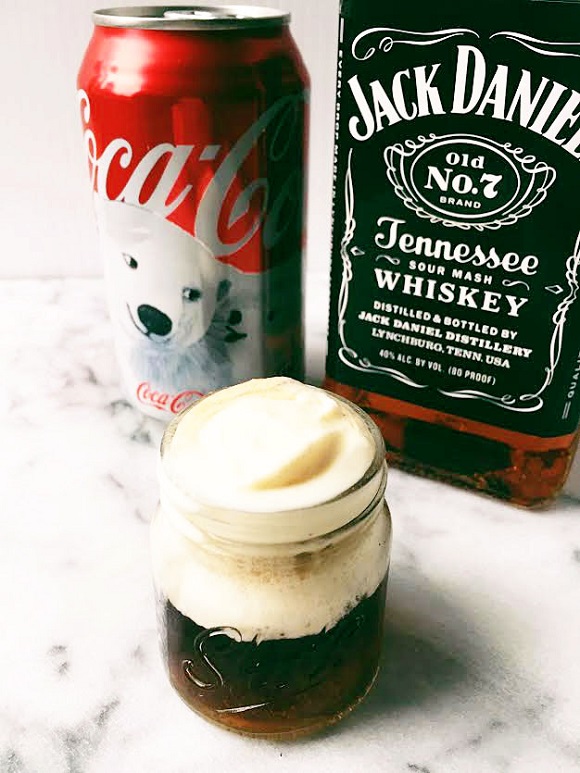 Half way through shooting the pictures I realize I wanted to make them in to shots instead!
Which were way more cute and fun. You can make them either way.
And since I know you are going to ask, I got the Kikkerland Mason Jar Shot Glasses, Set of 4 from Amazon just like I get 87.39% of everything I buy.
Sort of related to Tipsy Tuesday are some reader questions:
I enjoy Tipsy Tuesday but it seems like there are less and less desserts now on your blog? Are you giving up on sweets?
Oh gosh no!
I know I realized the other day that with the Date Night In there seems to only be one dessert a week.
I'm working on having at least two but with the podcast and life lately I haven't gotten to post as much as I want.
I have quite the back log actually.
When is your podcast happening you said January and the month is almost over?
Technically it's live now!
We have the website up and running and we have a small intro (with bloopers of us making the intro) that you can listen to right now!  
I was a little afraid to hear it at first.
I thought for sure I was going to hear and have a moment like the little kitten (really the evil Yzma) from Emperor's New Groove.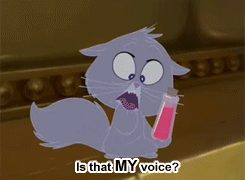 But amazingly I sounded just like I thought I sounded.
Not like oh I love my voice but more of like gee okay I'm not horrified by that. 🙂
Hopefully you won't be either as we have some great interviews so far that you don't want to miss out on. 
Edit: We now have our first podcast with Jessica of How Sweet It Is up right now!
Head on over and give it a listen!
If you like it we would love for you to subscribe and leave feedback on iTunes!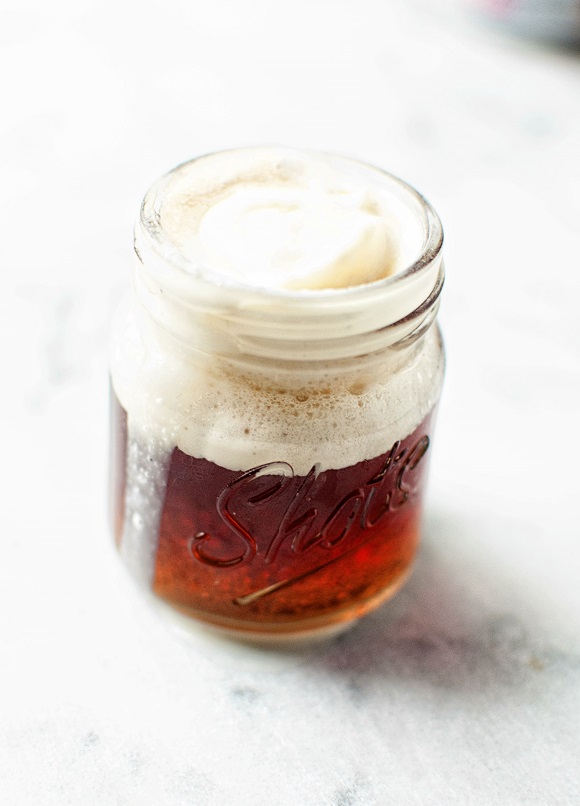 How goes the 25 pounds of sprinkles challenge?
The Year of Sprinkles is going slowly.
I still have two very large containers full.
We are almost through the small container (that wasn't all the way full to begin with).
We try and throw them on everything.
I did notice that my stepdaughter (love that girl) has been putting them on her whipped cream every time she makes cocoa, so she's doing her part too!
How is your pup doing?
She is hanging in there.
Crazy Cocker Spaniel has a few test she needs to have done but we just don't have the money right now sadly (because we already spent it on her 😀 ).
She mostly sleeps a lot now.
Begs for food constantly when she is awake.
Takes a ton of pills, and tries to rummage through any trash she can find…but she is lovable all the same.
Anyway I hope those who are getting dumped in snow are staying safe and warm.
Those of us on the opposite side of the states having slightly warm weather…make this float!
Last but not least…it's a great time to order my cookbook. 😀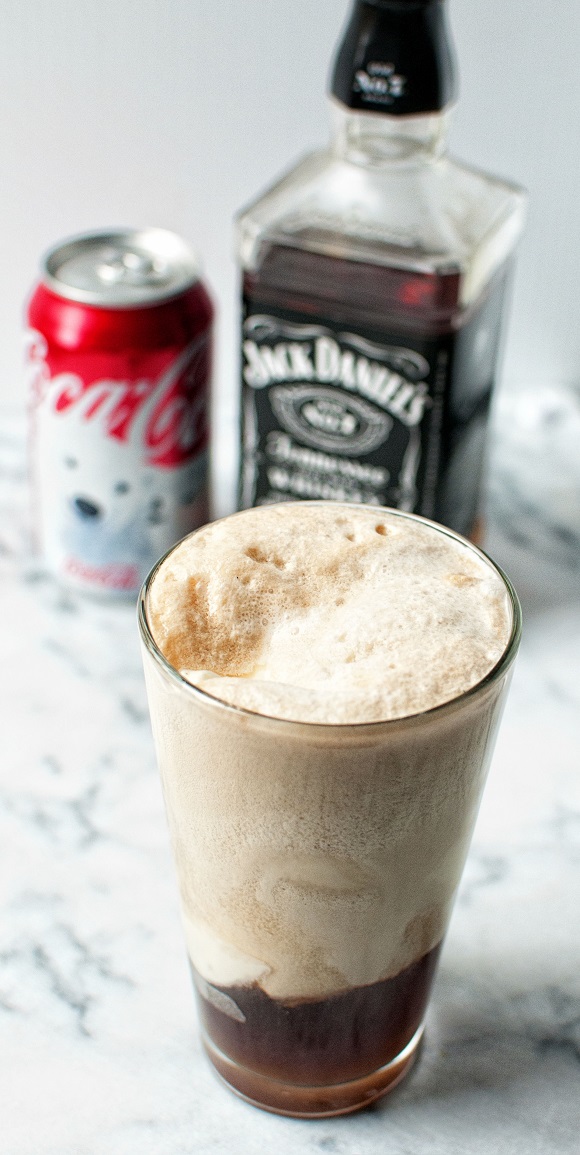 Want More Shots?
Strawberry Pina Colada Jello Shots
Blue Hawaiian Rainbow Jello Shots
Fruit Punch Moonshine Jello Shots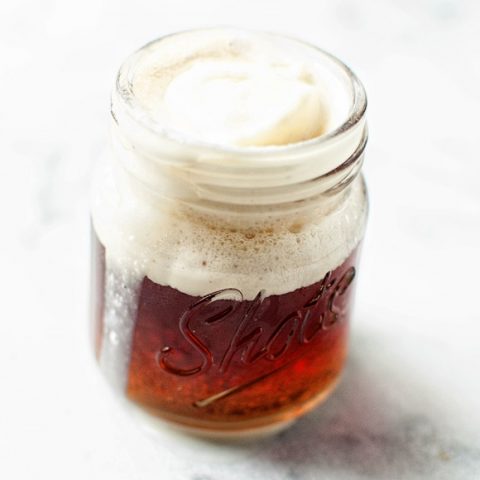 Jack and Coke Ice Cream Float Shots
Ingredients
2 (12 oz) cans Coca-Cola
4 shots Jack Daniels Whiskey (more or less depending on your lush status)
2 scoops Jack Daniel's Vanilla Ice Cream (recipe follows)
2 TBSP Coca-Cola reduction (the recipe makes for far more than this but you need it for the bread pudding as well)
Coca-Cola Reduction:
2 Liters Coca-Cola
Jack Daniel's Vanilla Ice Cream:
3 cups heavy whipping cream
½ cup Jack Daniel's Whiskey
½ cup milk
¾ cup granulated sugar
2 tsp. vanilla bean paste (I used Rodelle)
Instructions
For the ice cream:
Whisk together all the ingredients.
Chill in the fridge for at least 4 hours.
Process in an ice cream maker according to manufacturer's instructions.
Due to the alcohol in the ice cream it's not going to freeze as hard as some ice creams, it will harden more when you put it in freezer.
Transfer ice cream to an airtight container, cover, and freeze.
For the reduction:
Pour the cola into a medium saucepan and bring to boil over high heat.
Once boiling, reduce the heat to a simmer and reduce the cola down until one-quarter of the liquid remains, about 30 minutes.
Chill to room temperature. It will get thicker when it cools and should have a syrup like consistency.
To make the drink:
Take two pint glasses.
Divide the whiskey among them evenly-ish.
Add Coca-Cola half way up of each glass.
Add 1 TBSP cola reduction to each glass.
Add a large scoop of ice cream to each glass.
Pour more cola if there is space.
To make the shots just do everything on a very smaller scale. 🙂