This Key Lime Raspberry Margarita is the perfect combo of sweet and tart and is perfect for your summertime cocktail.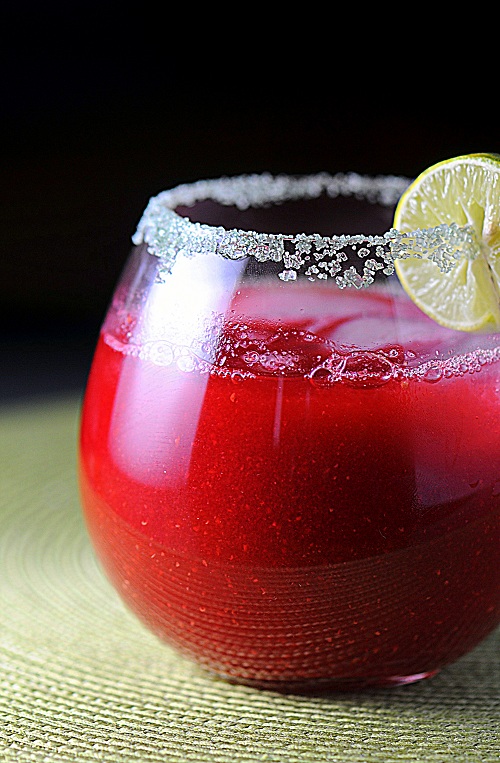 First off it's National Margarita Day!
Second off to the 41 people who sent me hate mail yesterday you need this Key Lime Raspberry Margarita more than me.
Sorry to those that I spoiled PART ONE of the finales to Top Chef Seattle.
Bravo pays me to discuss the show.
I have to do it in a certain amount of time.
I'm sorry you didn't get to watch it on your DVR yet (remember to good old days when you missed a show and just missed it).
I found out about who was out before I watched it on FB.
Oh well.
I didn't go off on the person on Twitter.
I still watched the episode to see WHY people were in or out.
But I certainly did enjoy "I hope something really important in your life gets f-ed up",
And "thanks for ruining my weekend" or how about " hey dumb bitch, next time put spoiler on your site".
So I'm just going to go there and say its reality TV and if you are that attached to it then you might want to rethink your priorities in life.
I wrote it late at night after I stayed up to watch the show.
Was going to change the pictures but it was already sent out into the RSS Feed Universe when I sat and thought about it.
But I'm sorry that so many felt it worthy of telling me I ruined your life.
My suggestion is to chill out and enjoy a cocktail.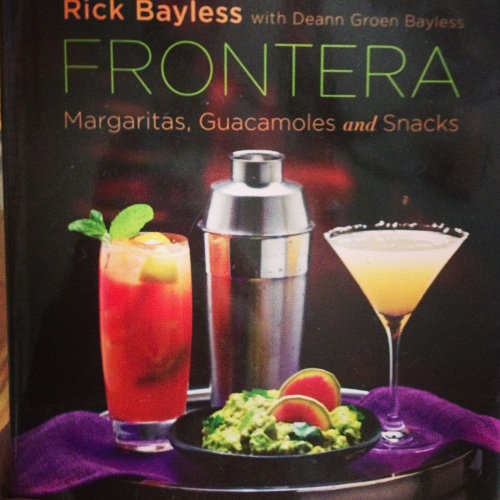 A few months ago Norton Publishing asked if I wanted Rick Bayless' new cookbook and while I normally say no to Mexican food I like his stuff.
Except when it got here it was all margaritas and guacamole.
Which is a cool concept it's just not what I was expecting?
I know they wanted me to review it in time for the holidays I just didn't think it really fit.
So I looked up to see when National Margarita Day was since there seems to be a day for every food/drink.
And sure enough there is one…and that's today.
So I figured I would make a margarita using one of my favorite flavors of all time…key lime.
If you are interested in a margarita and guacamole cookbook you should check it out Frontera: Margaritas, Guacamoles, and Snacks.
Or you could buy my cookbook. 🙂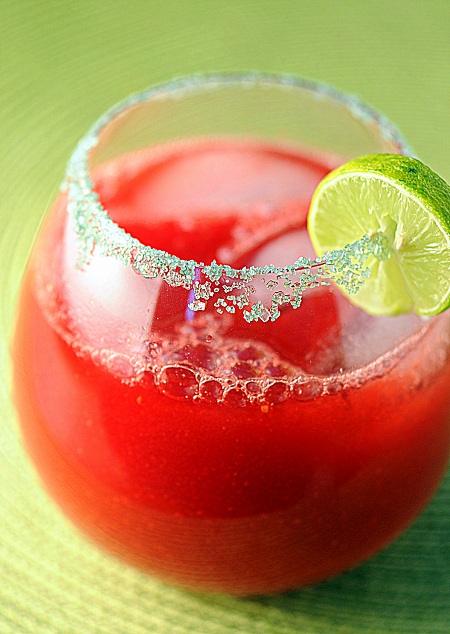 Want More Cocktail Recipes?
Meyer Lemon-Lime Drop Cocktail
Raspberry Lemonade Sorbet Cocktail
Boozy Huckleberry Lemonade Sipper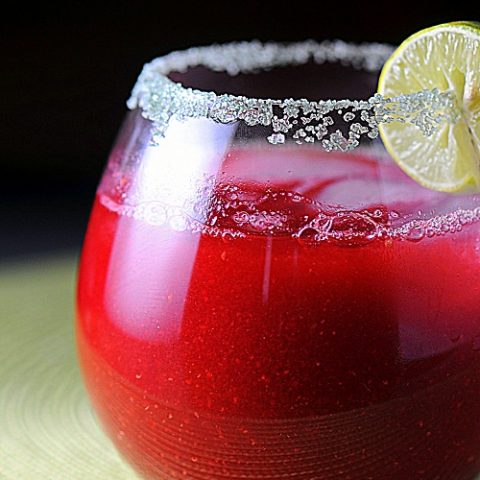 Key Lime Raspberry Margarita
Ingredients
1 cup tequila
1½ cup orange liqueur
½ cup frozen raspberries
1 cup key lime juice
1/3 cup superfine sugar
Instructions
Gather your ingredients.
Into the blender they go.
Blend on high until fully combined and the raspberry seeds have gone bye-bye.
Pour into a glass that is rimmed with salt.
Serve with ice as this is not a frozen margarita.