Highly addictive and easy to make, this Peanut Butter Oreo Caramel Cracker Toffee may cause someone to fight you for the last piece.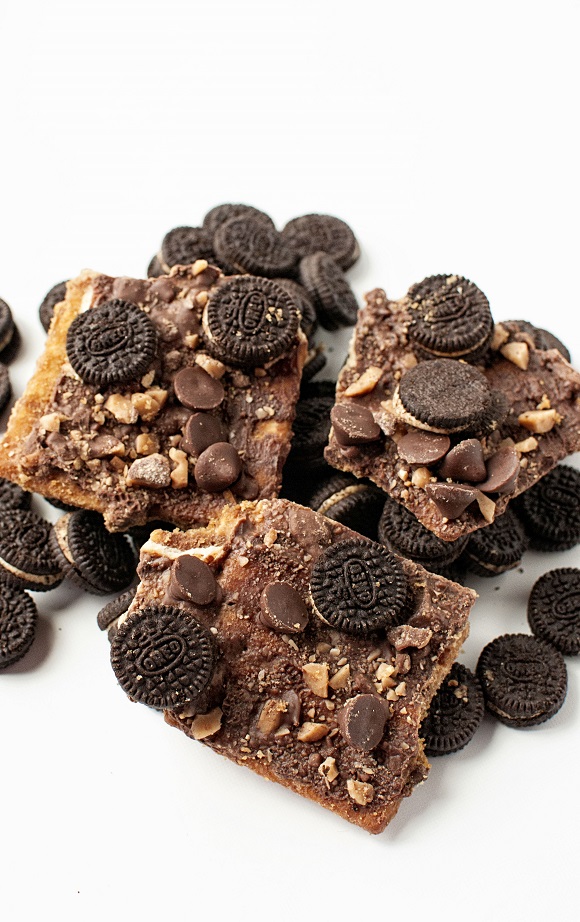 Last week was hard in the fact that when we took Crazy Cocker Spaniel to the vet we thought for sure we were going to be told that it was "time".
But that wasn't mentioned in any way and we breathed a little sigh of relief and I stopped stress eating.
This week turned out to be harder than last week (ah life you are a funny little thing) since I let my guard down about the dog.
Only to get lab results back on Wednesday telling me that every little scab, sore, wound, you name it on my dog is methicillin-resistant staphylococcus pseudintermedius…it's the dog version of MRSA.
MRSP which most of the time they just call it MRSA because people know what that is and people think MRSP has to do with cars as you can guess is not a good thing.
Of course we still carry a glimmer of hope we start today with a topical treatment that involves the poor thing being bathed daily (she's going to love that) as well as being sprayed with all sorts of fun stuff.
Amazingly she's in great spirits…I'm sure it has nothing to do with the pain meds they have her on. 😀
If that doesn't work (we will know in about 2 weeks) then we go to a not so nice to the dogs body injections.
But we will cross that bridge if it comes.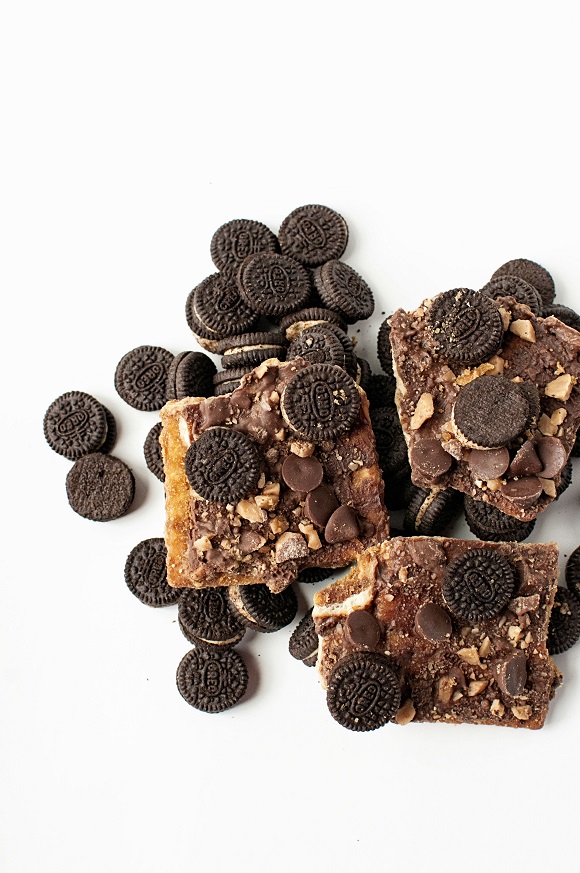 So for now if you are the praying type we would appreciate a little prayer for the dog.
And one for me too to stay sane during all this.
Or if praying isn't your thing how about a good vibe sent the dog's way?
So I've been back to stress eating.
Which consisted of a giant batch of potato cheese soup and making this Peanut Butter Oreo Caramel Cracker Toffee.
Oh how I love me some cracker toffee.
If you can't find the caramel filled chocolate chips called Nestle DelightFulls then you can skip them.
Or you can use the mini Rolos.
If you can't find the mini Oreos just chop up some normal size ones.
Or don't.
Heck leave them whole and have ever bite of cracker toffee have a giant Oreo on it. 😛
Works for me.
Enjoy your weekend I'm off to stress eat. 🙂
It's a great day to buy my cookbook for others.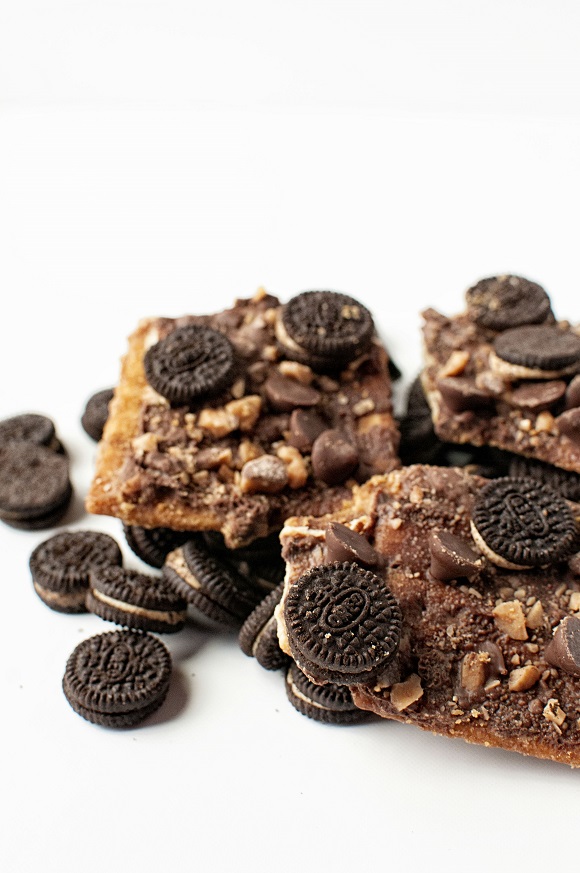 Want More Cracker Toffee Recipes?
Cranberry Bliss Cracker Toffee
Peanut Butter Cup Cracker Toffee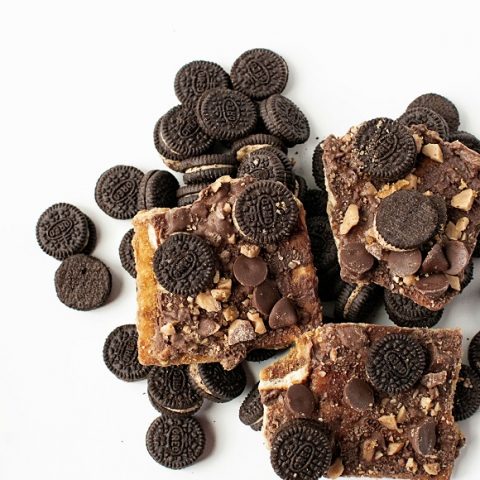 Peanut Butter Oreo Caramel Cracker Toffee
Ingredients
1 box Keebler Clubhouse Crackers (some people use Saltines but I like the extra butter these provide), you will not use the whole box but hey, crackers…yum
1 cup unsalted butter (I used Plugra)
1 cup light brown sugar, packed
1 cup semisweet chocolate chips (I like mini because they melt faster)
1 cup peanut butter chips
½ cup chocolate covered toffee pieces
1/3 cup caramel filled chocolate chips (or mini Rolos)
1 cup mini Peanut Butter Oreos
Instructions
Preheat oven to 350F.
You can use a cookie sheet but I find that a jelly roll pan works best for the mess. Line whichever one you are using with foil to help with clean up. Spray the foil with baking spray.
Put the crackers side by side (closer the better) and fill the cookie sheet/jelly roll pan with a single layer of crackers. I ended up using about 1 and a half packages…yours may vary.
In a small saucepan bring the butter and brown sugar to a rolling boil.
When you reach a boil pour the brown sugar mixture over the cracker layer. Some of them will go rouge and try and float off, just take a knife and steer them back best you can.
Place into oven for 7-8 minutes.
Remove from oven and immediately distribute (evenly as you can) the peanut butter chips and chocolate chips on top. Place in oven for 1 more minute.
Once out of the oven sprinkle the toffee pieces and then the caramel filled chocolate chips.
The carefully…because it will be hot place the mini Oreos on. Press down on them so that they sink into the chocolate layer.
Let it cool. Then break into pieces (oreos will go flying just pop them in your mouth) and fight people off.