This Key Lime Sorbet Tequila Cocktail has tequila poured over Tart Key Lime Sorbet makes for a delightfully refreshing cocktail.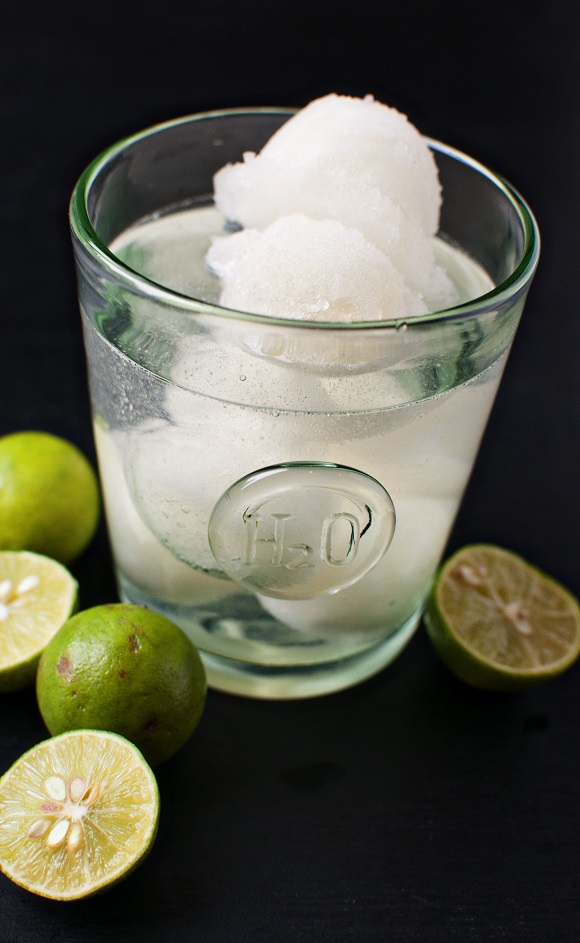 I hope everyone is settling into the New Year nicely and hopefully you are sticking to the changes you said you wanted to stick to whatever that may be.
I'm not going to go into all of my changes (because there really aren't many) but I will talk about the ones that will affect the blog!
1. Date Night In.
My friend and fellow blogger Ashley Rodriguez (Not Without Salt) wrote an AMAZING cookbook called Date Night In: More than 120 Recipes to Nourish Your Relationship.
When I say amazing I mean A-M-A-Z-I-N-G.
Like I'm obsessed (I actually hugged the book twice while reading it) with it and not even because of the recipes.
Which don't get me wrong Ashley is an amazing chef/cook.
I mean the girl worked at Spago under the pastry goddess Sherry Yard, so the recipes are phenomenal.
But what I loved most about this book were the stories that accompanied each date night story.
They were real and raw and showed that marriage isn't always that easy, but it is worth it.
She started doing Date Nights In with her husband.
Because with three kiddos there wasn't money to hire a sitter and go to a nice meal.
And she wanted a way to reconnect with her husband and the best way she knew how was over a good meal.
It became a popular segment on her blog which ultimately turned into a cookbook.
I loved the idea so much that starting tonight my husband and I start Date Night In ourselves.
Now I won't necessarily be using all the recipes from the book.
But I am inspired by the themes and recipes themselves.
Each meal in the book tends to have a cocktail, a starter, a main meal, and a dessert.
We are choosing nights when we don't have our kiddos so that it's even easier to pull off.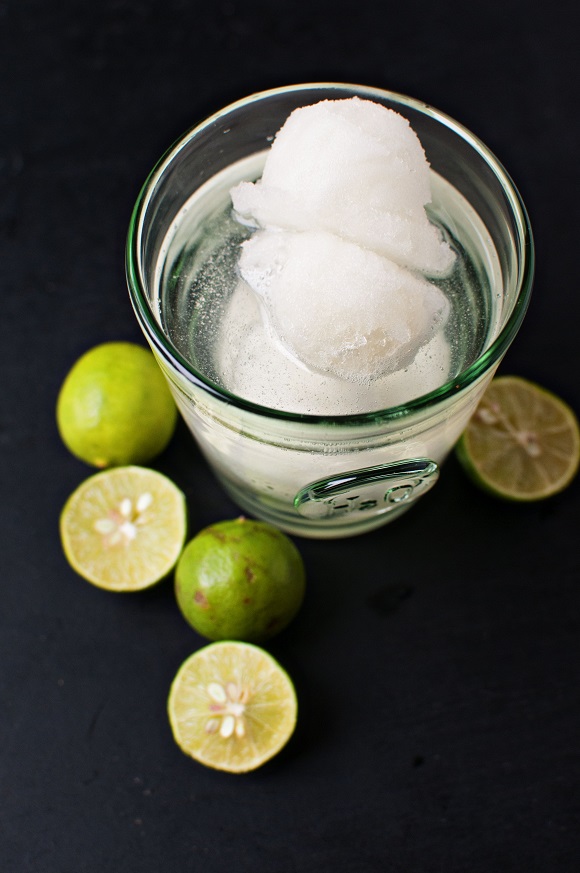 2. I swear I will start doing a newsletter.
I'm going to try again since people keep telling me they want it.
So if you aren't signed up yet go here.
3. Tipsy Tuesday!
I tend to do laundry on Tuesdays.
And I hate laundry.
So what better way to make laundry more fun that Tipsy Tuesday?
I now need to make a cocktail each week for Date Night In and well the best lighting is in the middle of the day, so yeah.
And I can't just let booze go to waste I mean, that stuff is expensive.
So enter Tipsy Tuesday. 😀
This week's cocktail that I am making for Date Night In is Key Lime Sorbet Tequila Cocktail.
I original got the idea for something like this when we were in Denver.
There was a pear granita cocktail where they poured booze over granita.
Then I saw a friend having a drink where they poured booze over sorbet.
And knew that I would be all over that.
If you make the sorbet a day ahead of time you will probably need to microwave it for about 15 seconds to get it less frozen and able to scoop.
Depending on how you like your drinks (aka weak or strong) you will need to adjust the amount of sorbet and or tequila you are using.
Cheers, I'm off to fold laundry!
P.S. It's a great day to buy my cookbook Holy Sweet!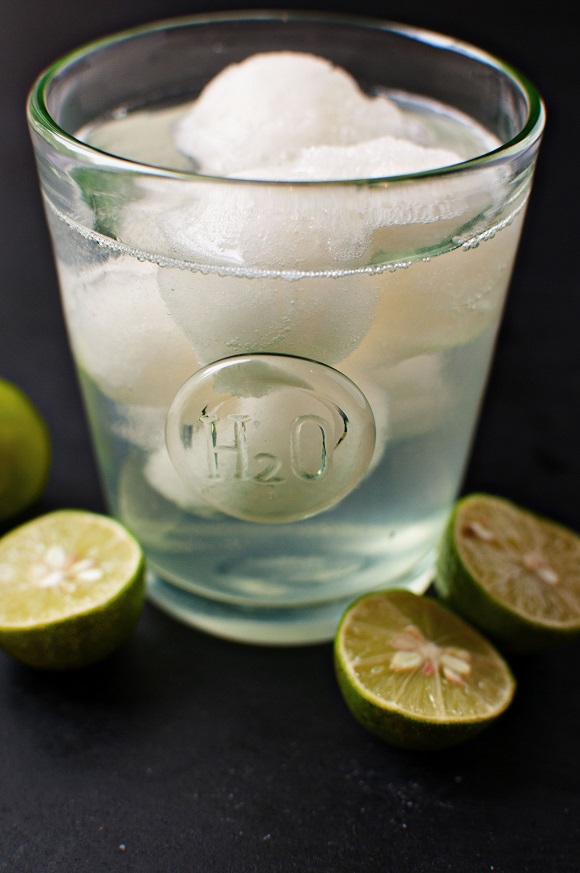 Want More Cocktail Recipes?
Boozy Huckleberry Lemonade Sipper
Meyer Lemon-Lime Drop Cocktail
Raspberry Lemonade Sorbet Cocktail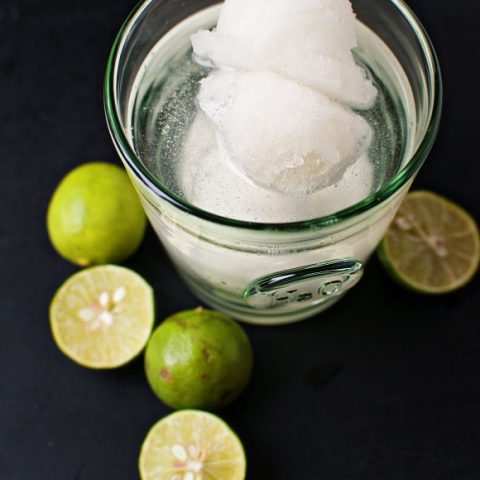 Key Lime Sorbet Tequila Cocktail
Ingredients
Key Lime Sorbet:
5 cups water
1 cup sugar
1/2 cup fresh Key lime juice or lime juice (about 10 Key limes)
For the Cocktail:
2 large scoops key lime sorbet (one per glass)
1 cup silver tequila
Instructions
For the Sorbet:
Combine the water and sugar in a large non-aluminum saucepan; bring to a boil.
Once boiling, turn low heat and continue to cook 10 minutes, stirring occasionally.
Cool sugar mixture completely.
Stir in lime juice.
Pour the juice mixture into the freezer can of an ice-cream freezer, and freeze according to the manufacturer's instructions.
Spoon sorbet into a freezer-safe container; cover and freeze for 2 hours or until firm.
*If you don't have an ice cream maker I suspect that you could make this more like a granita where you would chill the liquid mixture for about 3-4 hours and then using a fork scrape up the ice crystals.
To make the cocktail:
Place a scoop of sorbet in each cup (I used small scoops for the photo). You can use more or less sorbet depending on your preference. I'm a lightweight so I'll go with more sorbet and my husband is a heavyweight so he will probably do more tequila.
Pour the tequila over the sorbet, 1/2 cup each give or take.
Give it a few minutes to let the sorbet start to melt into the cocktail.
This recipe makes more than enough to have several cocktails that night and another night as well.