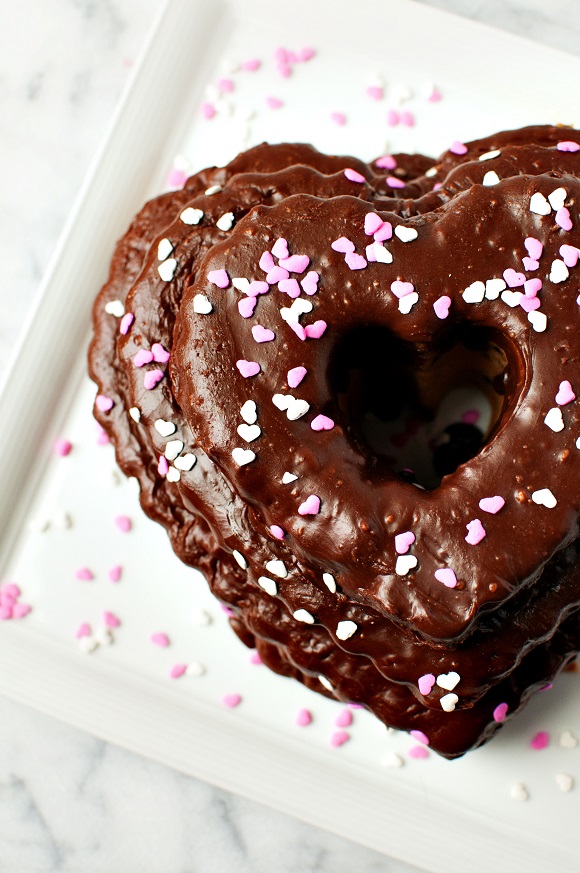 What you will get from this post:
An easy, tasty, and oh and ah inspiring chocolate covered cake
A way to use up those 2 cups of butter just sitting in the fridge
Learn about the holiday Valen-festivus
Most people seem to really love Valentine's Day or really hate it. I love heart shaped anything and all things pink so even when I didn't have someone in my life I always loved Valentine's Day. Is it commercialize? You bet, but I still like a day that is dedicated to love. If you have no significant other this year I suggest you still celebrate the essence of the day and make a list of all the things you love about your life. Then the next day, February 15th…what I will call Valen-festivus you can make a list and air your grievances. If you never saw Seinfeld then you are thinking Valen-festivus? But if you do know Seinfeld you know that I'm poking fun at their holiday of Festivus.
So here is my main grievance for Valen-festivus:
Shaving razor blade packaging.
We buy our razor blades at Costco because while you still need to take out a small loan to buy them they cost slightly less there than anywhere else. Once I get over the initial shock of the price and my fleeting thought of going all natural and fuzzy instead, I get the razors home. That's when the real struggle begins. I get it; they are expensive and are sharp pointy things that you don't want people to steal. But they have so many moisturizing strips around them these days I doubt you could to that much damage to someone without first doing damage to yourself as well. And speaking of damage I beheaded a shampoo bottle the last time I tried to get the razors out of the packaging.
I first tried to cut it open with scissors which got me nowhere because it is seriously thick cardboard. Then I decided to peel back the layers of the packaging which is when I learned there are about 4,000 (give or take) thick cardboard layers. I mean you could build a house out of this stuff…if only the three little pigs knew about this technology. When I finally make it to the plastic part holding the razors I think yay! Except no yay. More like *$()*()@&%)*(). As I tried to pry the plastic apart the razor blade package went flying through the bathroom sky breaking my shampoo bottle. I killed a shampoo bottle. I try again, this time giving myself a plastic cut (similar to a paper cut) and my drunken sailor vocabulary increases. I somehow eventually managed to get a little hole into the plastic packaging and am able to get one razor out. That's when I quit. I go no further to save the lives of innocent conditioner bottles and any other beauty products in the bathroom that don't deserve to be beheaded like the poor shampoo was. And I thought child safety caps on pills were bad….geesh.
To make life better I made a cake. I had made a 7-Up Pound Cake a few years ago that turned out yummy and thought to myself I wonder if I can just replace the 7-Up with another type of soda…the answer is yes. I have been on a big Cheerwine kick lately and wanted to use it because it would give a light pink color to the inside of the cake and that was festive for Valentine's day. The Bundt pan I used came from Williams-Sonoma and I blame Ashley (Not Without Salt) for poorly influencing me to purchase it. If you are not into hearts I love this Nordic Ware Platinum Collection Blossom Bundt Pan
and Nordic Ware Platinum Collection Heritage Bundt Pan
to use as well. The great thing about a pretty Bundt pan is that if you are not gifted at decorating (cough, cough me) then no worries because the pan already has a beautiful pattern. Since this recipe requires so much butter I HIGHLY recommend you use Plugra butter…the better your ingredients the better your final product. If you cannot find Cheerwine in your area I suggest using Cherry cola. While this cake is heart shaped this is so a cake you want to be making year round!
Like what you see? Sign up for the weekly email and get a copy of the Top 5 Desserts on Culinary Concoctions by Peabody.
This post was sponsored by Plugra Butter who anyone who reads my blog knows I love, love love and is my first choice for butter. I am part of the Plugra Butter Bridgade.  If you aren't familiar with Plugra I encourage you to get to know about it. Plugra is the best for baking in my opinion!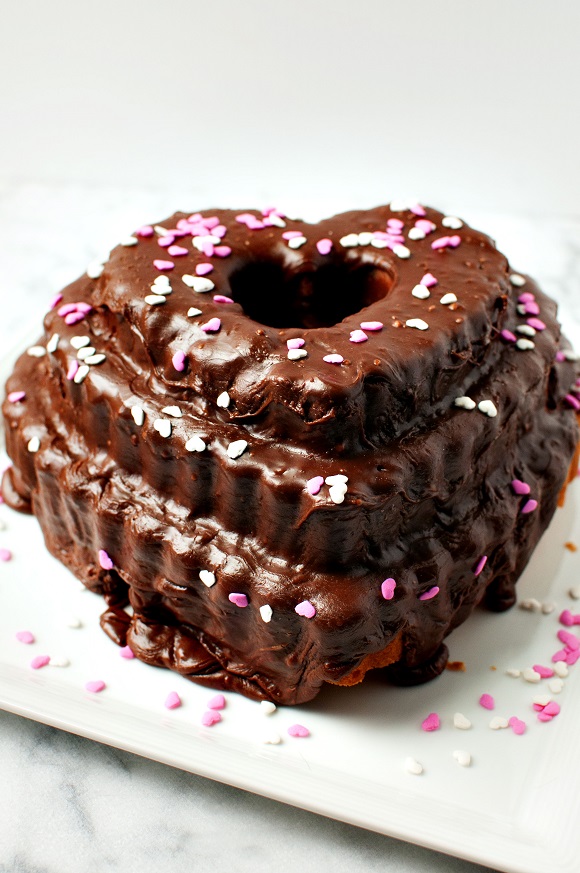 Cheerwine Chocolate Glazed Pound Cake
Pound Cake:
1 ½ cups unsalted butter, at room temperature (I used Plugra)
3 cups granulated sugar
5 eggs, at room temperature
3 cups cake flour
1 cup Cheerwine soda (or cherry cola),at room temperature
1 tsp. vanilla extract
½ tsp. salt
Preheat oven to 300F.
Spray a 10" tube or Bundt pan with baking spray.
Using a stand mixer with a paddle attachment cream together butter and sugar on medium high speed until mixture is light and fluffy, about 5 minutes.
Add extract and salt and beat for another minute.
Add eggs one at a time, scraping down the bowl after each addition.
Alternating add flour, then soda, then flour, then soda, and end with flour.
Spoon or scoop (I find an ice cream scoop works best for this) batter into the prepared pan.
Bake for 1 hour and 40 minutes or until a knife or wooden skewer when inserted comes out clean.
Cool for 10 minutes on a wire rack.
Remove from pan and glaze.
Cheerwine Frosting:
1/3 cup Cheerwine (or cherry cola)
1/2 cup unsalted butter (I used Plugra)
1/4 cup unsweetened natural cocoa powder
2 1/2 cups powdered sugar, sifted
1/4 tsp. vanilla extract
Heart shaped sprinkles (optional)
In a small saucepan, combine Cheerwine, butter, and cocoa powder; bring to a boil.
Pour hot mixture over confectioners' sugar. Stir until smooth. Add vanilla extract and whisk.
Cool for approximately 20 minutes, or until lukewarm.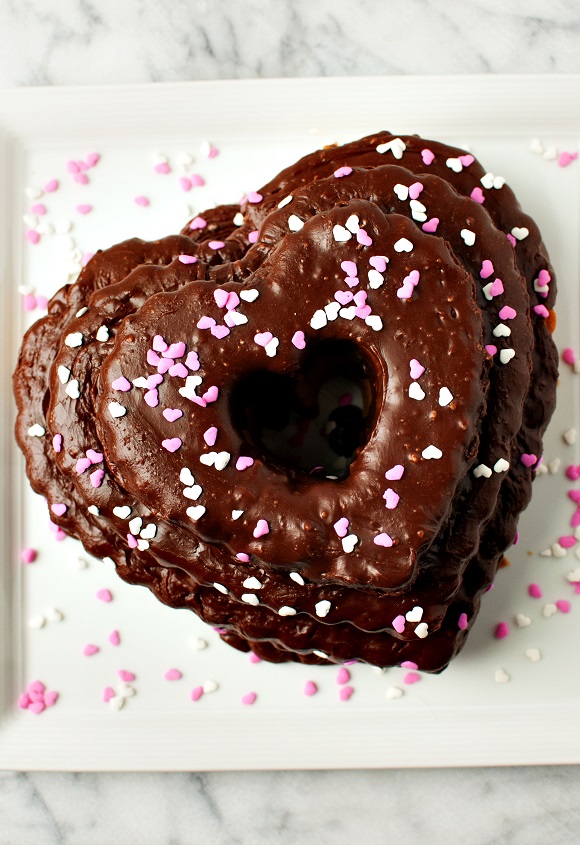 This post contains Amazon affiliate links which help keep this site up and running.