These Pimento Cheese Mashed Potatoes are a Southern twist on classic mashed potatoes with the addition of homemade pimento cheese.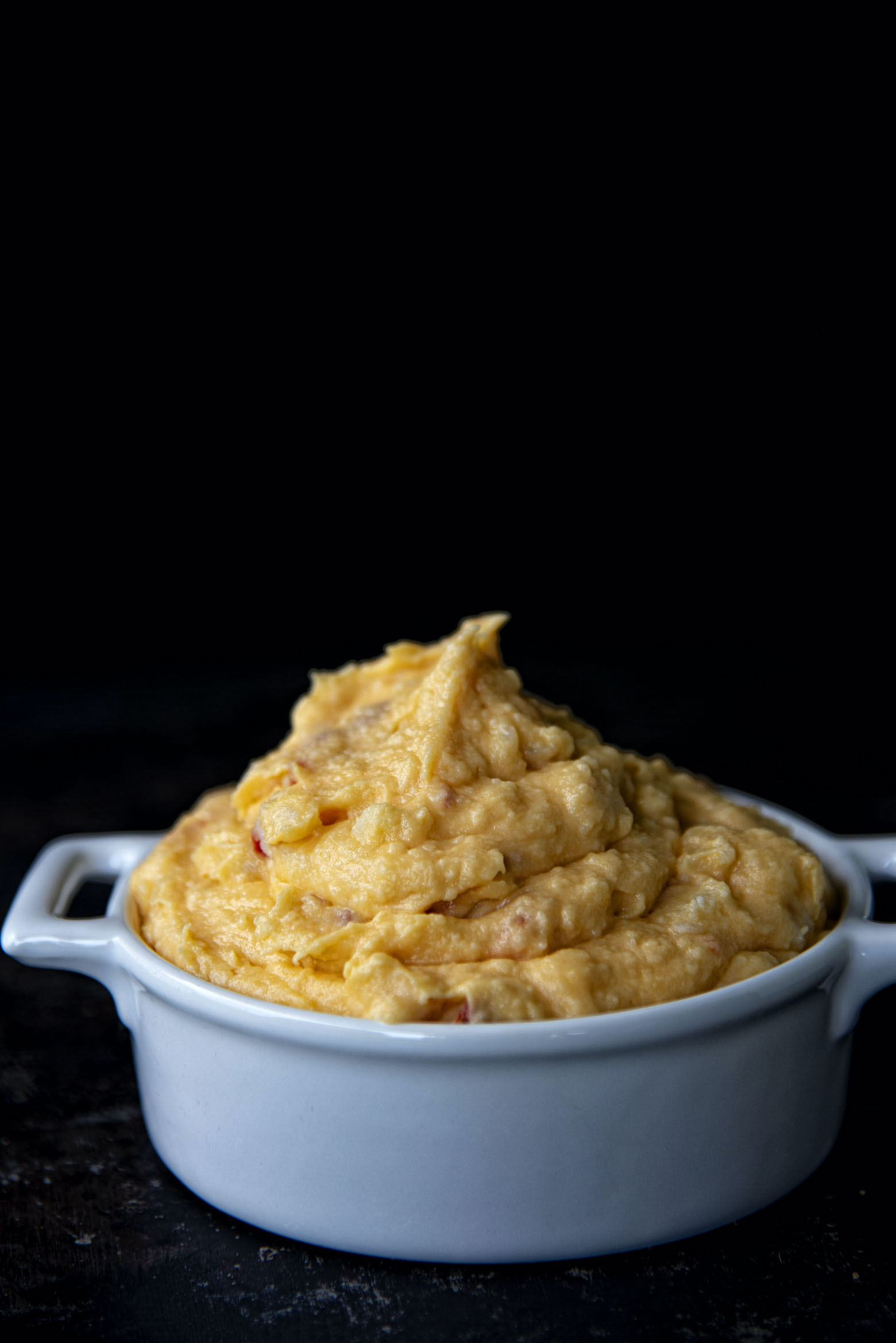 My love for Southern food is well documented.
I collect all sorts of cookbooks on Southern food.
And while I don't cook everything in bacon grease anymore (vegetarian) I am still obsessed as ever with Southern cuisine.
Both my husband and I love pimento cheese.
You can get it pretty much anywhere you go down south.
Each place seems to have their own spin on it.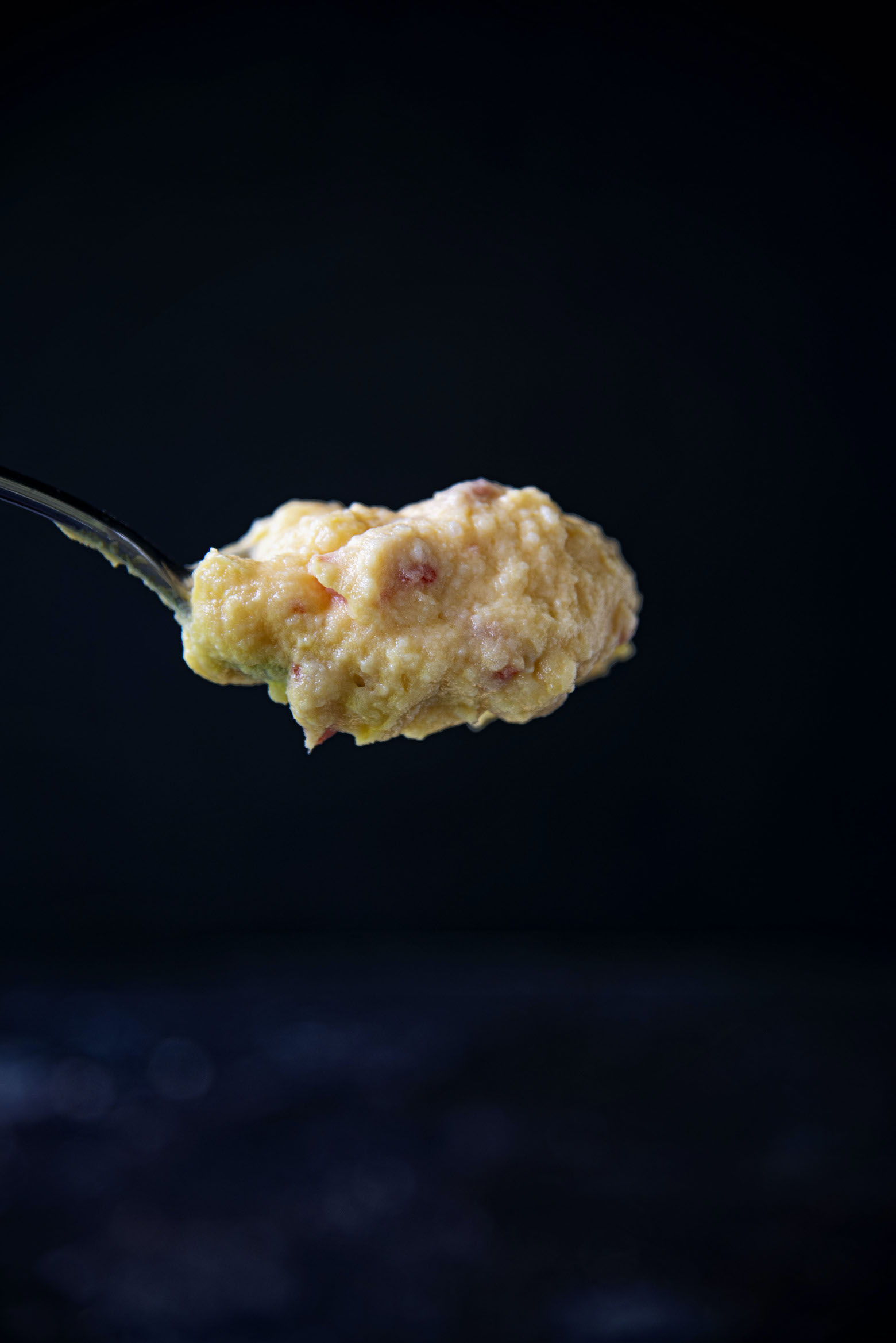 I've put it in a quiche with cornbread.
On veggie burgers.
Put it in sliders with bacon jam.
Made crackers with it.
And I've put it in deviled eggs…though I never put that recipe up on the blog.
I probably should.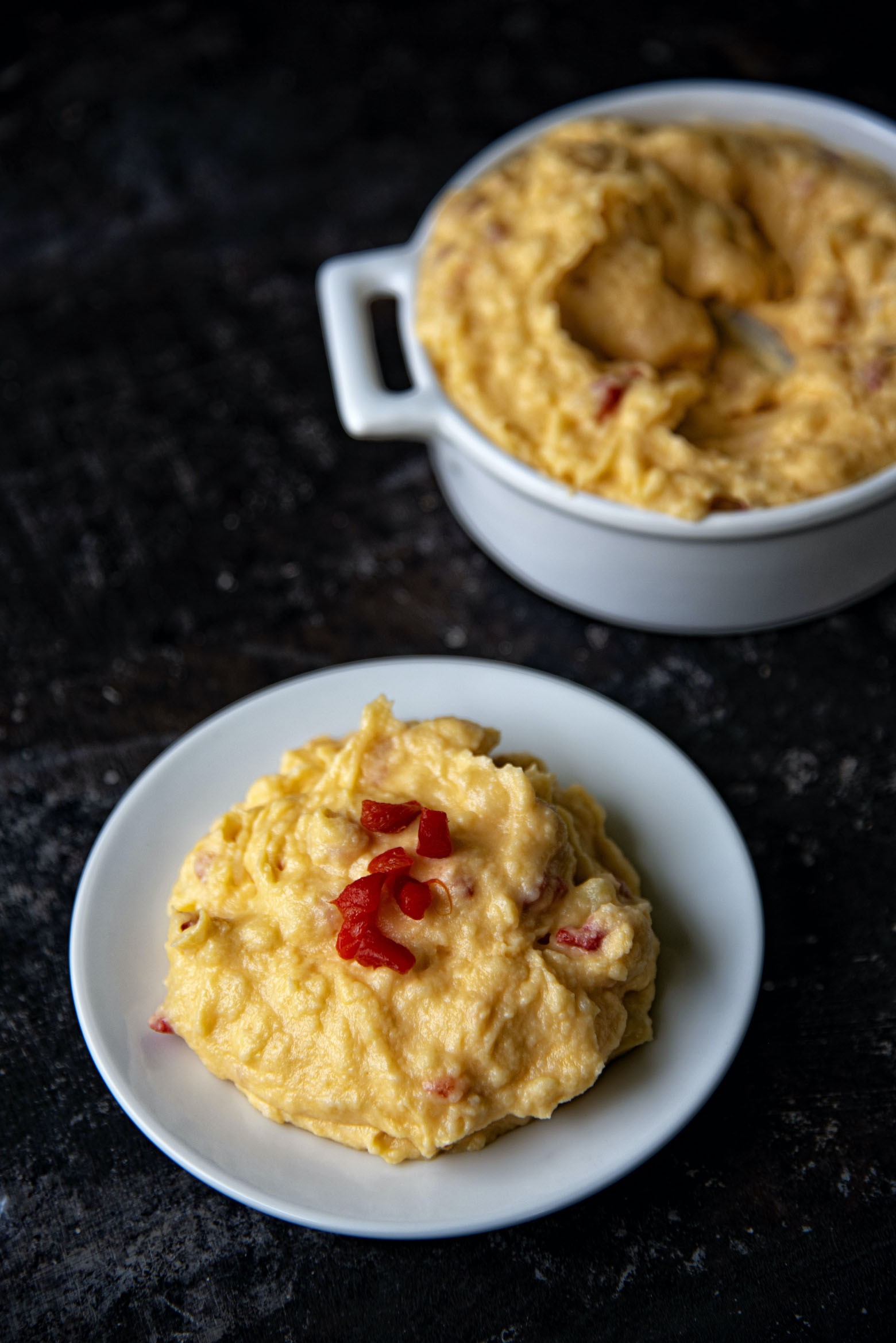 So throwing it in mashed potatoes really isn't that odd to me.
I'm quite sure if I looked online many people have done it before me.
And I'm sure each recipe is a little different.
Some don't use the mayo.
Others put horseradish in it.
Store bought pimento cheese probably used in some recipes as well.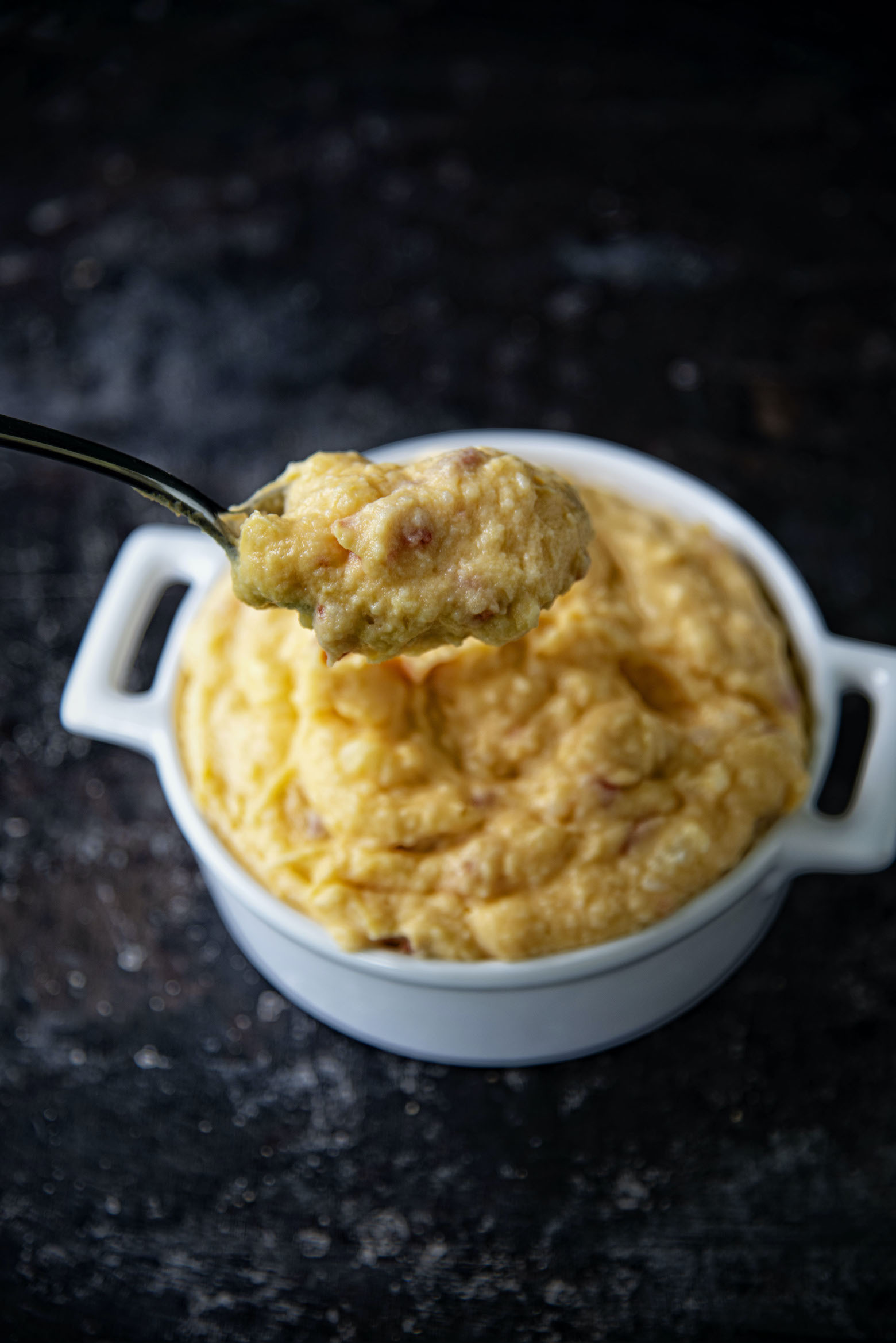 If you are a meat eater I would think these Pimento Cheese Mashed Potatoes would be fabulous with fried chicken.
Or for Thanksgiving a nice fried turkey.
Honestly they were good all on their own.
But I've been known to eat bowls of mashed potatoes as a meal.
By the way, it's a great day to buy my cookbook !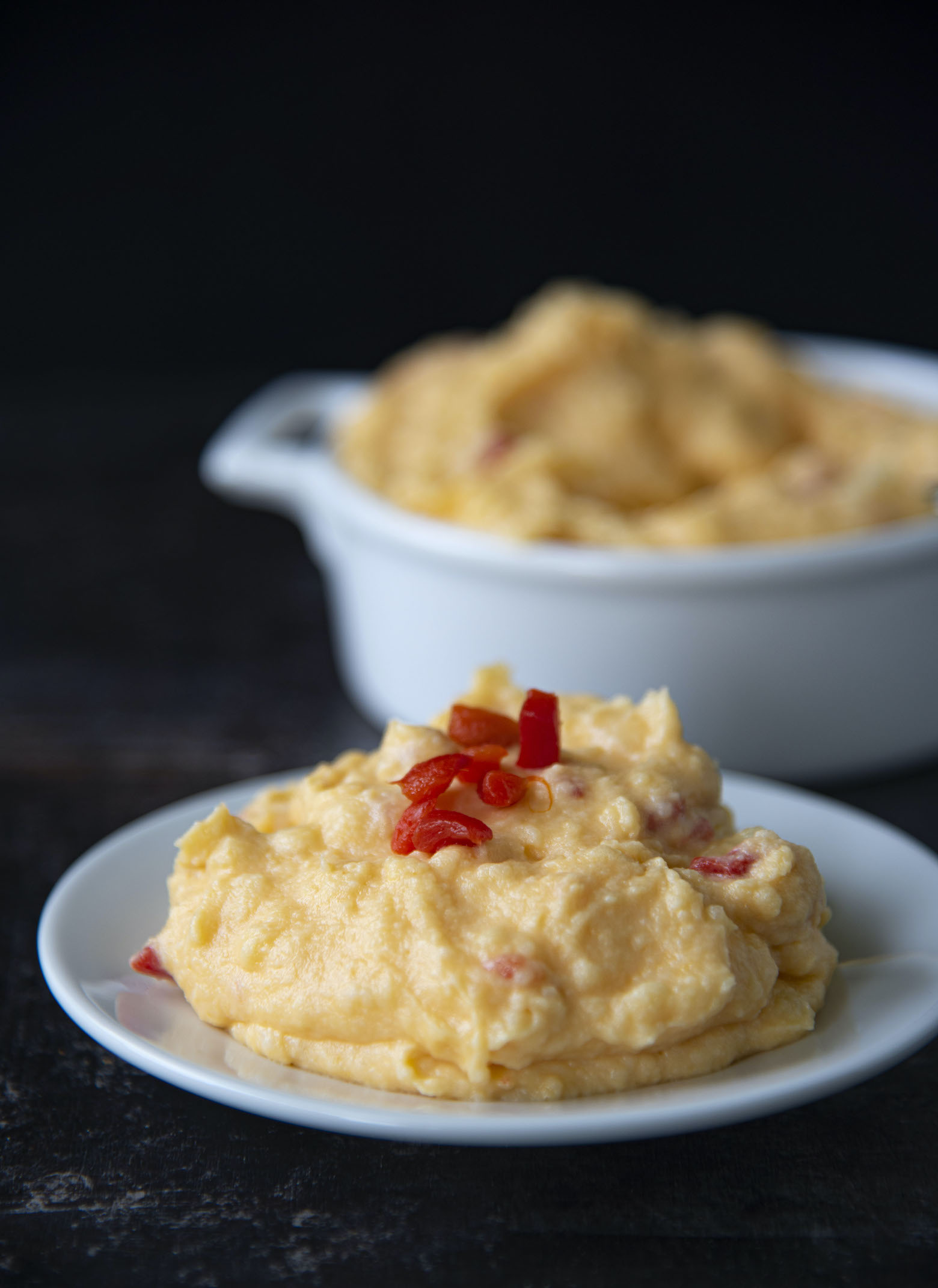 Want More Dinner Recipes?
Alpine Dijon Macaroni and Cheese
Gouda and Lobster Mac and Cheese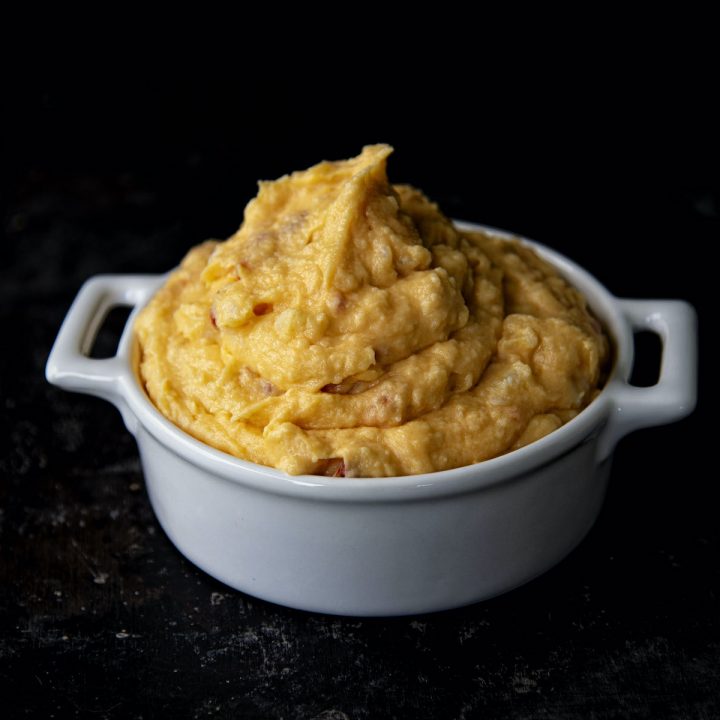 Pimento Cheese Mashed Potatoes
Ingredients
For the potatoes:
5 pounds russet potatoes peeled and cut into cubes
For the Pimento cheese:
8 ounces cream cheese, at room temperature
½ cup mayonnaise
2 cups sharp cheddar cheese
¼ tsp. garlic powder
¼ tsp. onion powder
1 (4 oz.) jar pimentos, drained
Instructions
Boil potatoes in 5 quarts of water with some salt.
Drain the potatoes and let cool slightly while you make the pimento cheese.
For the Pimento Cheese:
Using a food processor add all the ingredients except the pimentos to the bowl.
Pulse on high until the all the ingredients are mixed and it is completely smooth.
Add the pimentos and pulse a couple times to incorporate the pimentos.
Putting it together:
Using a food mill or a potato masher mash the potatoes until they are fine. The less lumps the better (unless you like lumps).
Fold in the pimento cheese.
Preheat oven to 350F.
Place potato mixture in a baking dish covered in foil.
Bake for 20-25 minutes.
Mix the potatoes again and place into a serving bowl.