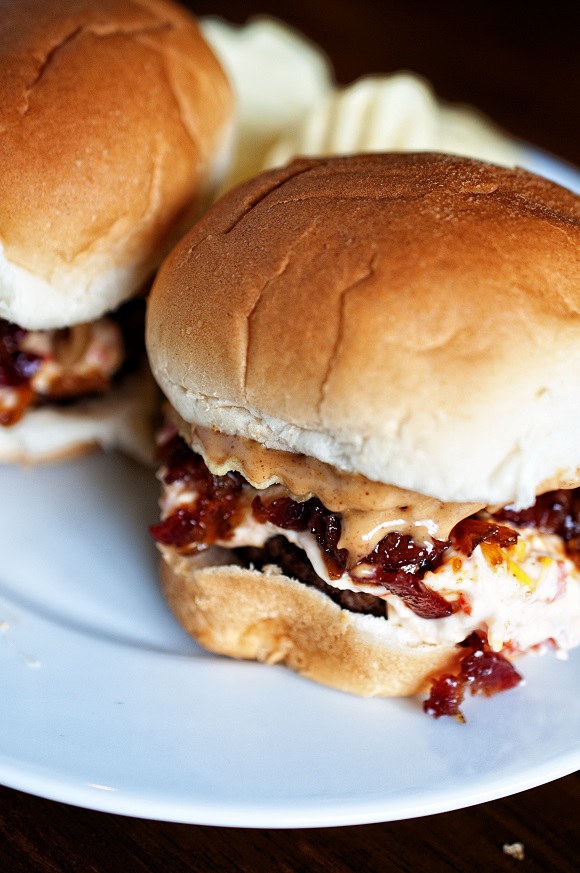 It's no secret that I enjoy a good burger…I mean we spent our whole week in Vegas trying to find the perfect burger. So when Kita (Girl Carnivore and Pass the Sushi) asked if I wanted to participate in Burger Month I was all over it. I have been dying to recreate the unusual but incredibly delicious burger we had a Michael Mina's Restaurant PUB 1842. On the menu it's called a Peanut Butter Crunch Burger…but it's so much more. So I used the full title…it's a mouthful but so is the burger, which is a good thing.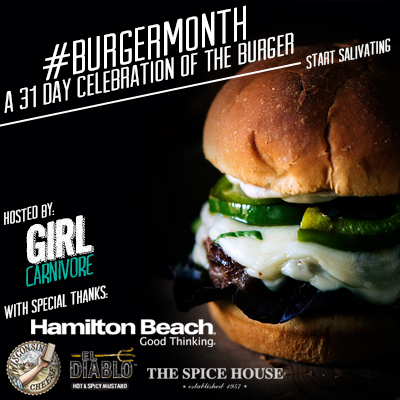 So me plus Kita plus 29 other bloggers all thought sure, let's do burgers for the month of July. And Kita found people to give you all free stuff. At the bottom of this post is a Rafflecopter giveaway box…it tells you all that you can win. Please note that this is for all of the people participating in Burger Month and not just this site.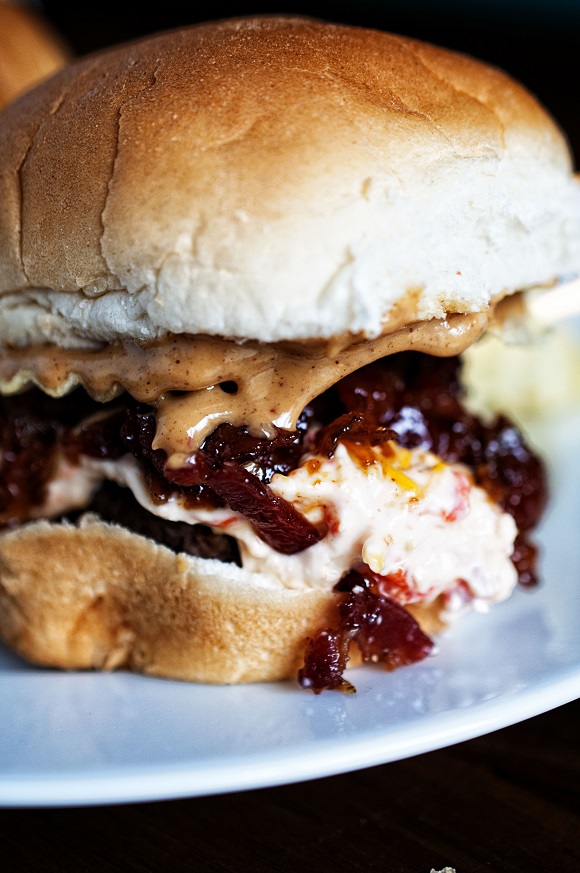 So let's talk about this burger. It may scare you a little when you know the ingredients. I raised an eyebrow as well but liked all the things that were in it, I just never imagined they would all taste so good together. And boy DO THEY. I already love a peanut butter bacon burger, so peanut butter and bacon jam…sign me up. I love potato chips. And I like some pimento cheese. It's seriously a home run. You could easily make full size burgers out of these but I hadn't really seen anyone do sliders for burger month and thought what the heck. If you don't make the burger at least do yourself a favor and make the Bourbon Bacon Jam and just eat that with oh….everything!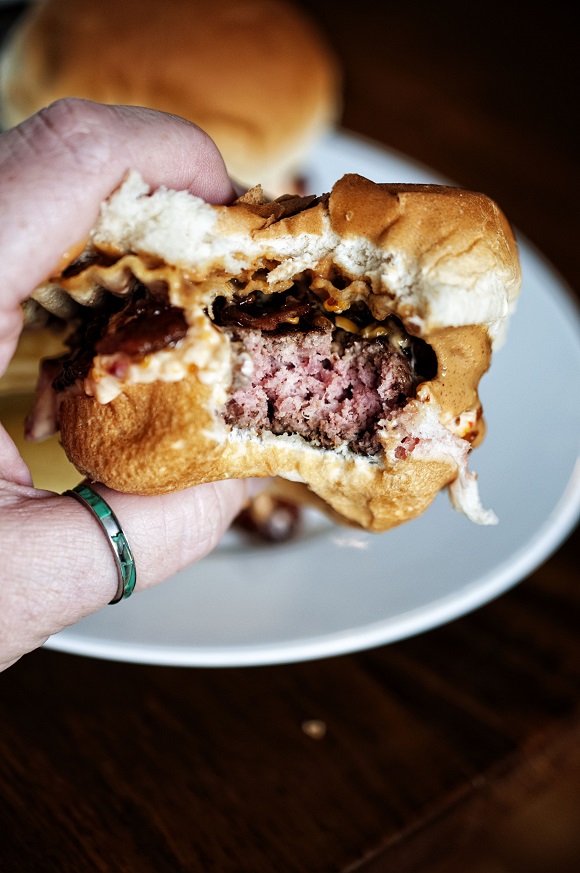 Peanut Butter Bourbon Bacon Jam Pimento Cheese Potato Chip Sliders
Ingredients
For the sliders:
1 pound ground beef
Salt and pepper to taste
8 mini slider buns
1 cup Crunchy natural peanut butter
8 large potato chips
For the Pimento Cheese:
8 ounces cream cheese, at room temperature
½ cup mayonnaise
2 cups sharp cheddar cheese
¼ tsp. garlic powder
¼ tsp. onion powder
1 (4 oz.) jar pimentos, drained
Salt and pepper to taste
For the Bourbon Bacon Jam:
1 pound smoked bacon
1 large sweet onion (such as Walla Walla or Maui)
2 TBSP minced garlic
¼ cup apple cider vinegar
½ cup brown sugar
¼ cup bourbon
Salt and pepper to taste
Instructions
For the burgers:
Form your slider patties so that they are thin, no more than 1/4-inch thick. Lightly season them with salt and pepper.
Place a large frying pan over medium-high heat. Sprinkle the pan with salt as it heats.
Add the sliders to the pan quickly once it is very hot, but not smoking. Depending on their size, you can fit about three or four sliders in the pan at once. Be careful not to overcrowd the pan.
Brown the meat for about 20 to 30 seconds.
Flip the sliders and cook for one to two minutes more, depending on your desired level of doness, I like mine still a touch pink inside.
Remove the cooked slider patties from the pan and transfer them to buns. Pour off any excess fat from the pan, then repeat steps three through five with the remaining patties.
For the Pimento Cheese:
Place the Cheddar cheese, cream cheese, mayonnaise, garlic powder, onion powder, and pimento into the large bowl of a stand mixer.
Using paddle attachment beat the mixture on medium speed until thoroughly combined.
Season to taste with salt and black pepper.
For the Bourbon Bacon Jam:
Cut bacon into 1 inch pieces.
Cook the bacon in a large saucepan (I used my Le Creuset) and cook down until the bacon is crisp and fat is rendered.
Remove bacon and set aside on a paper towel to remove some of the oil.
Discard all but 1 TBSP bacon fat (and by discard I mean add to your bacon fat jar that hopefully you keep to cook with).
Add the onions and cook until tender and become translucent in color.
Add the bacon back along with the remaining ingredients and reduce to a low simmer.
Let the ingredients cook down until they for a syrup or jam like consistency, this will take about an hour or so.
To assemble the sliders:
Place a burger on the bottom portion of the bun.
While warm, add about 2 TBSP of Pimento cheese to the hot burger so that it will melt a little.
Spread peanut butter on the top bun.
Add bacon jam to the top of the Pimento cheese.
Top with a large potato chip.
Put the peanut butter slathered bun on top of the chip and smoosh down a little to get it to all come together.
Eat and enjoy.
You will have left over Bourbon Bacon Jam and you will have leftover Pimento Cheese…lucky you. Eat it.
https://www.sweetrecipeas.com/2014/07/25/peanut-butter-bacon-jam-pimento-cheese-potato-chip-sliders/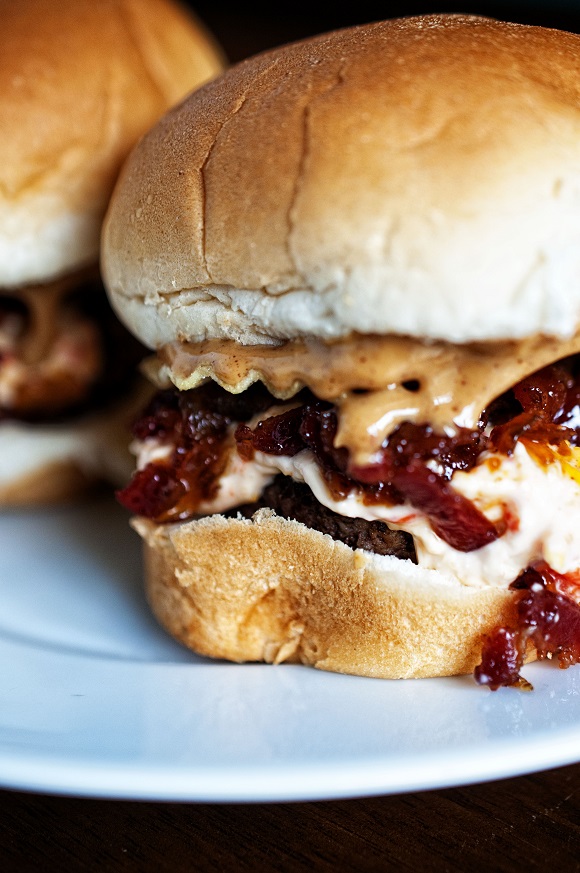 A huge thanks to all of the fun bloggers who were just as inspired by a month of burgers as I was and the awesome companies that have donated prizes to #burgermonth , El Diablo Hot & Spicy Mustard, FireWire Grilling Skewers, Hamilton Beach, KitchenIQ, The Spice House, and Wisconsin Cheese