This French Onion Soup Baked Pasta is my husband's absolute favorite pasta dish of all time. French onion soup lovers will go crazy for this.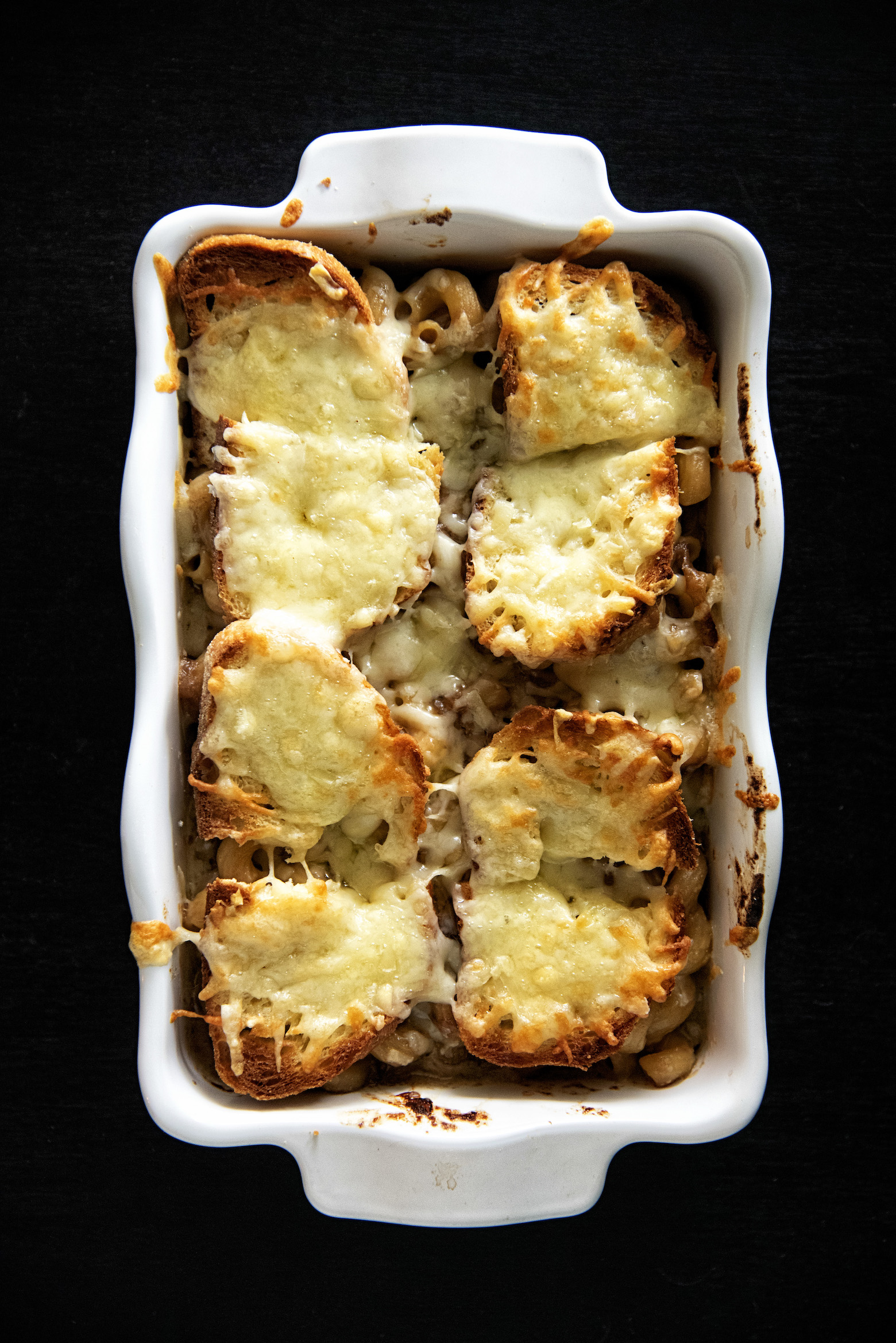 Hello all and Happy New Year!
I realize we are several days into the new year and I haven't had a post but I did warn you that the next couple months would be on the slimmer side of posting due to the upcoming cookbook.
I'm in the thick of it right now big time.
I've put some serious miles on the new oven already….it's definitely broken in.
While I realize quite a few of you are swearing off pasta for the new year or the next three weeks until you remember that pasta taste better than cauliflower, I had to post this recipe.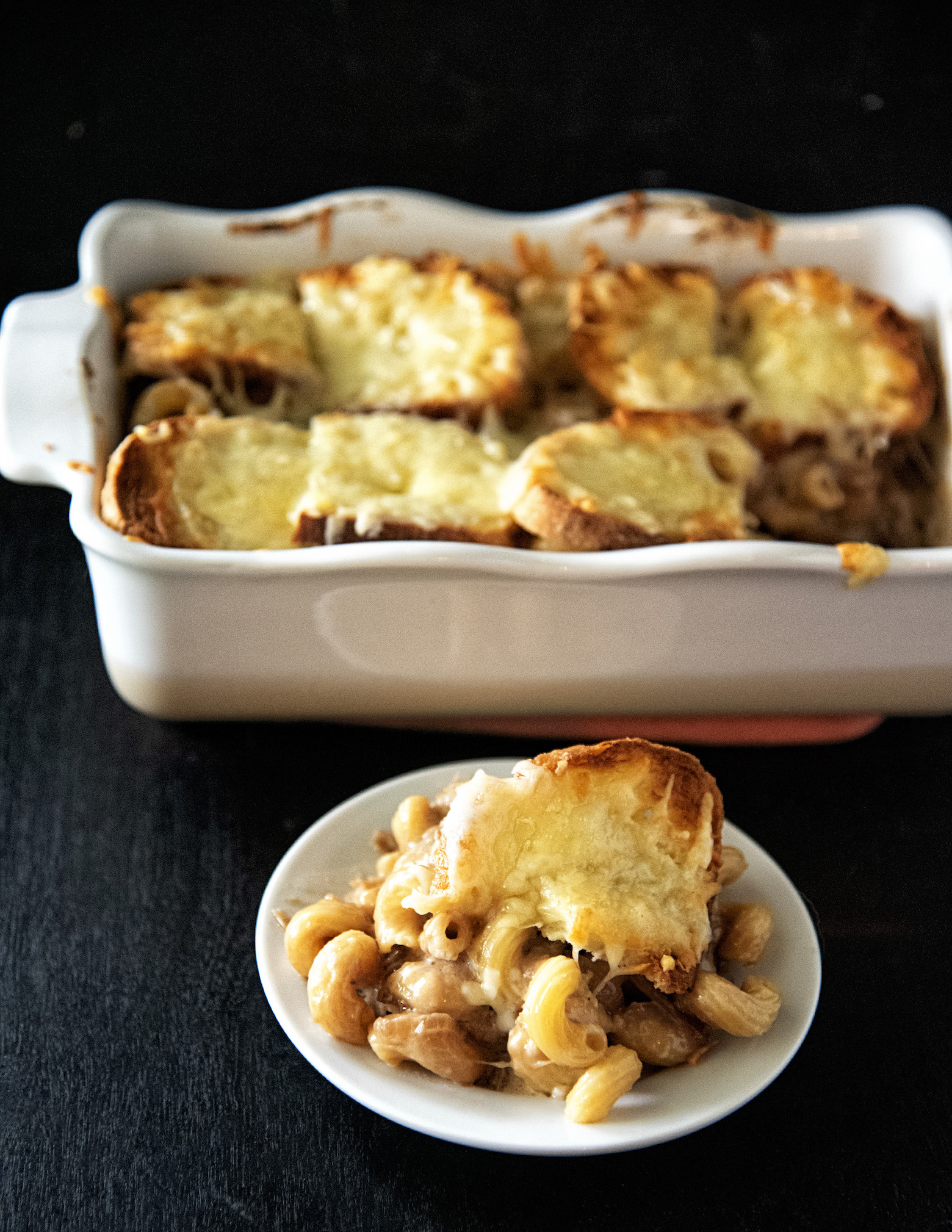 You see my husband deemed this recipe the BEST pasta he had ever had in his life.
His life.
Which considering how much pasta we eat was quite the compliment.
I actually made this French Onion Soup Baked Pasta several months back but didn't post because I planned on making it for my parents when they came.
Planned on reshooting the photos when that happened.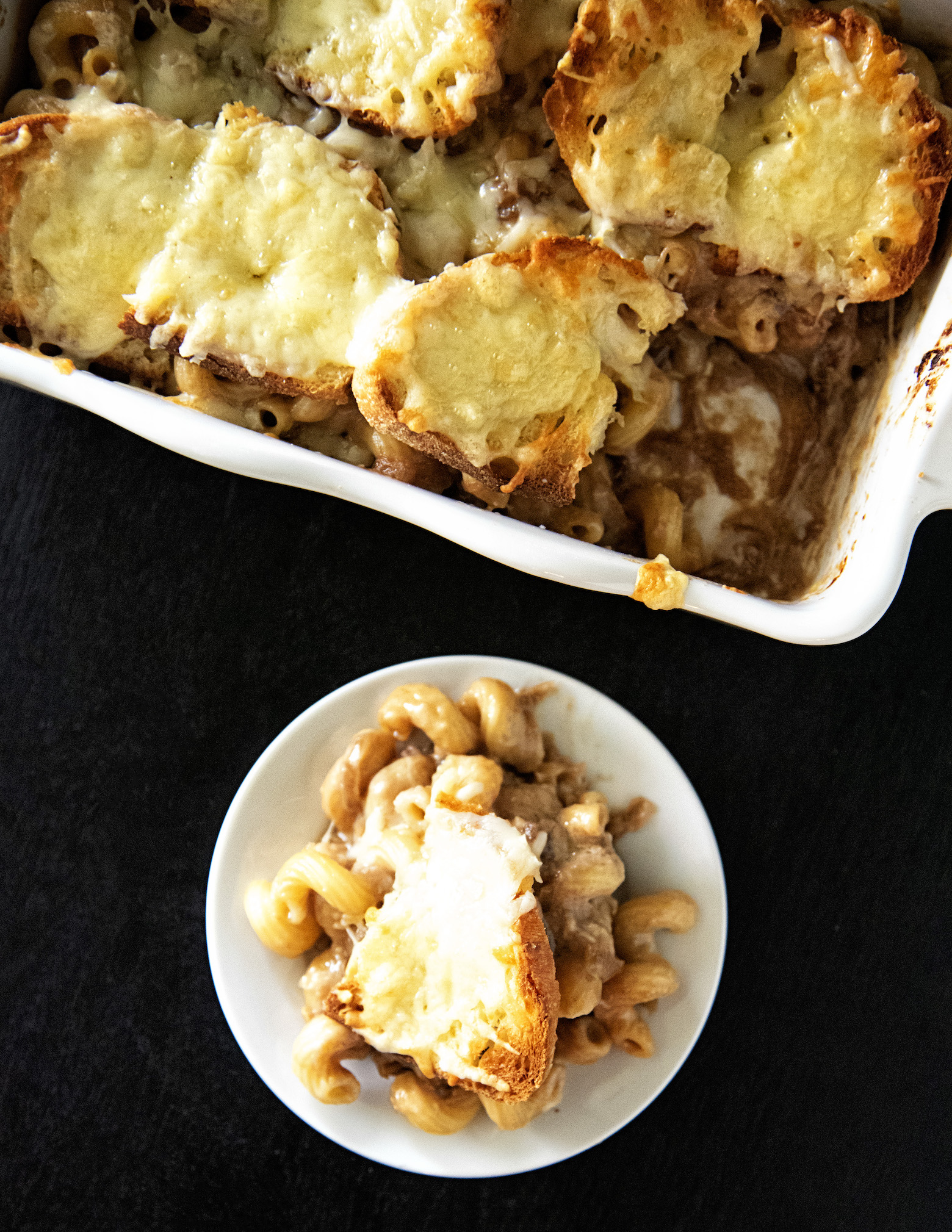 Except the parents didn't come and I had a couple of readers who saw this on Instagram (stories) and asked if the recipe was ever going up.
So it's up now. 😀
I had seen a recipe for French Onion Mac and Cheese and got excited thinking it was French Onion SOUP Mac and Cheese.
But I read it wrong and it was just basically caramelized onions added to mac and cheese.
Which meant that I had to figure out how to make a French Onion SOUP version since I now was craving it.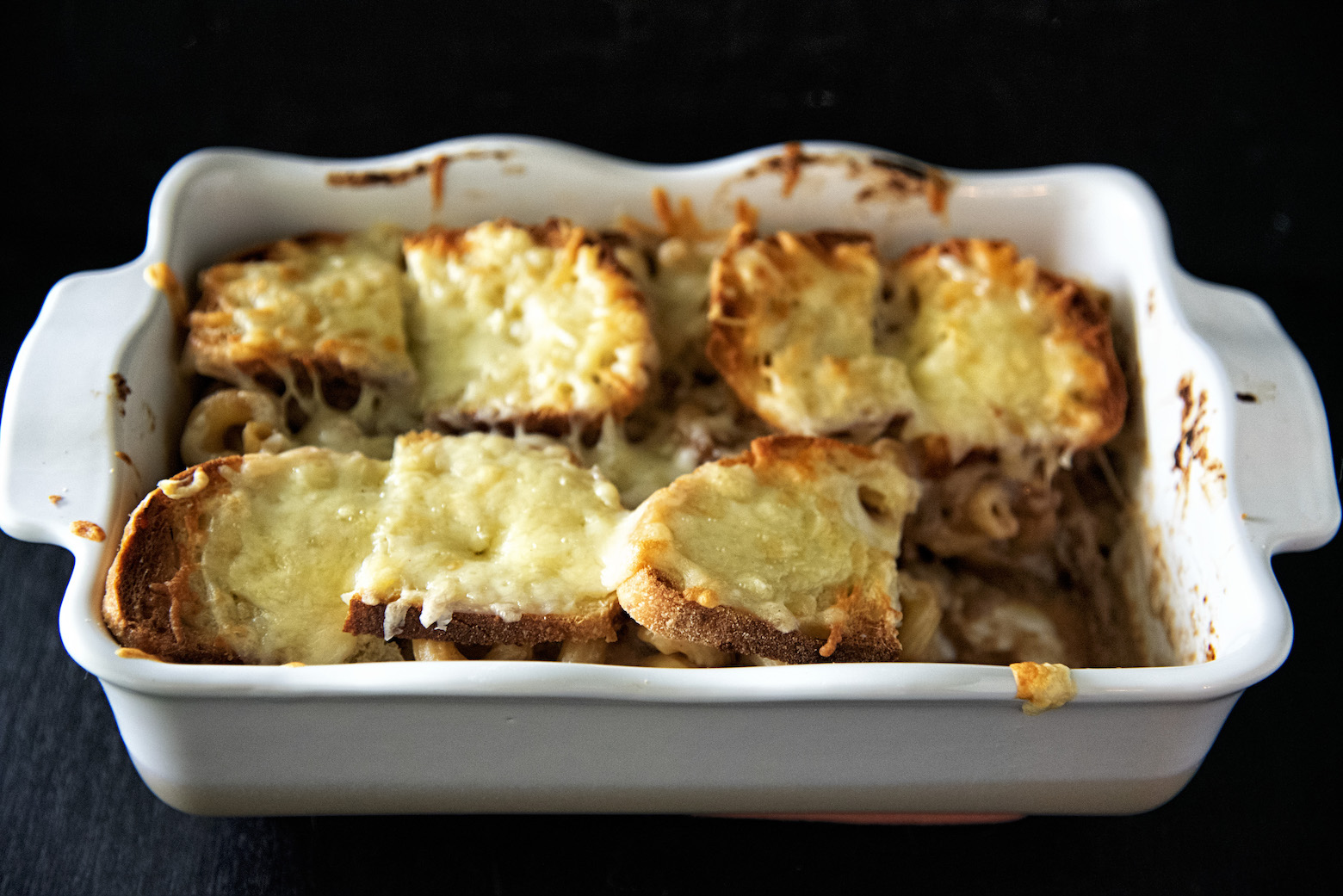 This recipe is basically French onion soup cooked down to a very thick sauce, almost jam or paste like.
Then tossed with pasta and cheese.
And all topped with buttered French bread slices that are covered in cheese.
You know, your basic diet food.
The recipe calls for only 4 slices of bread because that is all that fits on top…at least for mine.
However, I highly suggest that you butter the rest of the loaf slices,
And then bake some more cheese croutons in your oven under the broiler.
This dish is made with vegetarian broths you can of course use chicken and beef broth if that is your preference.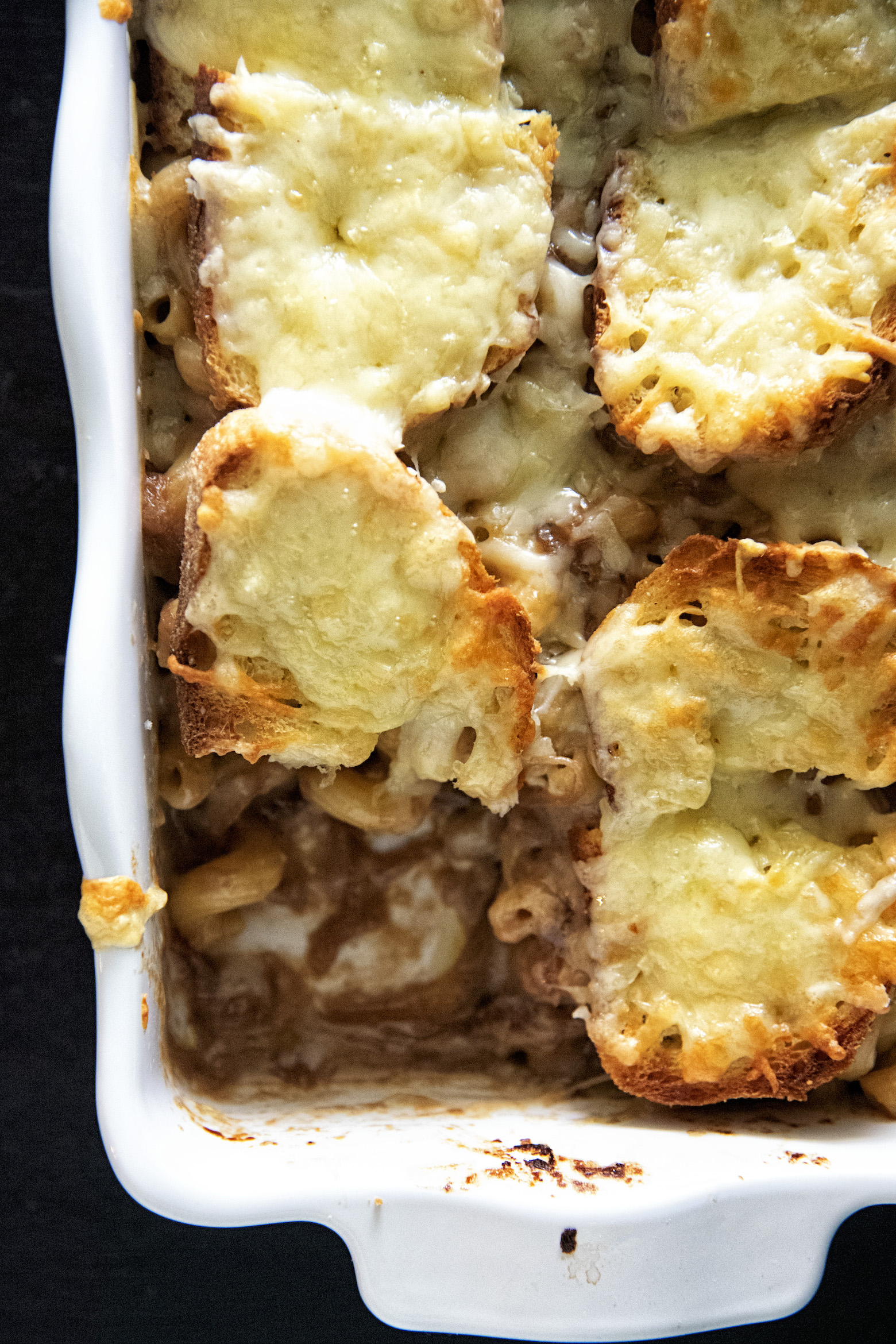 Want more Pasta recipes?
BBQ Pulled Pork Mac and Cheese
Alpine Dijon Macaroni and Cheese
Gouda and Lobster Mac and Cheese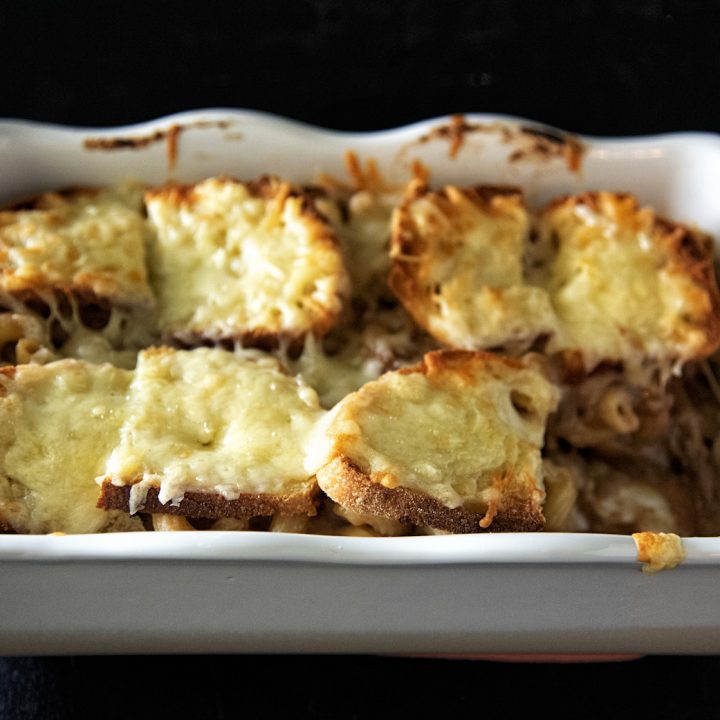 French Onion Soup Baked Pasta
Ingredients
For the Pasta:
12 oz. cavatappi or other short curly pasta
1 each yellow, white, and red onion, sliced (6 cups)
2 TBSP minced fresh garlic
2 TBSP olive oil
½ cup dry white wine
3 TBSP dry sherry
2 TBSP all-purpose flour
1 ½ cups Better than Bouillon No Chicken Base (prepared with water to equal 1 1/2 cups)
1 ½ cups Better than Bouillon No Beef Base (prepared with water to equal 1 1/2 cups)
1 sprig fresh thyme
Salt and black pepper to taste
1 cup grated fontina cheese
1 cup grated Gruyère cheese
1 cup shredded sharp white cheddar
For the Topping:
4 French Bread Slices, sliced very thin
4 tsp butter
1 1/2 cups Gruyère cheese
Instructions
Butter a 9 3/4" x 6 1/4" x 2" baking dish. Set aside.
Sweat onions and garlic in oil in a large pot over medium heat, covered, for 10 minutes.
Uncover pot, increase heat to medium-high and cook onions until caramelized, stirring frequently, 20 minutes. Continue to cook down until fully caramelized…this can take up to an hour. But it's worth it to get them just right.
Deglaze pot with wine and sherry; increase heat to high and simmer until liquids evaporate, stirring often.
Stir in flour and cook 1 minute.
Add the no chicken and no beef prepared broth and thyme; simmer soup 10 minutes, season with salt and pepper, and discard thyme sprig.
Cook down the broth and onion mixture until the majority of the liquid is gone. You want it thick and not runny. Set aside.
Cook pasta in a large pot of boiling salted water, following package directions until al dente. Drain pasta and set aside.
In a large bowl combine the French onion soup mixture with the pasta.
Then add in the fontina cheese, 1 cup Gruyere, and the white cheddar.
Bake for 25 minutes.
Butter each French bread slice with 1 tsp of butter.
Remove pasta from oven and add the French Bread slices (you most likely have to cut them to make them fit).
Top with the remaining 1 1/2 cups of Gruyère cheese and place under a broiler until the cheese is bubbly and starting to brown.
Notes
I highly suggest making some extra French bread pieces with butter and cheese. I just made mine on a baking sheet under the broiler.