This Pimento Cheese Mac and Cheese takes your favorite southern spread and turns it into an amazing mac and cheese all topped with garlic butter croutons!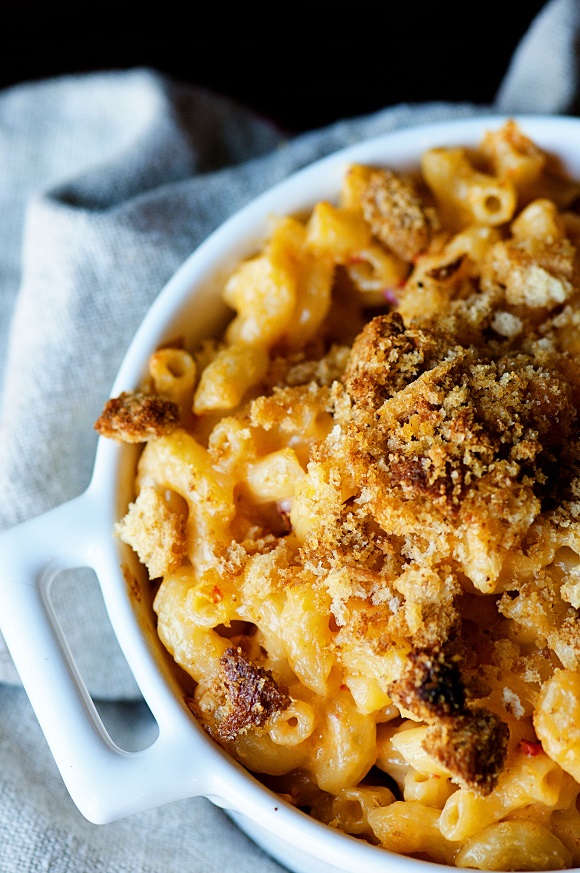 I'm not sure what it's like today (I'm sure with our appearance driven society it's even worse) but back in my day if you were female and going off to college you were warned about the dreaded Freshman 15.
The average 15 pounds that every college kid gains when they go off to college and eat at the college cafeteria.
You are away from your family for the first time and while for a few days that is awesome…you do tend to start to get a little homesick.
So you eat.
Cereal comes in just giant containers…never ending Lucky Charms can become a problem…especially when you combine it with the never ending soft ice cream machine. 🙂
Not saying I did that or anything. 😛
There are lots of mashed potatoes, pasta dishes (mac and cheese), and food made to fill you up.
Me, I waited until my senior year where two for one drink and chicken wing nights at the bar (I mean the library mom and dad) were the cause of my senior 15 (more like 30) came about. 😀
Mmm, chicken wings.
In honor of the Freshman 15 I offer up some mac and cheese you would never find in the cafeteria.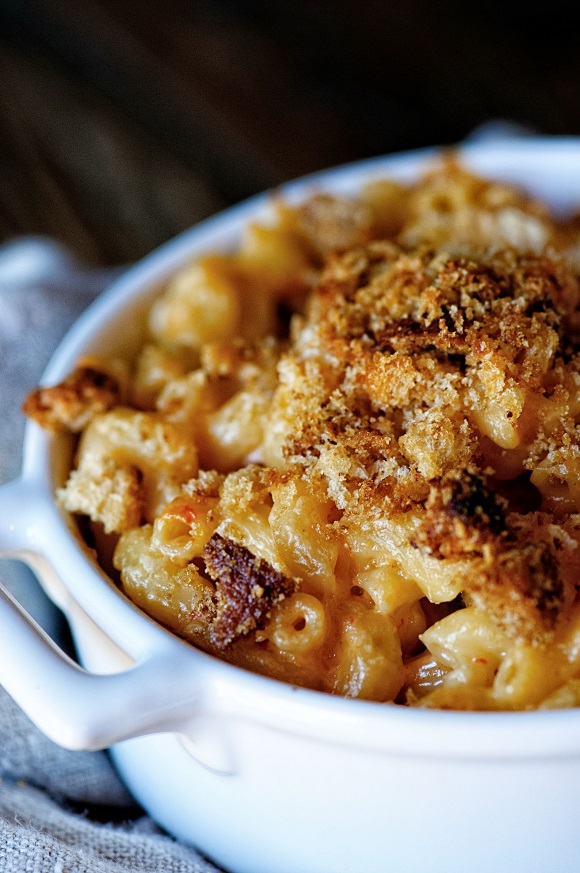 Up until we had gone to Nashville, the hubby had not had Pimento Cheese, now we make it all the time.
We usually are just boring and eat it with Chicken in a Biscuit Crackers (which I thought about topping this with) but I decided to make it into Mac and Cheese.
Holy yum.
I mean holy yum.
We make mac and cheese this way all the time now.
I looked up a lot of recipes before I created this recipe.
None of them started with just making good ol' Pimento Cheese spread.
So that's what I did.
I made the spread and then made it into a mac and cheese.
I had a non-pimento cheese person at the dinner who was kind and gave it a try.
She ate two scoops of it and said okay, I like your Pimento Cheese. 🙂
I have magic powers.
I even got a non-bacon eater to say he loves my bacon jam before.
Again, I have powers.
It of course was even better because I used Plugra European Style Butter.
It just adds such another level of richness and yumminess (that's a word I swear).
On a sad note as I was writing this post, news of my undergrad college, Northern Arizona University, popped up in my news feed.
One dead, and another three injured in a shooting.
While this one seems to be more about an argument turned into a bloodbath, this should not be happening on our campuses.
Or anywhere for that matter.
It's hard for me to believe this could happen at NAU.
When I went it was such a laid back campus with happy people who drank craft beer, hiked, skied, mountain biked…and oh yeah went to classes.
I'm thinking of those who were involved and hope the only time I hear about NAU in the future is because something good happened.
It's a great day to order my cookbook.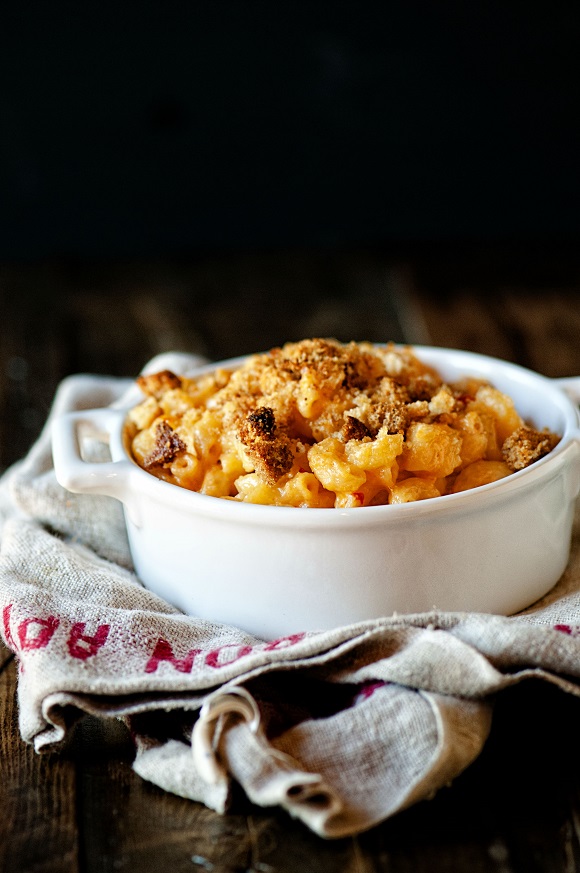 Want More Mac and Cheese Recipes?
BBQ Pulled Pork Mac and Cheese
Alpine Dijon Macaroni and Cheese
Gouda and Lobster Mac and Cheese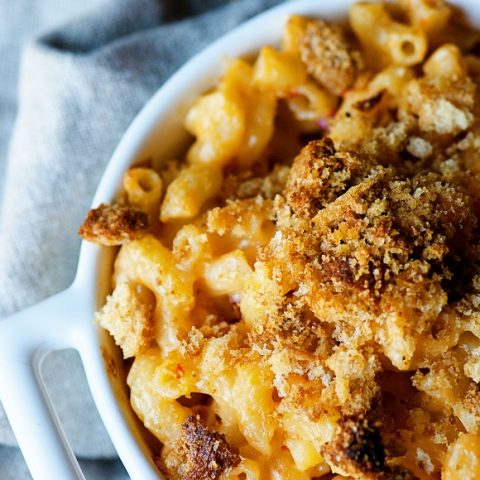 Pimento Cheese Mac and Cheese
Ingredients
For the topping:
4 TBSP salted butter (I used Plugra)
1 clove of garlic, minced
3 slices of French Bread (about ¾-1 inch thick), cubed
For the mac and cheese:
12 oz cooked pasta
8 ounces cream cheese, at room temperature
½ cup mayonnaise
2 cups sharp cheddar cheese
¼ tsp. garlic powder
¼ tsp. onion powder
1 (4 oz.) jar pimentos, drained
2 ¼ cups heavy cream
½ cup whole milk
5 TBSP all-purpose flour
4 TBSP unsalted butter (I used Plugra)
Salt and pepper to taste
Instructions
For the topping:Preheat oven to 350 degrees F.
In a large sauté pan, melt butter over medium heat.
Stir in garlic; cook and stir for 1 minute.
Add bread cubes, and toss to coat.
Spread on a baking sheet.
Bake for 15 minutes or until crisp and dry.
Check frequently to prevent burning.
Let cool to room temperature and then place them in a plastic sealed bag and using a rolling pin turn the croutons into crumbs.Set aside.
For the mac and cheese:
Preheat oven to 375F.
Place the Cheddar cheese, cream cheese, mayonnaise, garlic powder, onion powder, and pimento into the large bowl of a stand mixer.
Using paddle attachment beat the mixture on medium speed until thoroughly combined.Set aside.
Melt butter in large saucepan.
Once melted add flour and create a light colored roux.
Add the cream and milk and whisk to let the roux dissolve.
Add the pimento cheese spread and whisk until the cheese melts completely.
Season to taste with salt and black pepper.
Add pasta to the pimento cheese sauce.
Pour into a buttered dish I used a smaller one for photos and then a 7-x-11-inch pan so a 9-13-inch pan should work just fine for this.
Top with the garlic butter croutons.
Bake for 20-25 minutes or until top is crispy and cheese is bubbling.
If crouton topping is getting too crispy too fast, cover with foil.