Peach Sweet Tea Southern Veggie Burger: Veggie burger all topped with Peach Sweet Tea Onion Jam, Pimento Cheese, Bourbon Mayo, and potato chips make this a burger where you won't miss the meat.
This post is part of an awesome burger grill giveaway hosted by GirlCarnivore but the burger, bad grammar, and overuse of emoji's is all my own.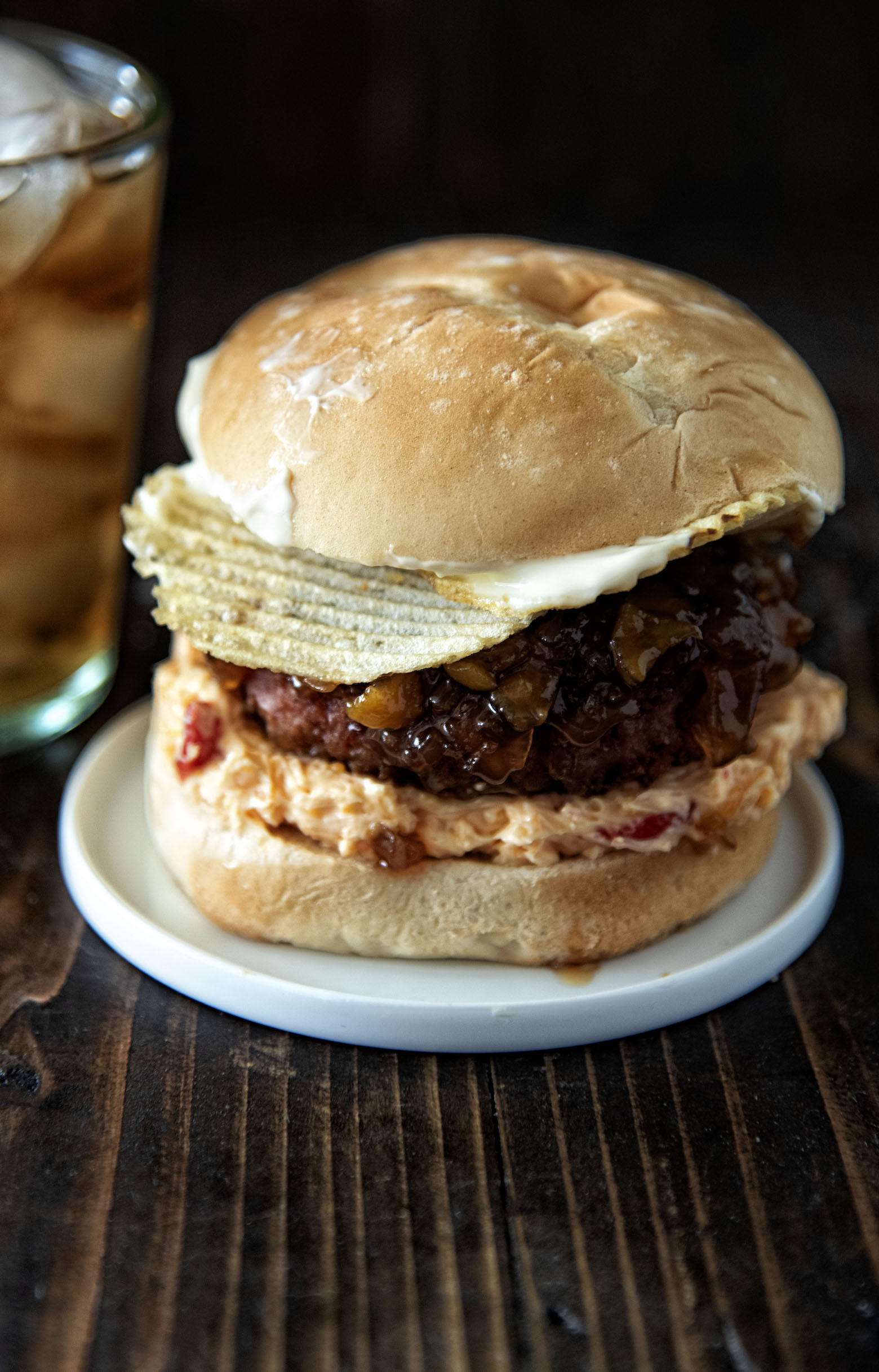 It's May.
And that means it's Burger Month! 🙂
My good friend and former podcast partner in crime is on her 5th year of hosting burger month.
This is my fourth time participating.
I only missed in 2017 because we were in the middle of moving to our house.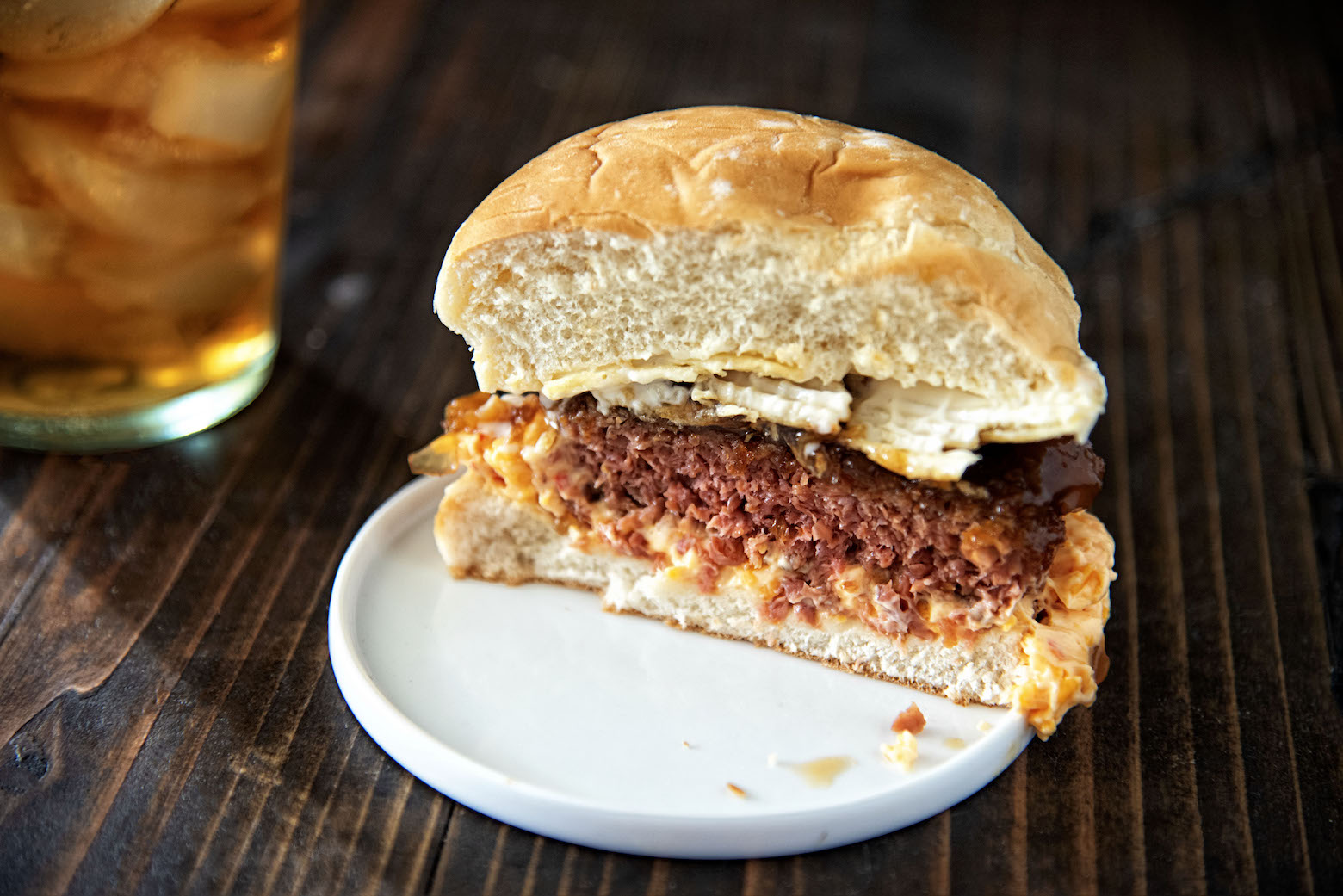 And just like previous years, Burger Month includes a very fun giveaway.
At the end of this post you can see how to enter.

There is a variety of prizes that if you love to grill you don't want to miss out on.
You can read about it all on the Burger Month website.
As well as see a lot of tasty burgers that you will want to make.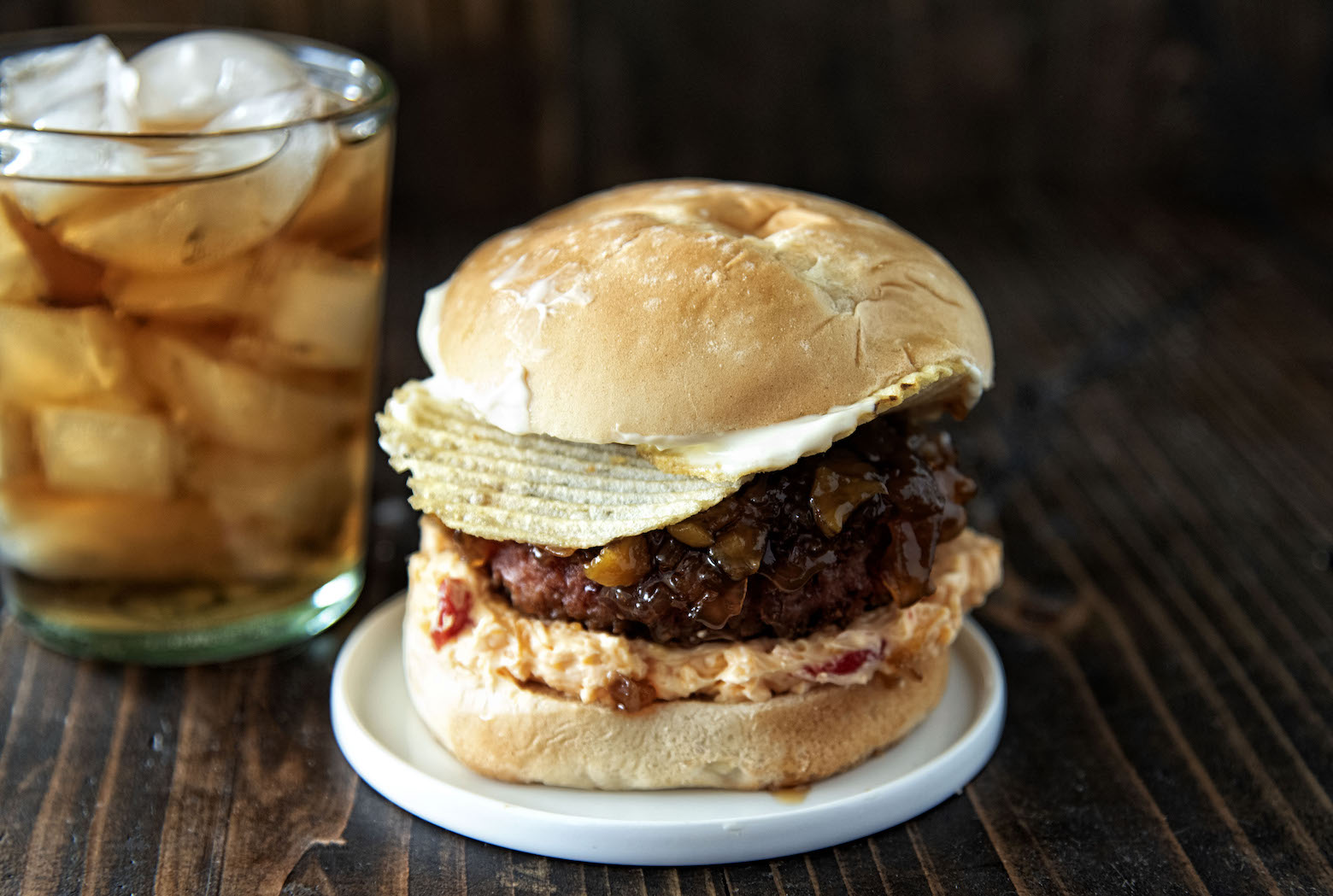 My entry this year is indeed a veggie burger.
I know at first glance it doesn't look that way but I promise it is indeed a veggie burger.
They've come a long way with those.
So much so you can get them at a lot of fast food places these days.
This year my burger is an interpretation of things I love from the south.
Sweet tea.
Peaches.
Pimento cheese.
Bourbon.
Potato chips aren't really southern but I just like the crunch they give the burgers.
Cabot had sent me a bunch of awesome cheese and I used the Vermont Sharp Shredded Cheddar Cheese in my Pimento Cheese.
We don't get much Cabot out on the west coast but boy I wish we did.
I absolutely love their cheese, plus they hold a special place in my heart because they sent our Holly Belle a ton of cheese before she passed for her bucket list.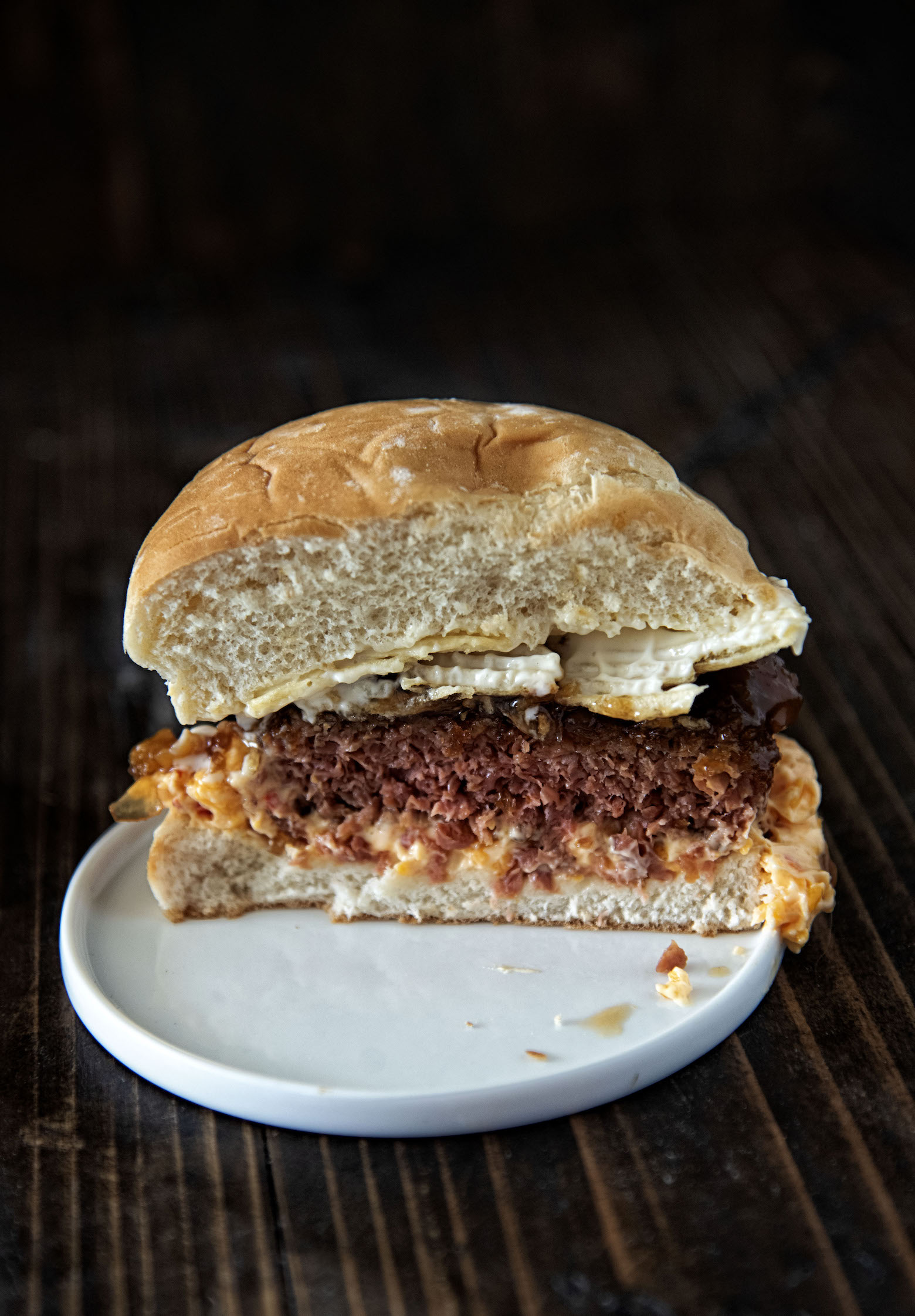 So my burger has a spread of Pimento Cheese on the bottom bun.
Then burger.
Topped with Peach Sweet Tea Onion Jam.
A few potato chips to give it some salt and crunch factor.
And finished with some bourbon mayo.
I hope someone in the south is proud of this burger. 😛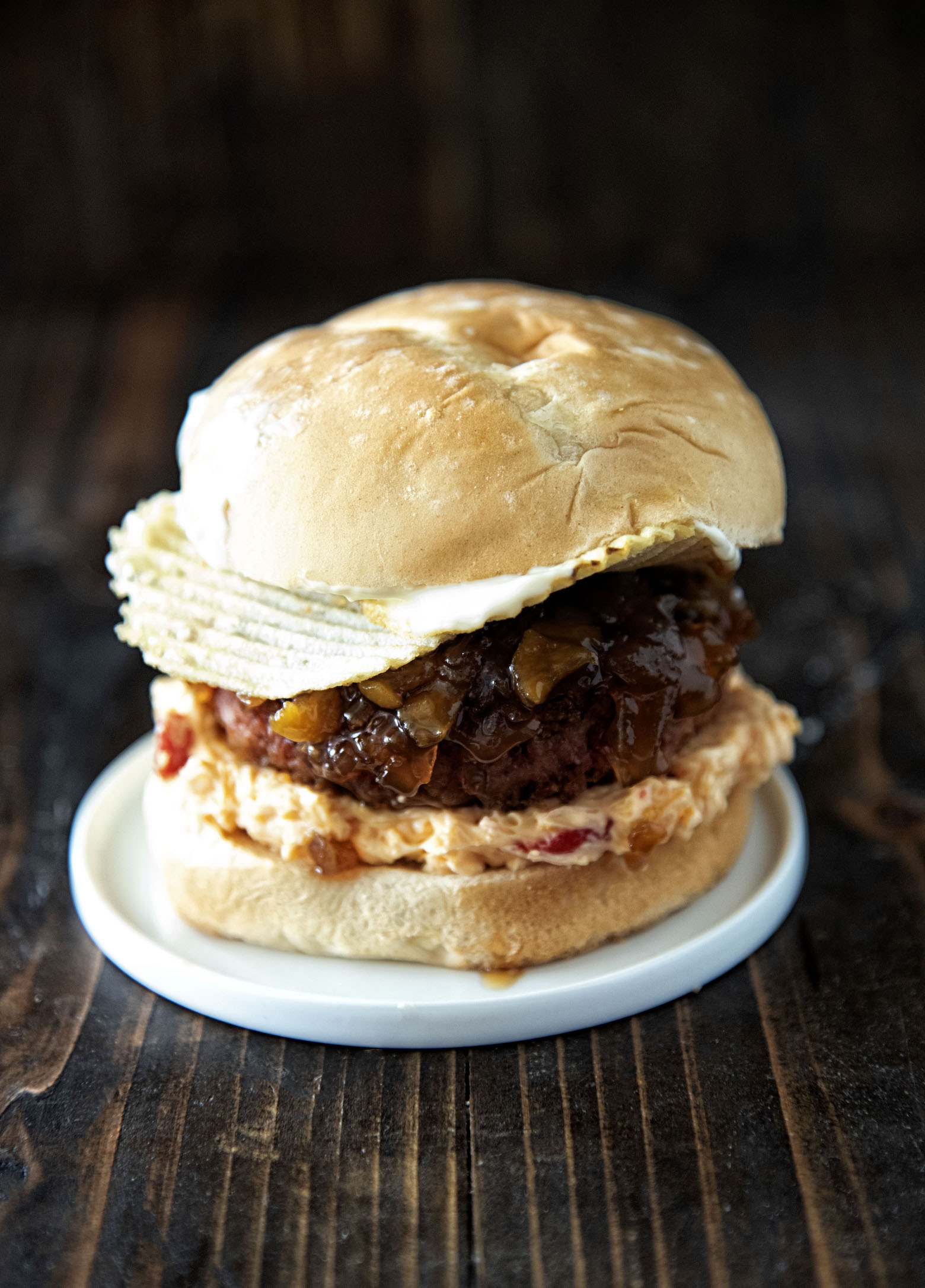 Like burgers? Try some of these recipes:
Grilled Cheese Double Bacon Cheeseburger
Tortilla Chip Taco Salad Veggie Burger
Pulled Pork Grilled Onion Gouda Burger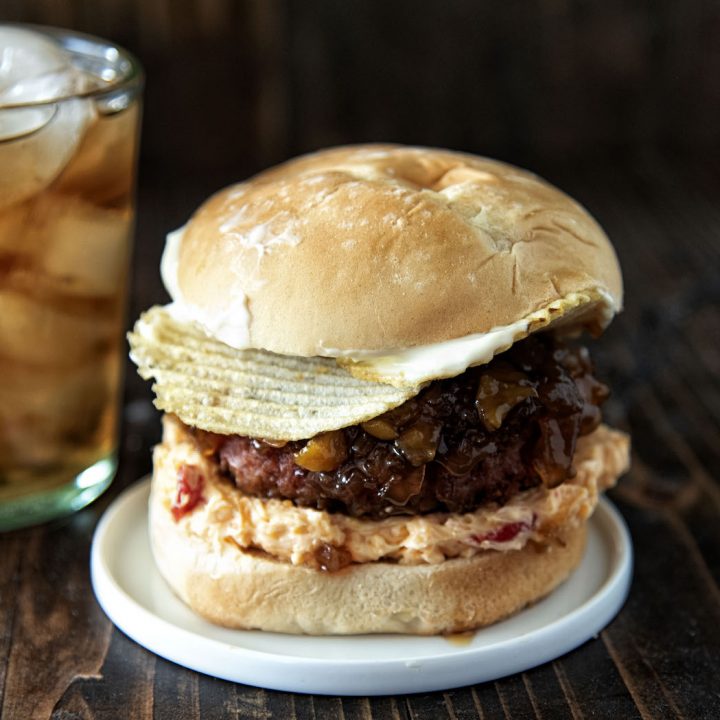 Peach Sweet Tea Southern Veggie Burger
Ingredients
For the Burger you need:
4 veggie patties (your favorite kind), cooked according to direction
1 recipe Peach Sweet Tea Onion Jam (recipe follows)
1 recipe Pimento Cheese (recipe follows)
1 recipe Bourbon Mayo (recipe follows)
16 potato chips
4 hamburger buns
Peach Sweet Tea Onion Jam:
2 large sweet onions (such as Walla Walla or Maui)
2 large peaches, peeled and diced finely
1/2 cup apple cider vinegar
1 cup brown sugar
1/2 cup Unsweetened Iced Tea (liquid)
1 TBSP oil
Pimento Cheese:
1/2 cup mayonnaise
3 TBSP chopped pimentos
1/2 tsp. smoked paprika
1 tsp. garlic powder
1/2 tsp. salt
Bourbon Mayo:
1 cup mayo
1/3 cup bourbon
Instructions
Peach Sweet Tea Onion Jam:
In a large sauté pan over medium heat add 1 TBSP oil and onions and cook until tender and become translucent in color.
Add the remaining ingredients and reduce to a low simmer.
Let the ingredients cook down, stirring about every 10 minutes, until they for a syrup or jam like consistency, this will take about an hour or so.
Pimento Cheese:
Simply blend all the ingredients together in a bowl until they are fully combined.
Bourbon Mayo:
Mix the ingredients together.
To make the burgers.
Take a bun and split it.
Place Pimento Cheese on the bottom. How much really depends on how much you like it. 🙂
Place burger on top of the Pimento Cheese.
Top with Peach Sweet Tea Onion Jam.
Add four potato chips on top of the jam.
Then spread the top bun with Bourbon mayo.
Place on top of chips and eat.
a Rafflecopter giveaway
A huge thanks to the #BurgerMonth sponsors for the Ultimate Burger Grilling Giveaway: Cabot Cheese, Char-Griller Grills, Crow Canyon Home, Porter Road, Melissas Produce, Red Duck, Spiceology, & Western BBQ

To check out what all the bloggers did visit their sites:
🍔 Girl Carnivore 🍔 A Kitchen Hoor's Adventures 🍔 A Simple Pantry 🍔 Abra's Kitchen 🍔 AcadiaTwo's Kitchen Antics 🍔 An Affair from the Heart 🍔 Bakersbeans 🍔 Betsi's World 🍔Bowl Me Over 🍔Caroline's Cooking 🍔 Cindy's Recipes and Writings 🍔 City Living Boston 🍔 Cluttercafe 🍔 Cooking With Carlee 🍔 Convos with Karen 🍔Daily Dish Recipes 🍔 Dance Around The Kitchen 🍔 Dixie Chik Cooks 🍔 Dizzy Busy and Hungry 🍔 Doodlecraft 🍔 Everyday Eileen 🍔 Family Around the Table 🍔 Family Food on the Table 🍔 Family Spice 🍔Farmwife Feeds 🍔Food Above Gold 🍔 For the Love of Food 🍔 Grillax.com 🍔 Grilling Montana 🍔 Grumpy's Honeybunch 🍔 Hezzi-D's Books and Cooks 🍔 Honeybunch Hunts 🍔 HORNS BBQ 🍔 Intelligent Domestications 🍔 It Is a Keeper 🍔 Jolene's Recipe Journal 🍔 Jonesin For Taste 🍔 Juggling Act Mama 🍔 Karen's Kitchen Stories 🍔 Kate's Recipe Box 🍔 Krazy Kitchen Mom 🍔 Life Anchored 🍔 Life of a Ginger 🍔 Mildly Meandering 🍔 Miss in the KItchen 🍔 Palatable Pastime 🍔 Pastry Chef Online 🍔 Perspective Portions 🍔 Plowing Through Life 🍔 PNW Eats 🍔 Pook's Pantry 🍔 Real Life With Dad 🍔 Sarah's Cucina Bella 🍔 Seduction In The Kitchen 🍔 Simple and Savory 🍔 Souffle Bombay 🍔 Spiced 🍔 Spoonabilities 🍔 Strawberry Blondie Kitchen 🍔 SueBee Homemaker 🍔 Sumptuous Spoonfuls 🍔 Sweet ReciPeas 🍔 Swirls of Flavor 🍔 Take Two Tapas 🍔 Tampa Cake Girl 🍔 Taste And See 🍔 The Baking Fairy 🍔 The Beard and The Baker 🍔 The Complete Savorist 🍔 The Crumby Kitchen 🍔 The Heritage Cookbook Project 🍔 The Keto Guy 🍔 The Redhead Baker 🍔 The Rowdy Baker 🍔 The Schmidty Wife 🍔 The Shirley Journey 🍔 The Spiffy Cookie 🍔 This Farm Girl Cooks 🍔 Thyme for Cocktails 🍔 We are not Martha 🍔 Well Fed Baker 🍔 West Via Midwest 🍔 What's Cooking Italian Style Cuisine 🍔 Who Needs A Cape? 🍔 Wildflour's Cottage Kitchen 🍔 Wok & Skillet 🍔 Zest & Simmer 🍔