So in food blogging you make something. You taste it. You think okay, blog worthy. Then you photograph it (though sometimes you have to photograph first and then see how it tastes). The photographs are lovely. Then you blog about it. Tons of people comment how awesome it is and you clearly have a best blog. This is how it goes in the idea world of blogging.
This is how it goes in mine.
3 am and idea for a recipe pops in my mind if I'm lucky when I awake later on I remember what it was. I keep telling myself to keep a notepad by the bed for such cases…never happens.
I make up the recipe as I go along…naturally forgetting to write the recipe down. Turns out fantastic. Photograph it and save it for later. Which ends up being much later. To which I stare at the photo later in Lightroom and think to myself…what was that again? Brush it off to the side until I become so desperate for blog material that I remake the recipe again because at least I already have good photos of it. 🙂
Then I have the recipes I make and taste amazing….and look like something that cat threw up in the corner. I sit and stare at it and try and figure out what angle doesn't say cat vomit. What if I threw in a gingham napkin? Yeah, yeah that will make it better. Oh no…now I have cat vomit on a gingham napkin. Sigh. You decide no, not going up no matter how tasty it is. That is until you become desperate for blog material and decide that you can no longer deprive your readers of this amazing recipe regardless of how it looks. 😛
Then I have the recipes I make and are really good, the photographs are so-so and so I don't rush to put it on the blog. I know eventually it will go up just not at this second as I have other stuff that looks way better. It gets pushed to the side and forgotten until of course I become desperate for blog material…sensing a theme yet? 🙂
Yes, readers it's that time where I am desperate for blog material (this by the way falls into the really good but photos so-so category and the oh my wedding is coming up I'll avoid blogging category). I made these back in March when I was on my Southern food kick. Ironically during that time Nelson Books sent me a copy of The Southern Bite Cookbook: 150 Irresistible Dishes from 4 Generations of My Family's Kitchen
. It has a lot of interesting recipes (Dr. Pepper cake is up next for me to try) but the one that stuck out the most to me was making Pimento Cheese…into crackers. Ummm. Hell to the yes. They do not disappoint at all. MDP could not believe how insanely yummy they were especially for having very few ingredients.
I'm going to do my best to blog but if you don't see me around know it's because another little wrench in life has been thrown at me. First the wedding…which wasn't a wrench but was a time taker upper (that's a thing), then my poor pup (who is doing great by the way…she even jumped up into bed this morning for Mother's Day gift to me), and now the new wrench is that we will have to be moving as the place we rent is going up for sale. Okay universe I'm tired already.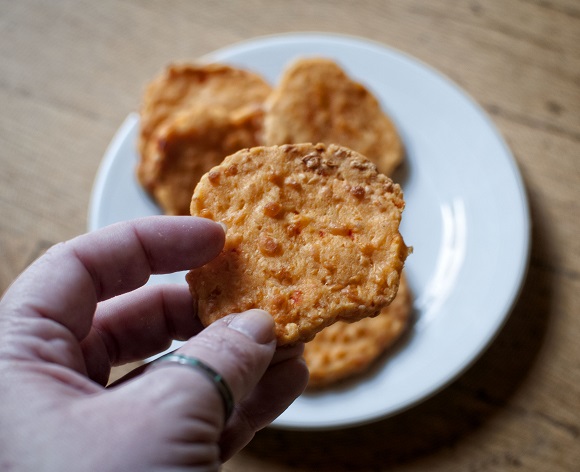 Pimento Cheese Cracker Crisps
Ingredients
1 (4 oz) jar diced pimentos
8 oz. cheddar cheese, shredded
¾ cup unsalted butter, at room temperature
1 tsp. salt
½ tsp. garlic powder
½ tsp. ground red pepper (I skipped this part)
2 cups all-purpose flour
Instructions
Drain the pimentos in a strainer and set aside.
Using a stand mixer or even a food processor add the pimentos, cheese, butter, salt, garlic powder, red pepper, and flour.
Mix on low until ingredients are just combined.
Remove from bowl and move to counter to finish using hands. Work with dough until it makes a thick dough (almost cookie batter like).
Place dough onto a piece of large wax paper.
Form in to a log…I made mine into two for easier storage in fridge.
Roll the dough up in the wax paper and refrigerate at least 1 hour.
Preheat oven to 350F.
Line a baking sheet with parchment paper.
Slice chilled dough into 1/8-inch thick rounds. I suck at this part. We made some thicker than what I wanted them to be. The thinner they are the crispier they will be. And the crispy ones are the best.
Place rounds on the baking sheet and bake for 12-14 minutes or until the edges start to turn brown.
Cool on a wire rack.
Continue making until all the dough is used.
Makes about 4 dozen.
Adapted from The Southern Bite Cookbook by Christy Jordan
https://www.sweetrecipeas.com/2014/05/11/pimento-cheese-crisp-crackers/