This Cranberry Orange Pecan Jello Salad is filled with Mandarin oranges, dried cranberries, and pecans. Perfect for your holiday table.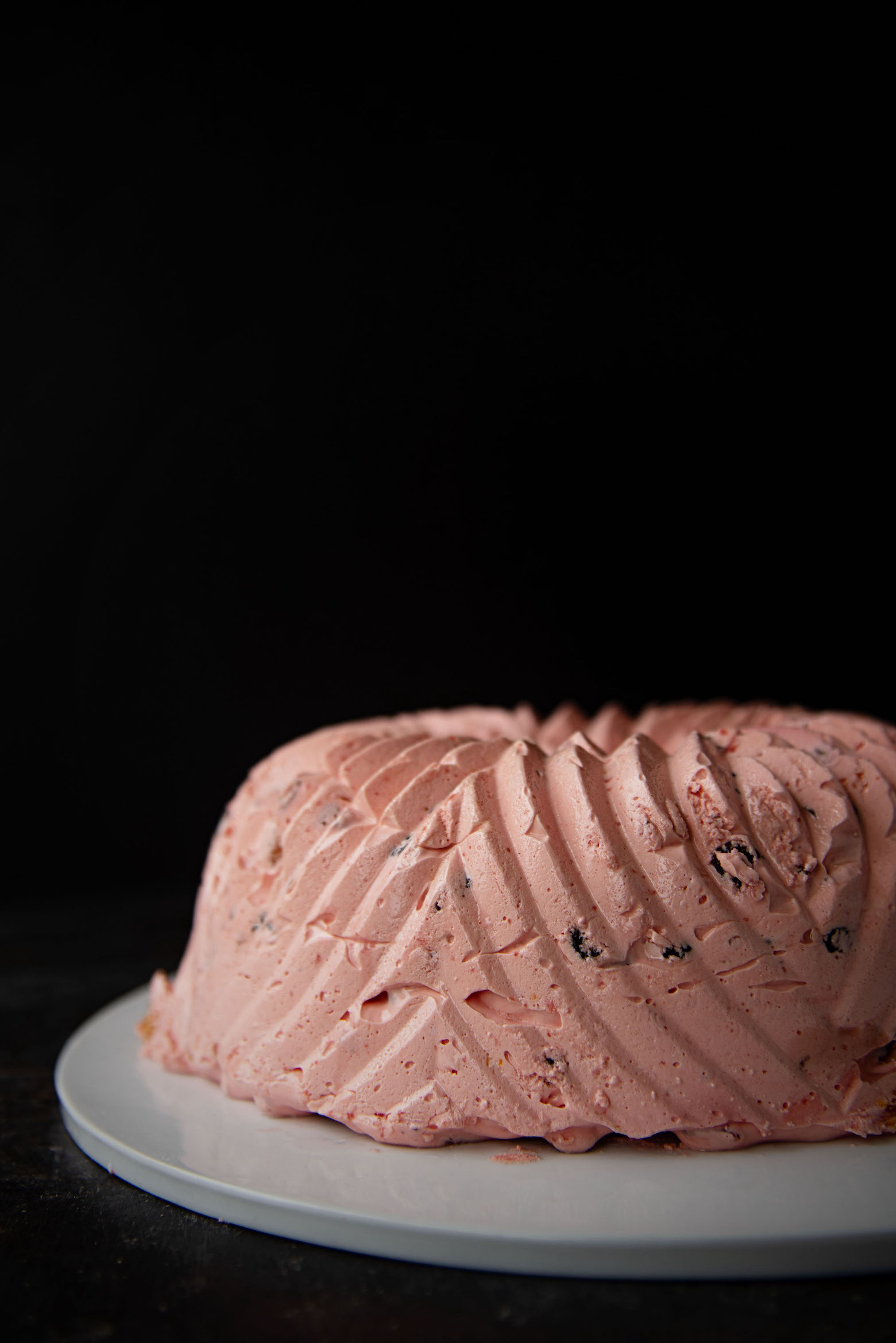 I never know whether to call it a Jell-O Salad or a Jell-O Mold.
Mold seems wrong for the fact that I think of mold on cheese.
But in this case I did put it in a mold.
But I called it a salad this time just because.
People often made fun of the Jell-O Mold/Salad but the thing is…people like them.
How do I know?
Because the two weeks before every major holiday from Thanksgiving to Mother's Day the number one looked up recipe on this site are Jell-O Molds/Salads.
And Jell-O shots for that matter. 🙂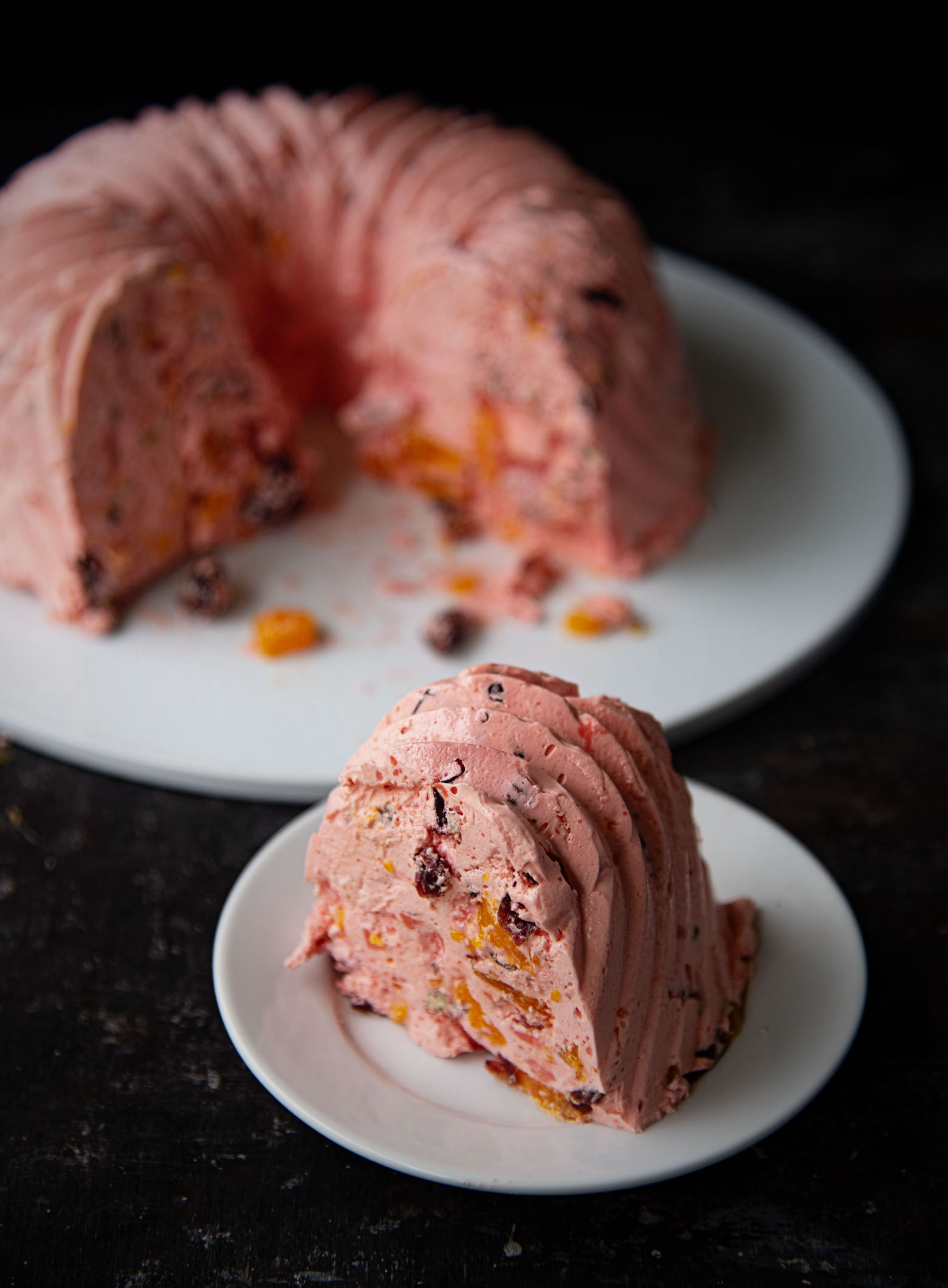 So people are definitely eating them.
We usually had some form of them at holiday time.
Though my mom never did at Thanksgiving or Christmas.
That's because we had marshmallow salad and this cranberry salad that my grandmother made.
One of the few things my grandmother made well.
I have never been the biggest fan of it because it has celery in it and I find that strange.
But I do always take a scoop because it's tradition.
And it goes well with turkey, but we don't eat meat anymore so it's just kind of there.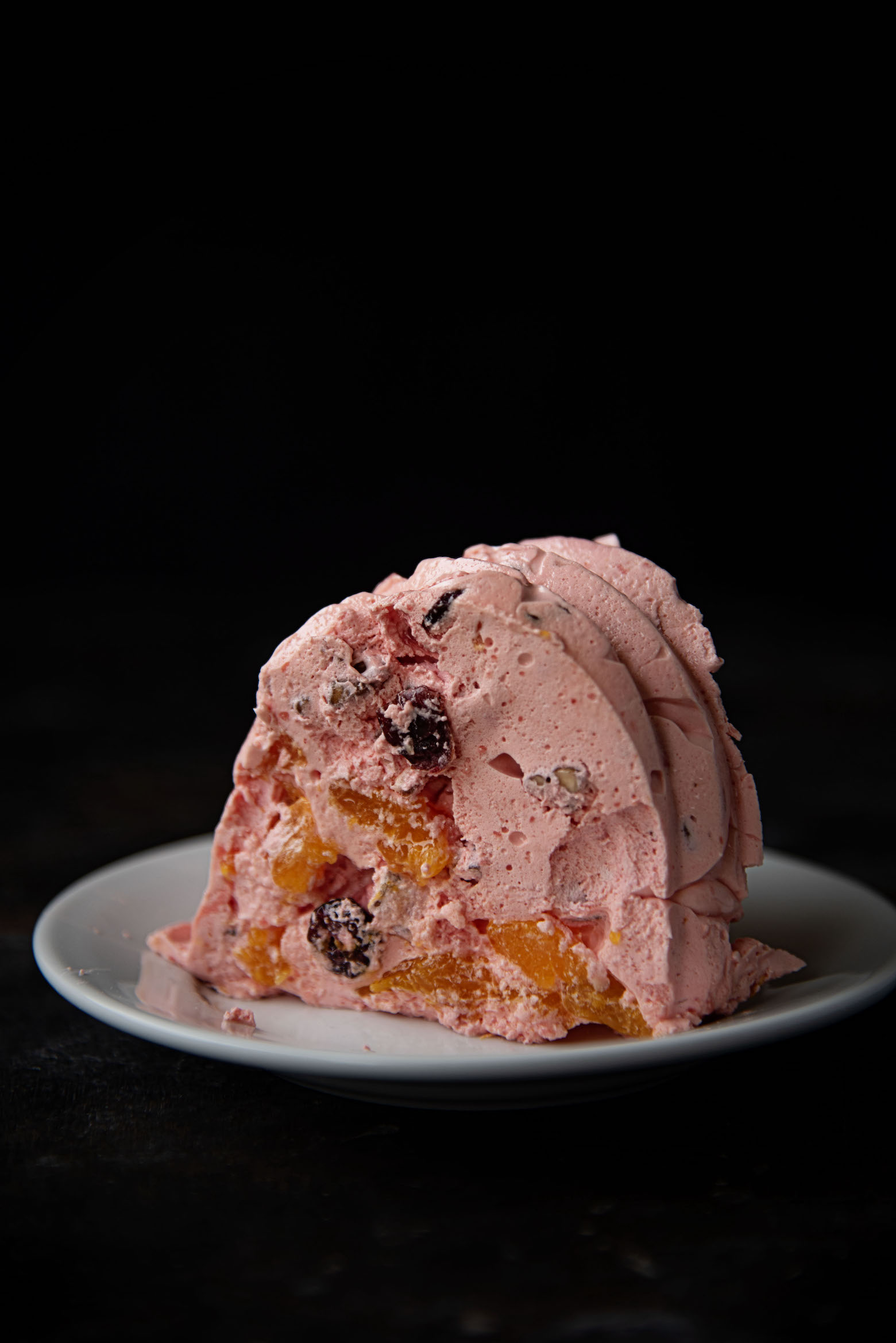 I used to make my Thanksgiving Jell-O salad with cranberry Jell-O except…they stopped making it.
And that became an issue.
Luckily I learned that combining one part cherry gelatin and one part lemon gelatin you can get a cranberry-ish flavor.
Both flavors you can usually find rather easily.
Though I like using the Starburst Yellow Gelatin flavor (which is lemon) because it seems extra bright with flavor.
If you are listening gelatin makers of the world…bring back the cranberry flavor!!!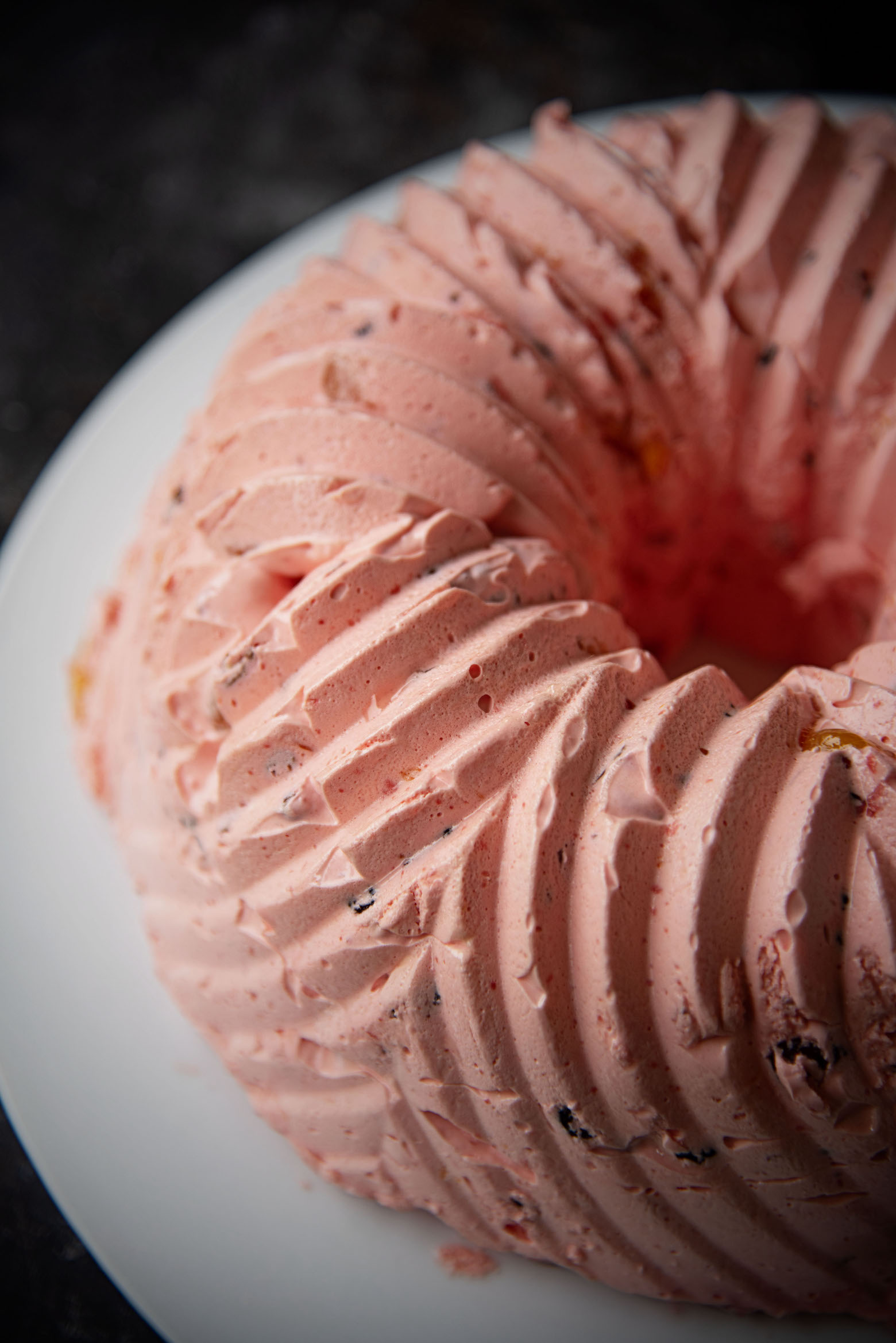 I used a Bundt pan to make this Cranberry Orange Pecan Jell-O Salad but you can make this in individual glasses if you want like I did here.
Or you can make it in a 9-x-13-inch pan which is the easiest way.
I know making it in the Bundt pan can be unnerving sometimes.
So if that scares you I say go for the pan.
I used dried cranberries instead of fresh because fresh raw cranberries don't taste good to me.
If you prefer walnuts to pecans you can certainly sub those out.
And if you don't like nuts you can just omit them and it will be fine.
By the way, it's a great day to buy my cookbook !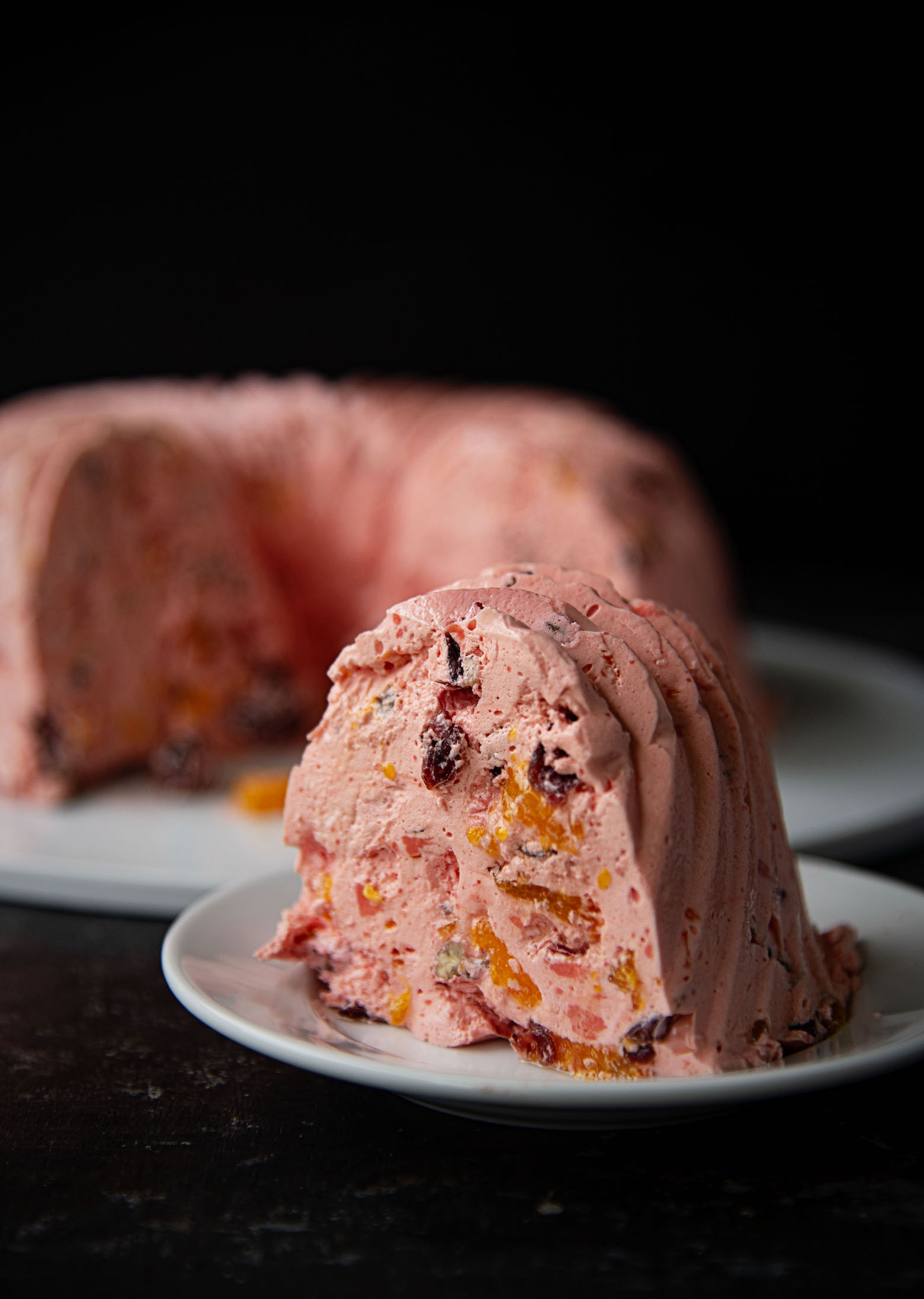 Want more Jell-O recipes?
Creamsicle Marshmallow Jell-O Salad
Dole Whip Pineapple Jell-O Mold
Cherry Coke Float Jell-O Salad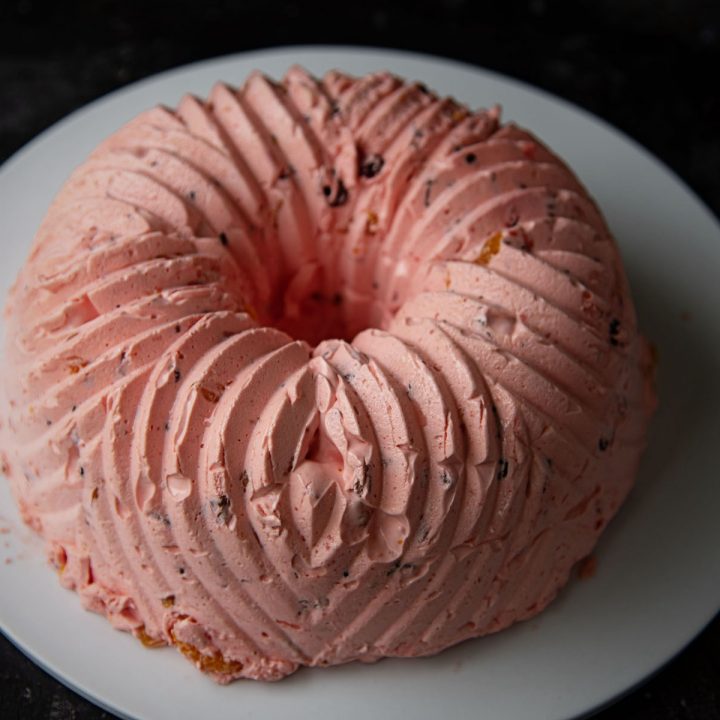 Cranberry Orange Pecan Jell-O Salad
Ingredients
1 (3 ounce) package cherry Jell-O
1 (3 ounce) package Starburst Yellow Gelatin (or any lemon gelatin)
1 cup boiling water
1 (8 ounce) package cream cheese, at room temperature
½ tsp vanilla extract
2 (15 oz) cans Mandarin oranges, drained
1 cup cream soda
1 (8 ounce) carton of Cool Whip, thawed
1 cup chopped pecans
1 cup dried cranberries
Instructions
Dissolve the gelatins in the boiling water.
In a mixing bowl, beat the cream cheese and vanilla until fluffy.
Stir in Jello and beat until smooth. I actually put it in the blender to ensure it gets fully incorporated.
Add oranges and soda.
Mix until incorporated.
Chill the mixture in refrigerator for about 30-40 minutes, so that when you lift it with a spoon it is clumpy.
Fold in Cool Whip and mix until fully incorporated.
Fold in the pecans and dried cranberries.
Pour into a 9-x-13-inch pan or Bundt pan.
Refrigerate for 3-4 hours or until firm.
If serving in pan, will make about 16 squares for 9-x13 pan or about 8 for a Bundt.