This Gouda and Lobster Mac and Cheese is a super cheesy and decadent macaroni and cheese filled with tons of luscious lobster.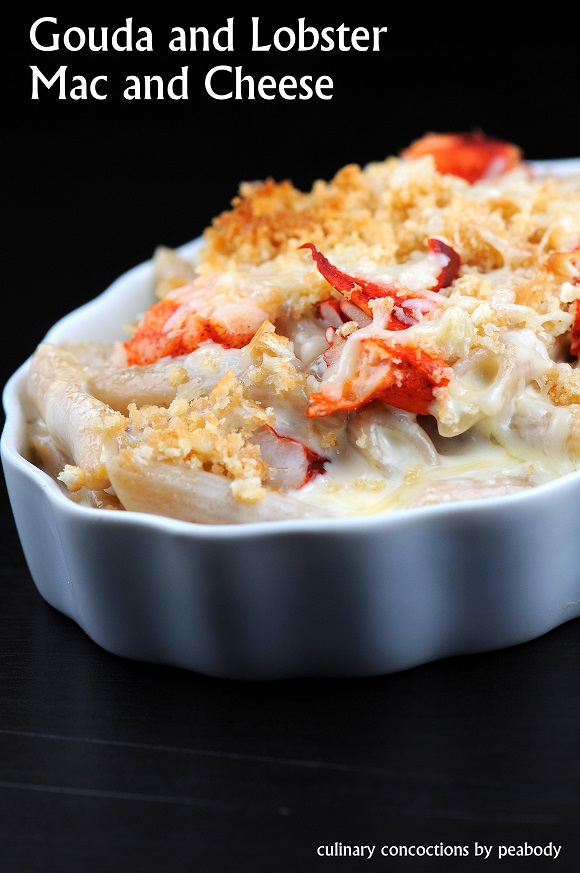 The royal baby has arrived.
It's a boy.
Which means one thing: if the royal family cares and loves me they will name him Boba Fett.
This last week the Muffins for Muffin auction happened.
And much to my surprise my muffins went of $125!
Yes, $125.
I got up early this morning to bake them and then get them to the PostNet the minute the opened.
Only to be told it wouldn't go out until 4pm.
So yeah, I didn't need to get up at 6 am to make muffins.
Then I had this great idea to overnight them.
That would have cost $168.
Ummm. So I say 2 day…$88!!
WTF shipping people, you guys suck.
So I am hoping that they make it there quickly.
And no, there is no way the muffins are worth $125 but I told them they were when I sent them off. 😛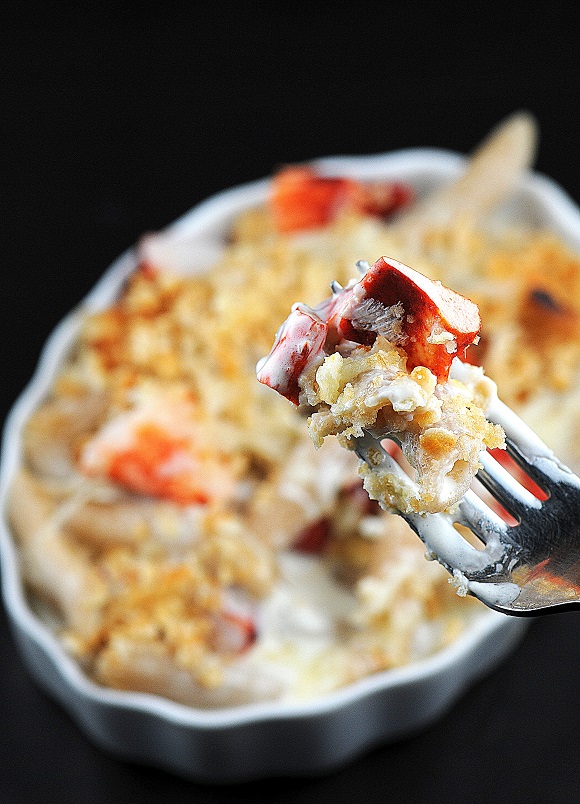 I have to give up dairy for 10 days.
Technically you know I'm not supposed to eat it at all…and that's the problem.
I've sort of been on dairy overload as of late.
But I am allergic.
And my eczema is at an all-time high because of it.
So the allergist is having me reset so to speak with no dairy of any kind (I'm not allergic to goat or sheep normally).
So just like you eat every Oreo in the house the night before you go on a diet I decided I needed to go out with a dairy bang so the speak.
We got the most lovely 3 year aged Gouda from the farmer's market last week and I decided that needed to be used in my farewell to dairy meal.
And since I was going big why not add lobster to it?
So I did.
And oh my, this Gouda and Lobster Mac and Cheese is amazing.
Now normally I do a baked mac and cheese but this time I made a cheese sauce, folded in the pasta, and then topped with the cooked lobster and cracker crumbs and put under the broiler.
In my mind this helps the lobster to not be chewy.
So goodbye dairy I will miss you while you are gone.
Well my tummy will…every other part of my body won't.
And last but not least it's a great day to buy my cookbook.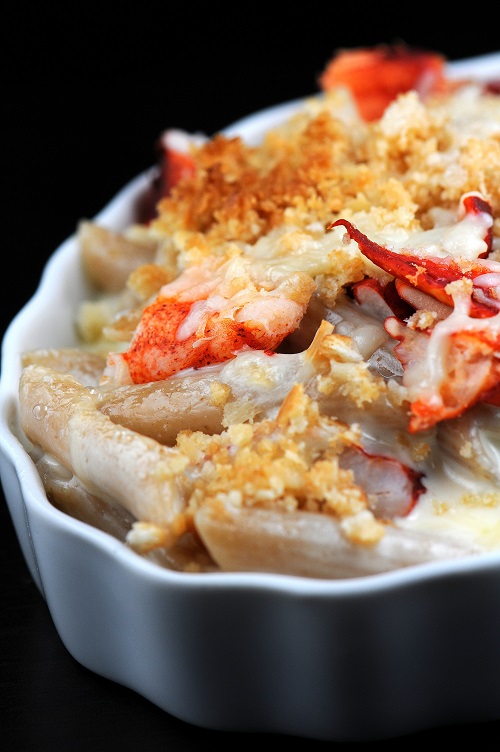 Want more Mac and Cheese recipes?
BBQ Pulled Pork Mac and Cheese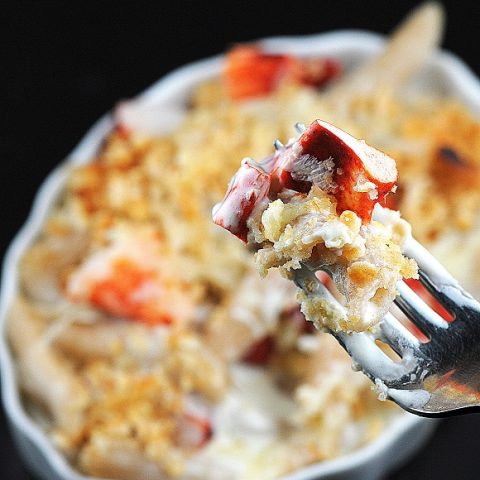 Gouda and Lobster Mac and Cheese
Ingredients
12 oz. whole wheat pasta (or whatever pasta you like)
12 oz. Gouda cheese, grated
4oz. Asiago cheese, grated
2 ¼ cups heavy cream
½ cup whole milk
5 TBSP all-purpose flour
¼ tsp. fresh ground nutmeg
8 TBSP unsalted butter, divided
1 ½ cups cracker crumbs (I used Townhouse Butter Crackers)
12 oz. cooked lobster meat
Instructions
Boil pasta until you reached desired consistency (some people like it more al dente than others).
Drain and set aside.
In a large saucepan add 4 TBSP butter and let melt. Once melted add flour and create a light colored roux.
Add the cream and milk and whisk to let the roux dissolve.
Add the cheeses and nutmeg and whisk until the cheese melts completely.
Add pasta to the cheese sauce.
In a small bowl melt the remaining 4 TBSP butter and add cracker crumbs, mix to combine and get the crumbs moist from the butter.
Scoop pasta in to oven safe dishes and top with lobster meat and bread crumb mixture.
Place under broiler until cracker crumbs are browned and cheese is bubbling.