This Alpine Dijon Macaroni and Cheese is a German-inspired mac and cheese pasta dish with alpine cheeses, rye bread crumbs, caraway seeds and dijon.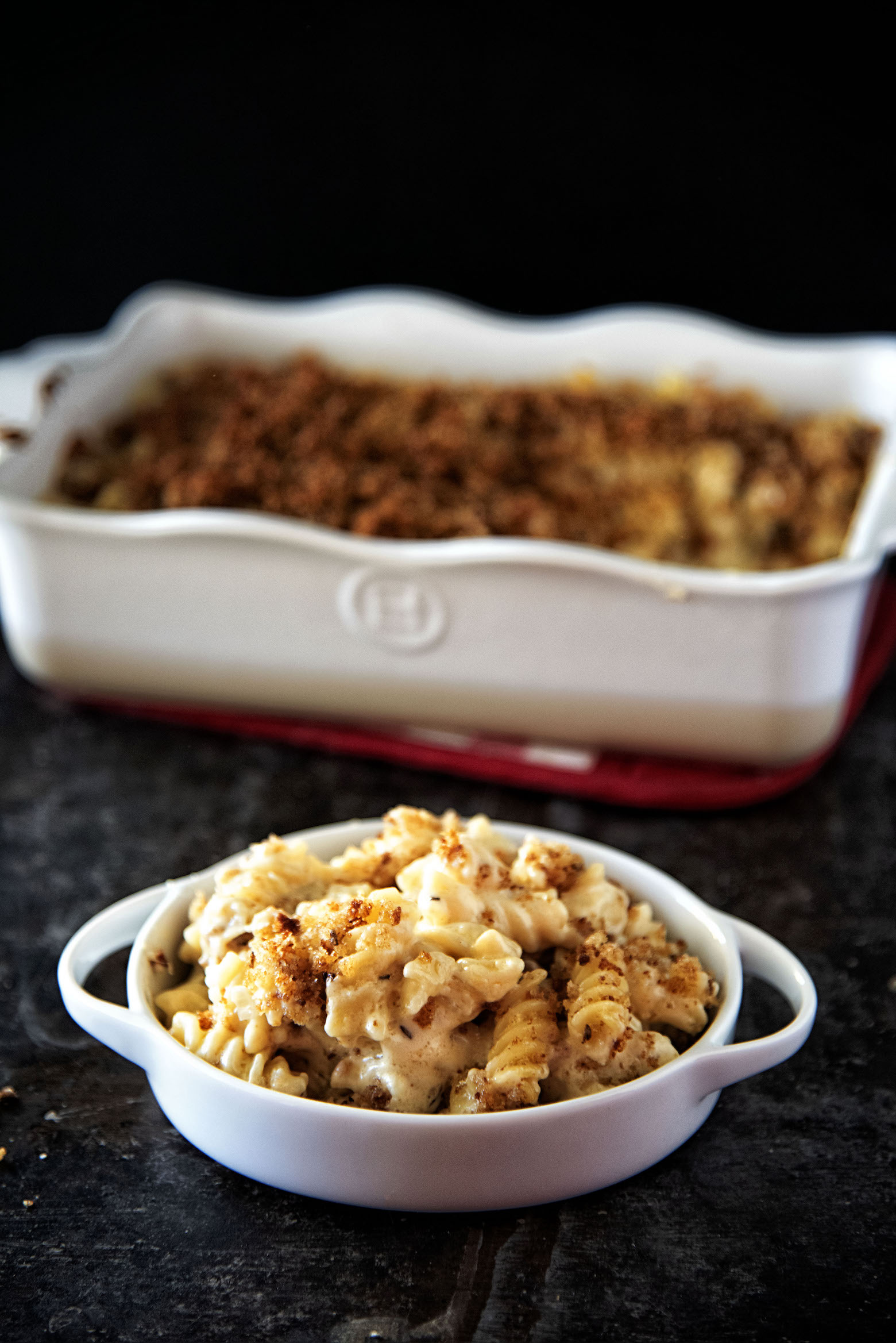 When you are vegetarian you eat a lot of macaroni and cheese.
It is sometimes the only thing on a menu at a restaurant that is vegetarian.
And when you go to someone's house you tend to get served it because no one knows what else to make.
I never complain because I love me some macaroni and cheese.
But I am always looking for new ideas and flavor profiles.
Then I came across this recipe.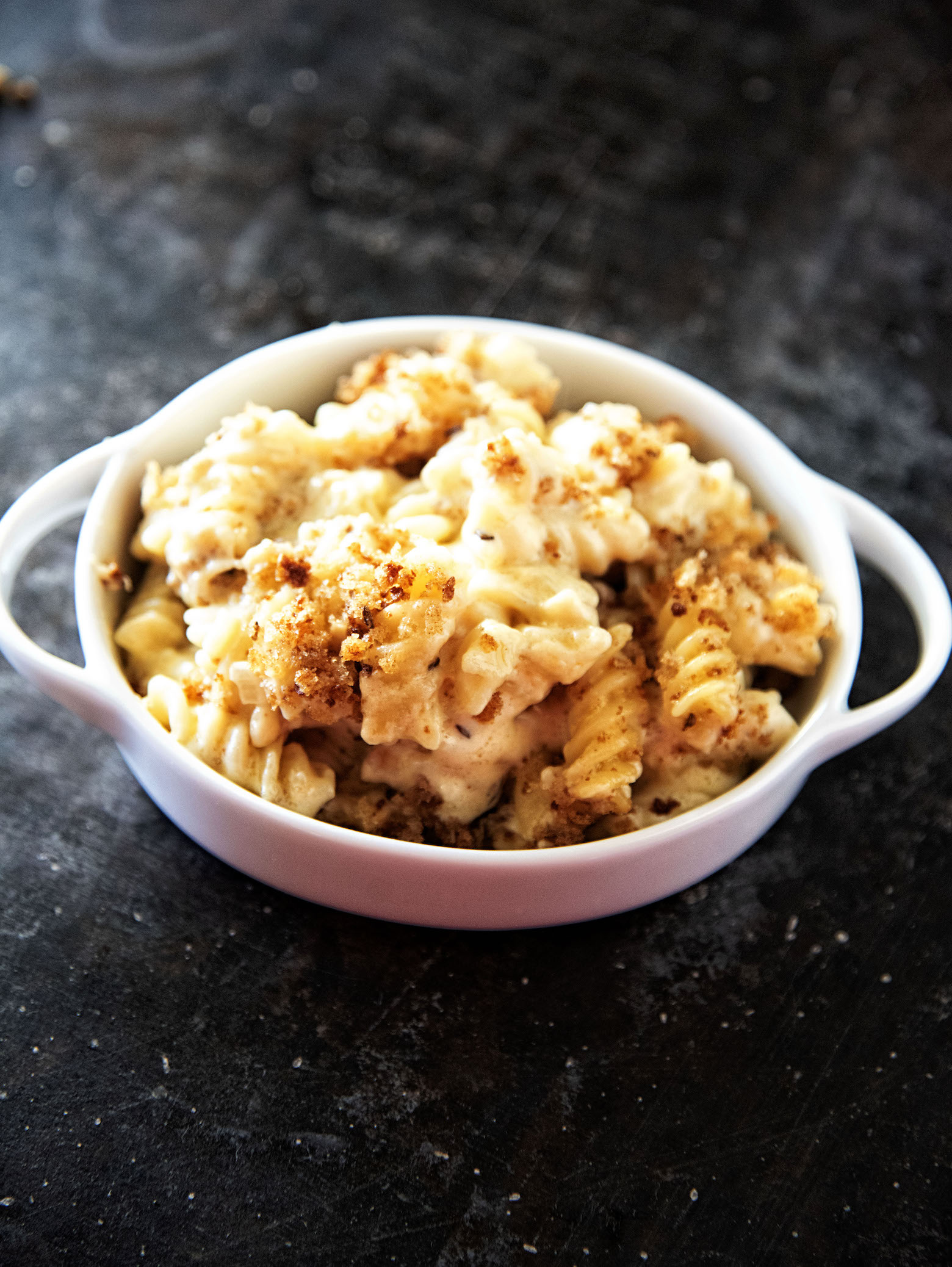 The original Alpine Dijon Macaroni and Cheese recipe has kielbasa sausage in it and I'm sure that would go just fine but I don't think this needs it.
My husband and I are HUGE fans of rye bread.
All kinds of rye bread.
So when I read the first few ingredients in this I was on board.
Then it uses my two favorite cheeses: Gouda and Gruyere.
Double sold.
My husband and I LOVED this.
LOVED.
LOVED it.
If there will dill pickles in it (and I might give that a try) I think my husband would want this as his last meal.
If you are a caraway seed fan, feel free to add more.
And if you are not that big of a caraway seed fan, feel free to use less.
I for one am a big caraway seed fan.
P.S. It's a great day to buy my cookbook.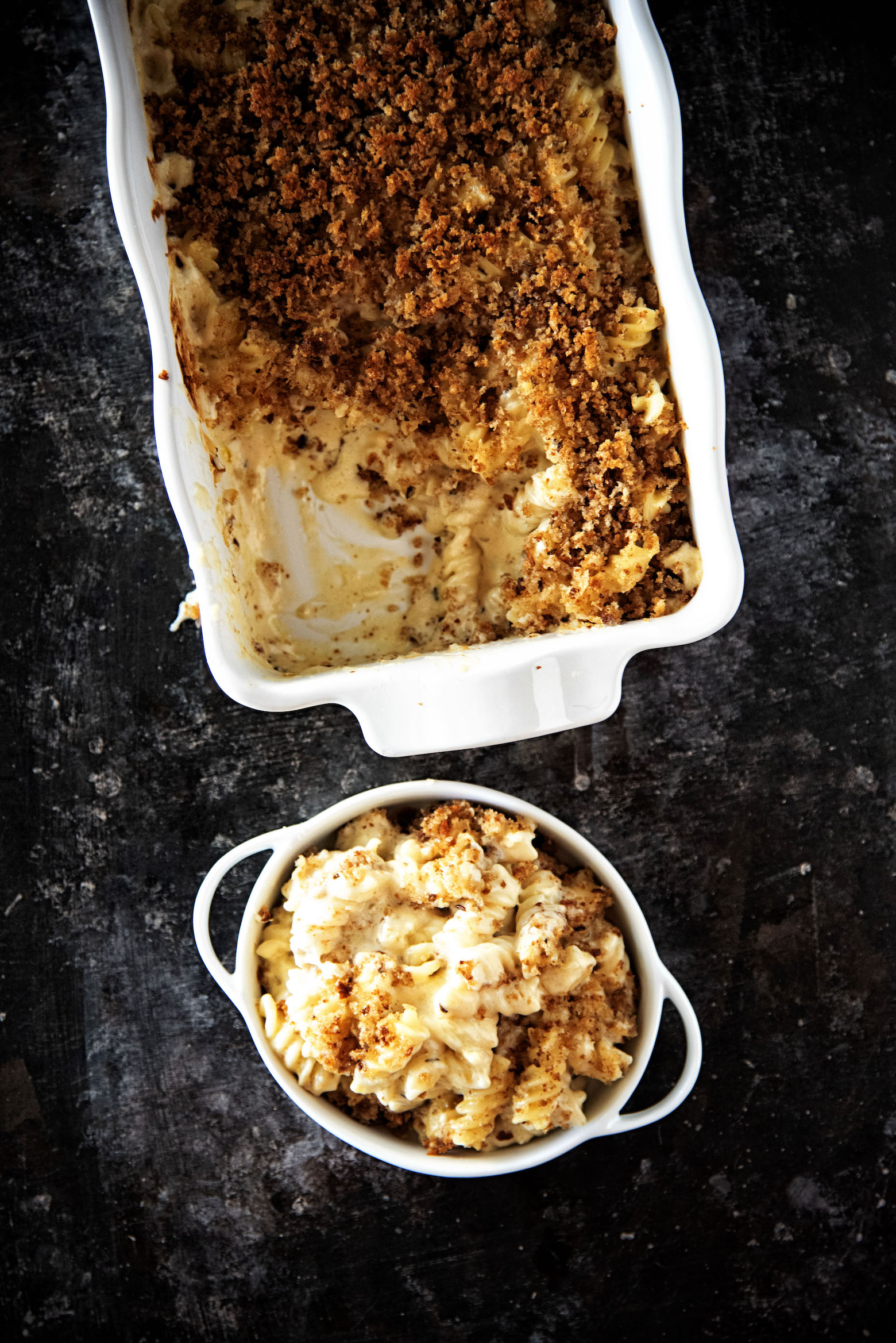 Want more Macaroni and Cheese?
BBQ Pulled Pork Mac and Cheese
Gouda and Lobster Mac and Cheese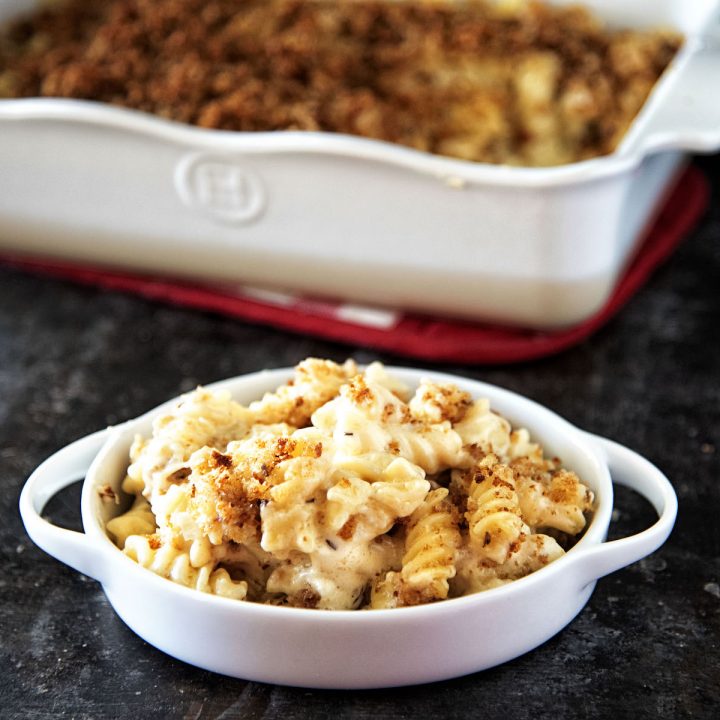 Alpine Dijon Macaroni and Cheese
Ingredients
For the Rye Topping:
1 ½ cups fresh, seeded rye bread crumbs
2 TBSP. unsalted butter, melted
For the Pasta:
8 oz. dry Rotini pasta
2 TBSP unsalted butter
2 TBSP minced shallots
1 TBSP caraway seeds
2 Tbsp. all-purpose flour
2 ½ cups whole milk, warmed
1 cup shredded smoked Gouda
1 cup shredded Gruyère, or Emmental cheese
3 TBSP Dijon
1 TBSP Worcestershire sauce
Instructions
Preheat oven to 400°F.
Coat a 2-qt. ovenproof baking dish with nonstick spray.
For the topping, combine crumbs and melted butter in a bowl; season with salt and pepper.
For the pasta casserole, cook pasta in a pot of boiling salted water until al dente; drain.
Melt 2 Tbsp. butter in same pot over medium heat.
Add shallots and caraway seeds; cook until seeds are toasted, 3 minutes.
Whisk in flour; cook 1 minute.
Whisk in milk and cook, whisking often, until slightly thickened, 5–8 minutes. Reduce heat to low.
Add cheeses by the handful, whisking until melted before adding the next handful.
Stir in Dijon and Worcestershire, then stir in pasta; transfer to prepared baking dish.
Sprinkle topping over pasta casserole and bake until sauce is bubbly and crumbs brown, 20–25 minutes.
Let pasta casserole rest about 5 minutes before serving.
Notes
Adapted from Cuisine at Home
Oh and before you panic and say Worcestershire sauce has anchovies they do make vegan versions. Or you can make it.