Candy Corn Layer Cake is a buttermilk candy corn cake, candy corn simple syrup, topped with Swiss Meringue buttercream frosting.
This post and recipe was created for #HalloweenTreatsWeek! I was sent samples by some of the sponsor companies but as always opinions, bad grammar, and overuse of emojis are 100% mine.
In this post I used Dixie Crystals Sugar granulated sugar as well Wilton Ghost Candy Corn Icing Decorations which were sent to me by both companies for free for participating in #HalloweenTreatsWeek.
Thanks again to Angie of Big Bear's Wife for organizing another fun week and giveaway for you all!
I almost didn't participate in #HalloweenTreatWeek because I fully admit I'm not much of a Halloween person.
I don't like scary movies or costumes and it's just not all that fun when you live where you get no Trick or Treaters.
But I really love participating in #SummerDessertWeek the last two summers as well as #EasterSweetsWeek this year.
So I decided to get out of my comfort zone and dedicate a whole week on this blog to Halloween treats.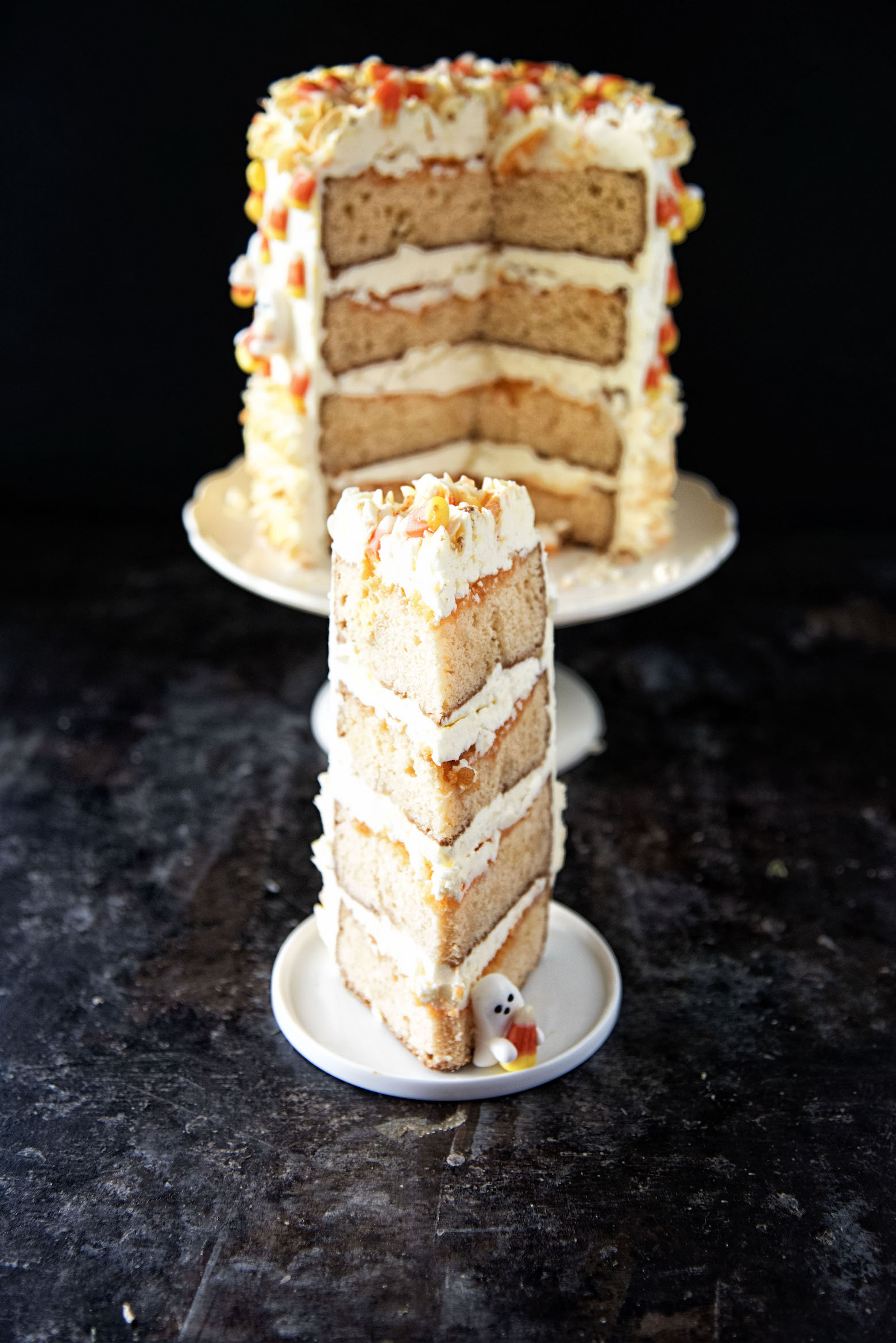 While Halloween may not be my thing…if you read this blog you know that candy corn is my thing.
I have made a lot of desserts using candy corn.
However, I had not made a layer cake yet.
When Wilton sent those cute ghosts holding candy corns I knew I wanted to make a layer cake.
Now there are a lot of candy corn cakes out there.
But most of them look like candy corn but don't taste like candy corn.
Which is disappointing.
This cake has a very subtle candy corn flavor.
It's used in the cake, then brushed with a candy corn syrup, and then just a hint of it in the frosting.
So the flavor of candy corn is there but not in an overwhelming kind of way.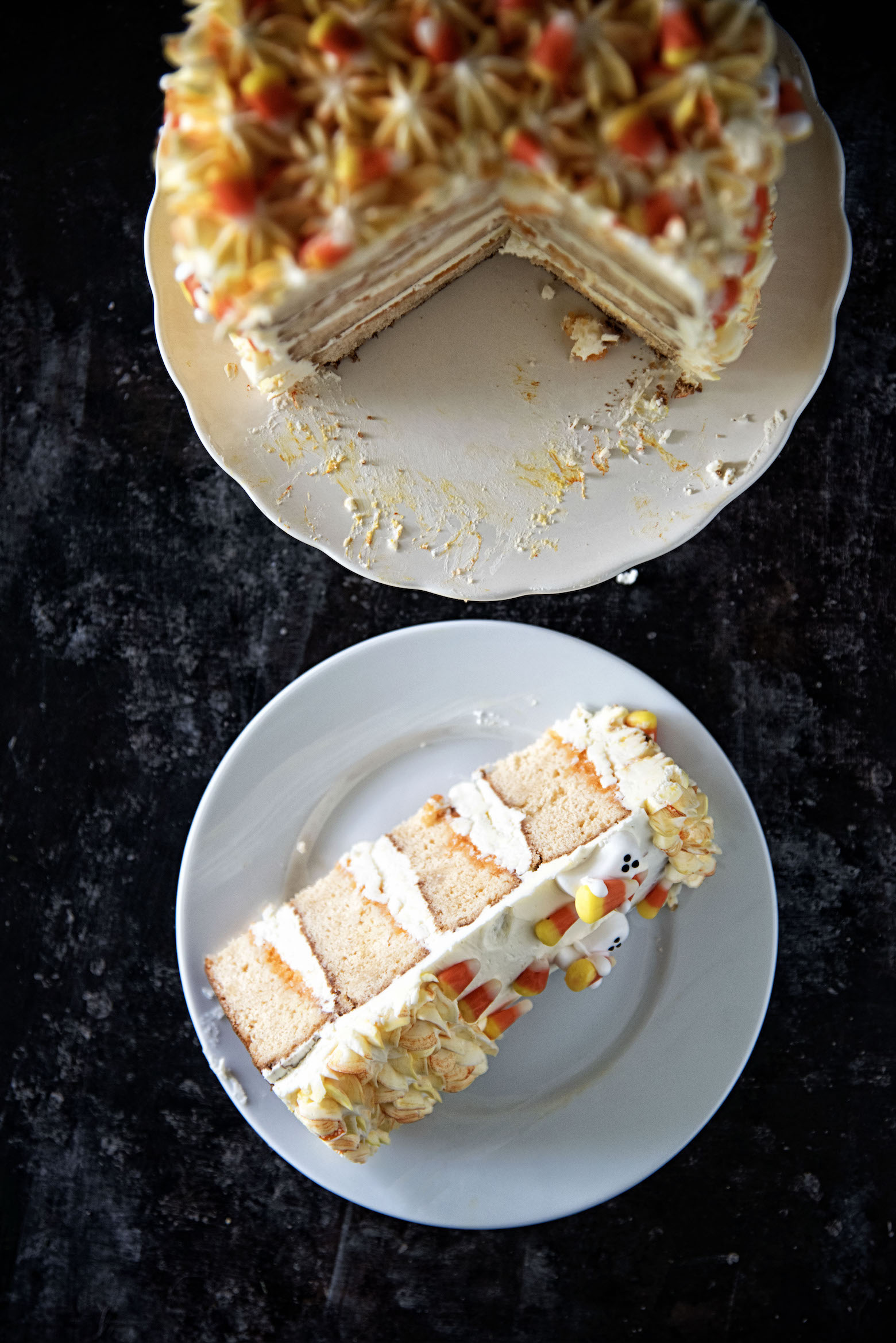 Check out the amazing #HalloweenTreatsWeek recipes from our bloggers today!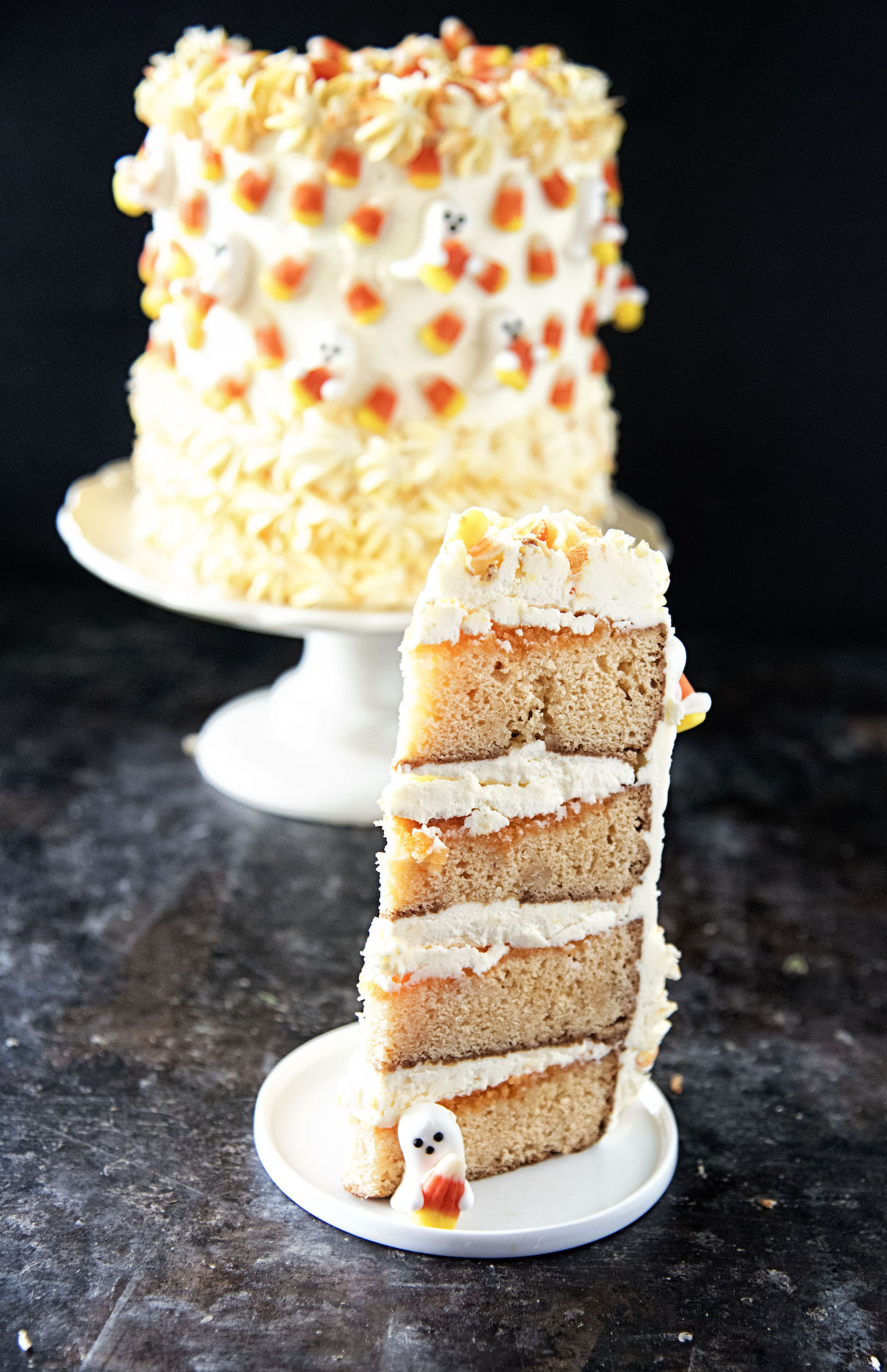 Want More Candy Corn Recipes?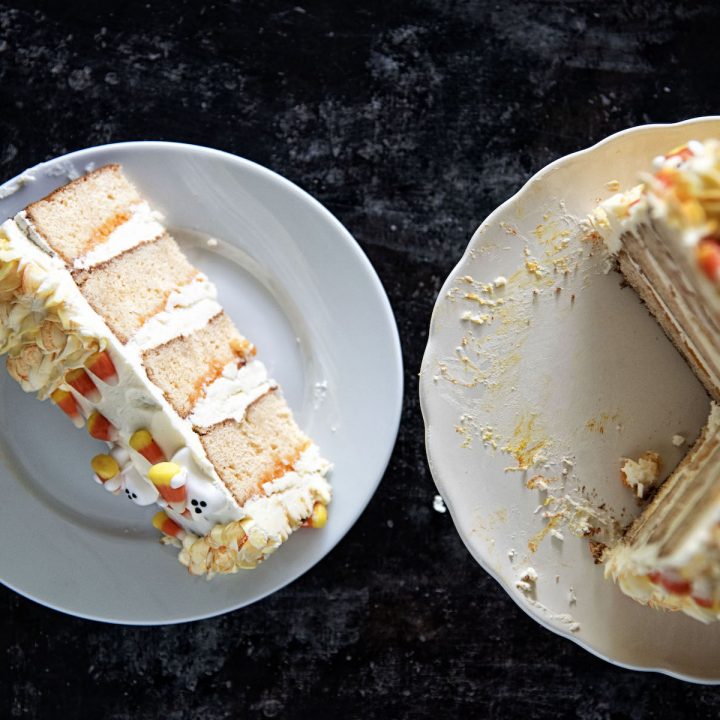 Candy Corn Layer Cake
Ingredients
For the Cake:
1 1/2 cups (3 sticks) unsalted butter, room temperature
2 cups granulated sugar
3 large egg whites
1 tsp. vanilla extract
3 cups cake flour
3/4 tsp. baking soda
3/4 tsp.salt
1 1/2 tsp, baking powder
3/4 cups buttermilk
3/4 cup whole milk
1 cup candy corn
For the Syrup:
1 1/2 cups water
1 cup candy corn
For the Frosting:
1 cup (about 9) egg whites
2 cups granulated sugar
3 cups unsalted butter, cubed and at room temperature
1 TBSP candy corn syrup
1/4 tsp. salt
10 oz. white chocolate melted and cooled slightly
Instructions
For the cake:
Preheat oven to 350F.
Have 1 rack one-third from the bottom of the oven and a second rack two-thirds from the bottom.
Line three 9-inch cake pan (please note I used four 6-inch pans for effect for the blog) with parchment paper rounds and spray with baking spray or butter and flour.
Over medium heat, using a medium saucepan, add the buttermilk, milk, and candy corn and bring to a boil.
Once it reaches a boil, remove from heat.
Strain out the candy corn (discard any extra) and set aside.
In a medium bowl, combine flour, baking soda, salt, and baking powder.
Using a stand mixer with the paddle attachment, beat butter and sugar on medium speed until light and fluffy, about 2 minutes.
Scrape down sides of bowl and add egg whites and vanilla.
Beat on medium speed for 1 minute.
Add 1/3 of flour mixture and beat on medium speed until incorporated.
Pour half of candy corn buttermilk mixture and beat on medium until mixed in.
Scrape down sides of bowl and repeat adding flour mixture and candy corn buttermilk mixture, finishing with remaining 1/3 of flour.
Batter will be thick and glossy.
Pour batter evenly into prepared pans, I like to use an ice cream scoop because the batter is so thick.
Set two cake pans on 1 oven rack and the third pan on the second rack, staggering them so cakes are not directly over each other.
Bake 25 to 35 minutes, until the tops are flat and browned.
Cool cakes in pans for 10 minutes.
Invert onto racks to cool. (Cakes can be wrapped in plastic wrap and frozen for up to 3 weeks.)
For the Simple Syrup:
In a medium saucepan heat together the candy corn and water until all the candy corn has dissolved into the water.
Brush the syrup onto each layer of the cake.
Set aside until ready to frost.
For the frosting:
lPace the egg whites and sugar in the metal bowl of a stand mixer and set over a small pot of simmering water (the bowl should not touch the water).
Heat, stirring occasionally, until mixture is 160F or hot to the touch.
Transfer bowl to stand mixer and beat on high speed with a whisk attachment to medium stiff peaks, about 8 minutes.
Reduce mixer speed to medium low and add butter a tablespoon at a time, letting it incorporate into the meringue for few moments before adding more.
Add one TBSP candy corn syrup, melted white chocolate, and salt and beat on high for 1-2 minutes until smooth and creamy.
Assemble the Cake:
Set one cake layer on turntable cake stand.
Cover with 3/4 cup buttercream.
Top with another cake layer.
Repeat till cake is assembled.
Use an offset spatula to frost cake with buttercream.
If desired, first make a thin coat to seal in crumbs and chill for 30 minutes.
Cover completely with another layer of frosting.
Pipe some decorative swirls on top of cake and top with candy corn and other Halloween decor.
Chill cake for 30 minutes.