Candy corn lovers can now enjoy it in beverage form. This Candy Corn Hot Chocolate is made with white chocolate and of course candy corns.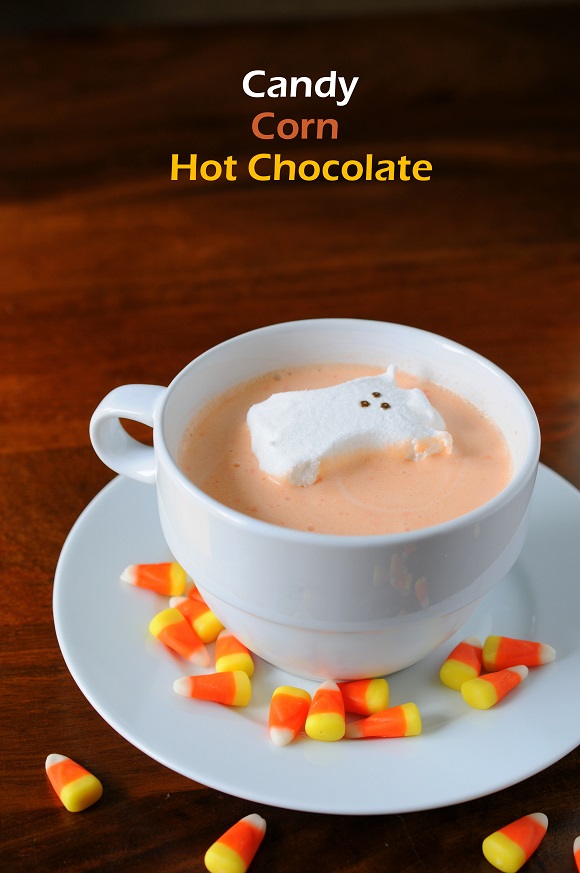 If you even remotely like candy corn you will need to make this hot "chocolate" because well…candy corn as hot chocolate.
I first got the idea when I saw candy corn hot chocolate on Pinterest, but when I clicked through I was a sad panda.
Not because it was a bad link but because while it said it was candy corn hot chocolate what it really just candy corn colored hot chocolate…no candy corn to be found.
Boo (pun intended).
So that meant I was going to have to make it.
I've made candy corn tres leches cake (in honor of me not being a best blog) and candy corn ice cream so I figure I would just use the same method.
It worked. Well. 🙂
Now before you are saying candy corn already?
Yes, candy corn already!
Yes Halloween candy already.
Why fight large bags of mini versions of your favorite candy?
You can eat more of them because they are small…it's the best.
I know that the candy corn haters are out there in full force.
And that is fine.
Those people just can't appreciate what candy corn has to offer.
What does it have to offer that other Halloween candy does not?
Candy corn is one of the better Halloween candies because it helps you self-regulate by being so sweet that you can only eat so much. 😀
They really should be marketing it as the diet candy of Halloween.
I mean, one serving size is 19 pieces according to the bag.
19 pieces.
You can't make it to 19 pieces of candy corn and still want more.
Well, if you are 5 years old you probably can but still.
So embrace the fact that candy corn and Halloween candy are out.
Or at least bookmark this and make it in October.
Oh and the little ghost is in honor of my husband.
We love Parks and Rec and we obnoxiously call each other Boo just like Tom Haverford does.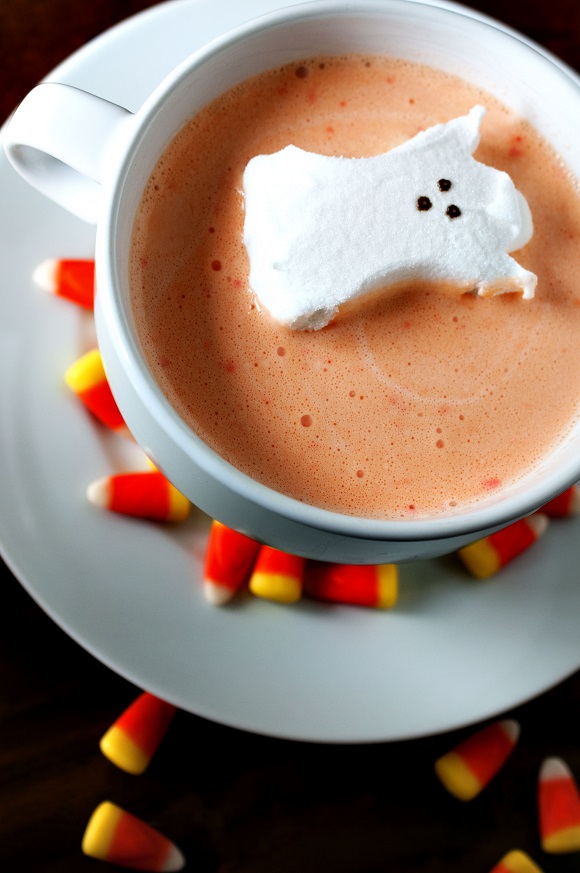 Want More Candy Corn Recipes? Try These:
Candy Corn Rice Krispie Treats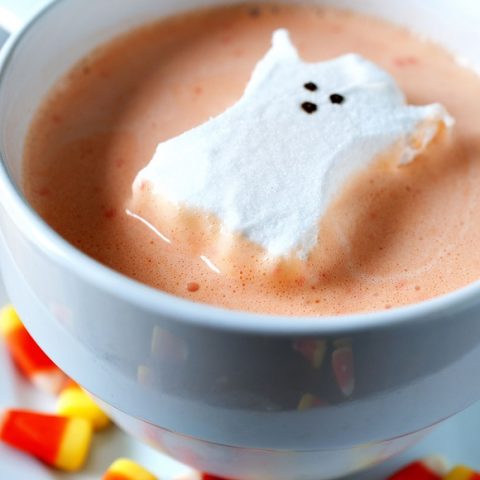 Candy Corn Hot Chocolate
Ingredients
1 cup candy corn
4 cups half and half, divided
1 cup heavy whipping cream
½ cup white chocolate, finely chopped
Marshmallows (ghost ones) and/or Whipped Cream for garnish
Instructions
Place candy corn and 2 cups half and half in an airtight container.
Let sit for 8 hours or better yet overnight.
Every couple hours shake the container. It will be ready when all the candy corn has disintegrated.
Strain any stray candy corn bits out of the mixture.
In a large saucepan over medium heat, combine the white chocolate and heavy whipping cream and whisk until white chocolate melts and mixture is smooth.
Add the half and half and the candy corn half and half. Stir until heated all the way through.
Pour into mugs and top with marshmallows or whipped cream…or both.
Serves 4.