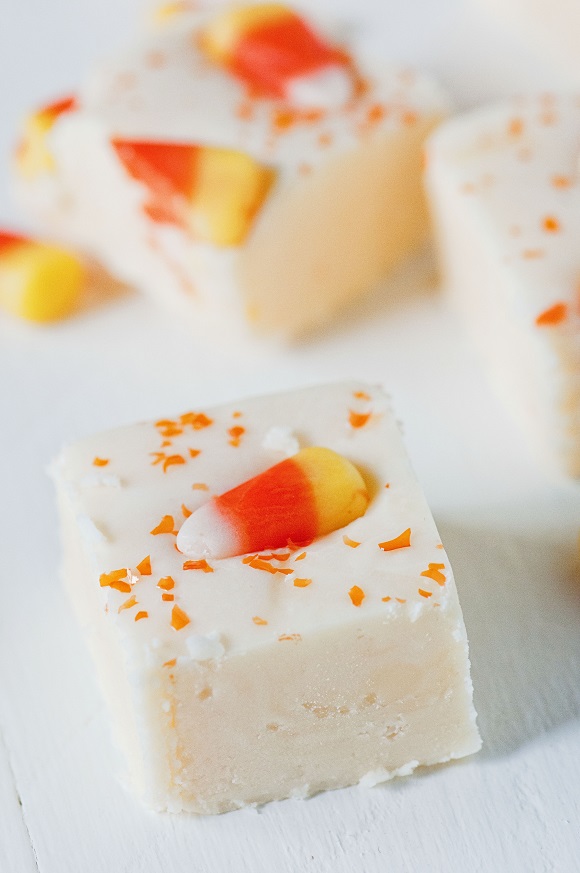 I get a lot of complaints on my blog. My favorite still to this day is the no print button rant (if you never read it and want a laugh you might want to). But something I get a lot is that I don't give serving sizes most of the time. Yep, I don't and I won't. Here's why:
Because I get more complaints when I do put the serving size. If I put that it makes 12 muffins, sure enough 10 people will write me to complain they got 11. If I say the cake serves 10, they come back and complain that while it served 10 the slices were too small. If I say it makes 20 pieces of fudge, they come and say those pieces were too big. Some of the recipes I make the average person might get 8 servings as where I only got 2. 😀 Serving size is all relative.
So here is a little helpful guide for those who must have serving sizes; these pertain to my blog and mine only.
The average cupcake recipe makes 24 cupcakes.
The average mini cupcake recipe makes 60 mini cupcakes.
The average cookie recipes make about 2 ½ dozen.
The average layer cake makes 8-10 servings.
The average 9-13 inch cake makes 24 servings.
The average fudge recipe makes about 32 pieces of fudge.
And again, this is just what I get. I can pretty much guarantee you will get a different number. Especially when recipes say to cut it into 1-inch squares…everyone seems to not be able to agree on how long an inch is (especially the men 😉 …I kid 😛 ) .
If you are making it for a party then make more than less. Most people don't think oh no, there are too many cookies. If you have extra's take them to work. Take them to a fire station (especially if you are single). Take them to seniors in a nursing home. You get where I am going with this.
So on to this fudge. I wanted to make it last year but I always worry about making something with the limited time ingredients, since companies like Oreo usually don't bring them back. So then I'm addicted to it and never see it again (like most things I love at Trader Joe's). I told myself if Hersey's came out with their candy corn crème bars again that I would make fudge with it. They did. I did. It is freaking good. My husband doesn't even really like candy corn and he was loving this fudge. The hockey boys who all said they weren't big candy corn fans ate and loved this fudge. So even if you are on the fence about candy corn, you will probably like this fudge.
If you do like candy corn, check out some of these recipes:
Candy Corn Ice Cream
Candy Corn Cookies and Cream Cheesecake Cups
Candy Corn Rice Krispie Treats
Candy Corn Hot Chocolate
Candy Corn Cheesecake
Candy Corn Whipped Cream Frosting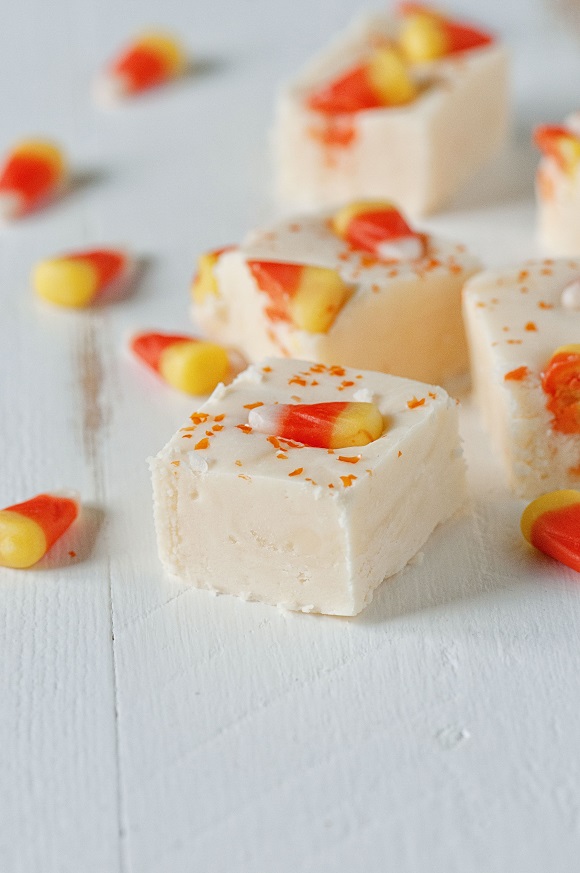 Candy Corn Fudge
2 cups granulated sugar (I used Imperial)
4 oz. unsalted butter (I used Plugra)
¾ cup heavy whipping cream (I used Darigold)
2 cups Hersey's Candy Corn Crème Bars, chopped finely
7 ounce jar marshmallow crème (I used Kraft)
Candy corn for decoration (I used Brach's)
Festive sprinkles for garnish
Line an 8×8 inch pan with parchment with an overhang so you can lift the fudge out later and coat with baking spray.
Combine sugar, butter, and heavy cream into a large heavy bottomed sauce pan and bring to a boil over medium heat.
Once boiling, attach a candy thermometer and reduce the heat to a hair above medium low and cook for 7-10 minutes until your thermometer reads 234°F (soft ball stage) , stirring constantly.
Once you reach 234F remove from heat and add the chopped up candy corn crème bars, stirring vigorously with a wooden spoon until the chocolate has melted and the mixture is smooth.
Add the marshmallow crème and mix until well blended.
Pour into prepared pan. Throw some candy corn and sprinkles on top to be festive if you like.
Let cool to room temperature. Then lift out of the pan and onto a cutting board. Cut into whatever amount you want. I got 24.