This Candy Corn Tres Leches Cake is made with the cream and milk being infused with candy corn for just a hint of candy corn flavor.
This blog post has nothing to do with the recipe for Candy Corn Tres Leches Cake.
It's just a funny read that made Ree (the Pioneer Woman laugh big time).
So not only in the 14 paragraph email did I learn that I was horrible for not having a print button (which again for the record I do on the newer recipes) I also learned that I am not the best blog.
Which is upsetting to me as pretty much anyone who asks what I do I tell them well I run the BEST BLOG don't you know that?
So clearly this was a blow to my ego.
Thank goodness for Nyquil or I might not have been sleeping for the last few nights.
The other thing I learned is that The Pioneer Woman is the best blog and one of those reasons is because of her print button.
Martha Stewart has a nice print button as well but that they would not want to be friends with her because she was in prison.
Let me just say Ree this woman is a follower of you for life, though I do fear she may have a shrine up of you somewhere made of print buttons.
Let's hope she looks nothing like you Ree or she might be trying to do a little Single White Female switching action on you.
Run Ree. Run.
Since she was so dedicate to all things Pioneer Woman I decided why not make a Pioneer Woman recipe?
So I did…with my own twist of course.
Tres Leches Cake (which means three milks for those not familiar) but with a candy corn twist since this has pretty much been candy corn week.
Like the other things I have made with candy corn this week, this does not have an overpowering candy corn taste…just a hint.
Which is why both candy corn lovers and haters will eat this Candy Corn Tres Leches Cake.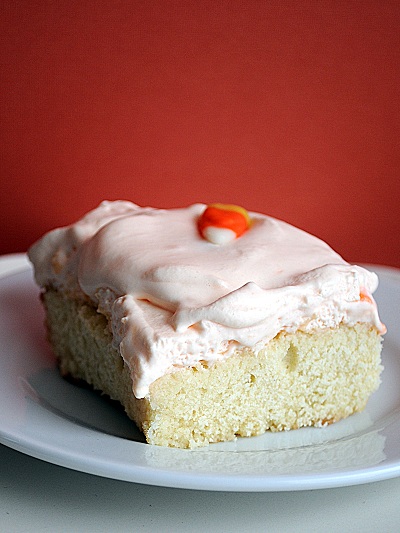 And because I know the majority of you are dying to see what was in the email…here you go…in its entirety.
My comments are in bold. 😛 :
I found your blog through Pinterest and while I find many of the recipes to look delightful you site is not nearly as good as most of the food blogs I follow.
Do you know the Pioneer Woman's blog?
You should strive to be more like that.
That site is well put together and has a lot of features your blog should consider. 
Hmmm…who is this Pioneer Woman you speak of? 😛
The thing that bugs me most is that you don't have a print button.
I see a recipe that looks interesting yet I can't print it.
Am I supposed to walk to my computer everytime to make the recipe?
Is this how I will burn off the calories I make from all your fattening treats? 
That is actually a great way to burn calories….good idea. 
Why would you make a site and not put on a print button.
A print button is not that hard of a thing to put on.
All of the best blogs have a print button so clearly you do not have a best blog.
The best blogs have print buttons. 
Oh the shame I am not a best blog. (hangs head)
Maybe you like to tease us and are like joke on you you see the recipe but you don't get to print the recipe.
So you can want the recipe but can't make the recipe unless you own a laptop which I do not.
So if I want your recipe I either have to buy a laptop or not make it.
Or if I print it will print out your entire site. 
Yes when I write this blog I think about how I can tease and mess with the reader…I did that in teaching school as well. 
Whoever designed your site should have put in a print button.
I hope you didn't pay someone for this site because when you don't have a site that looks like the Pioneer Woman people aren't going to come to that site.
But I guess that's why she has books and tv shows because she knows how to run a blog.
She also gets a lot of comments and you don't because she runs a better blog. 
She does get a lot of comments. I used to get comments a lot more than I do now so maybe I used to be a best blog….just not anymore. 
It would make the life of the people who read this blog much easier to have the print button.
We could just look at the recipe and print and it would be there in the printer.
But you do not have a print button.
The best blogs have print buttons. 
So what you are saying are the best blogs have print buttons?
It seems to me that if I were to start a food blog that had recipes on it and I wanted people to be able to use those recipes I would have a print button.
I don't have a food blog though.
I don't have a blog at all actually.
But these are things to think about. 
Oh please, please, please start a food blog so I can learn from you. 
Another site that has a print button is Martha Stewart.
She has both magazines and her website and I think she still puts out books as well.
Very streamlined site.
And she does crafts as well. Most people who cook craft or scrapebook as well have you considered a section like that.
The Pioneer Woman has different sections on her blog and Martha Stewart does to. 
I'm not skilled enough to do more than one thing. 
I know you are not as popular as those blogs and people but I think more people would come to your site if they knew you had a print button.
Maybe put in a print button and advertise that you have one on Pinterest and that you now have a print button which you currently do not have. 
I will have to look into that print button advertising. I'm sure it's all the rage. 
Does it cost money for the print button?
Is that why you don't have it?
Are you too cheap?
I bet the Pioneer Woman didn't care about the cost of the print button.
I bet she thought what would the people want?
I think she is very generous in that way.
I bet she would be great as a friend.
I wish I were her friend.
I don't think I want to be Martha Stewarts friend because she has been to prison.
I don't trust people who have been in jail. 
I suck at programming so yes it cost money to have the print button added. As with anything added to this site. It cost more than I make in advertising to run this site. I bet Ree would be a good friend. And yes be wary of Martha Stewart as she has far too many knives at her disposal and who knows what trade secrets she learned in prison for stabbing people. 
So if you could add a print button that would be great.
I notice you have a donation button for paypal so you will take our money gladly but you wont give a print button feature.
I will never give you my money for your inferior site. 
Hey look I do have a print button. 
I can't believe you expect people to give you money for this site?
You just rake in money from us and expect us to sit by and make you one of the popular blogs when you don't have a print button.
You will never make it as a blogger without a print button. 
Yes, that's me, just raking in the money. 
Maybe one day if you are very lucky you will meat the Pioneer Woman.
If you do you need to ask her how she runs the best site there is.
She might not talk to you because you don't have one of the better blogs but she seems charitable to me.
So maybe charity will be on your side and she can tell you how you can do the best blog ever.
Yours will never be the best as hers but maybe. 
Yes MEATING the Pioneer Woman would be great. I have met her sister and she was lovely so genetics probably dictate that Ree is the same, eh? Yes hopefully she would help me become the best blog ever…after hers. 
So again please put in a print button.
I want to print this cake but I sit here and I can't I can not print because you do not have a print button. You are not a good food blog. 
Your wish is my command. 
Thanks for consideration please add print button or I cannot make recipe,
K
By the way, it's a great day to buy my cookbook !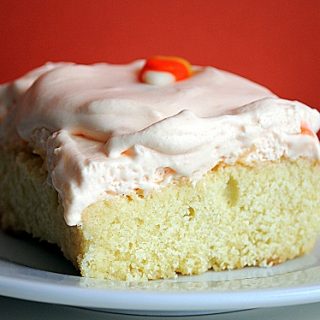 Candy Corn Tres Leches Cake
Ingredients
FOR THE CAKE:
1 cup All-purpose Flour
1-1/2 tsp. Baking Powder
1/4 tsp. Salt
5 whole Eggs
1 cup Sugar, Divided
1 tsp. Vanilla Bean Paste
1/3 cup Candy Corn infused Milk
1 can Evaporated Milk
1 can Sweetened, Condensed Milk
1/4 cup Candy Corn Heavy Cream
FOR THE ICING:
1 cup Heavy Whipping Cream, For Whipping
1 cup Candy Corn Heavy Cream, For Whipping
Instructions
The day before add ½ cup whole milk with ¼ cup candy corn.
Let sit in fridge in airtight container.
Also Take 1 cup heavy whipping cream and ½ cup candy corn and let sit in fridge in an airtight container.
Strain the candy corn out of each after 8 hours or overnight. Measure 1/3 cup of milk and 1 cup heavy cream.
Preheat oven to 350 degrees.
Spray a 9 x 13 inch pan liberally until coated.
Combine flour, baking powder, and salt in a large bowl.
Separate eggs.
Beat egg yolks with 3/4 cup sugar on high speed until yolks are pale yellow.
Stir in milk and vanilla.
Pour egg yolk mixture over the flour mixture and stir very gently until combined.
Beat egg whites on high speed until soft peaks form.
With the mixer on, pour in remaining 1/4 cup sugar and beat until egg whites are stiff but not dry.
Fold egg white mixture into the batter very gently until just combined.
Pour into prepared pan and spread to even out the surface.
Bake for 35 to 45 minutes or until a toothpick comes out clean.
Turn cake out onto a rimmed platter and allow to cool.
Combine condensed milk, evaporated milk, and ¼ cup candy corn infused heavy cream in a small pitcher.
When cake is cool, pierce the surface with a fork several times. Slowly drizzle all but about 1 cup of the milk mixture—try to get as much around the edges of the cake as you can.
Allow the cake to absorb the milk mixture for 30 minutes.
To ice the cake and 1 cup regular heavy cream and 1 cup candy corn cream and whip the cream until thick and spreadable.
Spread over the surface of the cake.
Decorate cake with candy corns.
Adapted from the Best Blog ever and someone who has not been to prison that I know of The Pioneer Woman Cooks.
Want More Candy Corn Recipes?