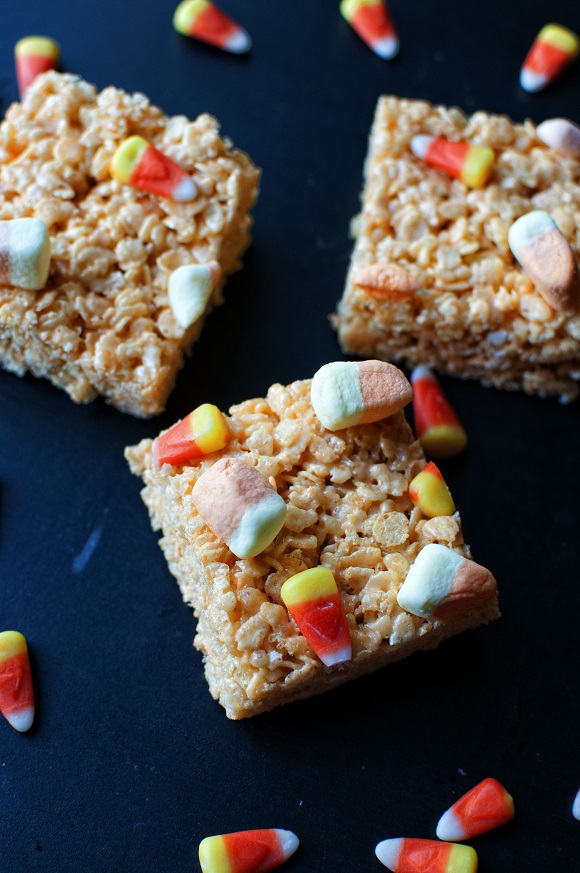 So it's confession time. Some may shock you, others not so much. 🙂
The first one I think is a big one especially since people come to me for advice about it every year! I have never made a full Thanksgiving dinner. I have made dessert. I have made sides. But I have never cooked a turkey.
I know, I know! But here is the deal: growing up my mom whom is a tad of a control freak in the kitchen (she's getting better) always did the turkey…and most of the sides…and the pies. I was allowed to make the bonus dessert so to speak. Then I got to do like one side. When I got older I still went to my parents for Thanksgiving. When I stopped it wasn't the same and I just had Chinese food instead. Then I wanted to make my own for Canadian Thanksgiving but the picky eater didn't really want turkey or most of the sides. So I would buy a roasted chicken and make some sides that I knew I could eat 15 servings of since the picky eater didn't like leftovers.
While MDP and I now go to my parents for American Thanksgiving I have a goal for next year to make a full T-day meal for Canadian Thanksgiving. Enter my friend Bree of Baked Bree. She made a beautiful comprehensive guide to a complete dinner called The Thanksgiving Game Plan: Your Guide to a Stress-Free Holiday. Not only are there recipes but the thing I needed most which was grocery lists, what you can do a head (what days to do what and when), and there are four different menus (traditional, 2-4 people (yay!!!), vegetarian, and a casual buffet). And if you know Bree's site at all you know the photos are amazing! If you are like me and slightly afraid of the Thanksgiving meal making then you totally need this guide as well! To get it>>> Click here to visit Baked Bree.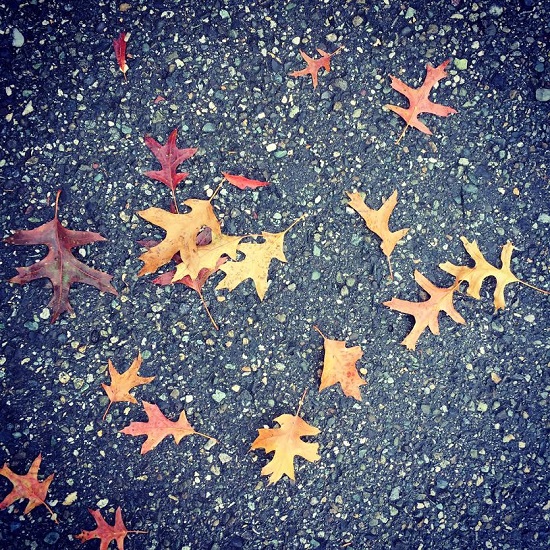 Confession number two which is no surprise to anyone who reads this blog but I am so happy that it's fall. I am extra happy I live in a place that actually has a change of seasons.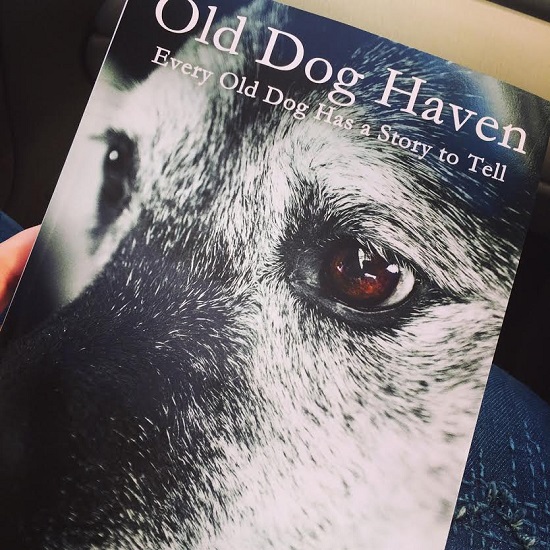 Confession number three: I bought this book Old Dog Haven: Every Old Dog Has a Story to Tell
and cried 90% of the time reading it. But if you are a dog lover it is a great read and I cried extra because I have a senior pup. It's kind of like mini Marley and Me stories. It celebrates the 10 year anniversary of my favorite organization Old Dog Haven and the author is giving 100% of the sales to the organization! So if you are a dog lover or know one you might want to consider getting this book. The work they do is great and they spend about $40K a MONTH (not year, month) on vet bills for senior dogs. And trust me senior dogs are expensive. Crazy Cocker Spaniel has cost me in the five digits this year…and I have the maxed out credit cards to prove it! Sigh.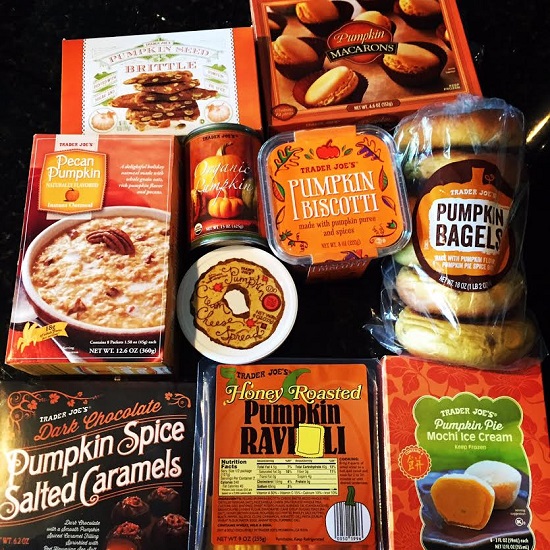 Confession number four, I have a pumpkin problem. But apparently so does everyone else or Trader Joe's would not make this much pumpkin stuff. Not pictures is the Pumpkin Spice Jo-Joe's which a blog reader was kind enough to get for me.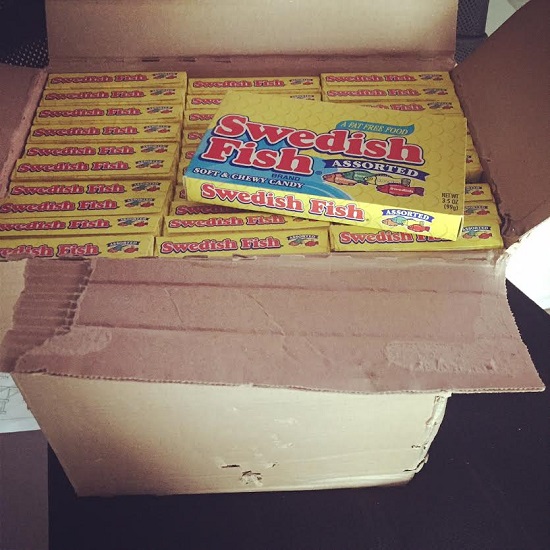 Confession number five is that I am still blown away by how cool my readers are. I might not have the traffic that other blogs get but the readers I do have are pretty much the best. You guys make other bloggers jealous of my connection that I have with many of you! Case (literally) in point. This week a reader sent me a pick me up (she asked if I was still sick…sadly yes and it's not going anywhere anytime soon) of a case of Swedish Fish. SIXTY boxes of Swedish Fish. The confession is that won't last as long as you would think. 🙂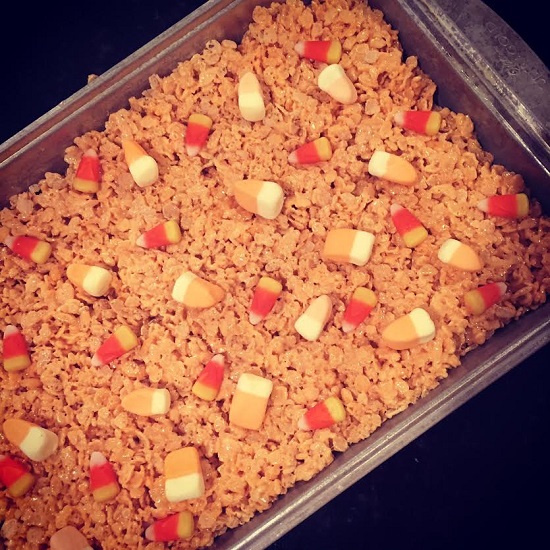 Last confession (more like a random fact) is that even though my mom makes these amazing treats each week for her community centers "farmers" market that they have she always makes a batch of Rice Krispie Treats. Know why? They sell out the first. No matter what. I wasn't going to put this recipe up (I made them for the hockey team) but several people asked for the recipe when I posted a photo on Instagram. So here you go. Also MDP found the marshmallows at Walmart.
Candy Corn Rice Krispie Treats
6 TBSP unsalted butter
10 oz Candy Corn Marshmallows (if you can't find just use regular)
6 oz mini marshmallows
8 cups Rice Krispies Cereal
a handful of Candy Corn Marshmallows (for decor)
a handful of candy corn (for decor)
Prepare a 9-13-inch pan with baking spray. Set aside.
In large saucepan melt butter over LOW heat. Add marshmallows and stir until completely melted. You need to be patient. Turning up the heat will just result in burnt marshmallows.
Add Rice Krispie cereal. Stir until well coated. *If you are not using the candy corn marshmallows you might want to consider adding some to the actual treats to give them some flavor. You may also want to add a drop of orange food coloring as well.
Using buttered spatula or wax paper evenly press mixture into prepared pan.
Add as many or as little extra marshmallows and candy corn as you would like.
Let the squares cool.
Cut into 2-inch squares. Best if served the same day.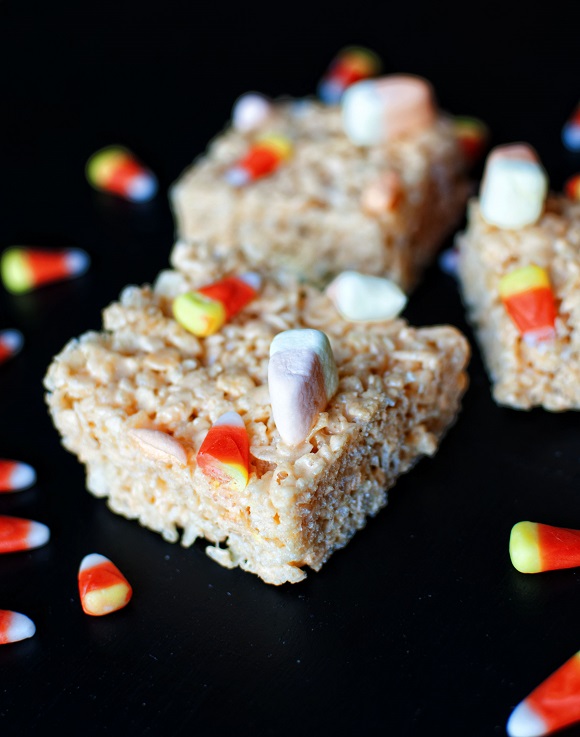 *This post contains affiliate links that help keep this blog running.