This Candy Corn Ice Cream is easy to make and has only three ingredients and is a must make for the candy corn lover in your life.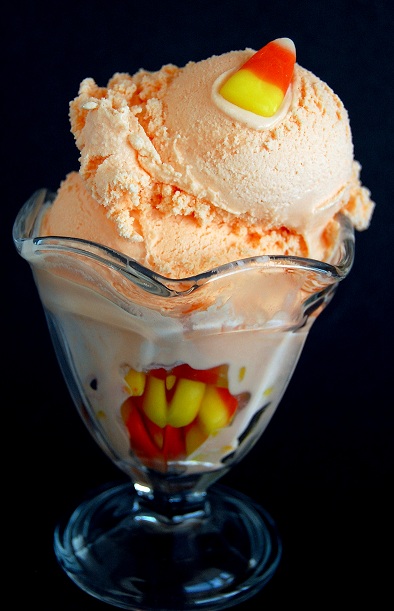 Fall is officially here and it's October.
How is it October?
Pumpkins, colored leaves, HOCKEY, crisp air, large bags of individual sized candy…it's all good.
And of course, candy corn. I personally have a love/hate relationship with candy corn.
I love it.
But then I eat so much of it I get sick.
And even when I get to the point of where I feel like a am going to throw up, I still keep eating it.
I do this about three times and then I am done for the year for eating candy corn.
I'm not sure how this idea for Candy Corn Ice Cream came to me.
I was originally going to use Circus Peanuts and make an ice cream for my Penny Candy challenge.
But I figured given the time of year and the large bag of candy corn already sitting on my counter, I would do candy corn.
So yes, I am counting this as my Top Chef Just Desserts Penny Candy challenge.
I don't care if it's not really penny candy.
These are my challenges and I will channel Seth and do them how I want, not how you are supposed to. 😛
Which speaking of that, I am deathly afraid of the wedding cake challenge.
This is about as simple as you can get.
The hard part was that I wanted the flavor of the candy corn but without the hurt your mouth sweetness that candy corn tends to lend itself too.
Luckily, in my opinion, I go that.
To get that, no sugar was added to the ice cream.
And no candy corn was either.
Confused?
Technically no candy corn was added in the mix in a sense.
What happened was I actually steeped the candy corn in cream and then let the candy corn basically disintegrate into the milk and cream overnight.
Genuinely I had no idea how much I would love this stuff.
I am not supposed to eat dairy and quite honestly I didn't care while eating this. 🙂
It only has three ingredients. Milk, cream, and candy corn.
That's it.
No eggs.
Nothing.
But so creamy and with the slightest hint of candy corn.
Mmm, too bad I can't pass it out instead of candy.
And as always it's a great day to order my cookbook.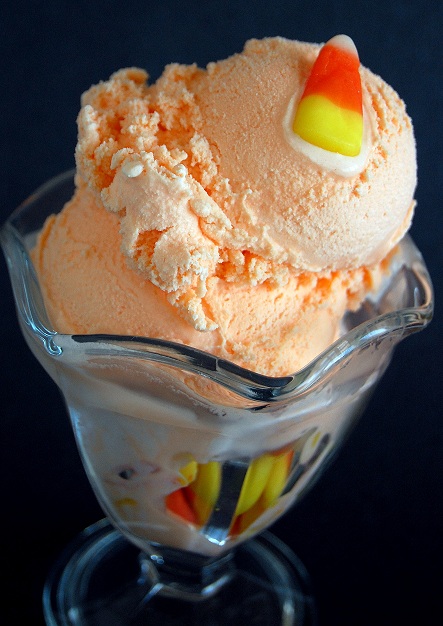 Want More Candy Corn Recipes?
Magical Candy Corn Flan Magic Cake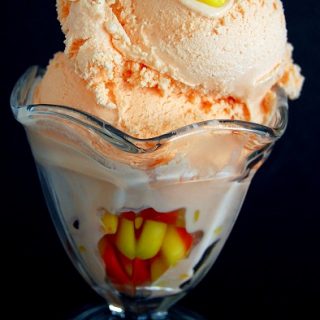 Candy Corn Ice Cream
Ingredients
2 cups Heavy Cream
1 cup Whole Milk
13 ounces candy corn
Instructions
Pour 1 cup of the cream into a medium saucepan and add the candy corn.
Warm over medium heat, stirring, until you start to see the candy corn dissolve.
Turn heat off and let cream come to room temperature.
Add the remaining cream and milk.
Put into an airtight container and refrigerate overnight, at least 12 hours. When you can remember to, shake the container up to get the candy corn loose.
Remove from refrigerator and strain the milk/cream mixture through a sieve or really small strainer to catch the candy corn pieces that did not disintegrate.
Freeze in your ice-cream maker according to the manufacturer's instructions.
Top with extra candy corn if you would like.