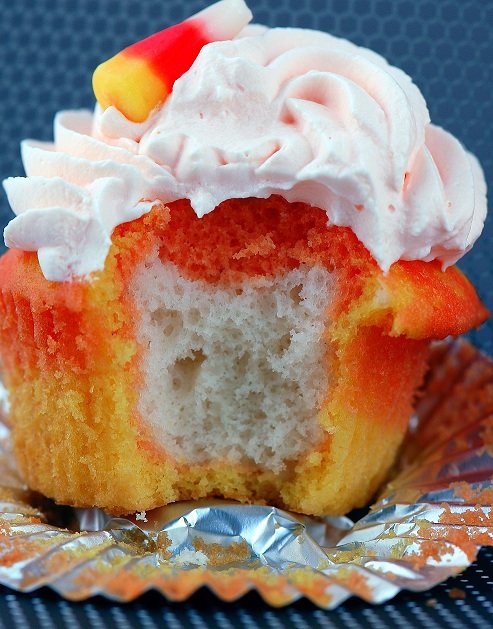 Halloween stuff is everywhere right now and so you can't help but start to get in the mood…though for the record Costco had out Christmas stuff and that did not put me in the mood for that holiday. People ask me what crazy things I am making for Halloween and I usually tell them nothing, which makes them sad so I decided this year to change that. You will really love what is going up Monday, super cute. I've already captured the Halloween spirit by buying candy, I am a sucker for all things mini and that's all Halloween candy is (I especially love the mini gummy bears). And I of course buy candy corn.
I planned on making these cupcakes three times now. It took the third time to make it happen since I ate the first two bags of candy corn before I successfully did not eat the third bag. 😛 At first I was going to make candy corn cookies but I couple people were already doing that and so I decided to go in a different direction. Last year I made candy corn ice cream by just using candy corns and whipped cream and so I decided to take that and use that idea and turn it into frosting for cupcakes. That idea turned out to be a good one.
These are not overly sweet like you would think. Adding the extra whipped cream at the end helps to mellow out the sweetness but still give the candy corn flavor! I don't give a recipe for the cupcakes as they are just white cupcakes but do tell you how to make them in the recipe. These are a fun treat for kids and adults alike.
On a side note thanks for the well wishes for my mom, she is doing well. Though going stir crazy already as that woman likes to go, go, go. Bed rest and her are not friends.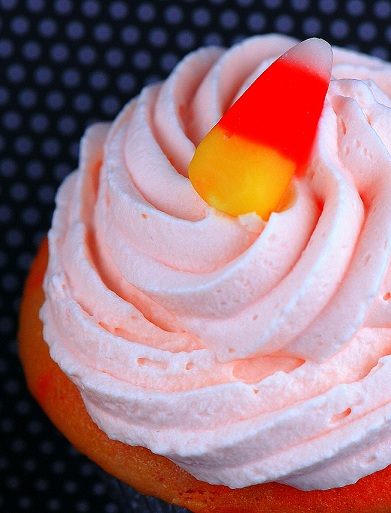 Candy Corn Whipped Cream Frosting
3 cups heavy whipping cream (40% works best), divided
1 cup candy corn
1 tsp. cornstarch
1 cup powdered sugar
In a sealable container add candy corn and two cups of heavy whipped cream. Place in fridge for at least 6 hours, but overnight is even better.
Take out of fridge and strain the liquid from the candy corn and place into a stand mixer fitted with the whisk attachment. Whisk on high until it forms stiff peaks. Remove and put in a separate bowl.
Add the remaining heavy cream and cornstarch to bowl and whisk on high, adding the powdered sugar ¼ cup at a time until stiff peaks are formed.
Add the candy corn flavored whipped cream back into the bowl and whisk together on high speed until incorporated.
Keep in fridge until ready to frost fully cooled cupcakes.
This is enough frosting for 12 cupcakes depending how you frost. 🙂
To make the cupcakes simply take your favorite white cake recipe or just use boxed white cake. Divide the batter into three parts. Keep one white. Make one yellow with food coloring. Make one orange with food coloring. Layer the colors and bake as directed.