Brown Butter Sage Butternut Squash Cheese Ravioli: Easy vegetarian weeknight meal with roasted butternut squash, butternut squash ravioli, and a brown butter sauce all topped with parmesan cheese.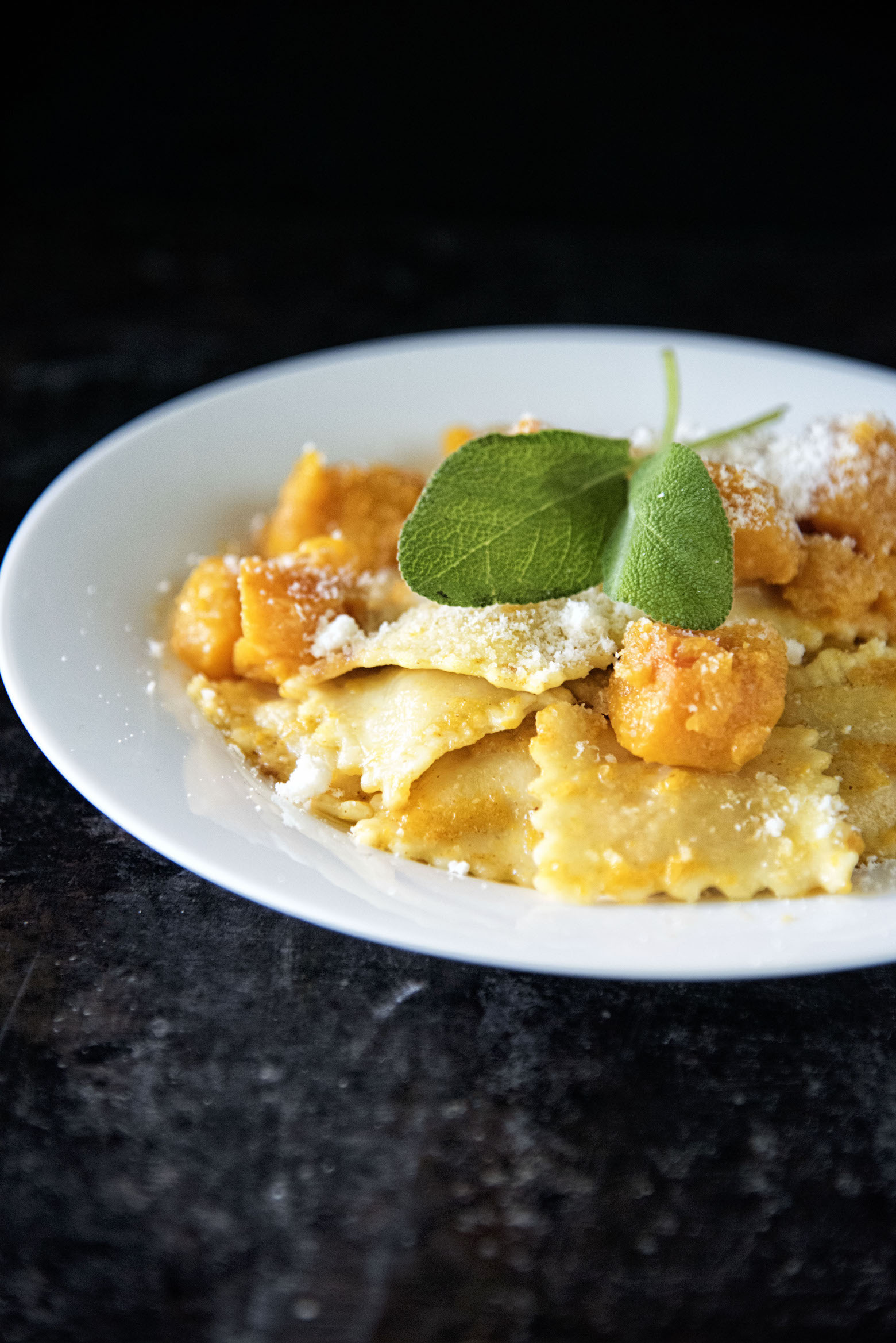 One of the best things about fall is all the butternut squash.
And now one of the best things about fall is Brown Butter Sage Butternut Squash Cheese Ravioli.
I'm lazy and almost always buy the pre-cut and cubed squash at the grocery store…so feel free to cheat like I do. 🙂
Roasting butternut squash brings it to a whole new level.
I love the smaller pieces because they get extra caramelized and tasty.
This is one of our go to meals during the week.
We are lucky that our local grocery store makes their own pasta and that they have a butternut squash ravioli.
If you are not as lucky you can substitute cheese tortellini.
Definitely watch the butter while it is browning as it can go from brown to burnt rather quickly and no one wants that.
If you are a meat eater feel free to add some prosciutto to the mix, it will compliment the squash nicely.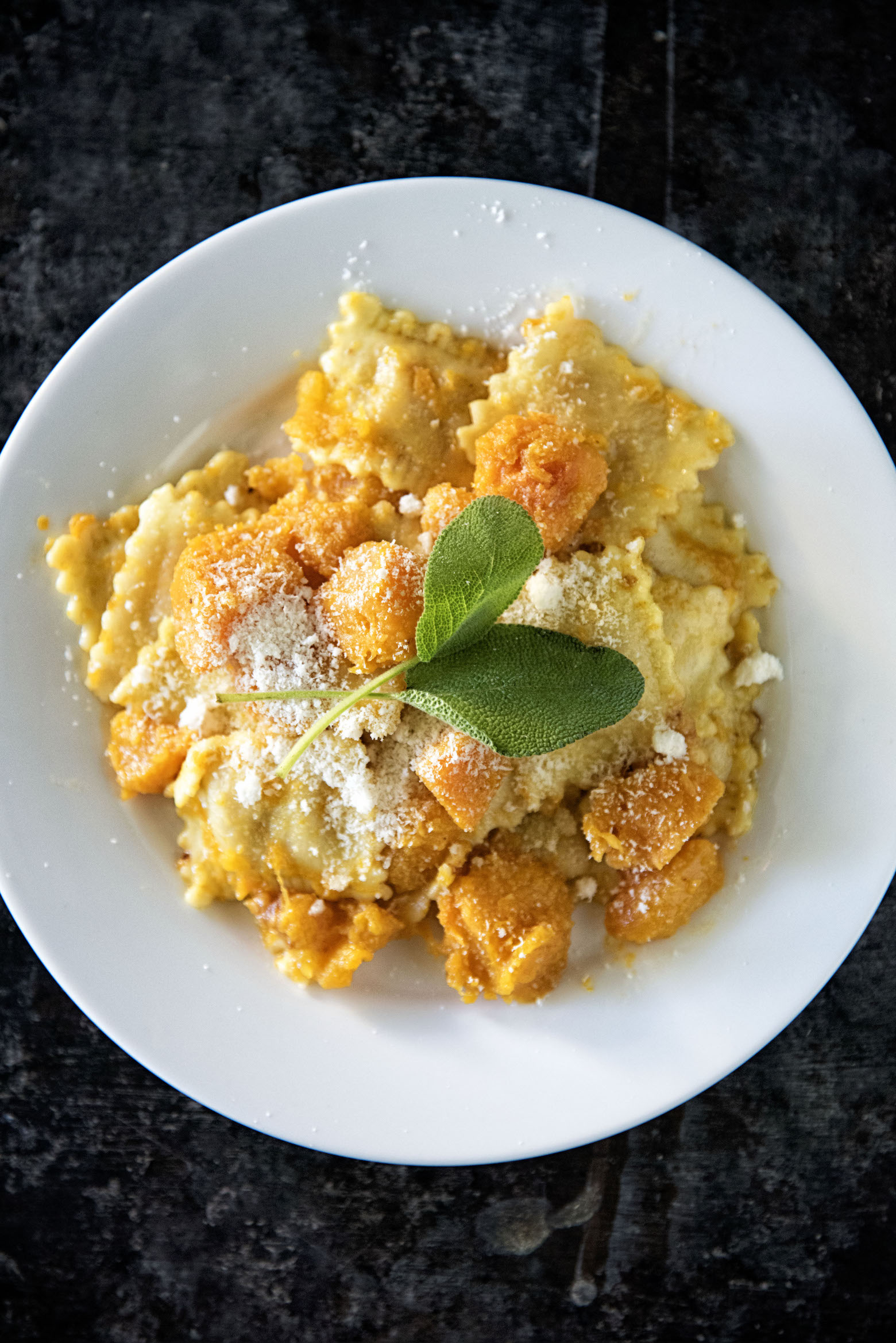 Last but not least…it's a great time to order my cookbook.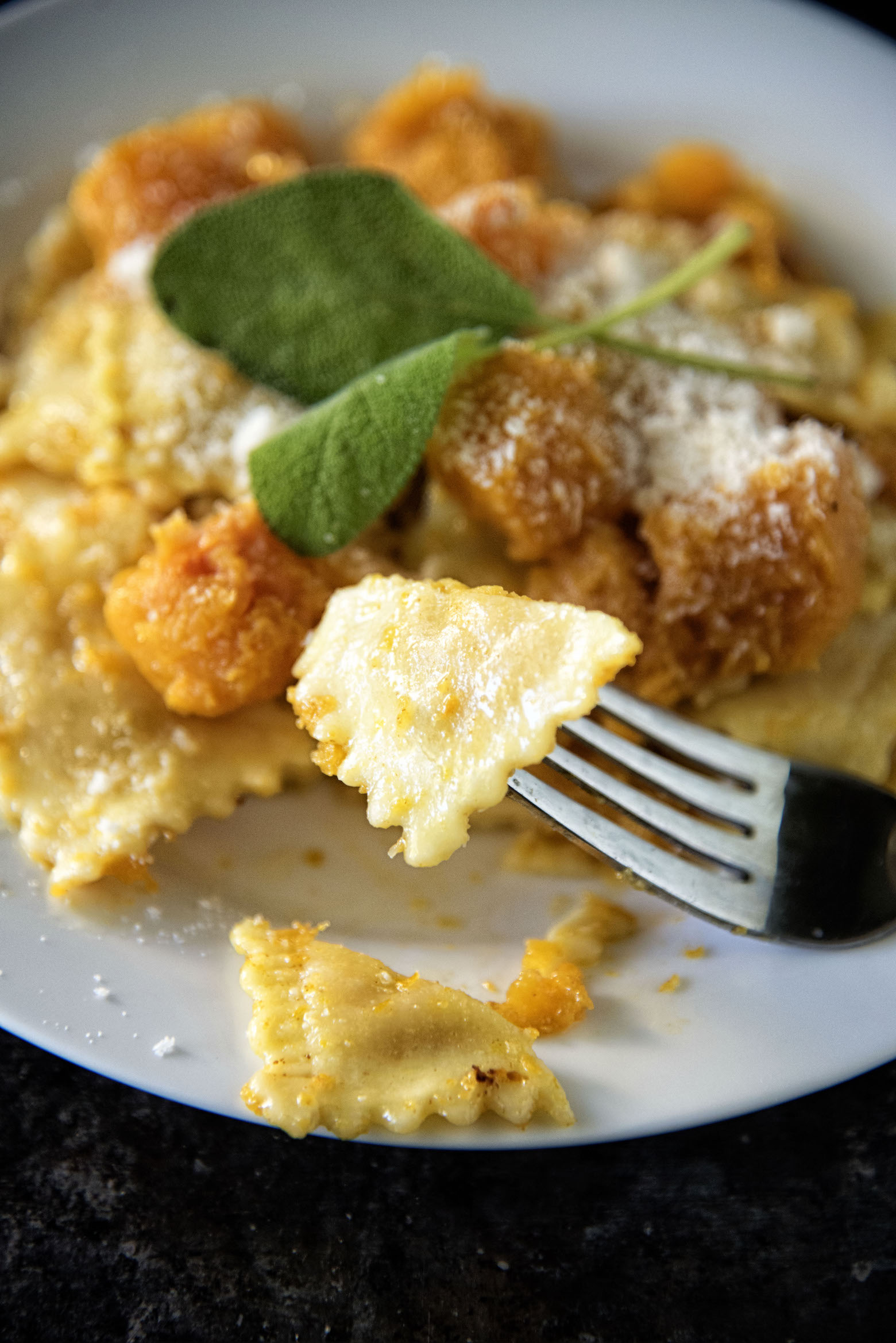 Want more Pasta recipes?
Alpine Dijon Macaroni and Cheese
Gouda and Lobster Mac and Cheese
Toasted Hazelnut Pumpkin Pasta for Two
BBQ Pulled Pork Mac and Cheese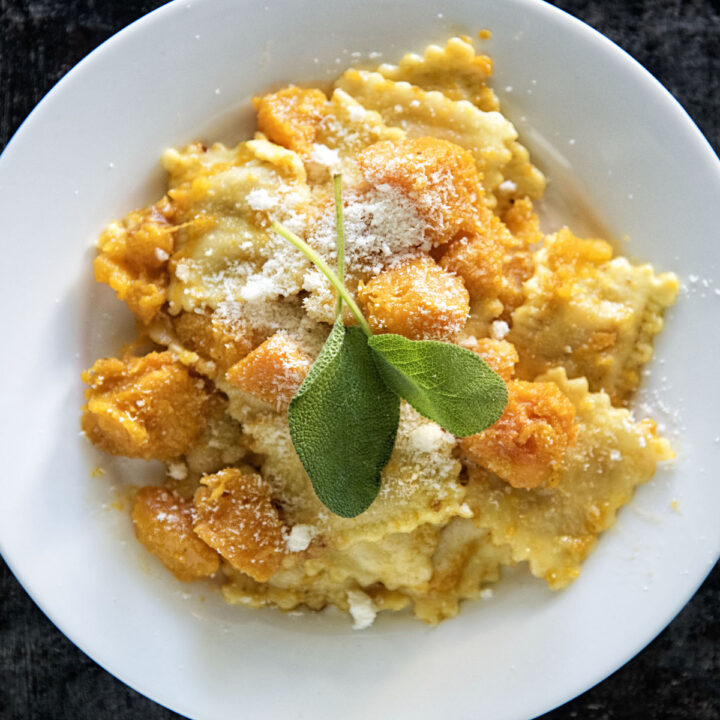 Brown Butter Sage Butternut Squash Cheese Ravioli
Ingredients
3 cups butternut squash, peeled and cubed
3 TBSP olive oil, divided
4 cups Butternut Squash Ravioli
1/2 cup unsalted butter, cubed
1 large sprig of sage
4 TBSP white wine
1 tsp. sugar
1/4 cup Parmesan cheese, grated
Instructions
Preheat oven to 400F.
Toss butternut squash in oil.
Sprinkle with salt.
Arrange in one layer on a sheet pan.
Roast for 30 minutes, turning squash halfway through.
Remove from pan and set aside.
Bring a large pot of water with salt to a boil.
Add the ravioli.
Cook the ravioli according to the directions on the package.
Drain and set aside.
Melt butter in a sauté pan.
Add the sage and cook until the butter browns, about 4 minutes.
Discard the sage sprig.
Stir in the wine and sugar.
Place the butternut squash and ravioli into the pan and cook until heated through.
Sprinkle Parmesan cheese on top.