This Candy Corn Flan Magic Cake has a layer of candy corn cake and a layer of candy corn flan that "magically" switch places as they bake.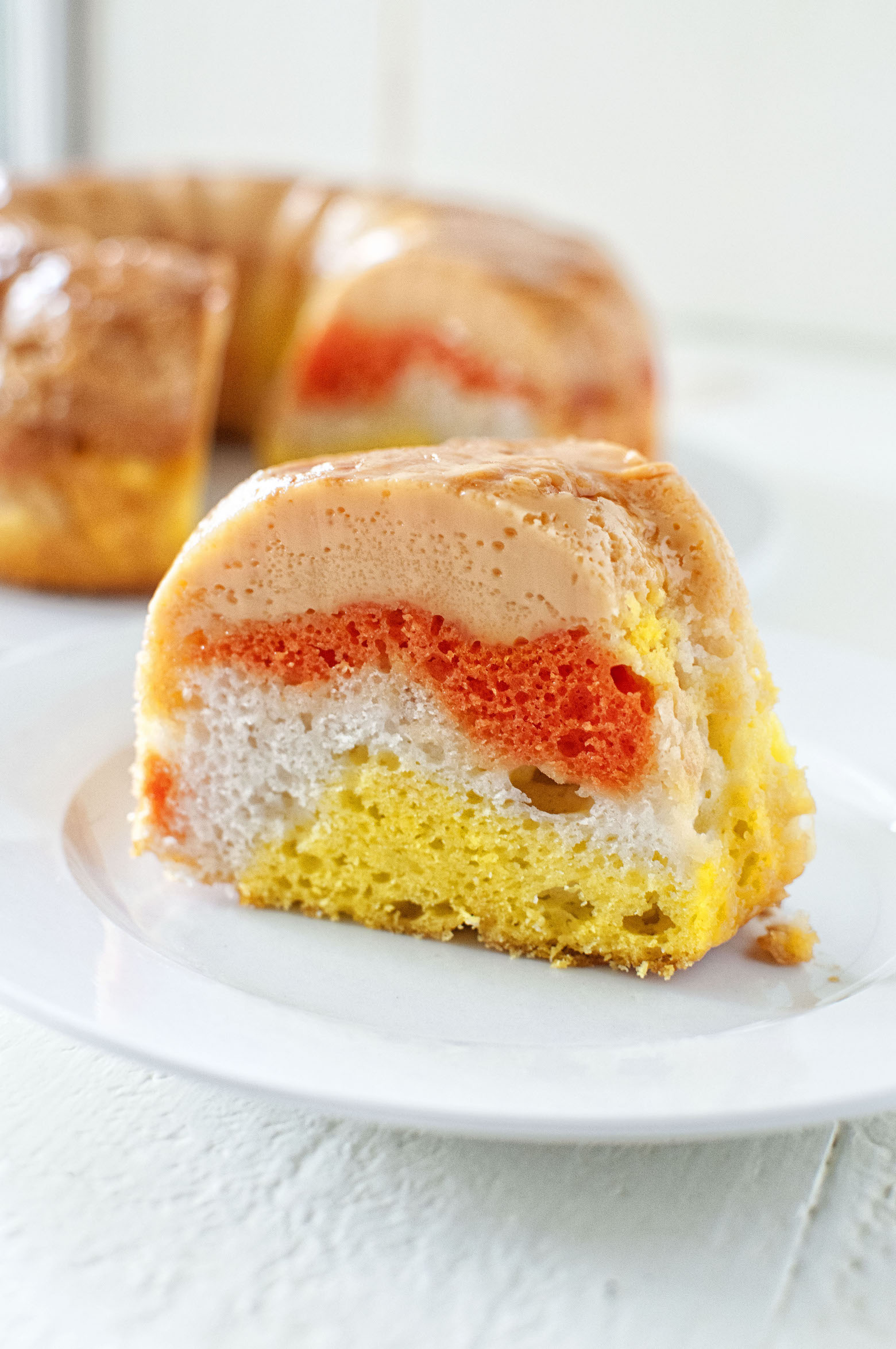 I've been on lock down so to speak for over a week now.
My forecast day after day says smoke as a weather forecast.
While Texas and now poor Florida are getting slammed with rain, we are praying for it.
Apparently so is North Dakota…which yes, Mr. President you can get a drought in North Dakota (eye roll).
The color of our skies are an eerie half gray half orange look.
It's humid and hot and randomly ash falls from the sky like snow.
Nothing near us is on fire luckily but sadly everywhere else in the Northwest seems to be.
My parents live in Northern Idaho and when I looked at the fire map the other day there were so many fires that you could not see Northern Idaho.
Luckily, just like us they have no fires immediately near them.
However, just like us they have smoke blowing in from all directions.
It was supposed to clear up today they said…it seems worse today than better.
I am hoping the little rain cloud that popped up on my 10 day weather forecast is true.
We really, really need it.
And thank you to all the men and women out there battling the fires.
There will never be enough thank you's for all you do.
Being cooped up means that I was home and wanting to bake.
And while the temperature outside was warm I just cranked down the a/c and went for it.
I'm sure when the electric bill comes I won't be a fan of that but oh well. 🙂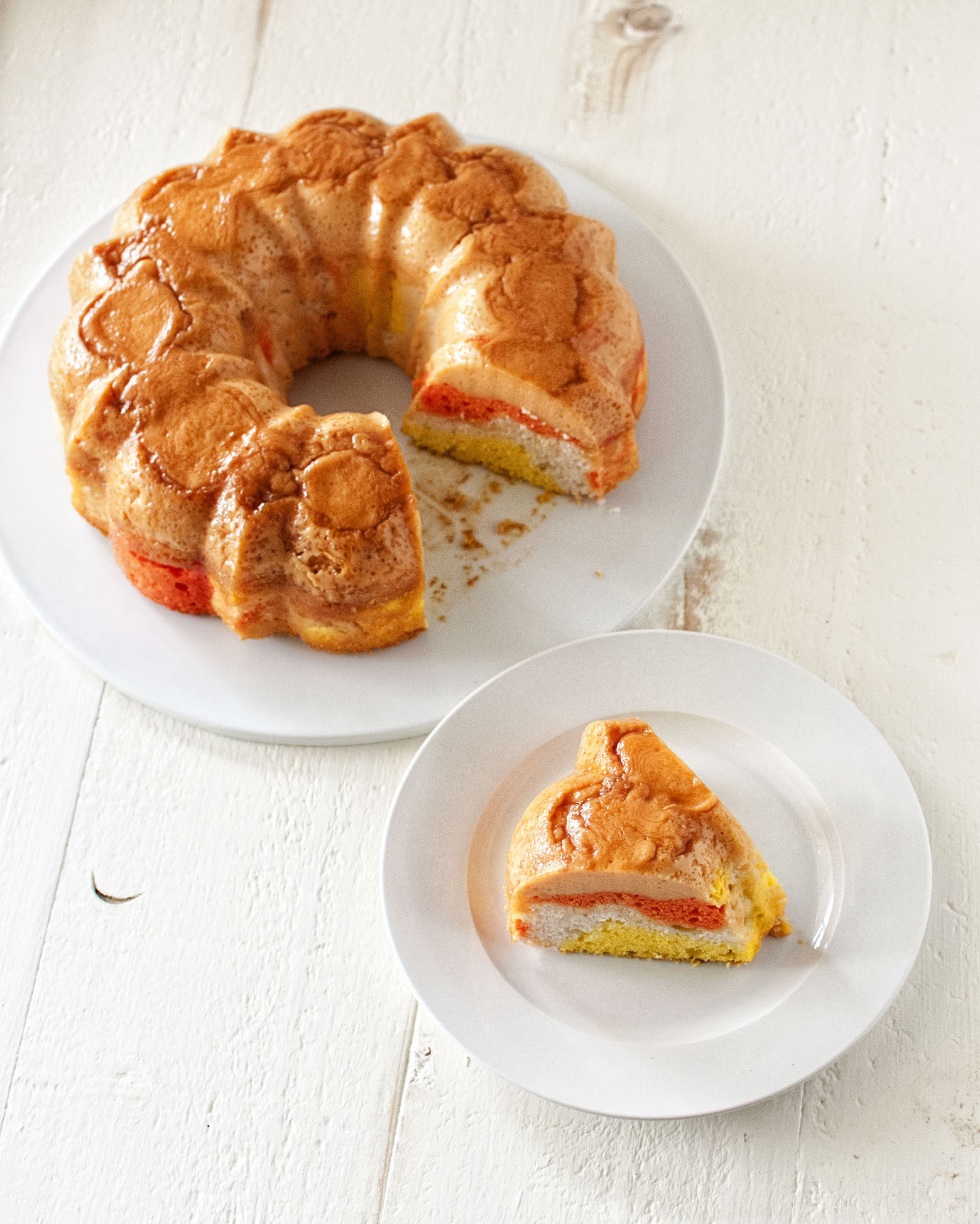 It's that time of year when candy corn is out.
If you are a long time reader of this blog you know I love infusing candy corn in milk or cream and making recipes with them.
Also this. 
And this.
Also this. 
I had seen chocoflan many a times and a few people made it with yellow cake.
But I wanted to try and make it candy corn.
Candy Corn Flan Magic Cake.
One thing you need to know about candy corn infused desserts is that they are not super sweet like candy corn.
You get just a hint of the candy corn.
Trust me…my husband does not like candy corn yet always loves my candy corn desserts.
If you want more candy corn flavor you can substitute the water in the cake mix for candy corn milk.
But you will get an all over orange color so you won't be able to do the yellow, orange, white candy corn look if you want that.
I was going to make my own caramel topping for this but the fact that it was candy corn and cake mix I went ahead and just bought the jar of caramel. 🙂
This is a great cake to make with kids.
They think it is really cool that you put the flan on top and it switches place with the cake…like magic…but really it's just physics. 😀
Be sure to order my cookbook.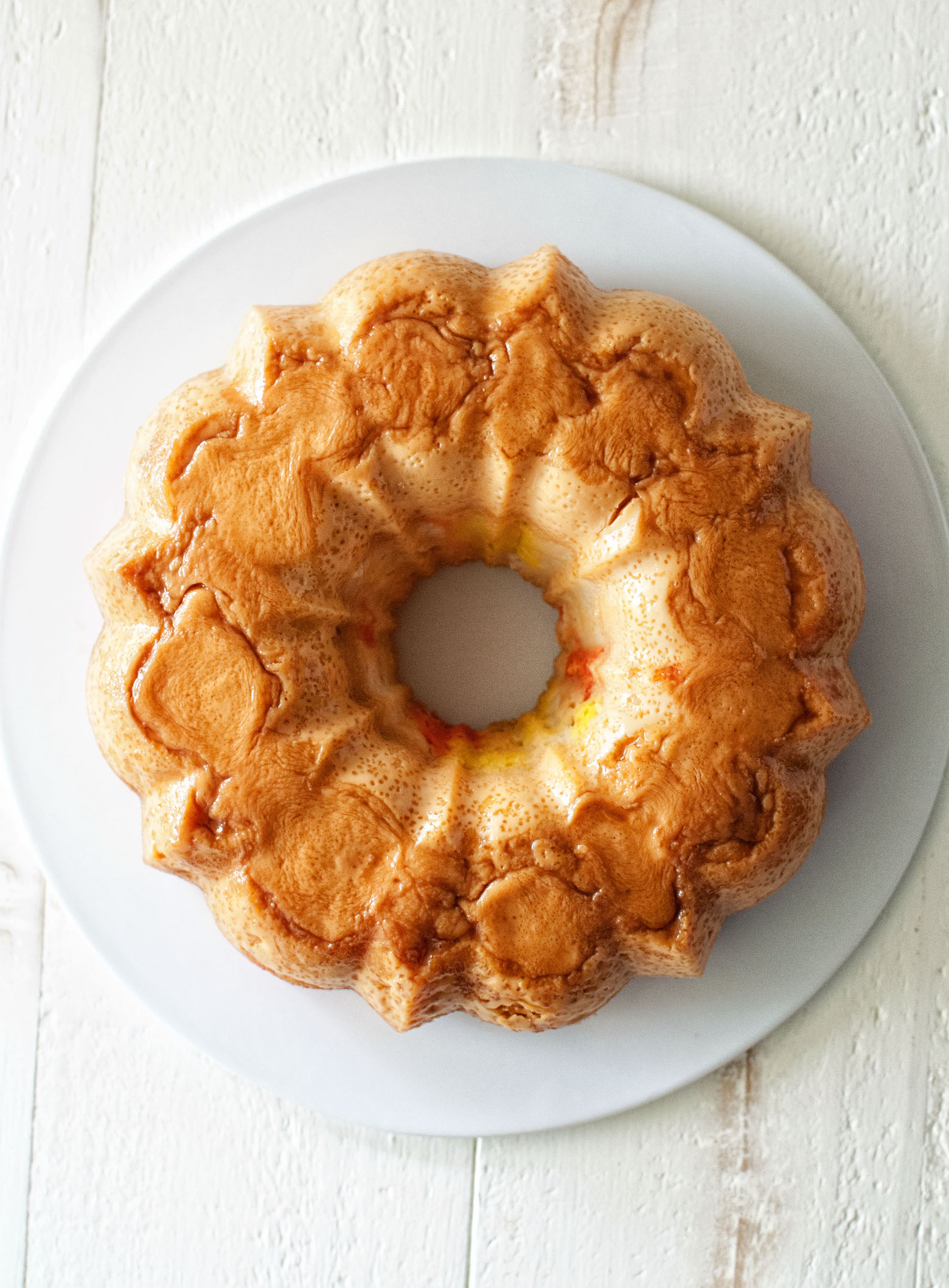 Want more Candy Corn recipes?
White Chocolate Candy Corn Fudge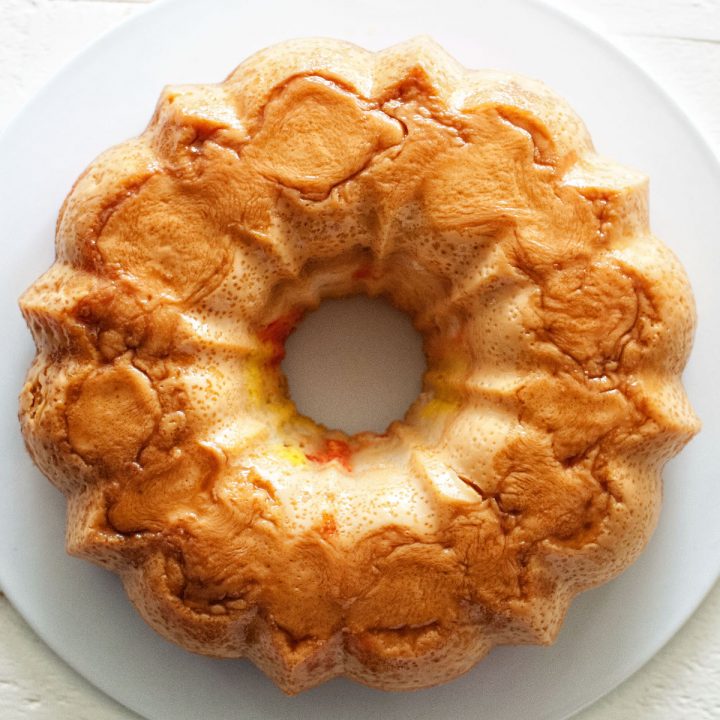 Candy Corn Flan Magic Cake
Ingredients
Candy Corn Milk:
3 cups whole milk
1 (11 oz) bag candy corn
Cake:
1 jar (12.25 oz) caramel topping
1 box white cake mix
1 cup water
1/2 cup vegetable oil
4 egg whites
yellow and orange food coloring (if desired)
Flan:
1 can (14 oz) sweetened condensed milk (not evaporated)
1 cup candy corn milk
4 large eggs
Instructions
To make the candy corn milk:
Heat milk up to a boil and then add candy corns.
Reduce heat to simmer.
Still constantly so that candy does not burn on bottom of pan.
Simmer until candy corn has disintegrated, took me about 10 minutes.
This makes more than what is needed but it is great to have around. And I will have another recipe using it coming soon. Just keep extra in a air tight container in fridge.
For the Cake:
Heat oven to 350°F.
Grease 12-cup fluted tube cake pan with butter.
Pour 1/4 cup of the caramel topping in bottom of pan.
Refrigerate remaining caramel topping for serving.
In large bowl, beat cake mix, water, oil and 4 egg whites with electric mixer (or stand mixer with paddle attachment) on medium speed about 2 minutes, scraping bowl occasionally.
Separate batter evenly into three bowls.
Leave one bowl white.
Add yellow food coloring to one bowl and mix until batter is yellow.
Add orange food coloring to one bowl and mix until batter is orange.
Using a ice cream scoop simply scoop the batter into the pan (on top of the caramel) starting with white, then yellow, then orange. Don't worry if the colors start to bleed together a little.
For the Flan:
In blender, place flan ingredients.
Cover; blend on high speed until smooth, about 40 seconds.
Slowly pour mixture over batter. (Flan mixture will mix with batter, but they will separate during baking, forming 1 layer of cake and 1 layer of flan.)
Place cake pan in large roasting pan; add 1 inch of hot water to roasting pan.
Bake about 1 hour 5 minutes to 1 hour 10 minutes or until toothpick inserted in center comes out clean. Remove cake pan from water bath to cooling rack.
Cool completely, about 1 hour.
Place serving plate upside down on cake pan; turn plate and pan over.
Remove pan. Cut cake into slices; serve with reserved caramel topping.
Store in refrigerator.