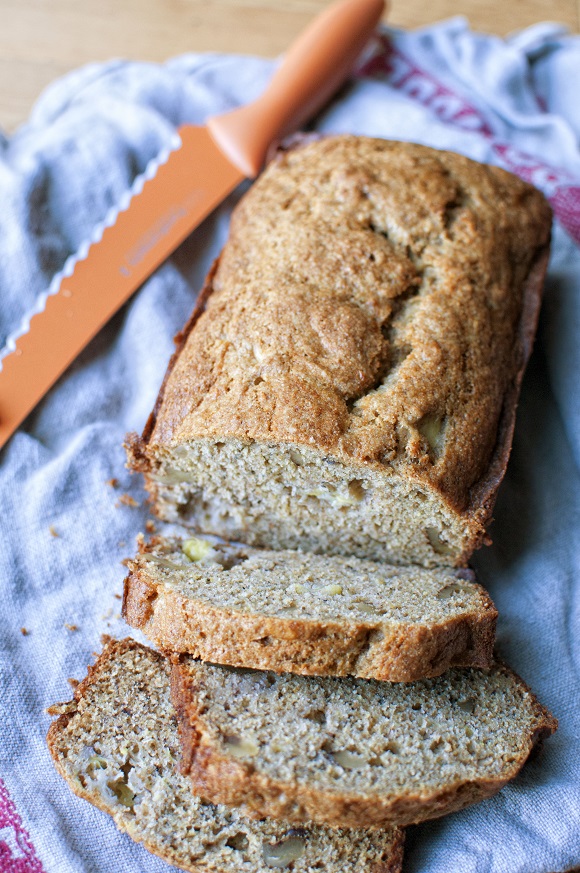 Growing up I don't ever remember eating anyone else's baking except my mothers. She baked for all the neighbors, so when I would go over and play with the neighbor kids I was either eating my own mother's cookies or store bought ones. So I really had no comparison.
When I went off to college I choose banana bread one morning for breakfast. It tasted nothing like my mother's and I chalked it up to just being bad cafeteria food. We had many local cafes around the college and so one time while on a coffee run I bought a slice of banana bread. Nope, didn't taste like hers either. I repeated this process many times until I finally broke down and told my mom that no one makes banana bread like her. She just smiled and said that is because I make mine with Graham flour.
What the heck was that I thought? My mom explained that it was a type of wheat flour, the kind used in graham crackers and it's what gives her banana bread a unique taste. The hard thing was that she could not actually find in Arizona (where we were living at the time) so my aunt would have to send it to her (which is why we didn't get banana bread all that often). Luckily nowadays you can find it quite easily as Bob's Red Mill makes it. I find it at just about any grocery store and of course good ol' Amazon.com (One 24 oz Bob's Red Mill Graham Flour
).
While I have made many a version of banana bread in my lifetime when I am feeling nostalgic I always go back to making my mom's version. It's home to me.
If you would like to try some of my other versions here are some options:
Peanut Butter Banana Peanut Butter Chip Banana Bread
Peanut Butter Cup Banana Bread 
Coconut Banana Bread with Key Lime Glaze
Hope everyone has a wonderful first Monday of the new year!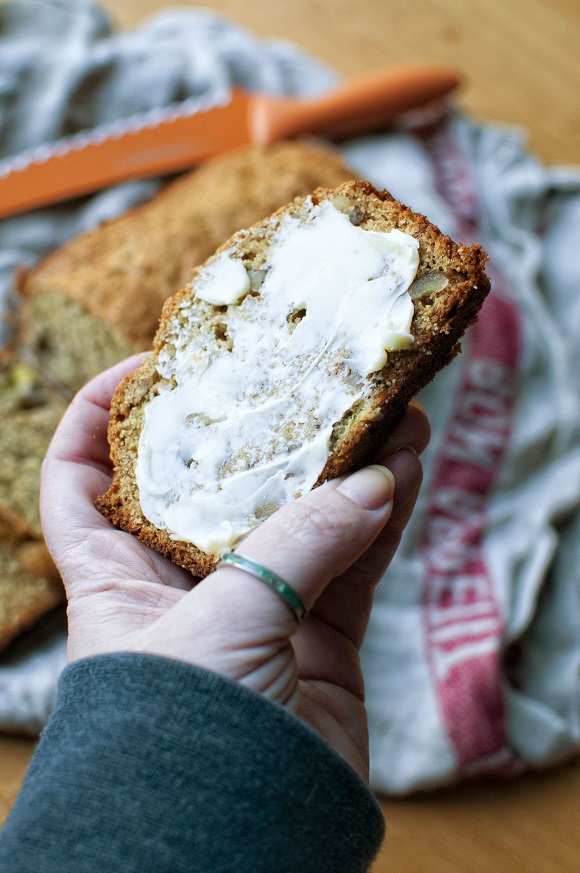 Graham Flour Banana Bread
1/3 cup shortening(don't use butter…it isn't the same in this recipe)
1/2 cup granulated sugar
1/4 cup brown sugar
2 eggs
1 cup graham flour
3/4 cup all purpose flour
1 tsp baking powder
1/2 tsp salt
1/2 tsp baking soda
1 cup mashed ripe bananas
1 cup or more of chopped walnuts
Preheat oven to 350 F.
Using a stand mixer with a paddle attachment  cream together the shortening and sugars.
Add the eggs and beat well.
Sift together the flours, baking soda, salt, baking powder and add to creamed mixture.
Mix until just comes together.
Stir in bananas and walnuts.
Pour into well greased(and lightly floured) 9X5X3″ pan.
Bake for about 50 minutes or until done.
Source: my mom