This Banana Pudding Banana Bread has a cream cheese banana pudding vanilla wafer filling topped with a banana pudding glaze.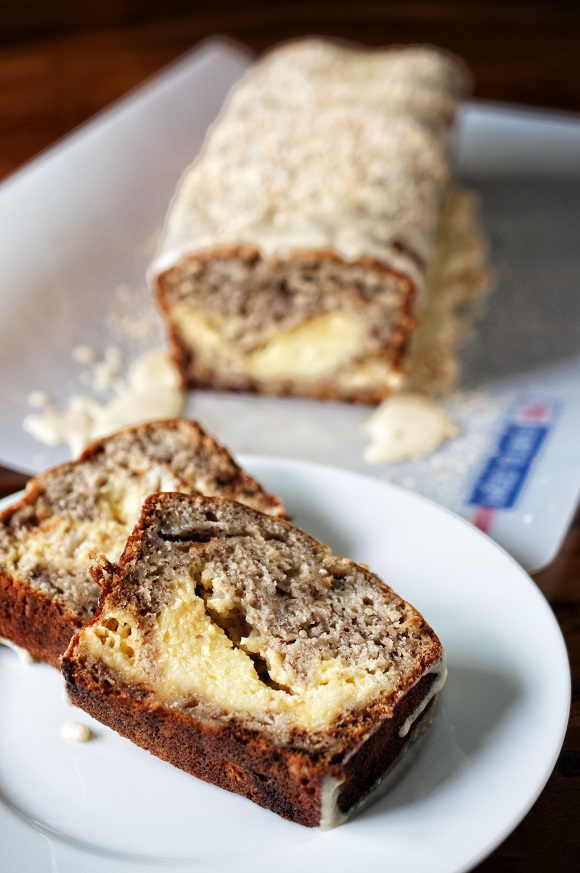 It's Wednesday and I feel like rambling…
First off want to say a big thanks to those who de-lurked in the last post and for those who are sending me your thoughts, I appreciate it so much.
I also need to send positive vibes and maybe a hug to the not so nice person who's comment didn't get published because they told me I deserved whatever I have because I eat and promote sugar.
I don't promote sugar, I promote moderation that includes sugar…because clearly they need a hug if they felt the need to take time to tell me that.
Also maybe not read my blog if you feel so strongly about the evils of sugar.
I'm pretty sure Kate and William are concerned about my opinion so I'm really wanting them to have a girl this time around, imagine the cute little outfits.
I'm sure they feel better knowing my input. 😀
We are rolling into fall and not only does that mean hoodies and hot chocolate it means many, many new cookbooks are coming out.
I'm lucky that I get quite a few free ones from publishers but some I have to break down and get for myself.
The first one I bought was Huckleberry: Stories, Secrets, and Recipes From Our Kitchen
.
The pictures alone in this book made me hug it but the fact the side of the book (you know the pages part) is yellow with polka dots made me swoon.
Haven't made a darn thing from it because it came yesterday but I am already in love.
Oh and it's the name of a bakery, not a whole cookbook on huckleberries.
Speaking of books I get for free, someone created a baking book with me in mind….are you ready for this?
The Hello Kitty Baking Book: Recipes for Cookies, Cupcakes, and More
Yes, that's right, a HELLO KITTY Baking Book!!!!
So freaking cute.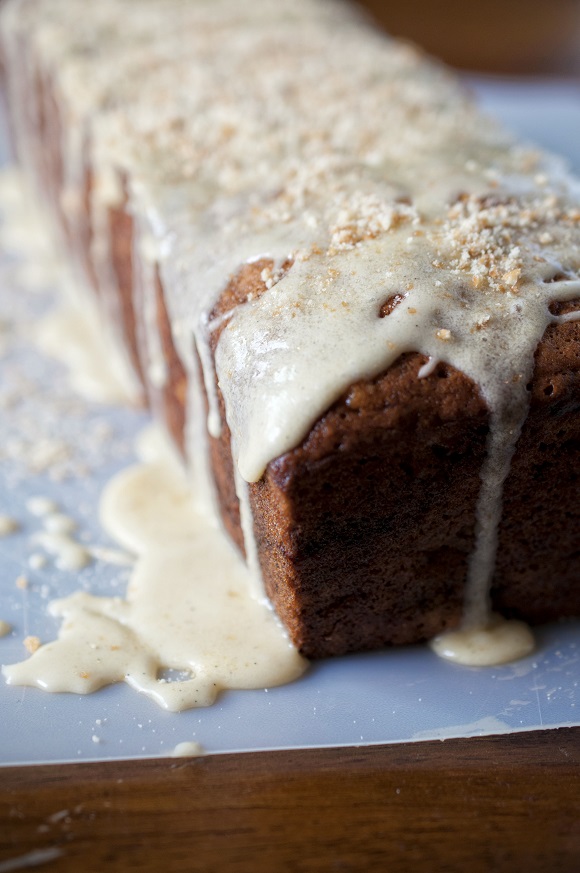 And speaking of baking, I did some.
I made banana bread again.
But not just any banana bread, oh no, Banana Pudding Banana Bread.
Which I had hoped someone had created before and I would just tweak the recipe but no, alas, no one had.
So it was up to me to figure something out.
Boy did I.
This is the way to have banana bread.
I have no idea how in the last 9 plus years of my blog I never thought to combine the two!
If you are a banana pudding lover this bread is a must for you.
P.S. It's a great day to buy my cookbook Holy Sweet!
Want more Banana Bread Recipes?
Chocolate Chocolate Chip Sourdough Banana Bread
Dark Chocolate Sea Salt Caramel Banana Bread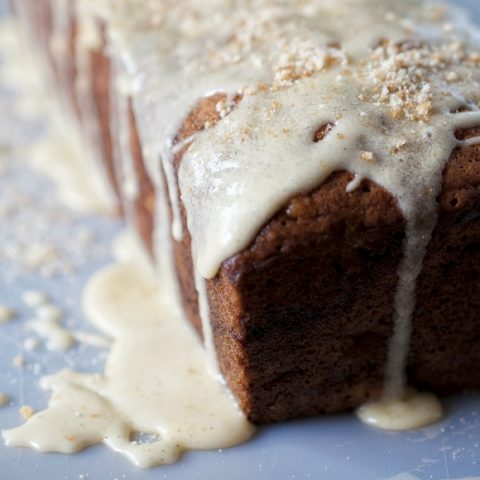 Banana Pudding Banana Bread
Ingredients
For the Banana Pudding Filling:
8 oz. cream cheese, at room temperature
2 ½ oz. instant banana pudding mix (a half of the 5 oz size package)
1 egg
1 tsp. vanilla extract
10 vanilla wafers, chopped
For the Banana Bread Batter:
1 1/2 cup mashed bananas (about 4 medium bananas)
1 cup granulated sugar
1/4 cup vegetable oil
2 large eggs
1 tsp. vanilla extract
1 1/2 cups all-purpose flour
1 tsp. baking soda
¼ tsp. salt
For the Glaze:
1 tsp. vanilla bean paste (or extract I just like the vanilla bean flecks)
3 TBSP instant banana pudding mix
¼ cup milk
1 cup powdered sugar
3 vanilla wafers, finely crushed like a powder
Instructions
Preheat oven to 350F.
For the Banana Pudding Filling:
Using a stand mixer with the paddle attachment beat together the cream cheese and instant pudding.
Beat in the egg, scraping down the sides and bottom of the bowl after.
Beat in the vanilla and continue beating until the mixture is smooth.
Fold in the chopped up vanilla wafer pieces.
Set aside.
For the Banana Batter:
In a medium bowl whisk together the flour, baking soda, and salt; set aside.
Using a stand mixer with a paddle attachment add the bananas and sugar and mix together for about 3 minutes on medium-high speed.
Add the oil and mix until incorporated.
Add eggs, scraping down after each addition.
Add flour mixture to the banana mixture and mix on low until the ingredients just start to come together.
Spray a 9×5 loaf pan with baking spray and place a piece of parchment paper in there with the sides hanging out to make it easy to remove the bread.
Divide batter in half and pour and smooth it in the pan.
Pour (it's pretty thick so pour isn't the right word exactly) the prepared cheese batter on top of the banana batter.
Press down with a large spoon or spatula to evenly distribute best you can.
Pour the rest of the banana bread on top of the banana pudding mix.
Bake at 350F for 45-55 (really does depend on your oven) minutes or until golden brown and toothpick comes out clean.
Let cool on rack while you prepare the glaze. Remove from pan and put on a wire rack with a sheet pan under it.
To make the glaze:
Whisk together the banana pudding mix and milk.
Add the vanilla bean paste.
Add the powdered sugar in ¼ cup at a time and whisk until smooth.
You may want more or less powdered sugar depending on what consistency you want your glaze at.
Pour glaze over bread.
Sprinkle the vanilla wafer powder over the glaze before it sets.
Let set up (about an hour) then place in fridge for about 30 minutes.
Slice and serve. I'm keeping the leftovers in the fridge.
*This post contains Amazon Affiliate links which means if you follow the link and buy something I get a small percentage to help support the blog.