Croissant Bread Pudding with Pecan Toffee Sauce: Bread pudding made that much better with the use of buttery croissants. Then made even better with the addition of Pecan Toffee Sauce.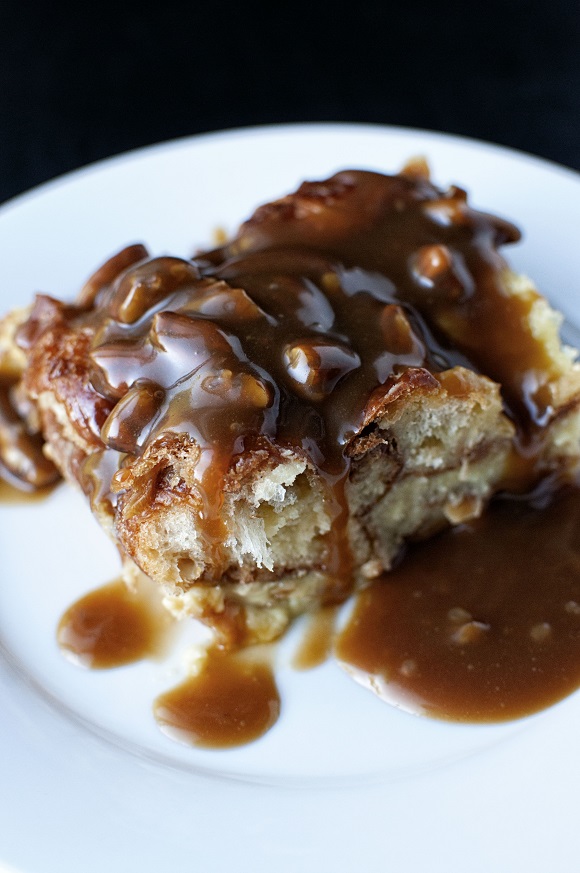 Whenever I see the quote "nothing tastes as good as skinny feels" I leave the comment "then you haven't tried my bread pudding" and I link the recipe.
I've been way, way thinner than I am now and while I did enjoy the compliments I did not enjoy many, many things about trying to stay thinner.
When I was at my thinnest (4/6) I was constantly thinking about what I was going to eat.
What people were thinking when I eat (because at that point my friends were concerned and they should have been even though I assured them I was fine and told myself they were just jealous).
For a while I started off with good intentions of going to do things the healthy way the more and more I lost the less and less I ate because I never seemed to lose as much as I wanted that week.
If I knew I was going to eat out with friends then I would exercise for hours, not eat a thing or maybe cucumbers, that way I could eat more "normal" in front of others.
That was if I went out with friends, mostly they would get blown off because I was afraid to eat something "bad" or wanted to be at the gym instead trying to burn just a little bit more.
If they bugged me about not doing things with them I would tell myself that they were just jealous.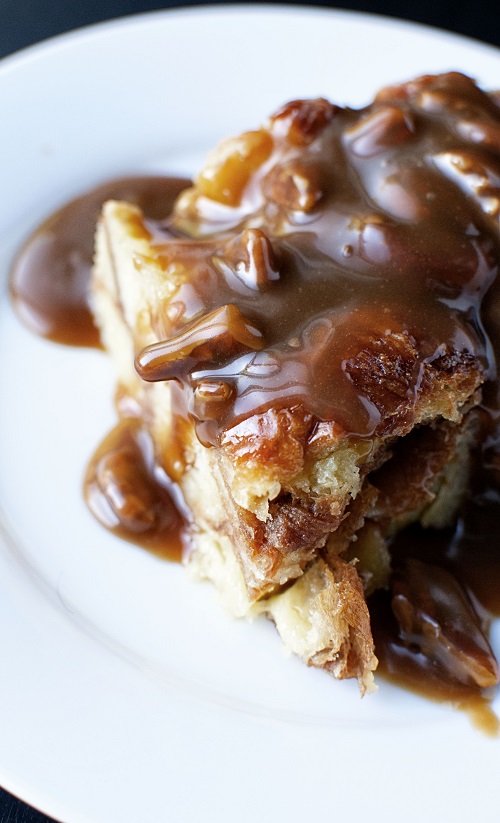 I would tell my ex-husband that I already ate when he questioned why I wasn't eating dinner (even though I had not eaten).
I thought constantly about what I was going to eat and how much exercise I could do on the least amount of food in my body so as to get in a decent workout.
I lived in constant panic that if I gained anything back people would think less of me, especially since I was a WW leader.
When I would indulge I would tell myself I was weak and call myself all sorts of horrible names in my head.
So while looking cute in clothing and listening to people tell me how good I looked is nice and all…it comes with so much other stuff.
Other stuff that I realize as I age is far worse than being fat.
Now am I the weight I want to be? No.
Being on high dosages of Prednisone this year has not been fun for many reasons, and weight gain is one of them.
Am I going to diet? No.
Live More Weigh Less starts back up in the Spring (once you buy the program you can repeat it each time) and I will go through that again.
I'm going to work on only eating when I am hungry which I already started again in December when they finally reduced the amount of Prednisone I was on.
This year however I do have a fitness challenge.
We have a player on our hockey team whose mom is a Leukemia cancer survivor!
MDP and I decide to support out hockey family peeps and crazily climb up 69 flights of stairs, 1311 steps, and 788 feet of vertical elevation.
Yes, it's insane.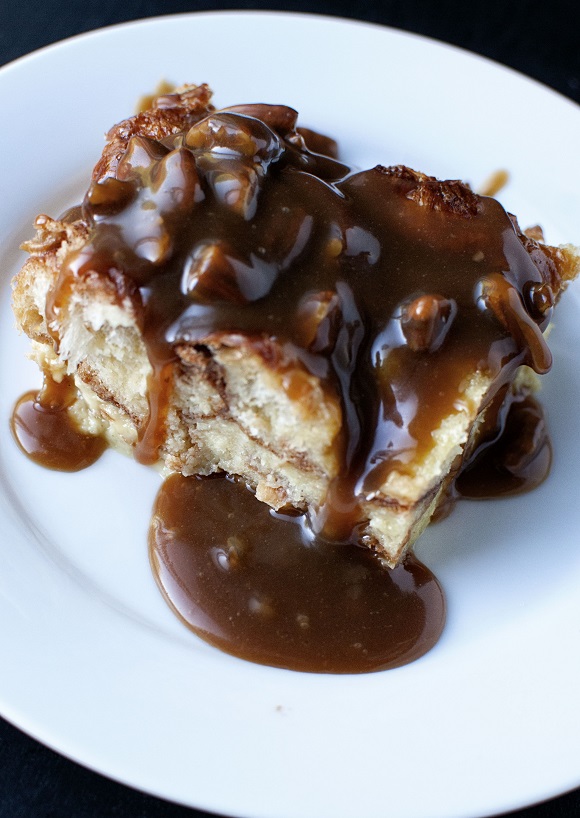 Back to this bread pudding.
It's from the first few years of blogging and it's a recipe that people come back time and time again to tell me that it's their favorite.
Since 2015 will mark 10 years of blogging for me (holy cow) I decide to remake it and feature it again on the blog.
I love using croissants in bread pudding as it just brings the level of insanely good up a notch.
You don't have to add the booze to the toffee sauce it's tasty without it.
Happy New Year everyone…2015 is going to be a fantastic year I can feel it!
And remember when someone says nothing tastes as good as skinny feels…this does.
Want more recipes like this?
Try:
Bailey's Irish Nut Bread Pudding
Oatmeal Raisin Cookie Bread Pudding
Sticky Toffee Pudding Bread Pudding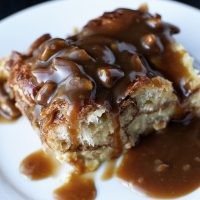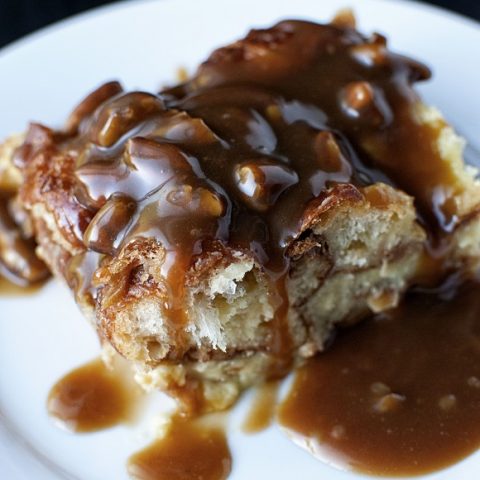 Croissant Bread Pudding with Pecan Toffee Sauce
Ingredients
For the Bread Pudding:
6 large croissants or 10 small ones, slightly stale
3 cups heavy whipping cream
6 egg yolks
¾ cup granulated sugar
1 tsp. nutmeg
Pecan Toffee Sauce:
¾ cup brown sugar, tightly packed
⅓ cup unsalted butter
⅓ cup heavy whipping cream
1 TBSP Amaretto
½ cup chopped pecans, toasted
Instructions
For the bread pudding:
Tear croissants into pieces and place into a baking dish that has been sprayed with baking spray or lightly coated in butter.
Mix the egg yolks, sugar and nutmeg together in a bowl.
Then whisk in the heavy cream and beat until fully incorporated.
Pour the custard over the bread.
Press down the bread pieces until the bread is soaked with the custard. You will most likely have extra custard depending on how stale your croissants are.
Don't feel like you have to use all the custard.
Place pan into another pan that will hold a water bath.
Bake the bread pudding for 45 minutes at 350F until golden on top.
Cool for 10 minutes and serve warm.For the sauce:
Stir brown sugar and butter in a heavy medium saucepan over medium heat until melted and smooth, about 2 minutes.
Add cream and Amaretto and bring to a simmer.
Simmer for about 5 minutes and then add pecans.
Serve on top of bread pudding.