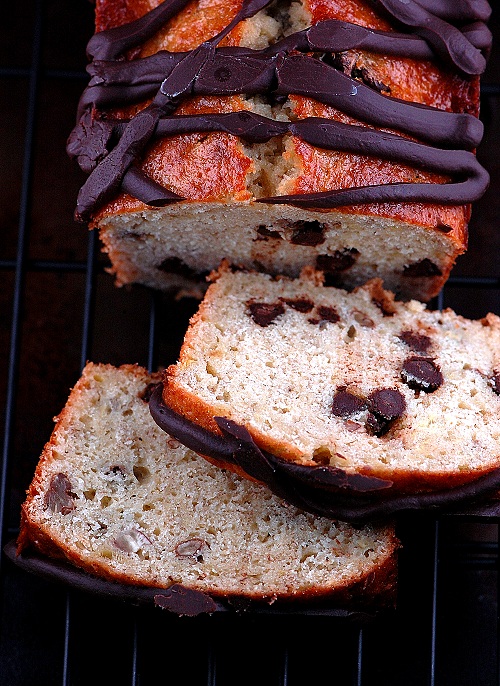 Today while watching some business leadership videos that the UW puts out, they were interviewing the former CEO of Starbucks. He said:
"There Are No Stressful Situations ONLY Stressful Responses"
I love that. Goes along with my life is 10% of what happens and 90% of how you react to it philosophy. Something we should all be working on to remember.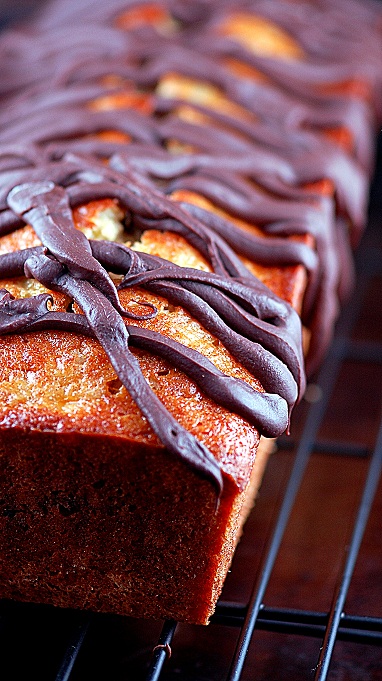 Boozy Banana Bread
1 cup cake flour
3/4 cup all-purpose flour
1/4 tsp. baking soda
2 tsp. baking powder
1/2 tsp. salt
1/3 cup butter, at room temperature
2 eggs, well-beaten
2/3 cup granulated sugar
1 ¼ cups mashed ripe bananas
3 TBSP bourbon
1/2 tsp. lemon juice
3/4 cup chocolate chips
3/4 cup chopped pecans
Glaze:
1 cup semi-sweet chocolate chips
2 TBSP corn syrup
1 TBSP bourbon
Preheat oven to 350 degrees F. Spray loaf pan with nonstick cooking spray.
In a medium-sized bowl, stir together flours, baking soda, baking powder and salt.
In a large bowl, cream butter with an electric mixer (I used a stand mixer). Add well-beaten eggs, sugar and bananas. Beat on medium speed for three minutes. Add lemon juice and bourbon, beat 30 seconds.
Add flour mixture and beat until just combined.
Fold in chocolate chips and chopped pecans.
Pour into pan and bake for 50 minutes to an hour or until a toothpick inserted in top center comes out clean. Loaf should spring back slightly to the touch.
Cool completely on wire rack. Then Glaze. (For knock-out flavor, let sit 24 hours before eating.) Wrap in foil to store.
Glaze:
In a small saucepan on medium-low heat the chocolate chips and corn syrup until melted and smooth. Remove from heat. Add the bourbon and whisk until smooth again. Drizzle over cake.
Adapted from My Baking Addiction