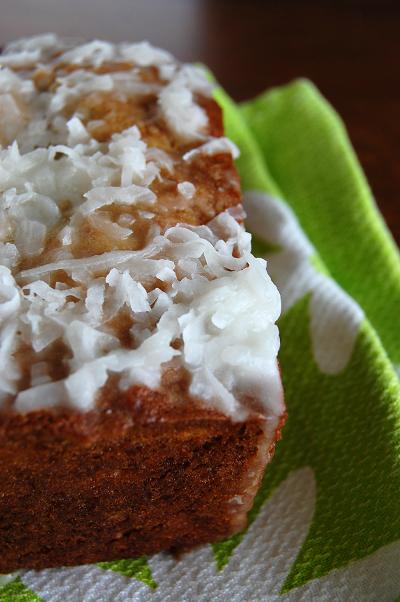 First off we have a winner of the prize pack.
Using Random.org's Integer Generator the lucky winner is #203…otherwise known as Mary of Shazam in the Kitchen.
Congrats to Mary and thanks to all who left a comment.
Mary please email me at luvbriere(at)gmail(dot)com so that I can get your address to send you your treats.
The first time I had banana bread that was not baked by my mother was the college cafeteria.
Not exactly a bakers delight.
I had grown up all my life having my banana bread made with graham flour and had no idea that anyone made it any different.
And though delicious is not how I would describe it, it did get me think as to what the "average" banana bread tasted like.
The banana bread that everyone seemed to grow up on.
From that point on I pretty much tried every banana bread I could find. I've had some winners and some losers.
But when I saw this bread over at A Yankee in a Southern Kitchen and it had key lime involved, I HAD to try it.
So glad I did.
This was originally a "light" recipe, which I quickly changed.
If you want to see the original recipe that is lower in calories go here.
I on the other hand added more butter, more sugar and full fat Greek yogurt to my banana bread.
So in a way it is more like cake.
The key lime glaze really adds a depth of flavor to this bread that makes it fall into the prestigious top five banana breads I have ever baked.
Since I am also obsessed with adding mascarpone to my banana breads as of late, I think the next time I make it, I will add some of that.
Life is a little too busy right now so this post is a short one.
Thanks to all of you who wrote about your evil gym experiences to me via email…they were good for a laugh and made me feel less alone when up against Barbie and Ken. 😛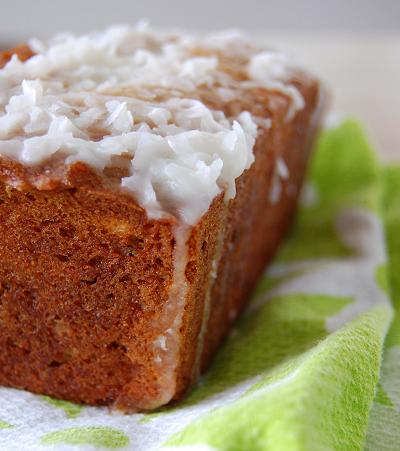 Coconut Banana Bread with Key Lime Glaze
2 cups all-purpose flour
1 teaspoon baking soda
½ teaspoon salt
½ cup unsalted butter, room temperature
1 cup granulated sugar
1/3 cup brown sugar
2 large eggs
1 ½ cups mashed bananas
1/3 cup Greek yogurt(or sour cream)
1 teaspoon vanilla
½ cup shredded sweetened coconut
Preheat oven to 350 degrees
Butter 1 large 9ƒâ€"5 loaf pan or three miniature pans
Combine flour, baking soda and salt in bowl, mix ingredients.
Place granulated sugar and butter in a large bowl, beat with a mixer or spoon until well blended.
Add eggs one at a time, beating well after each addition.
Add banana, yogurt, and vanilla; beat until blended.
Add flour mixture; beat at low speed or by hand until just moist.
Stir in 1/2 cup coconut.
Pour mixture in loaf or divide amongst three small pans.
Bake at 350 degrees for 30-35 minutes or until a wooden pick comes out clean. If baking in a large pan bake for about 1 hour.
Cool in pan for 10 minutes large or 5 minutes small loaves.
Remove from pan and place on a wire rack.
Key Lime Glaze
1 TBSP shredded sweetened coconut( I actually used much more)
½ cup sifted powdered sugar
1 ½ TBSP key lime juice
Combine ingredients, stirring with a whisk and drizzle over banana breads while still warm.
Cool completely on wire rack.
Source: Adapted from A Yankee in a Southern Kitchen who adapted their recipe from Cooking Light and Southern Living.