This Banana Split Banana Bread is filled with cream cheese filling that has all the flavors of the topping of a banana split.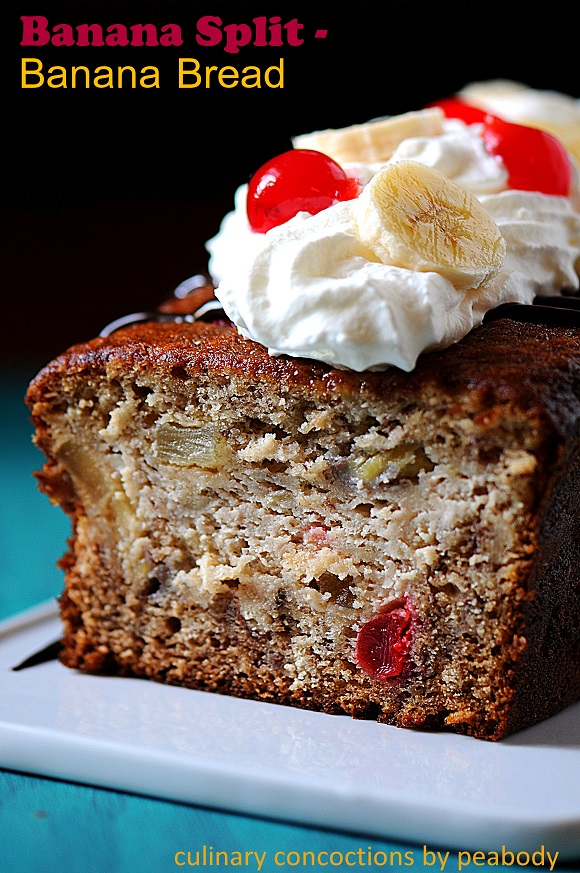 National Banana Split Day is August 25th 2013. You have a week to get ready.
I'm telling you now so that you have no excuse.
It's pure coincidence that Banana Split Day and my Banana Split Banana Bread happened around the same time.
But hey, I'll take it.
For a girl who hates talking about cars….I sure do love Top Gear.
Our hockey season ended this last week.
We have no hockey for a few weeks and that could end badly for anyone who pisses me off. 🙂
The good thing is that hubby and I have Thursday nights off for a bit.
Not sure what I ate the other day but I had a dream in which I was in a random casino bar in Laughlin NV (haven't been in 20 years) and Beyoncé was hitting on my husband.
And so naturally I beat the crap out of her.
While my goalie and another girl on the team were shouting and cheering me on.
Then while she lay knocked out on the dance floor I danced the Single Ladies dance around her as if to mock her. Doesn't everyone have that dream? 🙂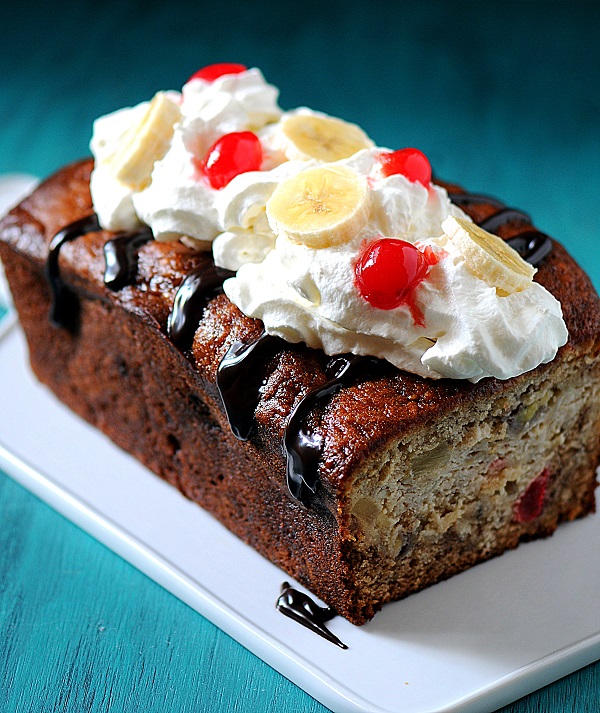 So I get cookbooks to review…a lot.
One of them I got last week is a Paleo book.
Which whatever we don't eat like that but I can adapt the recipes.
But it had a recipe for beef jerky.
Which now my husband is obsessed with us making our own jerky.
So if anyone reading this works for a company who sells food dehydrators and wants me to review it let me know. 🙂
I personally need another single performing appliance like I need a hole in my head but hubby seems very excited about jerky.
Boys.
Speaking of cookbooks, Fall is when they tend to come out in droves are you looking forward to any?
I am wanting Pok Pok: Food and Stories from the Streets, Homes, and Roadside Restaurants of Thailand and Tartine Book No. 3.
I originally was going to make a Banana Split Layer Cake and then I reminded myself that I don't really like making layer cakes.
So I thought what can I make that will have the flavors but is a heck of a lot easier than a layer cake….ah yes, banana bread.
This does have all the flavors amazingly enough and was a ton of fun to make…and eat.
You can adapt it to how you like your banana split…mine always used to be vanilla ice cream topped with pineapple, strawberries, and chocolate sauce so that is what I went with.
Last but not least…it's a great time to order my cookbook. 😀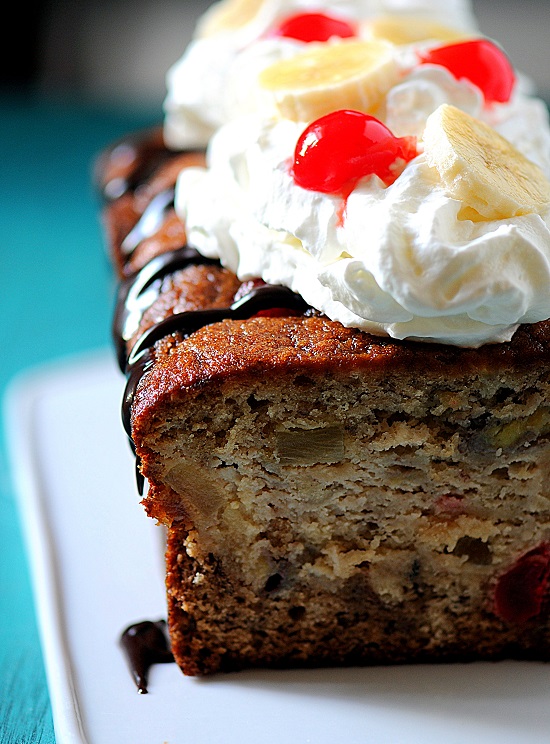 Want more Banana Bread Recipes?
Chocolate Chocolate Chip Sourdough Banana Bread
Dark Chocolate Sea Salt Caramel Banana Bread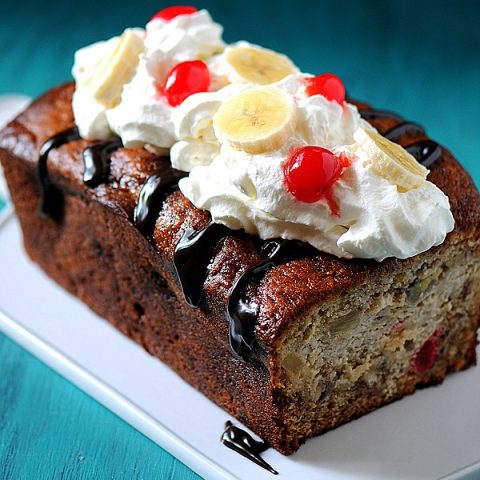 Banana Split Banana Bread
Ingredients
Banana Bread Batter:
1 1/2 cup smashed bananas (about 4 medium bananas)
1 cup granulated sugar
1/4 cup vegetable oil
2 large eggs
1 1/2 cups all-purpose flour
¾ tsp. baking soda
¼ tsp. salt
For the Banana Split Layer:
8 oz. cream cheese, at room temperature
3 TBSP strawberry jam
1 egg
¼ cup granulated sugar
1 TBSP all-purpose flour
¼ dried pineapple, diced
¼ cup maraschino cherries
Instructions
Spray a regular size loaf pan with baking spray. Set aside.
Preheat oven to 350F.
In a medium bowl whisk together the flour, baking soda, and salt; set aside.
In a large bowl add the bananas and sugar and mix together using a whisk. Add the oil and mix until incorporated.
Add eggs and beat until incorporated.
Add flour mixture to the banana mixture and mix on low until the ingredients just start to come together.
Using a stand mixer with a paddle attachment beat together the sugar and cream cheese until fully incorporated.
Add jam and beat for 30 seconds.
Add egg and flour and beat until egg is fully incorporated.
Fold in the pineapple and cherries.
Pour half the banana batter into the loaf pan.
Then pour the cream cheese mixture on top of the banana layer.
Then pour the remaining banana batter.
Swirl with a knife.
Bake for 45-55 minutes depending on oven.
Let cool top with chocolate sauce and whipped cream.