So I know people on Facebook are upset about the new changes. I'm not here to discuss those changes. I'm here to discuss the phenomenon that is couples as one person on FB. I hate this. Because usually I'm not friends with the couple, I'm friends with one of the two people. So half the time when they post I don't know who is actually posting. And then when you comment and it's the other person and you thought that it was your friend they ask who are you? I'm C's friend. Oh.
Yes, oh. If you are going to make a joint account maybe only friend the people who you know together as a couple. Maybe only friend other people that are on joint couple accounts.
Interestingly enough, most of the people I know that have these joint accounts usually have them because the significant other wants to make sure that nothing is going on behind their back. If you are at the point where you don't trust what your spouse is doing on Facebook, maybe you should spend less time on Facebook and more time with your spouse/significant other working on your relationship. In person. Just a thought.
Maybe reconnect with your spouse/significant other by cooking/baking together. If you are like me you have over ripe bananas somewhere on your counter right now. 🙂 Work on your relationship and bake banana bread all at the same time. Win-win. This of course is not your typical banana bread. I've added some peanut butter as well as peanut butter chips. Spread a little marshmallow fluff on there and dead Elvis might come by to visit you. 😛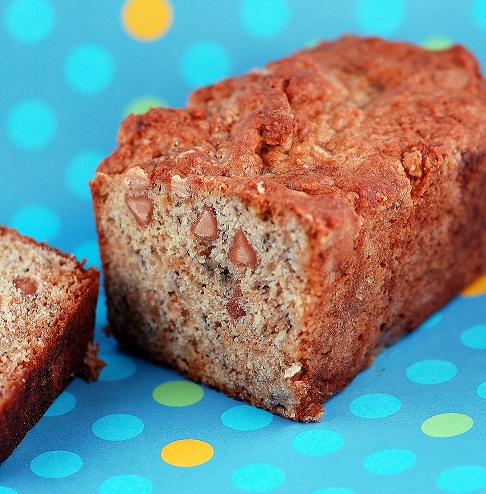 Peanut Butter Banana Peanut Butter Chip Bread
6 TBSP unsalted butter, at room temperature
1/3 cup peanut butter
1 cup granulated sugar
½ tsp. vanilla extract
2 eggs
3 medium, super ripe (like the color scares you ripe) bananas
2 cups all-purpose flour
½ tsp. salt
1 tsp. baking soda
1 tsp. baking powder
1 cup peanut butter chips
Preheat oven to 325F.
Sift all the dry ingredients together in a bowl and set aside.
Using a stand mixer with the paddle attachment, cream together the butter, peanut butter, and sugar on medium-high for 3 minutes, it should be light and fluffy.
Add eggs, one at a time and beat for 30 seconds after each egg addition. Add vanilla and beat another 30 seconds.
Add bananas and mix until incorporated.
With the mixer on low speed add the dry ingredients and mix until everything is just incorporated. Don't over mix. Remove from mixer and fold in peanut butter chips with a spatula. This will also help the rest of the ingredients mix in.
If making mini loaves (makes three) these bake about 30-40 minutes. If you are doing a full size loaf it will take about an hour to an hour and 15 minutes. As always, just watch it because each oven is different.