Candy Corn Creme Brûlée is a classic creme brûlée, the candy corns are steeped in the cream to add just a subtle flavor to the rich custard.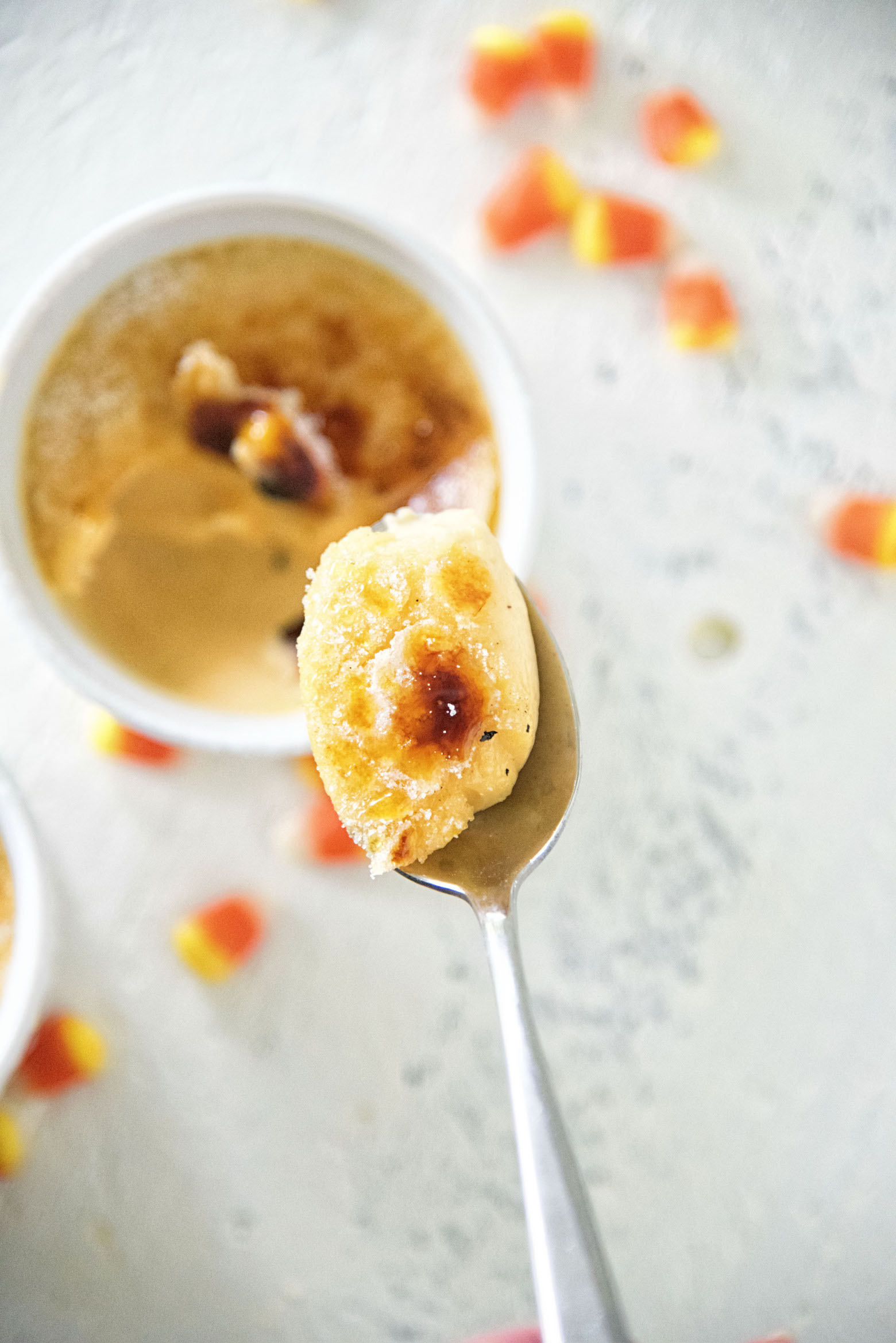 Tuesday night the hubby and I were eating a kale salad.
The croutons that came with it where on the crunchy side.
One of the croutons fell to the ground and our dog Mickey ate it.
My husband joked to the dog to be careful as those croutons seemed extra crunchy and he might lose a tooth.
Two bites later…I lost a piece of my tooth.
I have dental phobia.
Like bad dental phobia.
I used to have to go under anesthesia to get any work done.
Which FYI is super costly and not that many dentist do it.
I have worked myself up (or down) to being sedated by pill.
When we had the kids we had to be on a certain dental plan.
The same plan as their mothers.
So that the kids could get free braces.
That dental plan had one sedation specialist.
In Denver.
Great.
I had one root canal during that time which I had to pay out of pocket for because I had to go to a sedation specialist.
Luckily our plan now has plenty of sedation specialist and I go next Wednesday.
I was there today to meet and greet and they were all very nice.
It's 3 minutes from my house so I'm hoping this one works out. 
Dental plans in general are interesting.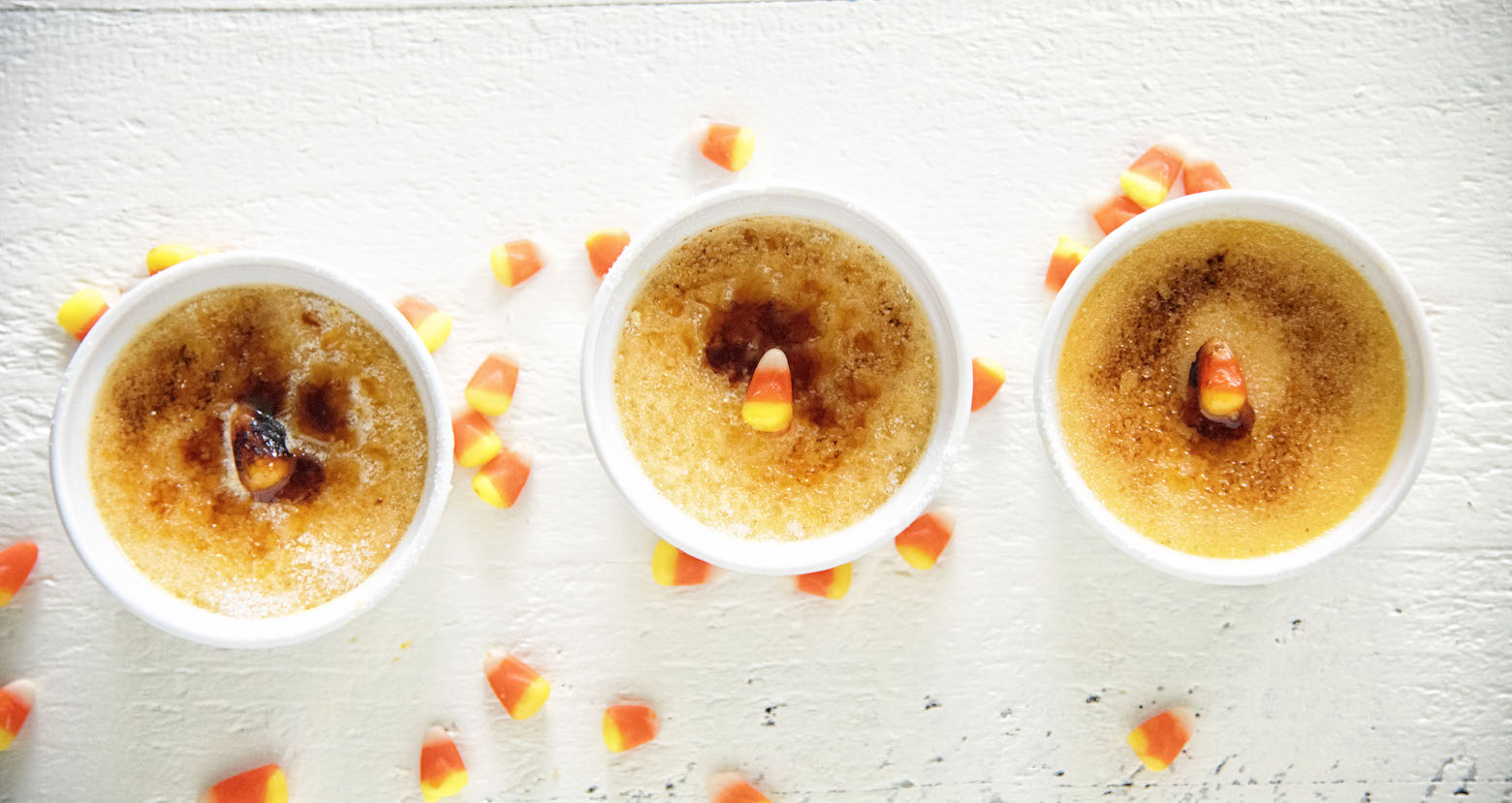 Dentist everywhere tell you how IMPORTANT it is to have x,y, and z done…and yet the max your dental plan will give you a year is $2000.
And of course, they only pay a percentage of what you have done.
Any an all dental work other than a cleaning is not cheap.
They love to tell you they have a payment plan.
But not really.
They have Care Credit.
Which I have…for the dogs.
While I don't mind using it for an emergency they always seem to want to get everything done at once.
Except that is thousands upon thousands of dollars and they seem genuinely shocked that I don't want to go into debt over non-emergencies.
Because I was at the dentist I thought lets make something really sweet that the dentist would hate. 😛
Candy Corn Creme Brûlée.
Which clearly is better than kale salad…because kale salad broke my tooth. 😀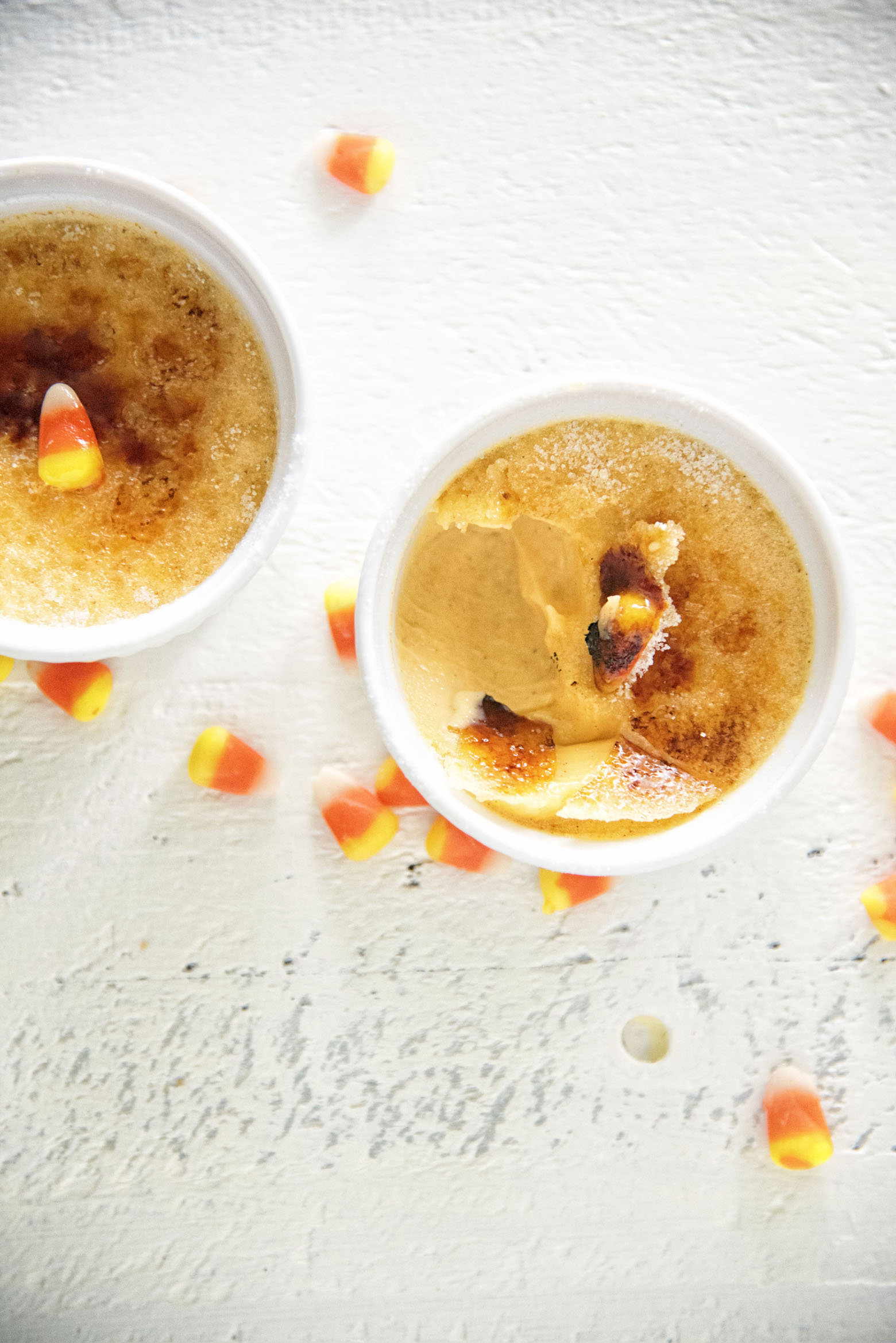 Want More Candy Corn Recipes?
Candy Corn Rice Krispie Treats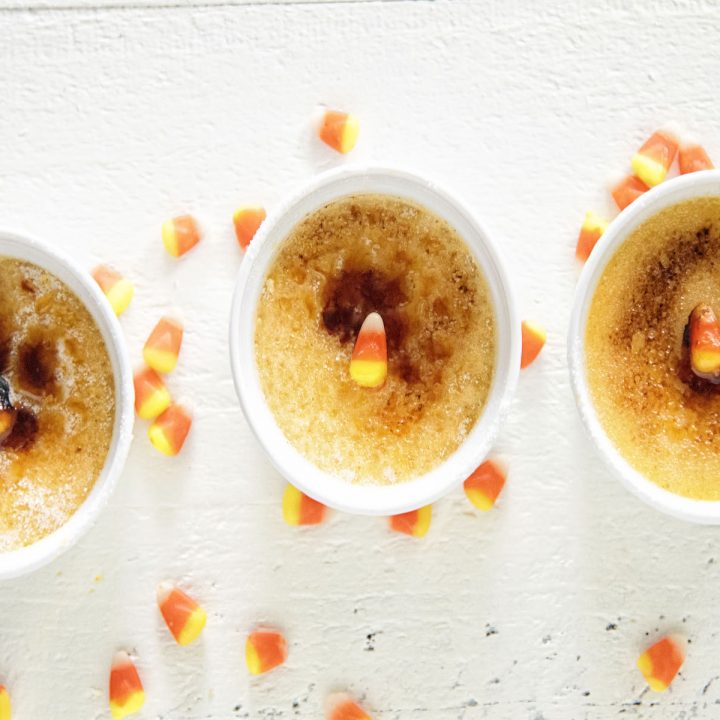 Candy Corn Creme Brûlée
Ingredients
4 large egg yolk, at room temperature
¼ cup granulated sugar
1 cup candy corn
2 cups heavy cream
4 oz. white chocolate, finely chopped
bakers sugar (for the brûlée)
Instructions
Using a medium saucepan bring heavy cream and candy corn to a boil.
Turn off heat and let cream sit for 10 minutes off burner.
The candy corn should have melted. If not, strain remaining candy corn out of cream.
Preheat the oven to 300 degrees F.
In a medium bowl, whisk egg yolks with 1/4 cup sugar until smooth.
Using the same saucepan, bring the candy corn cream to a simmer over medium-high heat.
Add the white chocolate.
Turn off the heat and whisk until the white chocolate is melted.
Add 2 TBSPs of the white chocolate mixture to the egg yolk mixture, whisking continually to prevent the eggs from scrambling.
Add the remaining white chocolate mixture to the egg yolk mixture.
Whisk until smooth.
Run the mixture through a fine mesh strainer just in case anything curdled a little.
Pour into four 6-inch ramekins or custard cups.
Place the cups in a 9 by 13-inch baking pan.
Add enough hot water so the cups sit in 1 to 1 1/2 inches of water.
Bake for about 45 minutes, until set.
Allow to cool, then refrigerate the custards until chilled.
Before serving, sprinkle the tops of each ramekin with 1 tsp. of granulated sugar and torch using a culinary torch or place under the broiler until caramelized, 3 to 4 minutes.
Re-chill in refrigerator for 5 minutes before serving.