In the last week I somehow got sucked into a conversation on prison reform as well as a relationship discussion about former boyfriend saying that they have changed…asking the question can people change? Our prison system relies on people being reformed. I think we can because I'm pretty sure I'm not the same person I was at 14…and yet in many ways I am. I've certainly changed my opinion of my body and yet it took over 10 years to get there and there are still days when the self-love is hard. So am I truly changed?
If change were easy the diet industry would not exist. Everyone would go on one diet and bam, done. Every drug addict who went to rehab…bam, done. Sadly I wish that were not the case. Some people have a life event that makes them change their habits. Like say you find out you are diabetic and suddenly become scared and completely change the way you eat. I've seen it time and time again…and I have time and time again seen those people go back to their old ways and just adjust their insulin instead. And no judgment here…change is hard.
And what about personality traits? Can you change those? If you were always the whiny, the sky is falling, everybody hates me kind of person…can you really just one day wake up and say every day is a blessing and I love everyone? If you've always been a Type A stressed out kind of person can you one day become a go with the flow no problem kind of person? A control freak can suddenly let go? A person who's always mooched off of others suddenly be able to stand on their own?
I don't really know. If I did I would probably be rich. 🙂 What I do know is that MDP is an awesome husband who just randomly brought me home candy corn marshmallows because it seemed like something I would want. He was right. Except I didn't really know what to do with them. I also had candy corn M&M's and just good ol' candy corn. I first thought about a candy corn bark but have had a craving for cookies as of late. I decided it would be fun to make a cookie cake instead. It isn't really a cake at all other than in size and that it's baked in a cake pan (or in my case a springform…easier to get out). It's like one giant cookie…which you can then say I only had one cookie I don't know why my pants don't fit. 🙂 Regardless it's a fun treat to make for Halloween or a great way to use up candy corn after Halloween.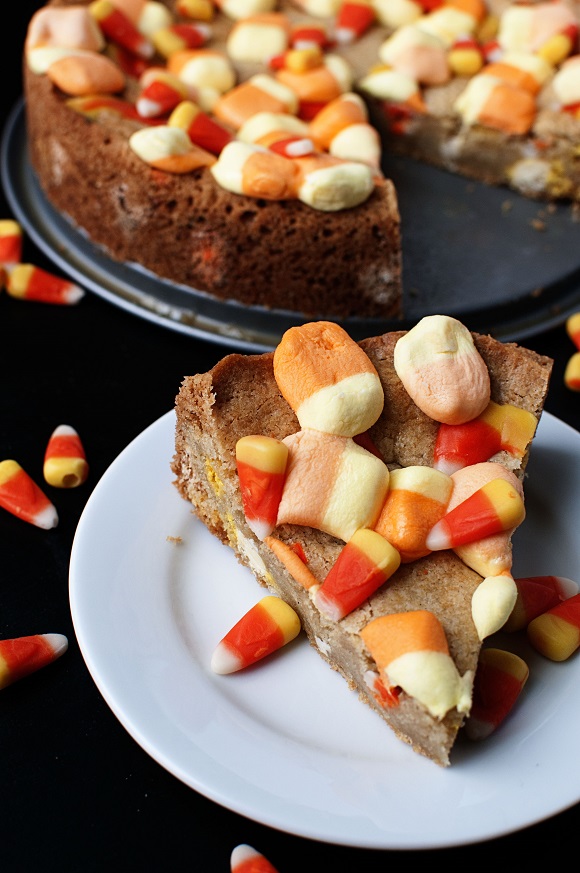 Candy Corn Cookie Cake
1 cup unsalted butter, at room temperature
1 cup granulated sugar
½ cup Demerara sugar (you can use brown if you don't have)
2 eggs
1 tsp. vanilla extract
2 ½ cups all-purpose flour
1 tsp. baking soda
½ tsp. salt
1 bag candy corn M&M's (use 1 cup white chocolate chips if can't find)
25 candy corn marshmallows (or mini marshmallows if can't find)
25 candy corn
Preheat oven to 350F.
Grease a 9-inch cake pan or a Springform pan (I did this because it's easier to remove that way).
Using a stand mixer with the paddle attachment, cream together the butter and sugars until light and fluffy, about 3 minutes.
Add eggs one at a time and scrape down the sides and bottom of bowl after each addition.
Add the vanilla and beat for 30 seconds.
Add the baking soda, salt, and flour on low speed until just combined.
Fold in the candy corn M&M's until they are mostly evenly distributed throughout the batter.
Press the cookie dough into the cake pan and make sure to make it even. I just used my hands. If it gets sticky just use a little water on your hands.
Bake for 30 minutes.
Remove from oven (but don't turn oven off) and check to see how done it is with a wooden skewer. It should be almost done at this point and the skewer will come out mostly clean. Add the candy corn to the cookie, pressing them down a little into the cookie cake.
Place back into oven and bake another 5 minutes.
Remove and sprinkle marshmallows on top and place back into oven for another 1-2 minutes just to melt them a little.
Remove from oven and let cool on a wire rack.
Cut into wedges and serve. Remember that even though this says cookie cake it really is just a cookie and therefore will not be moist like a cake. It will have the texture and taste of a cookie.