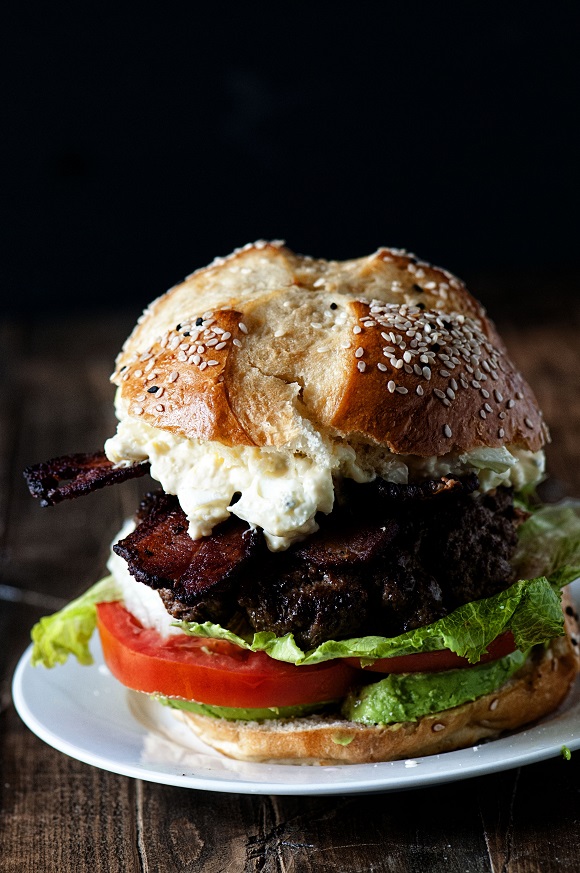 While I enjoy me a good salad, I enjoy me a good burger more. So I decided for my Burger Month submission (here is mine from last year…we still make all the time) that I would combine my favorite salad and a burger. Enter the Cobb Salad Burger. I thought about making it a chicken burger to make it slightly more authentic…except, I hate chicken burgers. 🙂
As for the burger, I'll let the photos speak for themselves.
Burger Month is giving away quite few fun giveaways so be to enter!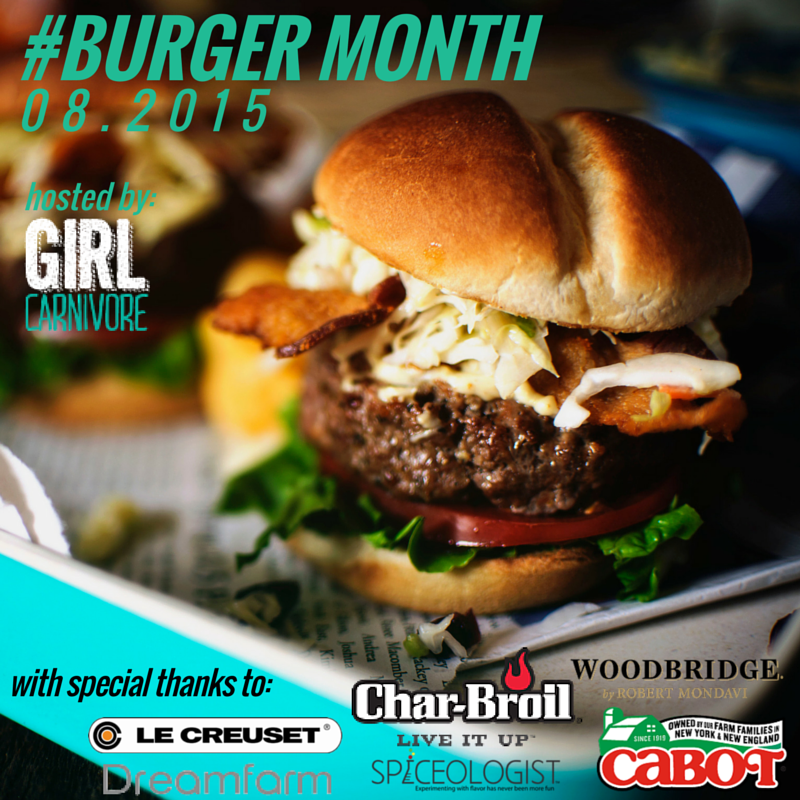 a Rafflecopter giveaway
A huge thanks to all of the creative bloggers who were just as inspired by a month of burgers as I was and the awesome companies that have donated prizes to #burgermonth, Char-Broil, Cabot Cheese, Le Creuset, Dreamfarm,Spiceologist&Woodbridge Wines
This post is part of the #burgermonth celebration happening all month long here at GirlCarnivore and across the interwebs with 30 other talented bloggers!! Be sure to follow #BurgerMonth to check them all out!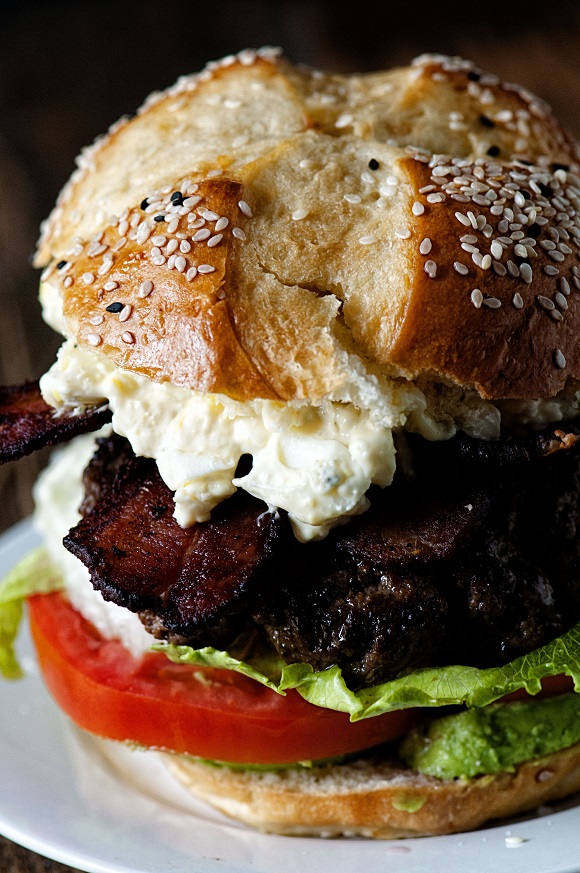 Cobb Salad Burger
4 brioche buns
4 large hamburgers (grilled, fried, however you prepare them)
8 large pieces of lettuce
1 large tomato, sliced
1 large avocado, sliced
12 pieces cooked bacon
2 hardboiled eggs, chopped finely
1/3 cup mayo
6 TBSP blue cheese crumbles
3⁄4 cup canola oil
1⁄4 cup extra-virgin olive oil
1⁄4 cup red wine vinegar
1 TBSP fresh lemon juice
3⁄4 tsp. dry mustard
1⁄2 tsp. Worcestershire
1⁄4 tsp. granulated sugar
1 clove garlic, minced
salt and freshly ground black pepper, to taste
For the mayo:
Mix the mayo, blue cheese crumbles, and chopped egg until fully combined in a small bowl. Set aside until ready to assemble.
For the dressing:
Combine the canola oil, olive oil, vinegar, lemon juice, mustard, Worcestershire, sugar, and garlic in a blender.
Purée the ingredients to make a smooth dressing and season with salt and pepper.
To assemble:
Place bun bottom on a plate.
Add your lettuce, avocado, tomato to the bottom.
Once your burgers have been cooked, dip them into the red vinegar dressing, twice.
Set dipped burger on top of the tomato.
Place bacon on top of the burger.
Spread the mayo mixture on the top bun and place on top of the burger.
You of course can build it however you like. Add more of whatever you like. Omit anything you don't like.