These Vegetarian Cheeseburger Buns are a cross between a Runza and a Bierock filled with vegetarian cheeseburger filling. Great portable meal.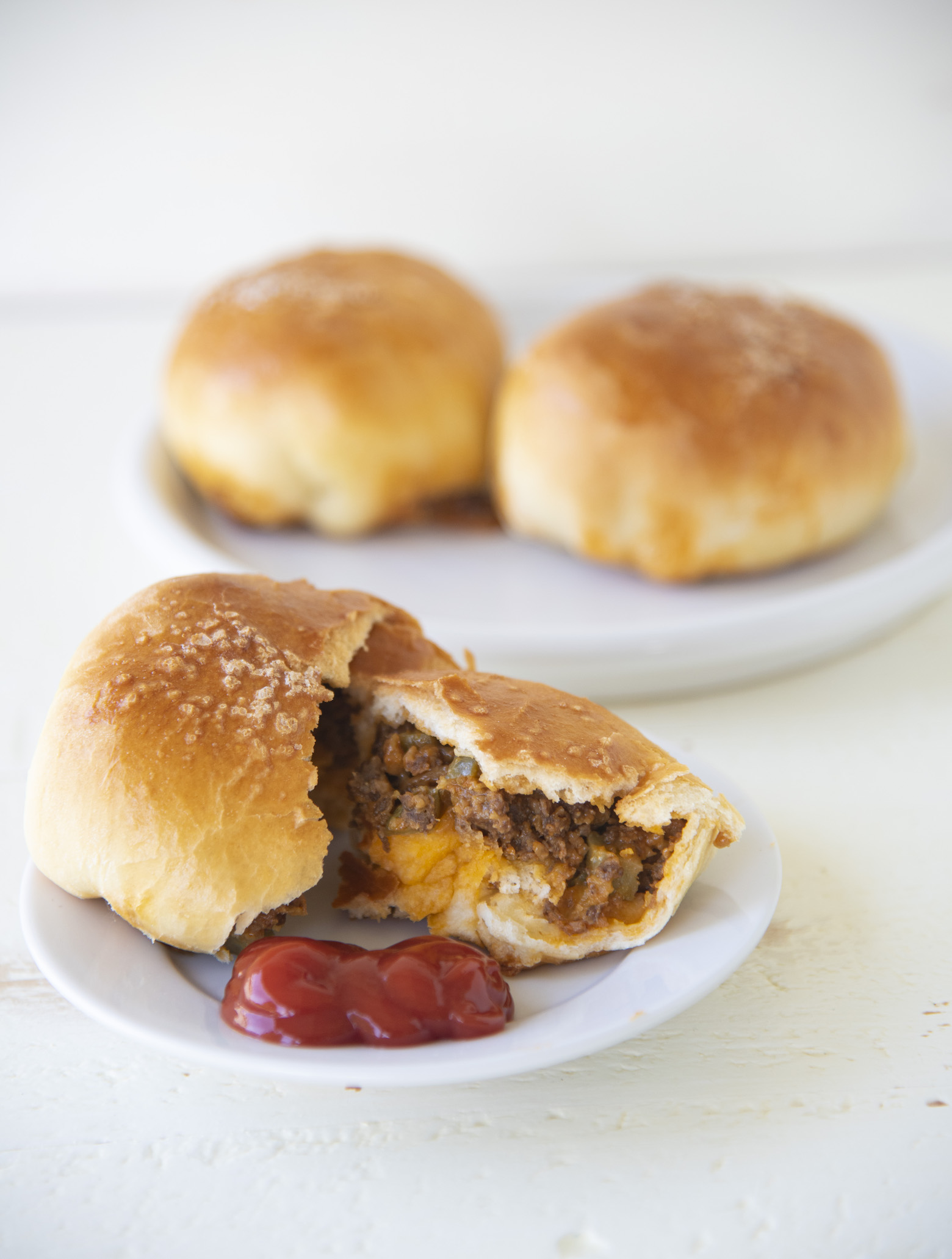 Years ago Papa Murphy's came out with a cheeseburger pizza.
It had pickles on it and had a ketchup and mustard sauce instead of pizza sauce.
My husband and I at the time were both slightly scared but also intrigued and so we gave it a try.
It became our obsession.
We ordered it all the time and then of course, since it was for a limited time, they stopped making it.
We found a pizza place that had it on the menu there and got it often.
Until they closed down.
Nowadays of course we are vegetarian so we use a meat alternative but we still love the pickles on the cheeseburger pizza.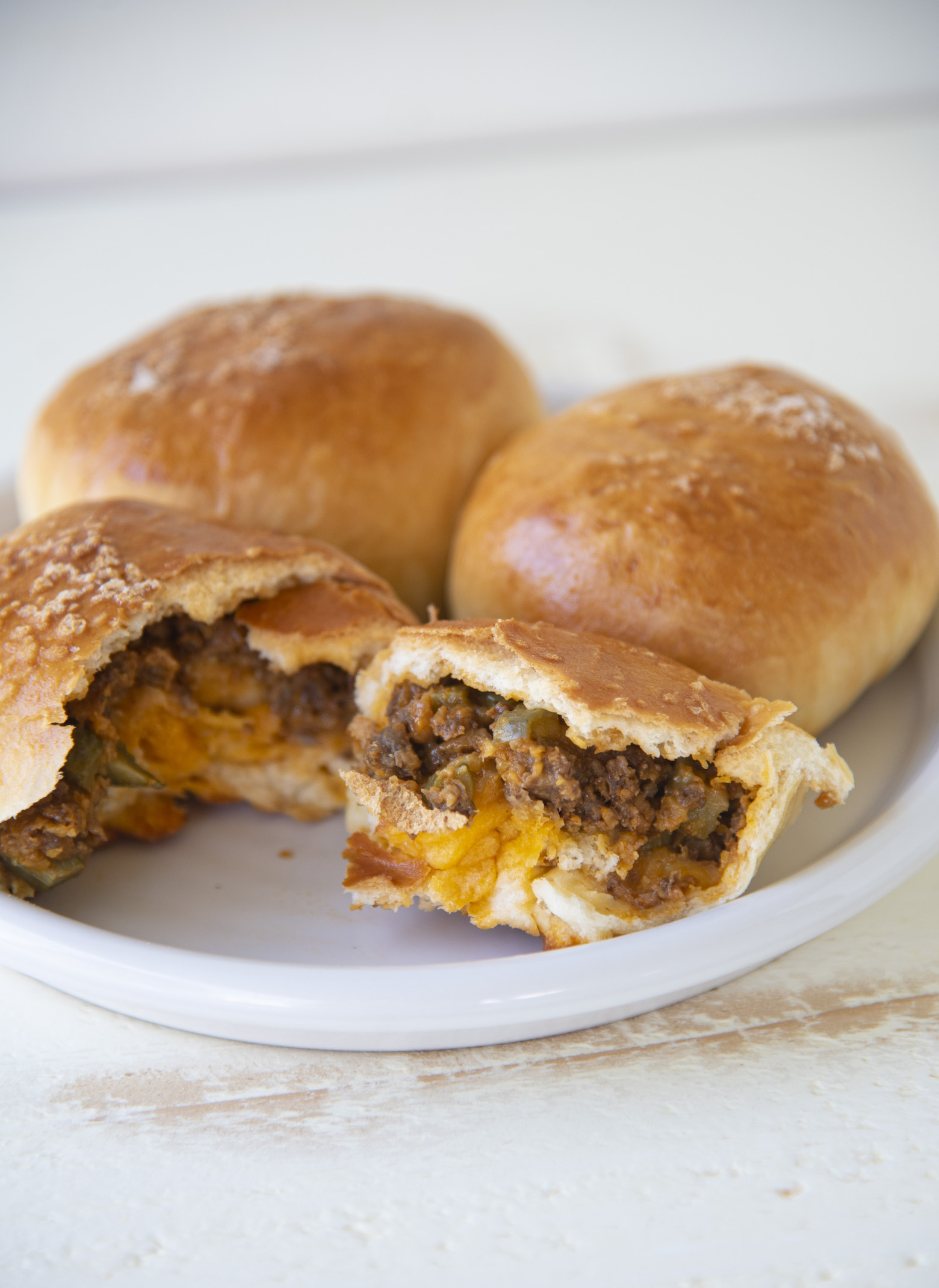 While we have made the pizza at home I wanted to try something different.
I had used this dough to make a more traditional cabbage and potato filled bun and thought why not give the cheeseburgers a whirl?
So I did.
Man, did these Vegetarian Cheeseburger Buns go over well with the hubby.
I can't even begin to tell you how many times I have made these lately.
We also make sloppy Joes this way now as well.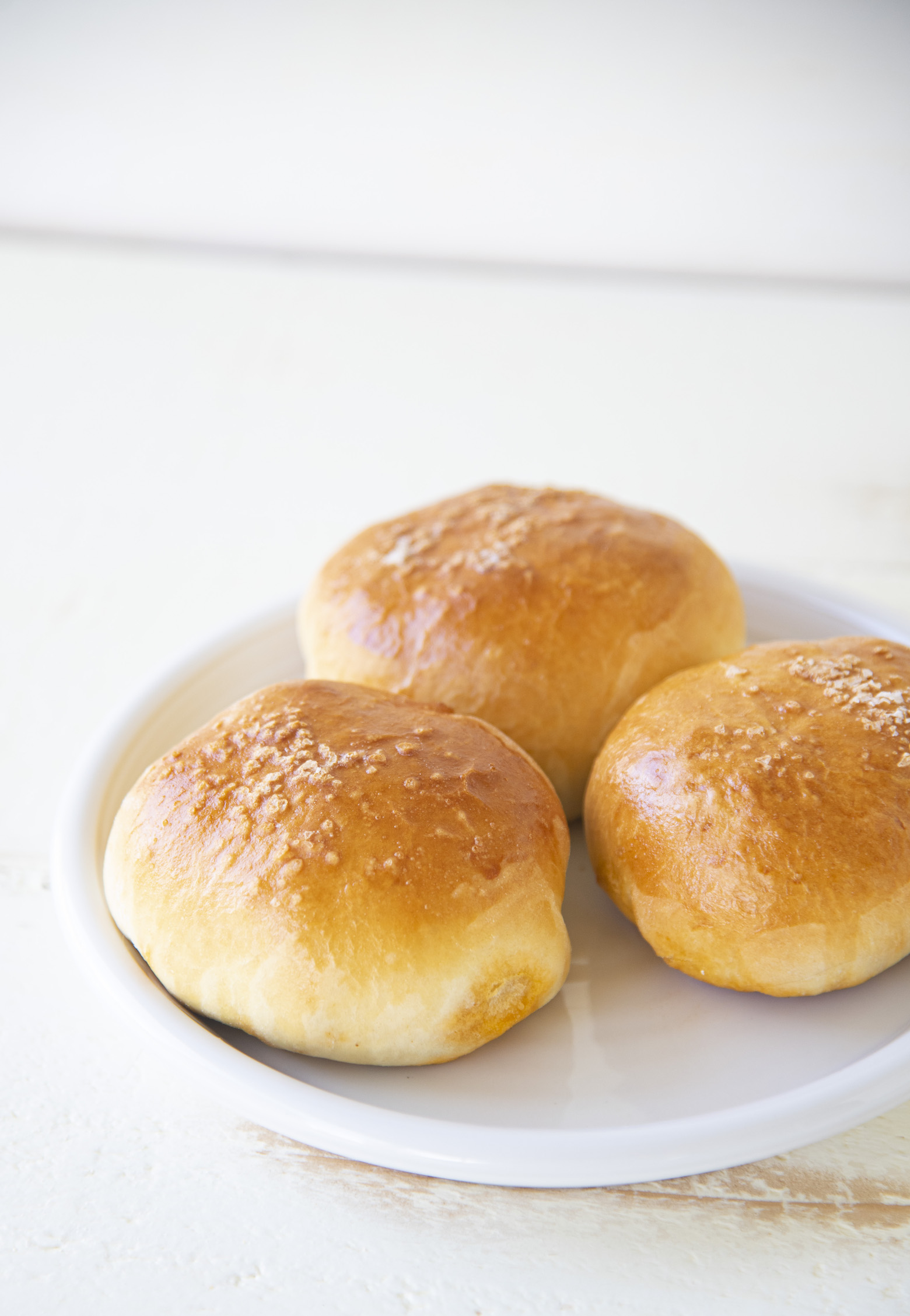 We used way more pickles in the recipe than what I put in the recipe because we are pickle-a-holics.
Feel free to use more or less pickle depending on what you like.
It should also go without saying that if you want to use regular ground beef instead of Beyond Meat you can.
Or if you are vegetarian and want to use a different brand of fake meat, go for it.
Once you start putting food in buns you will want to do it all the time.
I love how portable they are.
And as always wash your hands and be sure to pre-order my cookbook. 
If you love the recipes on the blog you will love the ones in the book!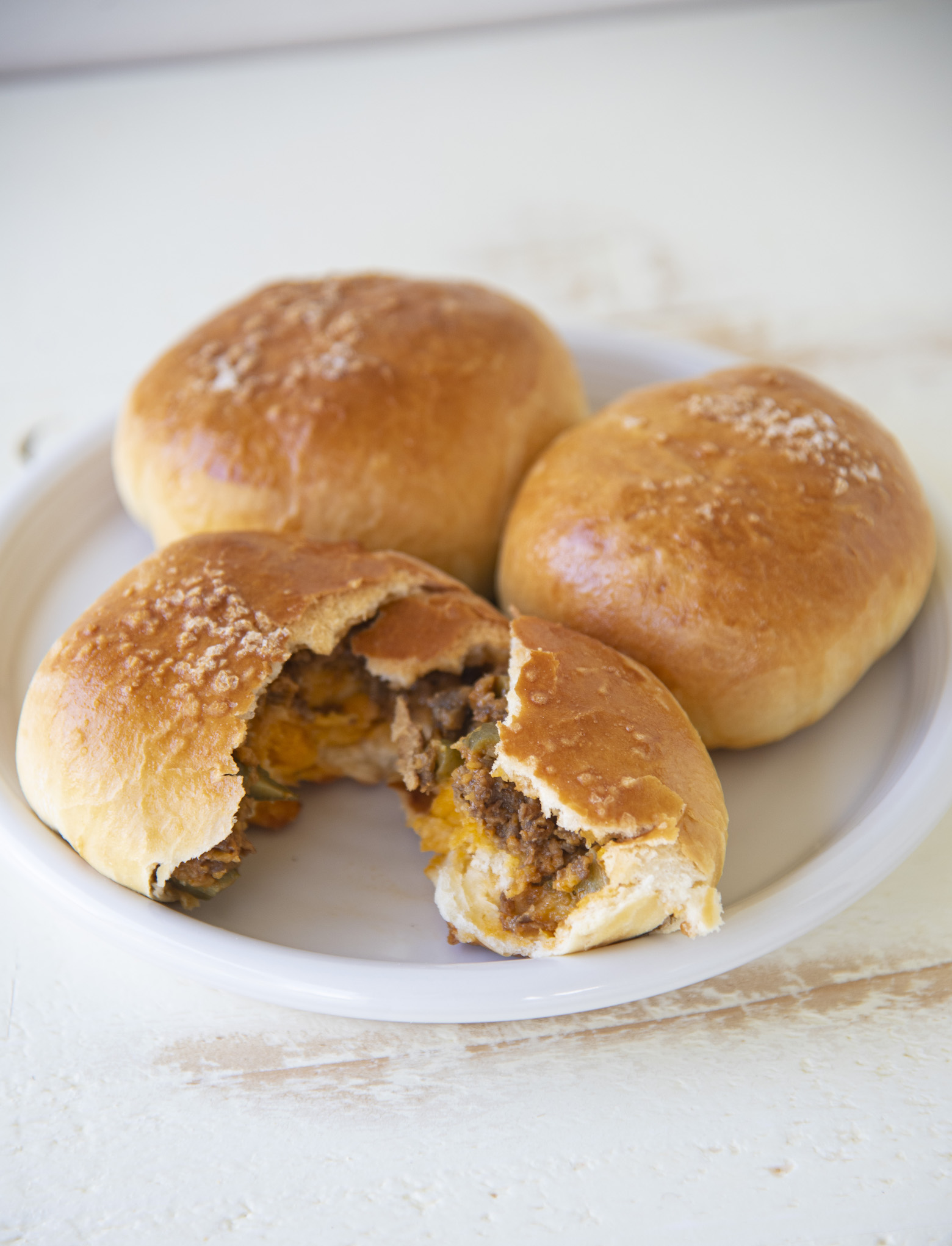 Want More Recipes?
Dill Pickle Cheddar Cheese Soup
Grilled Cheese Double Bacon Cheeseburger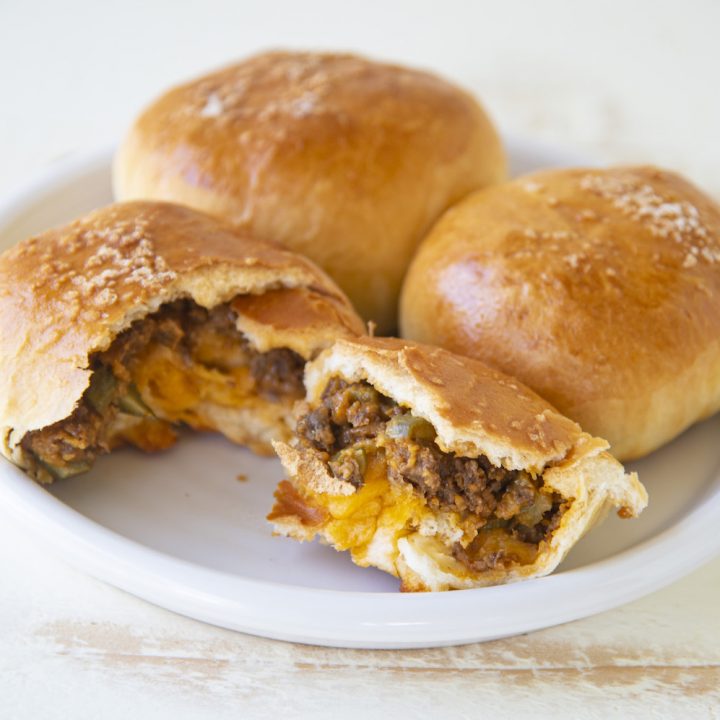 Vegetarian Cheeseburger Buns
Ingredients
For the Dough:
2 tsp active dry yeast
1/2 cup lukewarm water
1/2 tsp sugar
1 large egg, at room temp and beaten
1/4 cup extra virgin olive oil
2 cups unbleached all-purpose flour, more as needed
3/4 tsp salt
For the Filling:
2 tsp olive oil
1 pound ground Beyond Meat (or ground beef if you are not vegetarian)
1/2 cup dill pickle, diced
1/2 cup ketchup
1/4 cup yellow mustard
1/4 tsp salt
1 cup cheddar cheese, shredded
Egg wash:
1 egg
1 TBSP water
Instructions
For the Dough:
Dissolve the yeast in the water, add the sugar, and allow to sit until creamy, about 5 minutes.
Beat in the egg and olive oil.
Combine the flour and salt, and stir into the yeast mixture.
Work the dough until it comes together in a coherent mass, adding flour as necessary.
Turn out onto a lightly floured surface and knead for a few minutes, adding flour as necessary, until the dough is smooth; do not overwork.
Shape into a ball. Place in a lightly oiled bowl, cover tightly with plastic wrap, and allow the dough to rise in a draft-free spot until doubled, about 1 hour.
Turn the dough out onto a lightly floured surface, gently knead a couple of times.
For the Filling:
Heat the olive oil in a large skillet over medium-high heat for one minute.
Then add the Beyond Meat and cook until browned.
Add the dill pickle, ketchup, mustard, and salt.
Reduce to a low and let simmer for about 5 minutes.
Remove from heat and add the cheese.
Let filling cool while you roll out the dough.
To assemble:
Roll out the dough into a large rectangle, and a thickness of about 1/4 inch.
Cut into squares of 3 inches by 3 or 4 inches by 4.
By the spoonful, place some filling mixture into the center of each square, apportioning all of the mixture among the squares.
For each, bring the two opposite corner ends of the dough square up to meet one another, then do the same with remaining ends and pinch them (all 4) together with your fingers.
You will see that you now have open slits along the diagonals; pinch these together as well, making a seam of each.
Water on your fingertips will facilitate them staying"glued" together.
The end product should be a square with a seam running from each corner to the center where all four are joined. Or you can round them into a bun.
In a small bowl mix the egg and water together.
Place buns on a baking sheet and brush with egg wash.
Bake in a pre-heated oven at 350F for 30 minutes or until golden brown.