This Grilled Cheese Double Bacon Cheeseburger is loaded with cheese and bacon all between TWO Grilled Cheese sandwiches used as buns.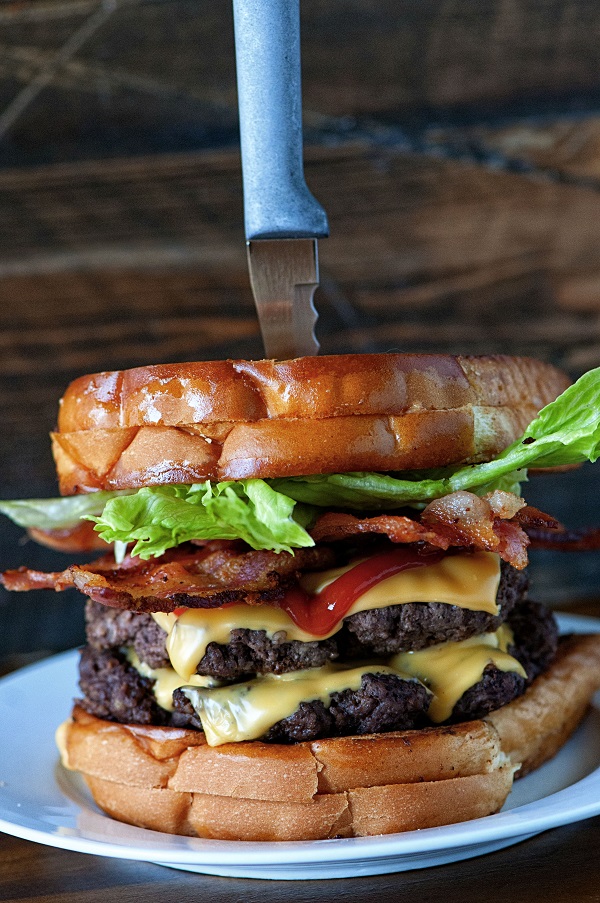 For as long as I can remember we just drove past it.
A cute little store that I think was once a Taco Bell.
Then one day we decided to try it, Nick's Jr. in Everett, WA (if you are ever in the area, I highly recommend).
They were family owned, made Greek butter cookies (though rarely as the mother does it when she feels like it…I buy three dozen usually), and their own sauces.
It's that kind of place.
There was plenty to choose from that first time but then I saw GCBC and thought what's that?
They informed me it was a bacon cheeseburger that uses TWO grilled cheeses as buns.
Ummm?
WHAT?
Ok, sign me up for that.
The owner talked about other stuff but I don't remember all I could think about was that burger.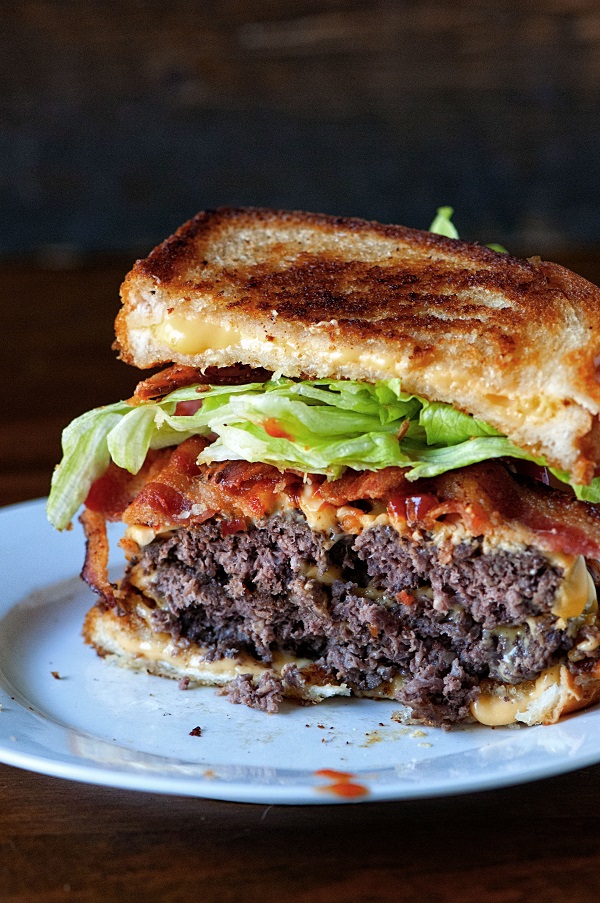 The only disappointment was in me, that I could not finish it.
Great thing about that though, is that you get to have the other half the next day.
So when Kita of Girl Carnivore said hey, do you want to participate again in Burger Month, I knew that it was time to finally make a home version of one of my favorite burgers.
In case you forgot I made a Cobb Salad Burger last year and the year before that was Peanut Butter Bourbon Bacon Jam Pimento Cheese Potato Chip Sliders.
Mine I made a double, because why not?
It's Burger Month.
My Grilled Cheese Double Bacon Burger also has 6 pieces of bacon, because again, why not?
You can add any condiments you want.
Most like raw tomato but I'm allergic so I try not to eat that. 🙂
Last but not least…it's a great time to order my cookbook. 😀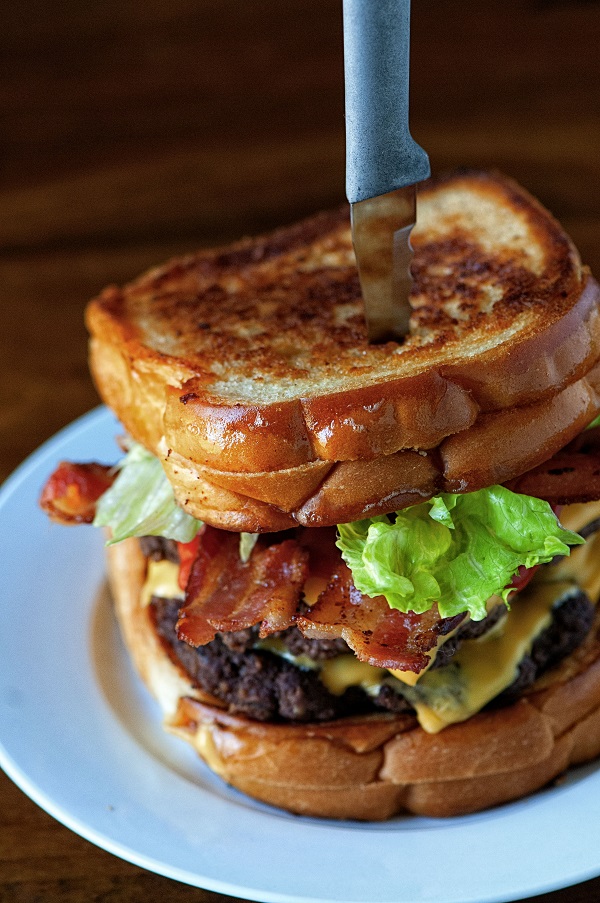 Want More Burger Ideas?
Tortilla Chip Taco Salad Veggie Burger
Pulled Pork Grilled Onion Gouda Burger
Peach Sweet Tea Southern Veggie Burger
Grilled Cheese Double Bacon Burger
Ingredients
For the burger:
6 pieces of bacon, fried in the same skillet you will use to make grilled cheese
2 burger patties, pan-fried (this is our preferred method but if you like to grill, feel free)
2 slices American cheese (use whatever cheese you like)
Ketchup
Lettuce
For the grilled cheese:
4 slices of white bread
3 TBSP unsalted butter
4 slices American cheese (or cheddar slices, your choice)
Instructions
For the grilled cheese:
Use the skillet you used to cook the bacon in. Leave about 1 TBSP bacon grease in the pan.
Heat over medium heat.
Generously butter one side of a slice of bread.
Place bread butter-side-down onto skillet bottom and add 2 slices of cheese.
Butter a second slice of bread on one side and place butter-side-up on top of sandwich.
Grill until lightly browned and flip over; continue grilling until cheese is melted.
Repeat with remaining 2 slices of bread, butter and slices of cheese.
For the burger:
One Grilled Cheese.
Then burger patty with cheese.
Then burger patty with cheese.
Then bacon.
Toppings of your choice…I just went ketchup and lettuce because I'm weird like that.
Grilled Cheese.
Eat.If you finish it all in one setting you are awesome.