This Peanut Butter Cup Cracker Toffee is easy to make and highly addicting made extra special by adding peanut butter and peanut butter cups.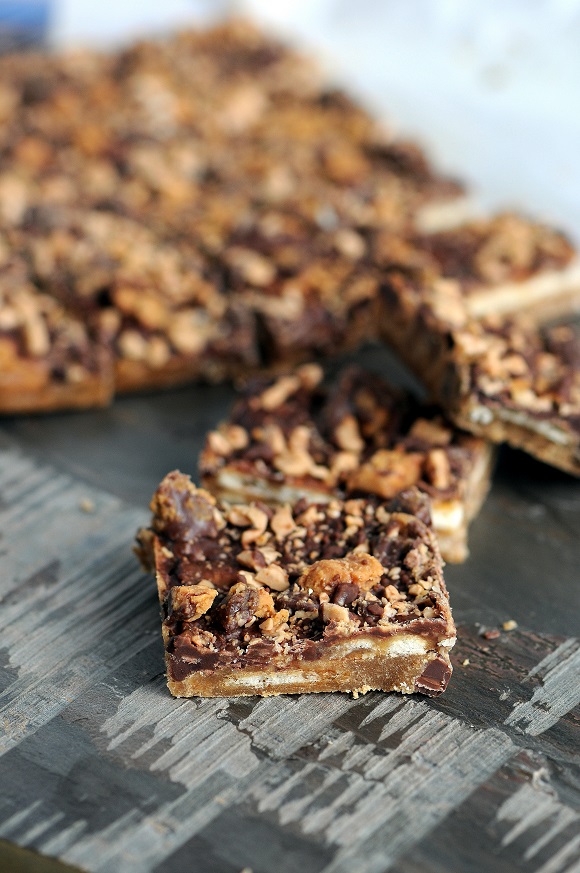 First a disclaimer:
You are going to hate me and love me at the same time for giving you this Peanut Butter Cup Cracker Toffee recipe.
That is all.
Moving on.
As previously discussed there has been quite a few new readers to my site and with that comes a ton of questions so I'm going to do a quick little about me/this blog to catch people up to speed and if you are a long time reader consider it your refresher course and you might learn something new. 😀
Peabody:
Yep that is my first name.
Good thing is when someone shouts it out in a crowd I'm pretty much guaranteed they are calling for me.
Which is cool…unless it's a gunman.
MDP:
My fiancé name on this blog.
I am the only one who gets a name on this blog.
Stands for My Defensive Partner because we play ice hockey together as defensive partners.
He has two wonderful teenagers (twin boy and girl) that we have every other weekend and on Wednesday s (and we get his 9 year old former step son on that day as well).
CCS and LFB:
CCS is Crazy Cocker Spaniel.
Who is often featured on this blog because I am trying to make her the next Boo.
Well not really, mostly she is on here because she is my baby.
And it's her 13th birthday today so happy birthday CCS.
LFB is Little Fuzzy Bunny and he is our other pet…a two pound rabbit that CCS is afraid of.
Parental Unit:
My parents.
Both still alive…well at least as of noon today when I talked to them they were.
We see eye to eye on almost nothing. 😛
Except food.
My mom and I will talk for hours on the phone about recipes.
Blog:
Started it because I was married to a Picky Eater (my ex-husband's name on this blog…great guy…for real no sarcasm there) who didn't eat anything and wanted a creative outlet.
Picky Eater is still mentioned on here as we are still friends (for real) and he is IT support.
My blog will be EIGHT (holy cow) years old this June!
Camera:
I use a Nikon D300S.
I have a bunch of lenses but use the macro 105mm the most on this blog.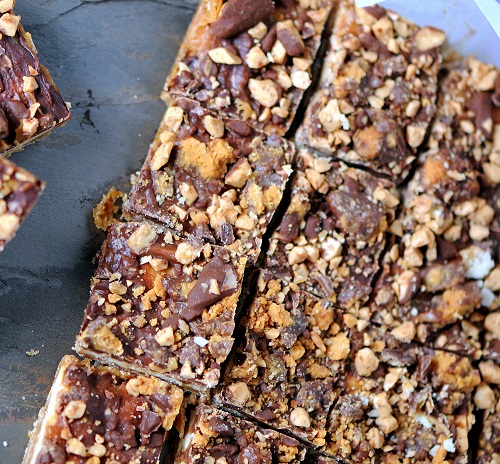 Reader Email:
I get a lot of strange email.
And it is a great source of amusement on this blog.
I have thick skin and it doesn't bug me.
The Refund Muffin is a good read as is the Best Blog story.
Recently I got asked to send nude photos of myself.
Oddly enough not the first time either.  
Which is always flattering and but creepy.
I get a lot of hate mail as well as you will learn I am opinionated and have no issues with stating my opinion on my blog.
It comes with the territory and it's something I am used to after all these years. 😀
Extra Love:
If you want to show me extra love (and I would sooo appreciate that) you can follow me on Twitter, Facebook, Pinterest, and Instagram (if you are on any of those sites.
I LOVE interacting with people and I post a lot of stuff on there that you don't see here.
And of course always leaving a comment on the blog makes my day.
Learning:
I do have a culinary background but my best teacher was my mom and just messing in the kitchen.
Before this I was a math and science teacher for junior high and high school and am a certified elementary school teacher as well.
I have degrees in things my mom and dad cannot pronounce.
Recipes:
Most of mine are a little over the top.
Most are baking though there are savory dishes that pop on here from time to time.
That and I am expanding more in to cocktail making thanks to my gig at Tablespoon. 🙂
Never ask how many calories, if you have to ask you don't want to know.
I suck at keeping a recipe index.
Some are original.
Some are adaptations from other amazing bloggers or cookbook authors.
My Last Meal:
Probably be Pork Fried Rice with a ton of sweet and sour sauce with a side of crispy bacon and bread pudding for dessert…and a few Swedish Fish right before I kick off.
Print Button:
See this.
All recipes that are from last September on have a print button option before that randomly as I have gone back and tried to add it to the more popular older recipes.
But I don't have it on all the recipes.
Simply copy and paste then print.
Recipes on Facebook:
When I post my recipes on Facebook I put a picture first (to get your attention) and then link the recipe in post.
Crusade:
Everyone has a cause.
Mine is body acceptance and learning to love who you are. I talk about it a lot on here.
I have a board dedicated to it on Pinterest!
I'm not stuck up (well maybe I am) but I am confident in who I am.
I appreciate my imperfect body and what it can do and I celebrate that.
I am smart, sometimes witty, pretty, and a loving person.
And I am doing my darndest to get everybody else to feel good about themselves inside and out as I do about myself!
Hockey:
Pretty much my life.
I play it.
And I score keep it (MDP does too…it's how we pay for us to play hockey).
I watch it.
My team is the Calgary Flames.
My player is Danny Briere who plays for the Flyers.
MDP likes the Flyers because of that so we are also a Flyers house.
I am captain of a men's (there are like 6 women) league hockey team called the Black Sheep and that team is like my family.
Hopefully that answered some a few questions that people had.
If not feel free to ask.
And feel free to make this "toffee".
I was introduced to it a long time ago and it is one of the most addictive things ever.
Or so I thought.
Until I made this version.
And now this is the most addictive version I have ever made.
Holy cow this stuff is good.
Like I need to give it away or I am wearing everything with a drawstring and elastic for a month kind of good.
So make some, eat some, and then give it away.
Or else I will get hate mail.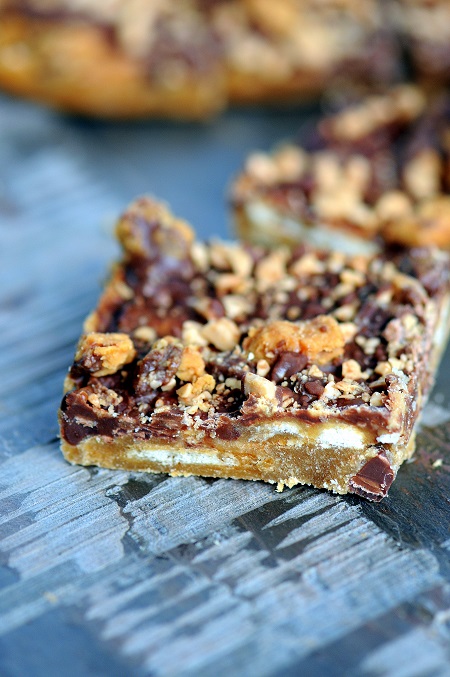 Want More Cracker Toffee Recipes?
Gingersnap White Chocolate Cracker Toffee
White Chocolate Candy Cane Cracker Toffee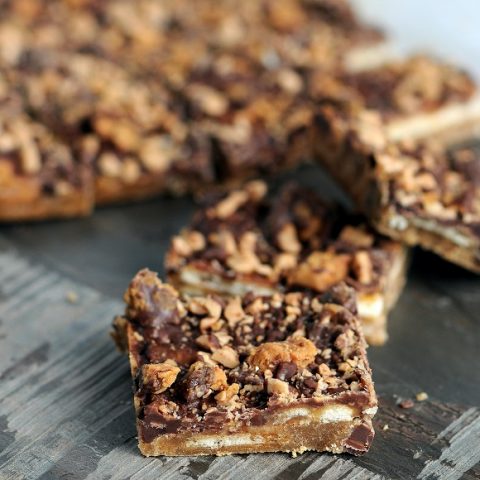 Peanut Butter Cup Cracker Toffee
Ingredients
1 cup unsalted butter
1 cup dark brown sugar
Enough butter crackers to make a layer twice on a 9×13-inch pan(I like to use Townhouse or other buttery crackers but Saltines work nice because of their shape…totally up to you)
1/3 cup peanut butter (I used Jif)
8 oz. semisweet chocolate chips
1 cup chopped peanut butter cups
1 cup chocolate covered toffee bits (Heath makes some)
Instructions
Preheat oven to 350F.
Line the pan with foil (this is a must)and the cover bottom with parchment paper with overhang to make lifting out of the pan easier.
Bring the butter and brown sugar to a boil in a saucepan and simmer it for about 5 minutes.
Put a layer of crackers on the cookie sheet, close together. Pour half the brown sugar mixture over the crackers. Spread with a spatula and do one more layer of crackers and then pour the remaining brown sugar mixture over the crackers. And again, spread with spatula.
Bake for about 6-10 minutes (mine were at about 8 minutes) at 350F.
Remove and immediately pour the chocolate chips over the crackers, evenly distributing them. Add spoonfuls of the peanut butter randomly (but somewhat evenly distributed) on top of the crackers.
I let it sit for about 30 seconds. Then with the back of a spatula move the chocolate chips just a little bit. I wait another 30 seconds and repeat. Start to slowly move the chocolate and peanut butter around being careful not to move the crackers (they will move a little). I let is sit for another 30 seconds and at this point it pretty much spreads like frosting. Then I top with toffee bits and peanut butter cups.
Place in fridge to set up or freezer if you want it done quicker. You can either cut it or just break it up like candy bark.