Easy to make and addictive this S'mores Graham Cracker Toffee has graham crackers, butter, brown sugar, chocolate, and mini marshmallows.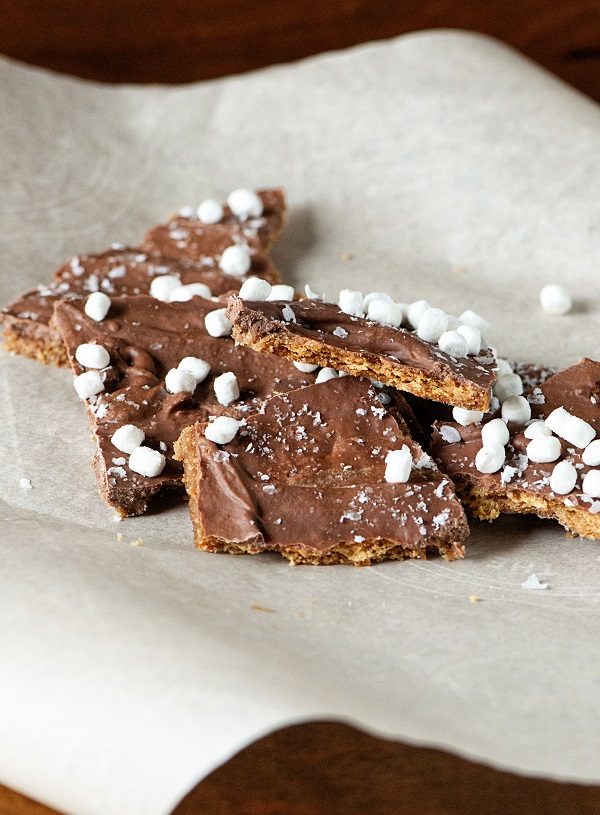 I think Tony Robbins said it best when he said "If you won't give a dime out of a dollar, there's no way you're going to give a 100 million out of a billion."
So many people think that they have to be rich to give but if you aren't charitable from the start you aren't going to be when you have money.
I can assure you I am far from rich, and often scraping by, especially this last year, and yet I still give 10% of what I make to charity.
Why would I do that if we are living paycheck to paycheck?
Because there are always those who are in far more need than me.
For me it started in my late teens when my mother would drag me (I was a teen so yes, drag) to the nursing home that she volunteered at.
She would run the Bingo game, and since we were living in AZ at the time, it was my job to say the letters and numbers in Spanish for her.
It seemed silly however there were several people who would not get to play Bingo if it were not for me saying B Ocho.
And if you live in a nursing home you kind of look forward to things like Bingo…or Lotería in their case.
From there I went to college (still doing the Bingo in the summers) where I volunteered at a rape counselor's clinic, you want to talk about a hard thing to do.
I stuck with it all four years but knew it was not something I could continue after college.
I also started walking dogs at the no kill shelter on the weekends…and that's when I knew what I would spend my time concentrating on.
After college I really wanted a dog but knew I just didn't have time.
Teaching didn't pay much so I had to work a variety of jobs so I had not time for a dog.
But on the weekends I volunteered for a no kill organization that was build out of foster homes for all sorts of animals, not just dogs.
I often fostered the smaller animals ranging from an iguana to mice to rabbits with the occasional dog when no one could possibly take one more.
This organization is how I ended up with Crazy Cocker Spaniel.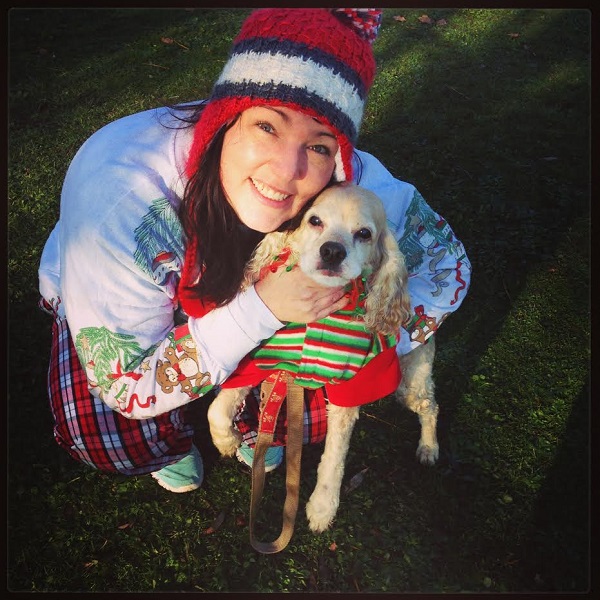 I volunteered because I didn't think I had the money to help.
Back then I didn't think that $5 would matter.
I, of course, now understand just how wrong I was about that.
So I started donating 1% of my income.
Then quickly realized I could bump that to 5% and hung at 5% for quite some time.
Until I finally bumped it to the full 10%.
When my ex and I move to WA state my health was not that great and the only shelter that didn't have a waiting list (WA peeps love to volunteer!) was a local place that just wanted help with cleaning the cages.
While normally that would be fine, but when you have an autoimmune disorder your doctor basically screams hell no to you.
So we picked a charity to give to instead.
That charity was Old Dog Haven.
Today other than my family and hockey, Old Dog Haven is my greatest passion.
The work they do to help senior dogs who get passed over time and time again in the shelter into a final refuge foster home is amazing.
These dogs aren't adopted out so to speak and remain fosters because Old Dog Haven pays for ALL their medical bills.
Spending about $80,000 a MONTH to cover the cost of the 300 plus dogs that they have in foster care.
Some of the dogs live for years, some months, some only a few weeks or even days.
But Old Dog Haven ensures that those dogs get to live out their final days in a loving environment instead of a shelter.
So again this year we walk.
PNW Spaniel Squad is on its third year.
Last year we raised $3000 and that is our goal again this year.
Though I am hoping we reach it.
And that I get to set an even higher one half way through our fundraising.
If you are local to the Seattle area, my husband and I would really love it if you would join our team!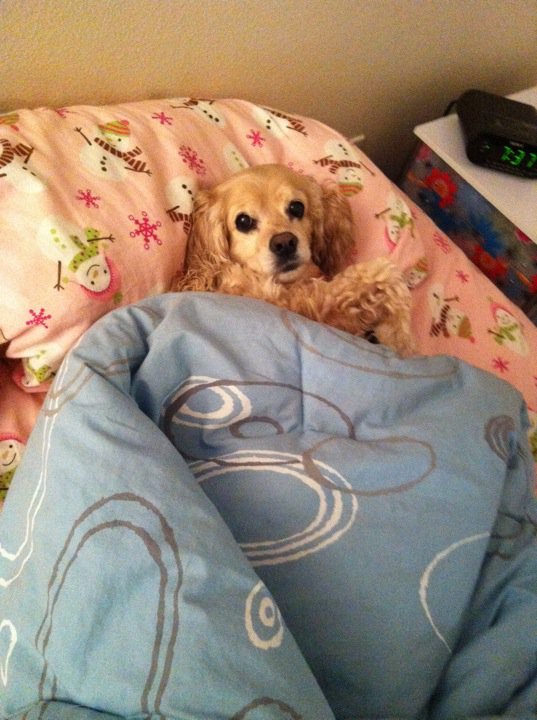 You don't have to own a dog and if you do that's great, bring them out.
The walk is only 1/3 of a mile (these are some old pups) and doesn't start until noon.
So none of this early start time stuff.
If you can't join us then I would ask that you donate.
Donate whatever amount you can; any and all amounts are appreciated!
Heck, if just 10% of my readers gave $1 I could easily surpass my goal and then some.
Just think about how whatever you give can go to helping a dog that no one wants to adopt live out a happy and loving life.
However long that may be.
To donate to go HERE.
From dogs to snacks. 🙂
This S'mores Graham Cracker Toffee is a twist on the cracker toffee that I make all the time.
I made it to go in and garnish the teens 18th birthday cake.
It's just as addictive as the regular cracker toffee!
If you are a S'mores fan I highly recommend you make this!
And last but not least it's a great day to buy my cookbook.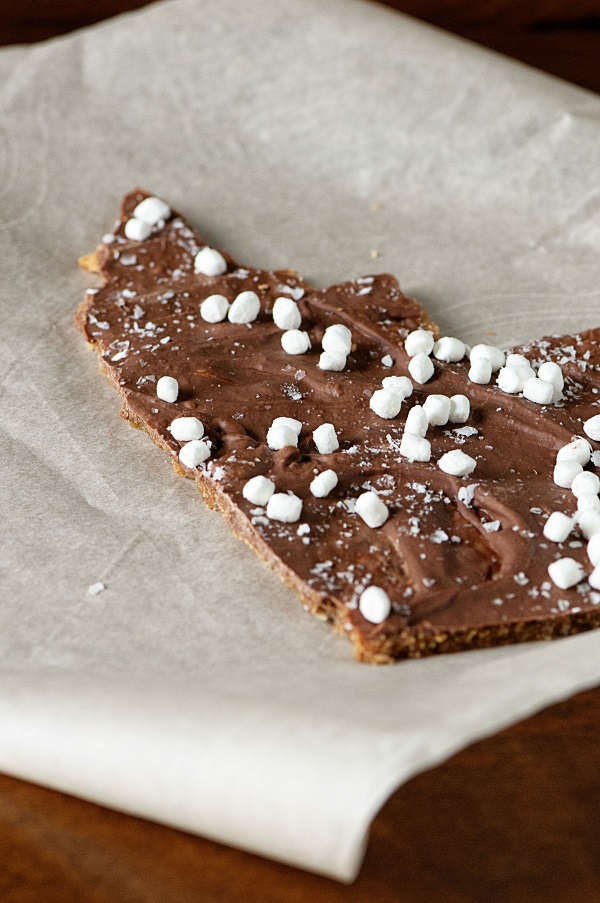 Want More Cracker Toffee Recipes?
Cranberry Bliss Cracker Toffee
Gingersnap White Chocolate Cracker Toffee
White Chocolate Candy Cane Cracker Toffee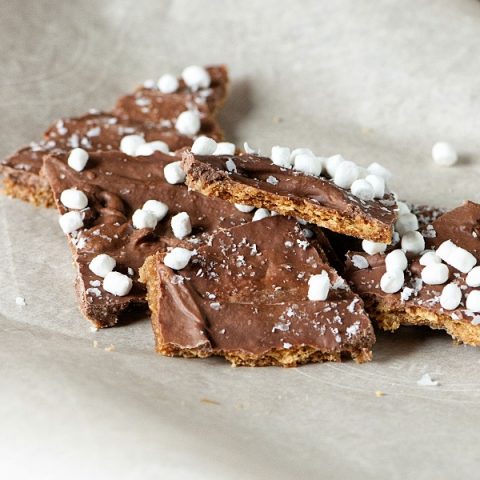 S'mores Graham Cracker Toffee
Ingredients
14-16 sheets of graham crackers (chocolate ones would be fun too)
1 cup packed dark brown sugar
1 cup salted butter
2 cups milk chocolate chips
1 cup mallow bits
Instructions
Preheat oven to 350 degrees F.
Line an 11 x 15-inch baking sheet aluminum foil and spray with baking spray or else you will be peeling that off the bottom of the toffee.
Arrange graham crackers touching side by side in a single layer, breaking some of the graham crackers in half if need be so that that they fit. Set aside.
In medium saucepan, heat the butter over medium-high heat until melted.
Add brown sugar and stir to combine.
Continue cooking until the mixture reaches a boil, stirring constantly.
Let the mixture boil for about 2 minutes, then remove from heat and pour over graham crackers.
Use a spatula to spread the mixture evenly over the graham crackers.
Bake for 6-7 minutes or until the butter mixture is bubbly.
Remove pan and immediately sprinkle the chocolate chips evenly on top of the graham crackers.
Put back in the oven for 2 minutes.
Remove from oven.
Let sit for three minutes until the chocolate is melted, then use a spatula to spread the chocolate into a thin sheet of chocolate.
Be warned the crackers will try and move around as you spread the chocolate, that's okay.
Sprinkle the mallow bits on top.
Let cool to room temperature and then place in the fridge to firm up.
Break into pieces, or if a neat freak, cut into pieces.