This Peanut Butter Cup Cheesecake has a peanut butter cheesecake base topped with a chocolate cream cheese mousse and peanut butter cups.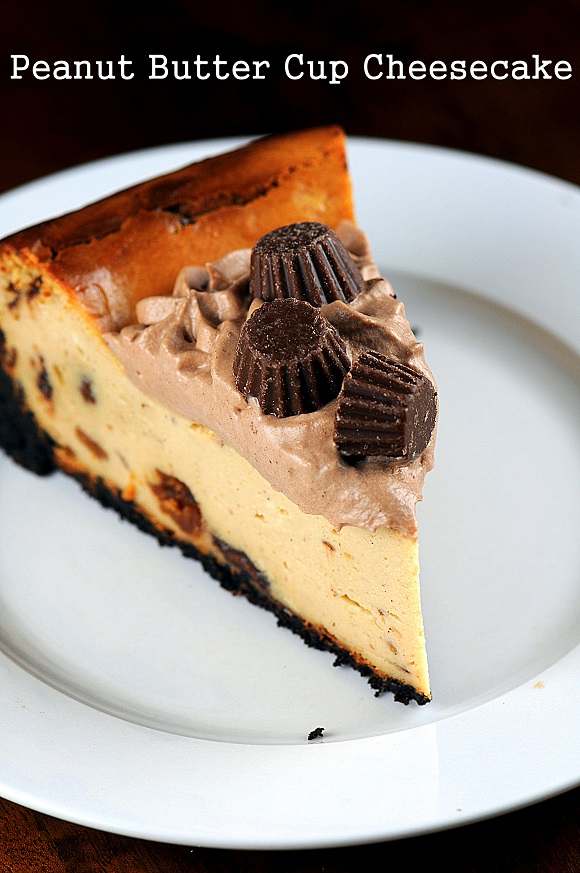 Here's the Tuesday Ten:
1. For the last month I have made my bed every day.
I know people do this every day.
However, I do not.
I usually just throw the covers kind of over the pillows.
But I have been doing the full bed…with pillow shams and all.
Sadly this makes me feel more like a grown up.
It's not hard to do and yet I never used to do it. 🙂
Small steps.
2. I made this mistake of asking a brand if they would like to work with me.
They wrote back "You are not a significant enough food blogger"…I'm considering getting that on my tombstone right under owner of a not best blog.
But seriously a no thank you probably would have been the better result.
I am just going to assume that the person who wrote it did so while on the phone with the IRS and on hold for 2 hours, on a bad hair day, while possibly being mauled by a Honey Badger and therefore was not in a good mood.
3. My baby cocker spaniel turns 13 tomorrow.
It's hard to believe that little fur ball has been with me that long though I can't every really remember my life when she wasn't in it.
4. Someone emailed me last week that they didn't own a muffin pan and wanted to know how to make the recipe without the use of a muffin pan.
I am still shocked/sad/surprised that they don't own a muffin pan.
My ex-husband owns a muffin pan and he doesn't bake.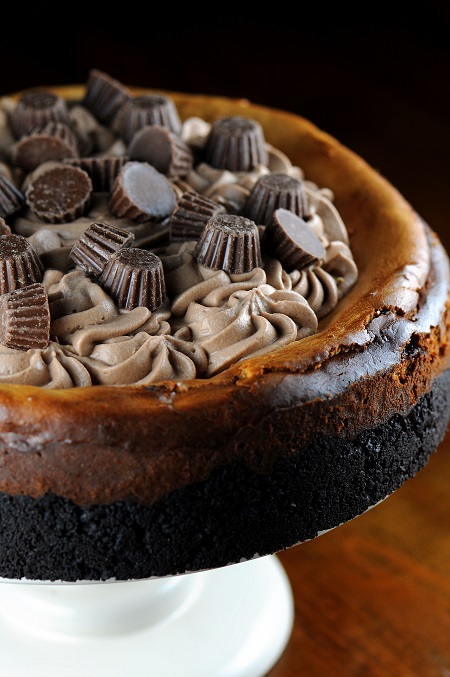 6. I really want to go to BlogHer Food but can't find a sponsor (see #2). Though Austin TX in June seems a tad warm.
7. Bake It Like You Mean It: Gorgeous Cakes from Inside Out came out this week and I am beyond excited.
I've poured through it already and can't wait to bake from it.
I loved her book Sugar Baby: Confections, Candies, Cakes & Other Delicious Recipes for Cooking with Sugar .
All of her recipes have been highly successful for me. And hey she's Sandra Bullock's sister so that is cool too.
8. Make sure you have entered your chance to win the Harry and David Big Hopper Easter Basket...only one more day to enter!!! This contest has expired.
9. A reader emailed me that I should have children in order to better relate to my readers.
I wrote back I was currently at the hospital having the baby now. 😛
But in actuality I do have teenagers every other weekend and ever Wednesday so maybe you can half relate to me?
But seriously…don't say stuff to people like that.
If you follow me on Facebook you already know all this because I care and share on there a lot. 😀
10. Yes I made something with Reese's Peanut Butter Cups.
With all the extra fans from them I couldn't help not.
Not just anything…but Peanut Butter Cup Cheesecake.
Cheesecake with peanut butter cups inside.
With chocolate mousse (easy to make kind), and then you know more peanut butter cups.
And just 30 calories…well for every time you sniff it.
I had to laugh because someone emailed me that I should put nutrition facts with the recipes.
Ahahahahaha.
P.S. It's a great day to buy my cookbook.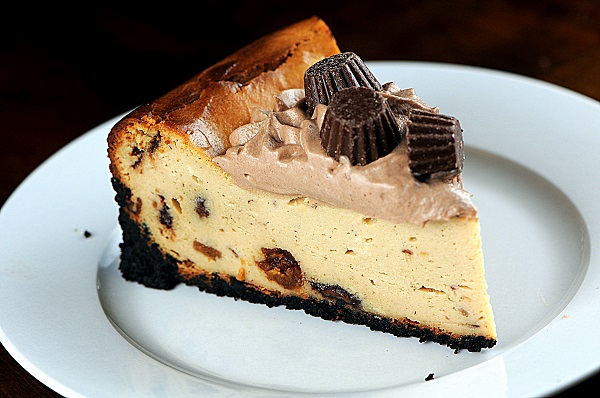 Want More Cheesecake Recipes?
Cinnamon Roll Caramel Apple Cheesecake
Pumpkin Salted Caramel Swirl Cheesecake
Caramel Apple Toffee Cheesecake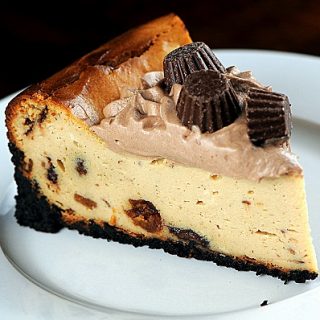 Peanut Butter Cup Cheesecake
Ingredients
For the Crust:
2 cups Oreo cookie crumbs
3 TBSP unsalted butter, melted
For the Cheesecake:
4 ( 8 oz) packages cream cheese, at room temperature
3 eggs, room temperature
2 egg yolks, at room temperature
1 cup packed brown sugar
½ cup granulated sugar
1 cup peanut butter
2 TBSP all-purpose flour
1/2 cup heavy whipping cream
1 ½ tsp. vanilla bean paste
1 cup chopped peanut butter cups
For the Chocolate Cream Cheese Mousse:
1 cup semisweet chocolate, chopped
4 oz. cream cheese, at room temperature
1 ½ cups heavy whipping cream
Mini Peanut Butter Cups for topping
Instructions
Preheat oven to 350F.
For the Crust:
Stir together Oreo crumbs and melted butter in a small bowl then press into the bottom and a little up the sides of a 9 inch or 10 inch springform pan and bake for 15 minutes.
Let cool for 10 minutes.
For the Cheesecake:
Using a stand mixer with paddle attachment beat together the sugar and cream cheese until smooth, about 3 minutes.
Add eggs and yolks, one at a time, scraping down the bowl after each addition.
Add peanut butter, cream, and vanilla bean paste and beat until fully incorporated.
In a small bowl combine the peanut butter cup pieces and the flour.
Fold into the batter…flour and all.
Pour mixture into the cooled crust.
Bake for 1 to 1 1/2 hours. The sides of the cheesecake should be set but the middle will be a little jiggly. Let cool to room temperature and then put in fridge for several hours.
After cheesecake is chilled make the mousse.
For the Mousse:
In a double boiler or small saucepan melt the cream cheese and chocolate together and let cool.
Whip the whipped cream until soft peaks form.
Add the cooled chocolate mixture and then beat until stiff peaks form.
Pipe or just spread mousse into middle of cheesecake and top with mini peanut butter cups.