This Kitchen Sink Thai Penne Pasta is a peanut butter sauce based pasta full of veggies and is quick to come together for weeknight meals.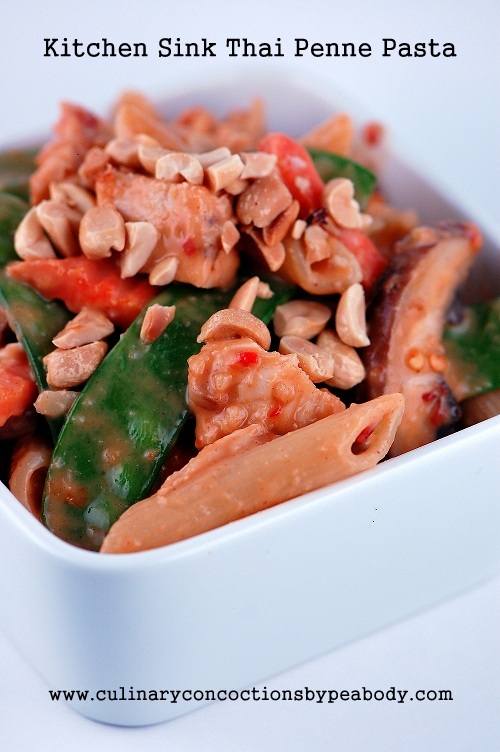 Happy Friday all…just a quick post (with recipe!) to tell you that the random chosen winner of the Harry and David Gift Basket.
It was Stephanie who wrote: "I'm going to have to go with probably the most common answer – Cadbury creme eggs. Oh and Reese's eggs."
She has already been notified and I give a heartfelt congrats to her.
If you didn't win you never know what will be given away next on here so you could always have a chance. 🙂
This isn't a peanut butter cup recipe but it does have peanut butter in it.
This Kitchen Sink Thai Penne Pasta is a great throw together weeknight meal.
It's in our monthly meal rotation and usually we eat it at least three times a month.
It's super flexible as what I have on hand is often what goes in it.
You can use any pasta shape you want but penne was all I had at the time.
Angel hair pasta or spaghetti is a good pasta with this as well.
If you are vegetarian you can easily leave out the chicken, feel free to add more veggies.
Want it more spicy?
Then add some more chili garlic sauce.
Too spicy (I'm a wimp so I won't tell on you) then use less.
It's up to you.
If you don't have agave or honey use 4 TBSP of brown sugar.
Don't like the veggies I chose?
Feel free to use different veggies.
Want more Pasta recipes?
BBQ Pulled Pork Mac and Cheese
Alpine Dijon Macaroni and Cheese
Gouda and Lobster Mac and Cheese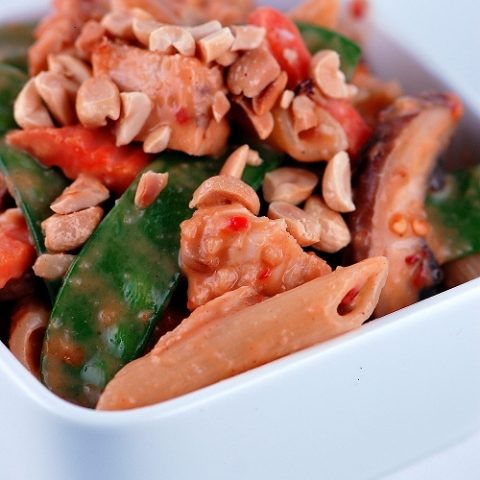 Kitchen Sink Thai Penne Pasta
Ingredients
4 TBSP lime juice
3 TBSP Agave nectar (you can use honey…if do add an extra TBSP)
2 TBSP chili garlic sauce (if you like it less spicy than use way less than this)
2 TBSP grated fresh ginger
1 TBSP minced garlic
1⁄2 cup peanut butter
1⁄4 tsp. sea salt
1⁄4 cup roasted unsalted peanuts, chopped
2 carrots, julienned
¼ cup diced onion
½ cup portabella mushrooms, sliced
2 cups snow peas
6 ounces penne pasta (if I had angel hair I would have gone with that)
8 ounces chicken breast, cooked and chopped (you don't have to use the chicken)
Instructions
Bring a pot of water to a boil for the vegetables and add salt.
Sauté mushrooms and onion in a little olive oil until onions are translucent.
Add carrots and peas to boiling water and cook 4–5 minutes.
Remove veggies and boil water again, this time for pasta. Cook until al dente.
Reserve ½ cup pasta water.
Combine peanut butter, lime juice, agave nectar, chili garlic sauce, ginger and garlic in a large saucepan and heat on low.
Add drained vegetables, chicken, and noodles in pot and mix all together. If you want a thinner sauce, add some of the reserved pasta water.
Top with roasted peanuts and serve. This one works hot or cold or room temperature.