This Grilled Cheese Tomato Soup Burger is burger patty dunked in tomato soup sauce and sandwiched between a melty grilled cheese sandwich.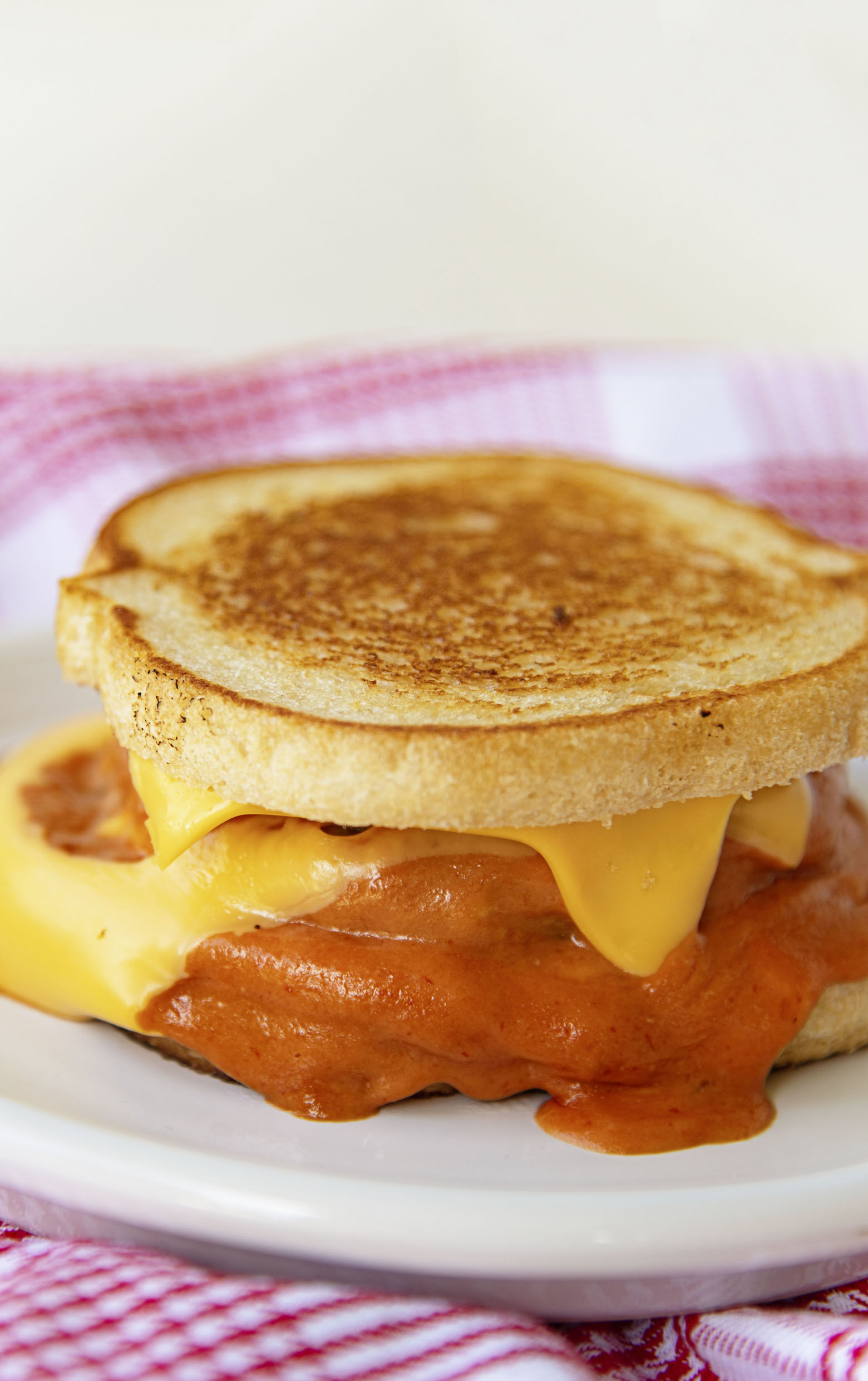 My girl Kita over at Girl Carnivore once again hosted Burger Month.
I almost always participate each year, with the exception of when I was in the middle of a move.
And I had planned on having this burger up way back on the 17th.
But life decided I need to deal with a bunch of stuff I could have done without. 🙂
However, today still in in the month of May and so I just made it under the wire.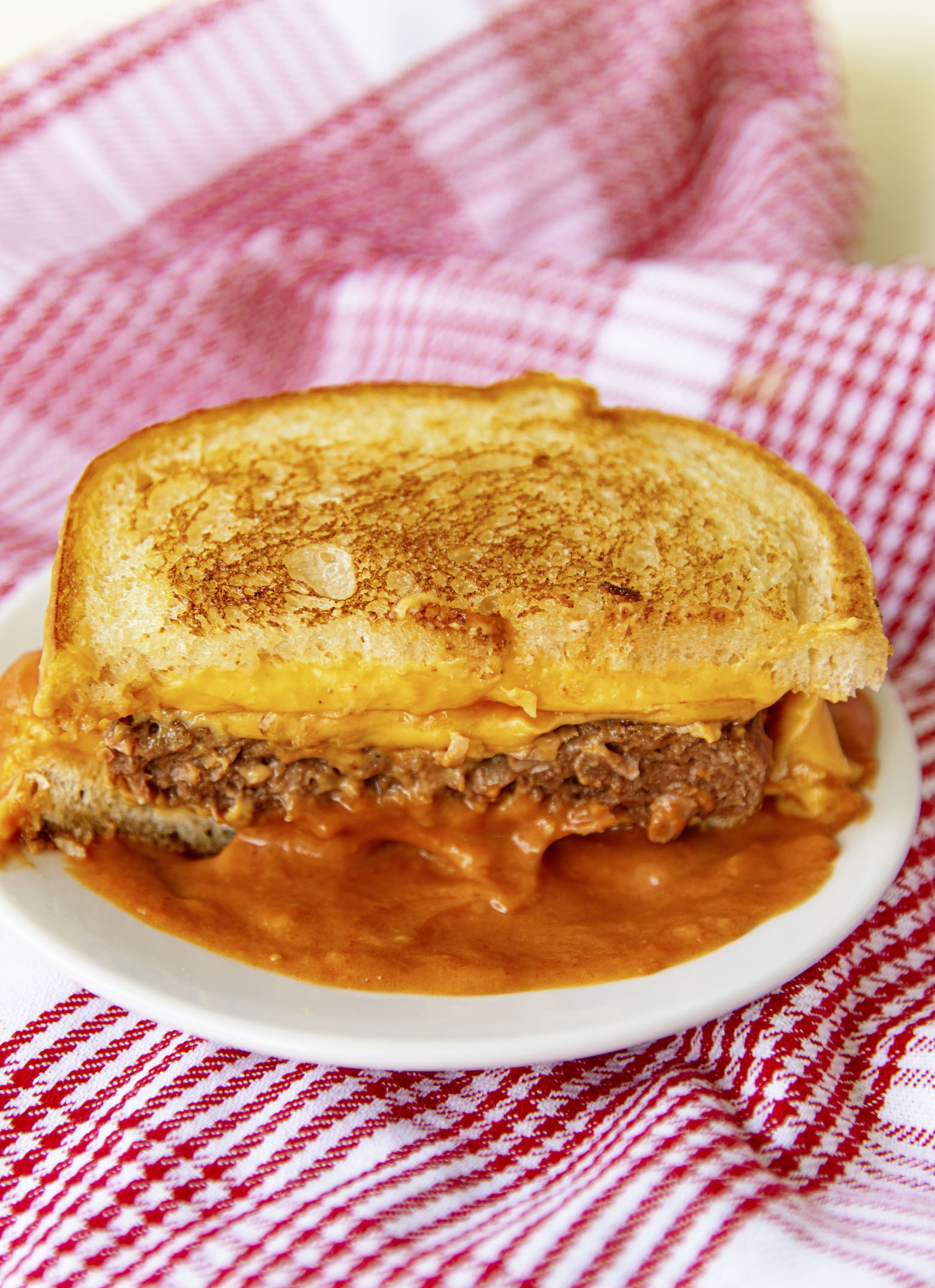 This years burger was inspired by my Grilled Cheese Tomato Soup Casserole.
People make fun of that casserole right up until they make it.
And then they love it.
It's in our dinner rotation a lot.
Trying to figure out how to make the burger was interesting.
So many times I have an idea.
With no idea how to actually do it.
I mean, how do you get soup in a burger?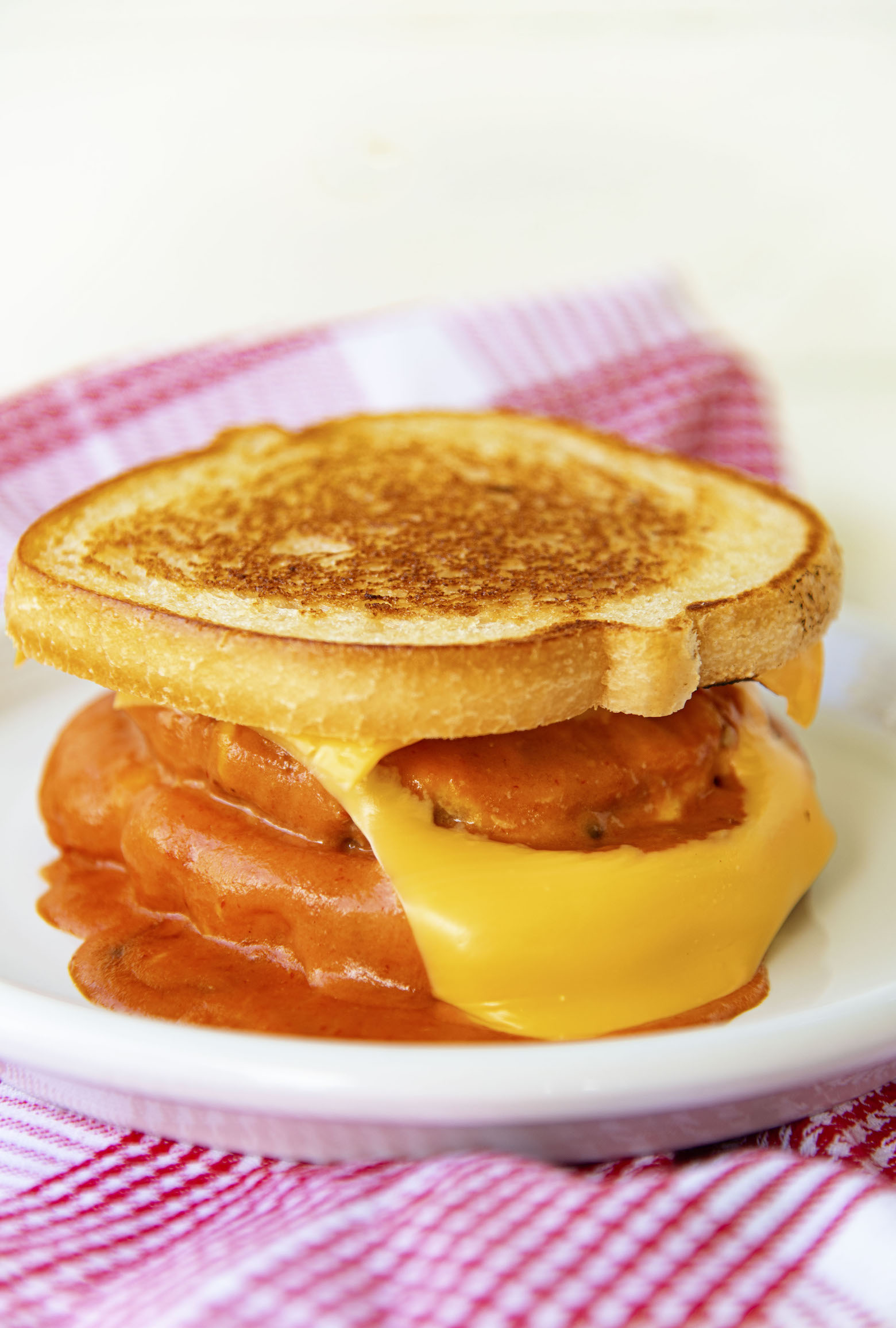 By dipping it.
Normally I like plain old white cheap white bread for my grilled cheese sandwiches.
But for this Grilled Cheese Tomato Soup Burger I went with sourdough rounds.
They are made by a local company so I'm not sure you can get them everywhere.
If not just use your favorite bread.
I just liked the shape and thought it was perfect for a burger.
It was.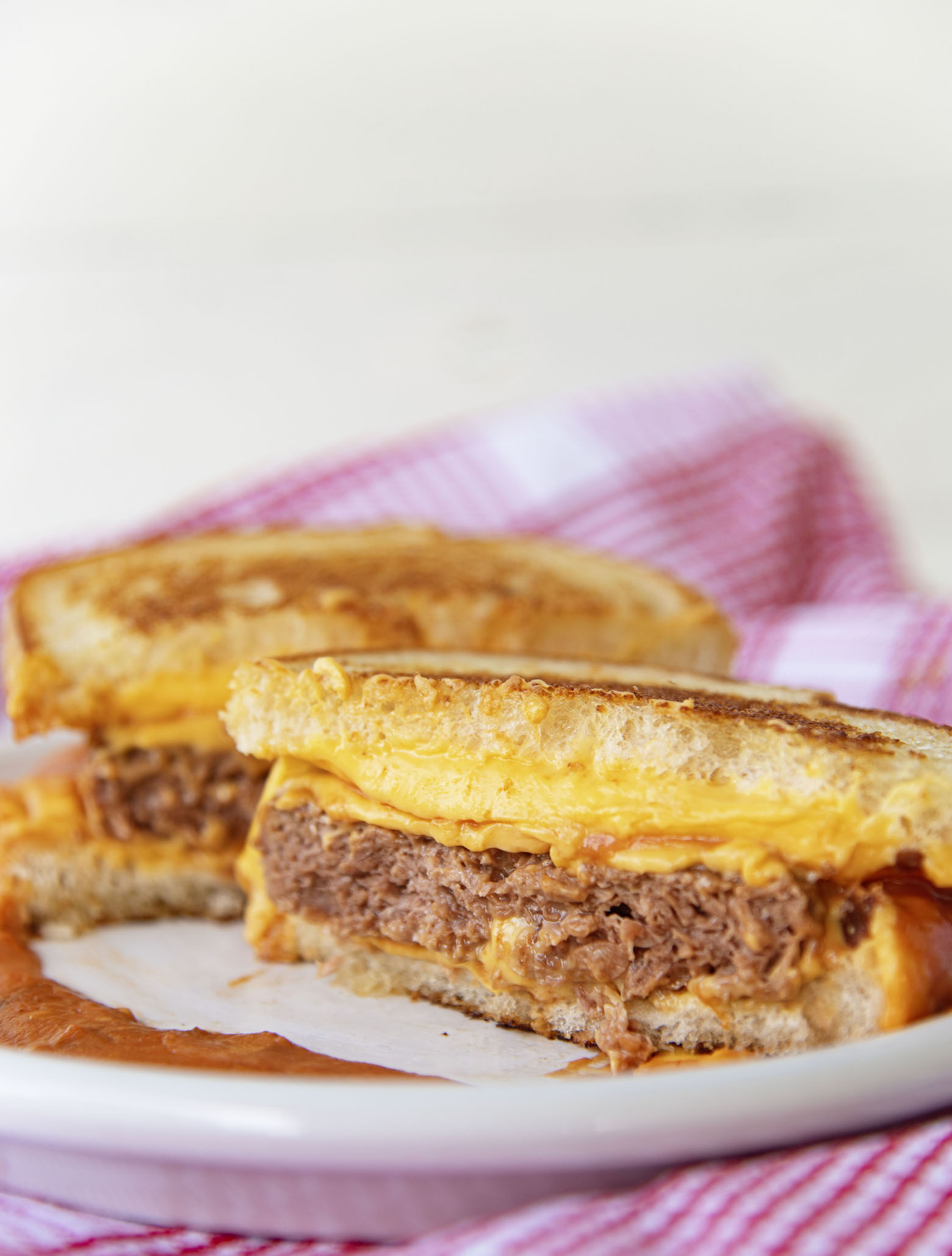 Since I'm all about nostalgia I used American cheese.
You can use whatever cheese you would like.
Being vegetarian I used a vegetarian option but you can use whatever type of burger patty you want.
Last but not least…it's a great time to order my cookbook. 😀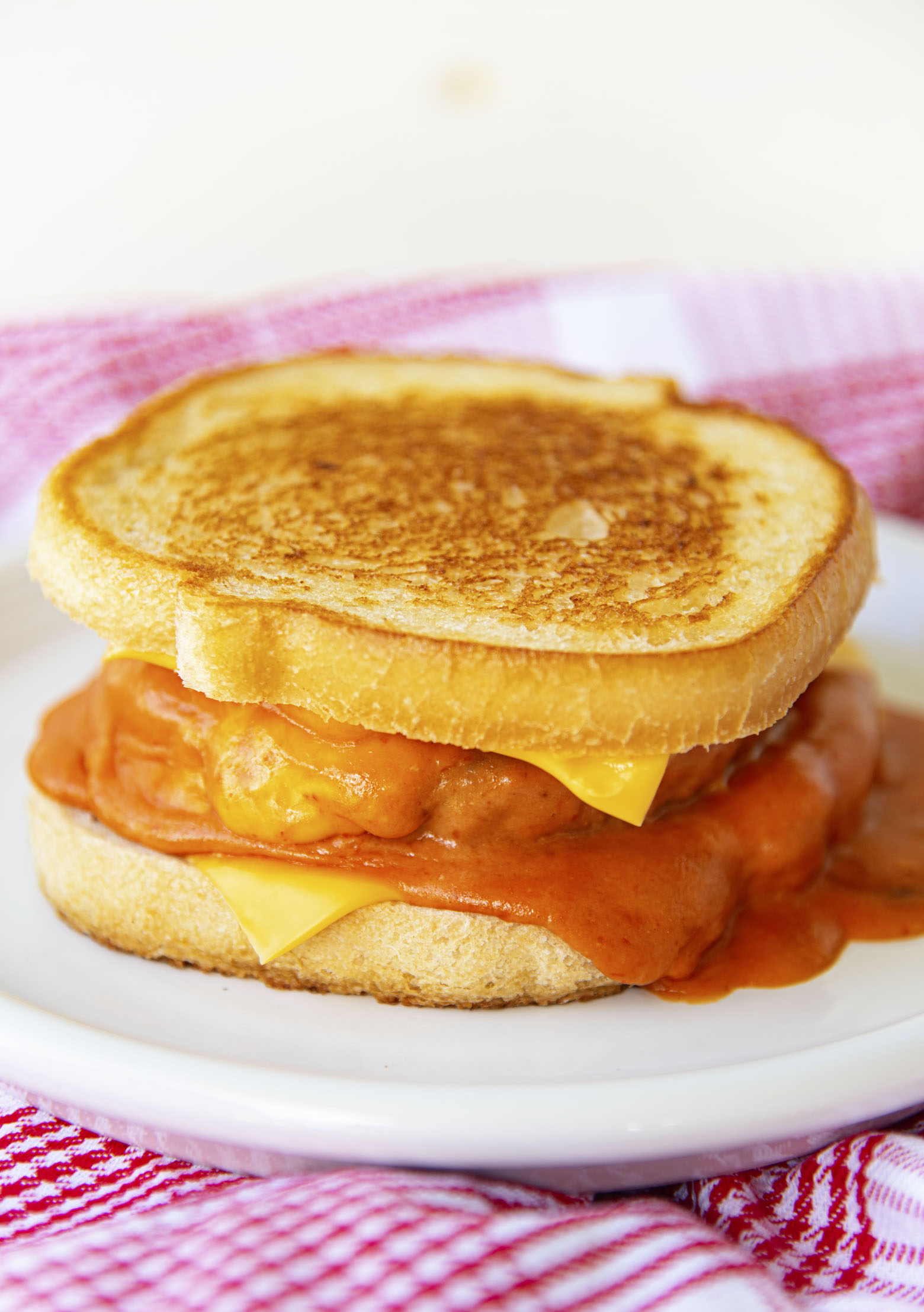 Peach Sweet Tea Southern Veggie Burger
Grilled Cheese Double Bacon Cheeseburger
Tortilla Chip Taco Salad Veggie Burger
Pulled Pork Grilled Onion Gouda Burger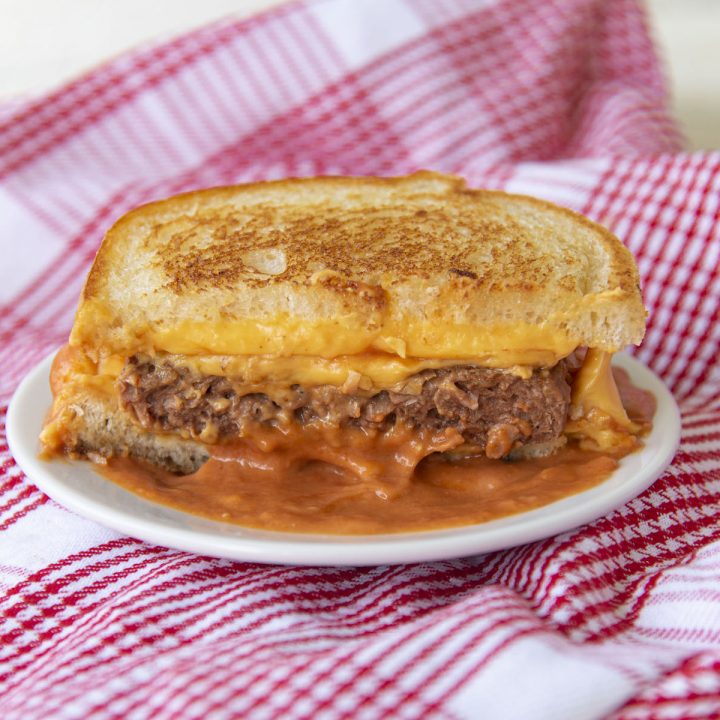 Grilled Cheese Tomato Soup Burger
Ingredients
2 burger patties (I'm vegetarian so I used Gardein Ultimate Burger Patties)
1 can condensed tomato soup
1/2 cup heavy cream
salt and pepper to taste
4 sourdough rounds
4 TBSP salted butter
10 slices American Cheese
Instructions
Grill your burger patties like you normally would. This can be on your bbq or in a skillet.
While burgers are cooking mix together the condensed soup mix and heavy cream.
Place the tomato soup mixture into a shallow saucepan. Bring to a simmer.
Once the burgers have grilled place them both into the tomato soup mixture.
Butter each sourdough round on one side with 1 TBSP butter.
In a large skillet over medium low heat add two sourdough rounds, butter side down.
Add two slice of American cheese to each sourdough round.
Cook the bread until the butter side gets nice and brown and the cheese is melty. You can put a cover over the skillet to get the cheese to melt if it's not cooperating.
Place one sourdough round grilled side down on a plate.
Flip the burger in the tomato soup sauce so that it's coated on both sides.
Place the burger on top of the open face grilled cheese.
Top with another slice of American and spoon some sauce on top.
Place the second open face grilled cheese with the cheese side down.
Repeat with the other burger.
Get some napkins. It's messy but oh so good.