Tortilla Chip Taco Salad Veggie Burger:  A pinto bean based veggie burger inspired by my mom's taco salad that includes black olives, Catalina dressing, tortilla chips, and much more.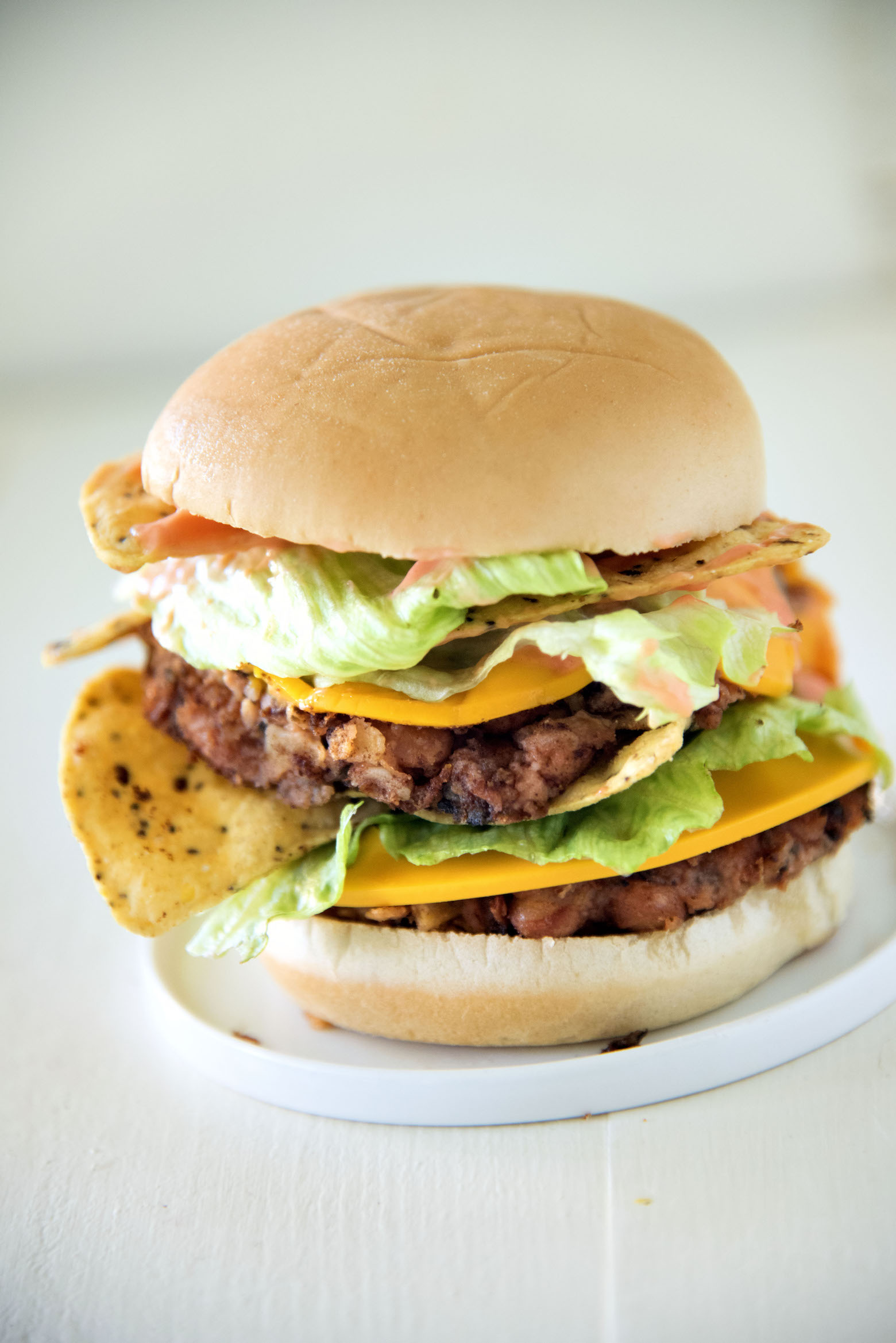 This post is part of a kick butt burger grill giveaway hosted by GirlCarnivore but the veggie burger epicness is all my own.
Kita is once again hosting Burger Month. I missed out last year due to being in the middle of moving to our house. This year I almost ditched out because well, we aren't eating meat.
And vegetarian burgers can be a tad boring and they seem to always be made with black beans. Black beans are tasty and all but it gets old after awhile when it's your only option.
"This person will change. And so you will be married to two, three, four, five or 10 people throughout the course of your life, as you live out your vows."
The quote is from a recent article in the New York Times by Lauren Doyle Owens. A friend had posted the article titled Nobody Tells You How Long Marriage Is.
I found the title odd but read it anyway…being married and all. 🙂
But that quote was at the end and it really struck me. Especially as of late. The longer you are married the more times you are married to someone slightly different.
We inevitably change as circumstances in our lives change.
This burger is the perfect example of that.
Never in a million years would I have thought I would be making a vegetarian burger for burger week. I would even be thinking to myself when I saw someone make a veggie burger for burger week…come on that's not a burger.
Also if I had met my husband today while I would still find him charming and attractive when the words I eat plant based and I work out every day came out of his mouth I would have thought ugh, high maintenance guy and possibly would have passed him up.
Because I was a meat eater. A meat lover. A bacon lover. I could eat bacon for every meal. I liked cooking meat and feeding meat eaters. And while I liked to play hockey I had no desire to go to the gym every day.
Yet here we are. Eating plants and going to the gym every day because our life circumstances changed. 🙂
This burger comes from a salad my mom used to make for us growing up. I have seen a resurgence of it lately using Doritos and ground beef but I grew up eating it with tortilla chips and shredded beef that my mom made in the crockpot.
Obviously, I left out the meat but it's that salad that inspired this burger.

If you want to see my past burgers that involved meat you can check out the Peanut Butter Bourbon Bacon Jam Pimento Cheese Potato Chip Sliders, Grilled Cheese Double Bacon Cheeseburger, or my Cobb Salad Burger.
A huge thanks to the #BurgerMonth sponsors,  American Lamb Board, Anolon,
Cabot Cheese, Melissa's Produce, Microplane, New York Beef Council, Red Duck, Spiceologist,
Veal Made Easy, and Weber Grills.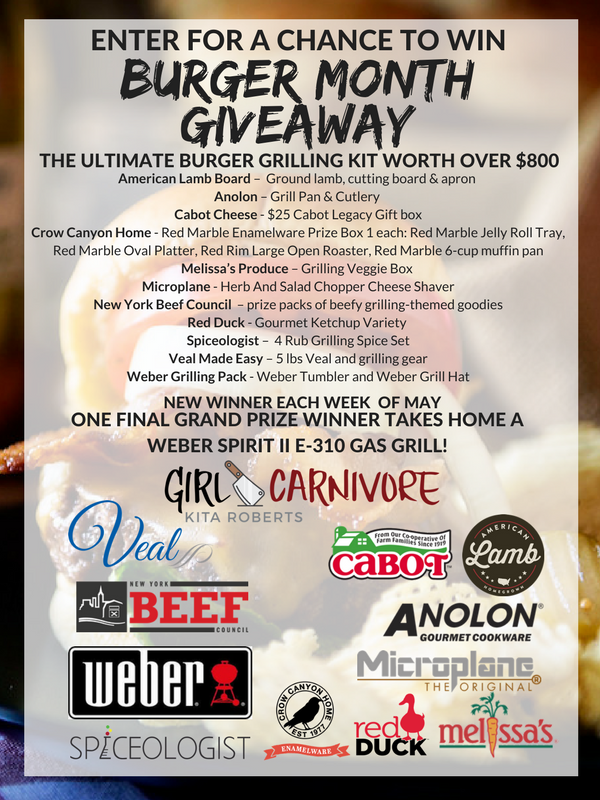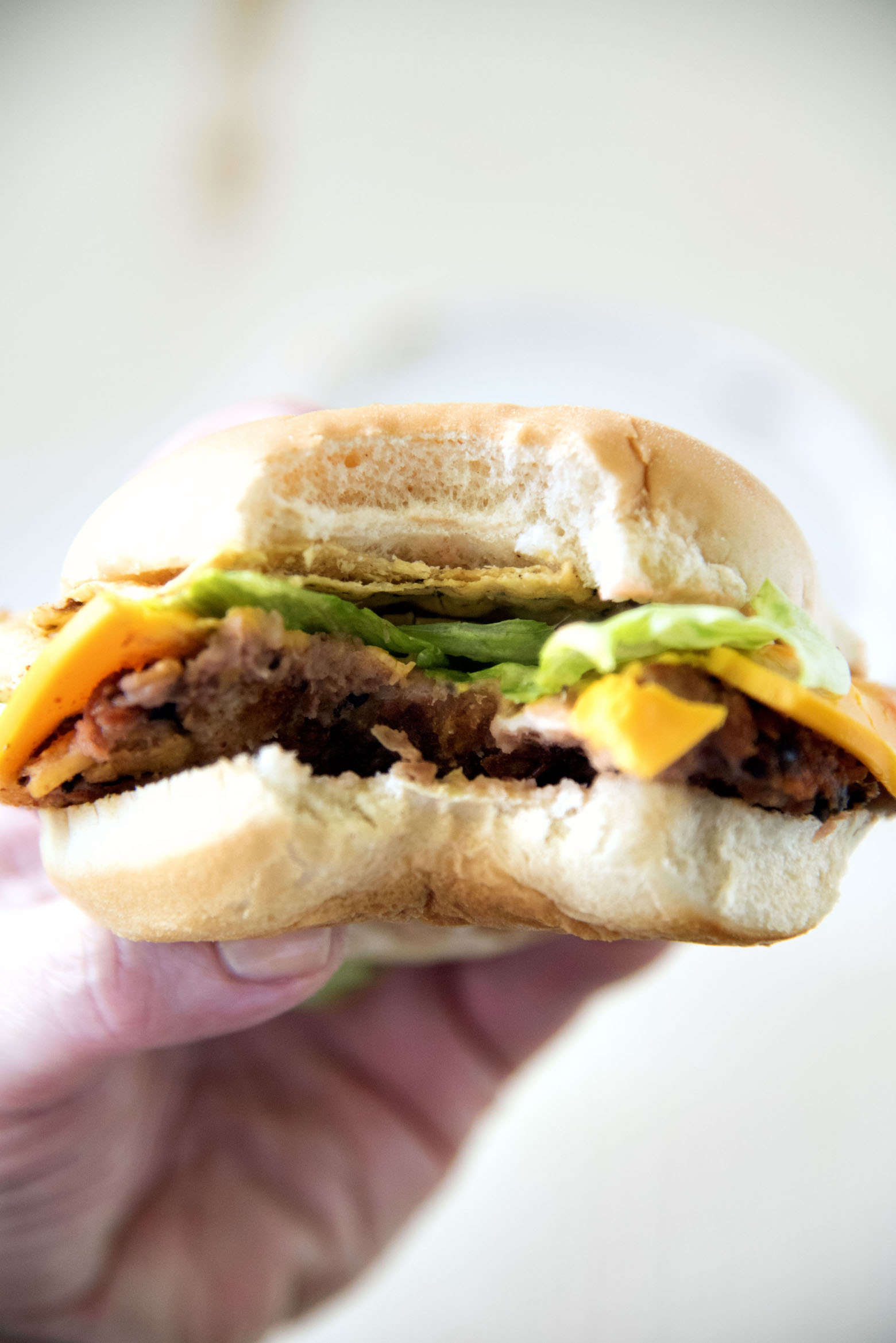 Tortilla Chip Taco Salad Veggie Burger
For the burger patty:
2 (15 oz) cans pinto beans, drained and rinsed
1/2 cup tortilla chips, finely crushed
1/3 cup black olives, minced
1 TBSP taco seasoning
1/8 tsp. Salt
1 large egg (or egg substitute if vegan)
2 TBSP Catalina or French Dressing (I use Kraft as it is vegan)
Toppings:
5 TBSP mayo (or vegan mayo)
5 TBSP Catalina Dressing
Lettuce
Tortilla chips
Avocado
Tomato
Cheese (or vegan cheese)
Save 1 cup of pinto beans off to the side.
In food processor add the remaining pinto beans, tortilla chips, black olives, taco seasoning, salt, and Catalina dressing.
Remove from food processor and place in a bowl.
Mix in egg or egg substitute.
Fold in the 1 cup whole pinto beans.
Divide the mixture into 4 equal portions or 6 if making smaller burgers like I did.
Place patties in fridge for 1 hour.
Heat vegetable oil of your choice in a large nonstick skilled over medium-high heat.
Add patties to pan, and cook 5-8 minutes on each side or until throughly heated through.
Add a slice of cheese at the end if desired.
For the Mayo:
Whisk together the mayo and Catalina dressing until fully combined. Set aside.
To build:
Place patty on top of bottom bun.
Add lettuce, tomato (I did not use as I am super allergic), avocado (wanted to use buy opened mine up and it was rotten…boo), tortilla chips, and Catalina Mayo.
Place the top bun on.