This Cherry Blueberry Dump Cake is an easy patriotic dessert with red cherries, white cake mix, and blueberries.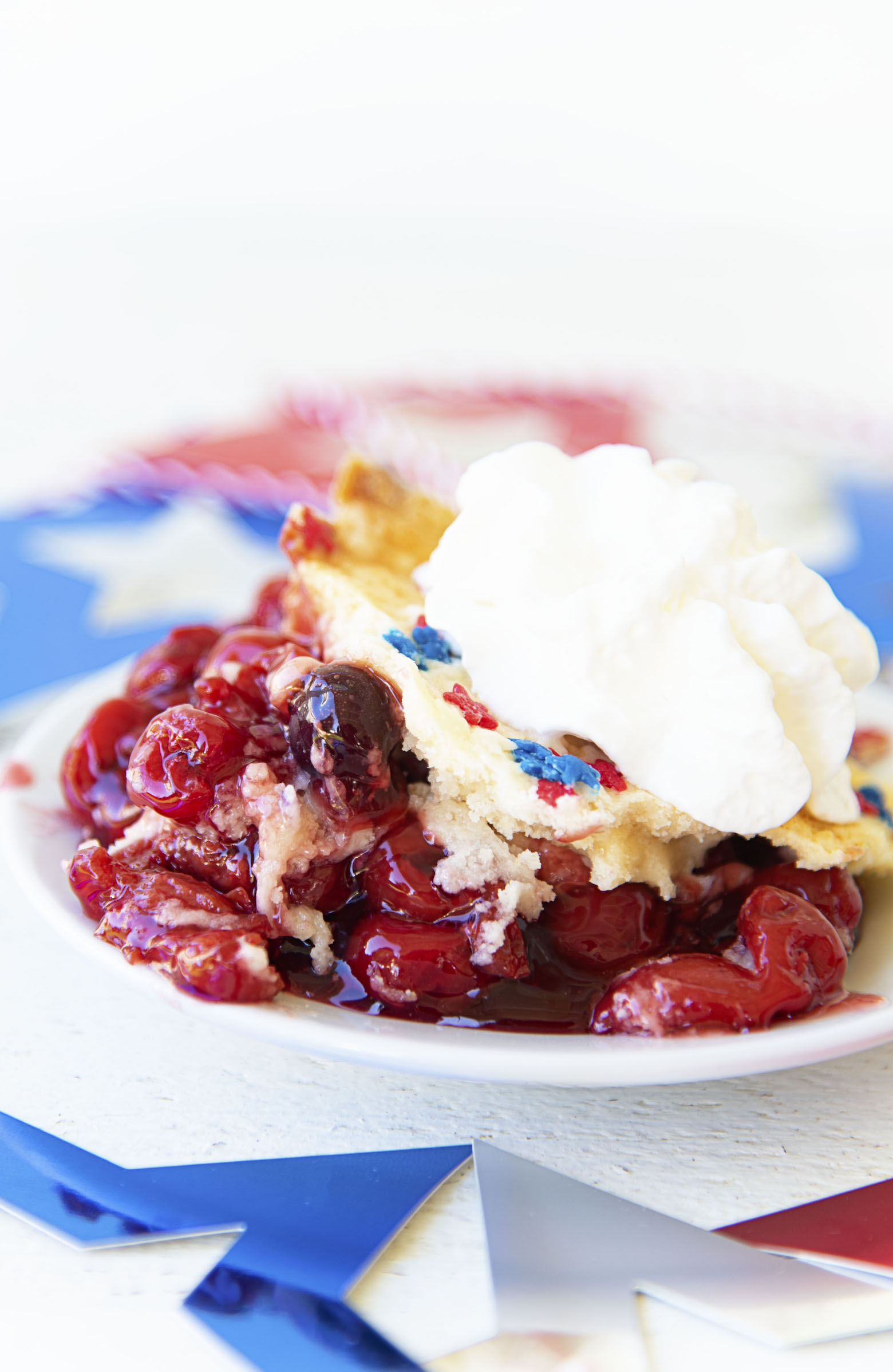 I'm not sure who invented the dump cake but I love them.
I often wonder how they got the idea.
Sometimes I think it was invented by someone getting ready to move and just dumped what was in their cupboard.
In order to avoid packing it up.
But more likely it was invented by a woman who's husband tells her at 10 o'clock at night that he signed them up to bring dessert to a potluck the next day. 😀
And she had to work with what they had.
Regardless of how it came about, I'm glad it exists.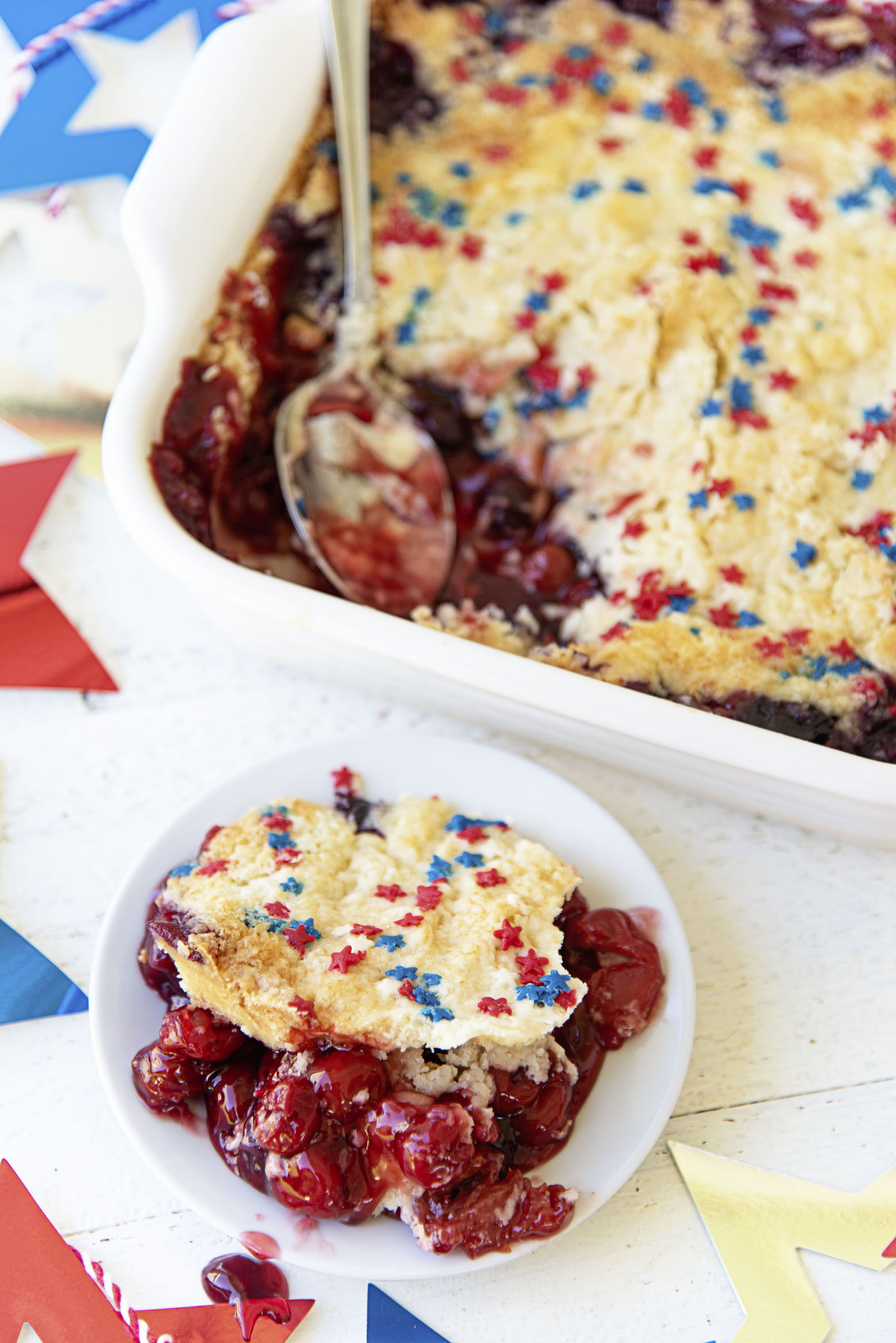 I've made a ton of dump cakes in my lifetime.
This time around I made a Cherry Blueberry Dump Cake so that I could have a red, white, and blue dessert.
We had it for Memorial Day but of course it works great for the 4th of July.
And any day really.
You can just leave off the sprinkles.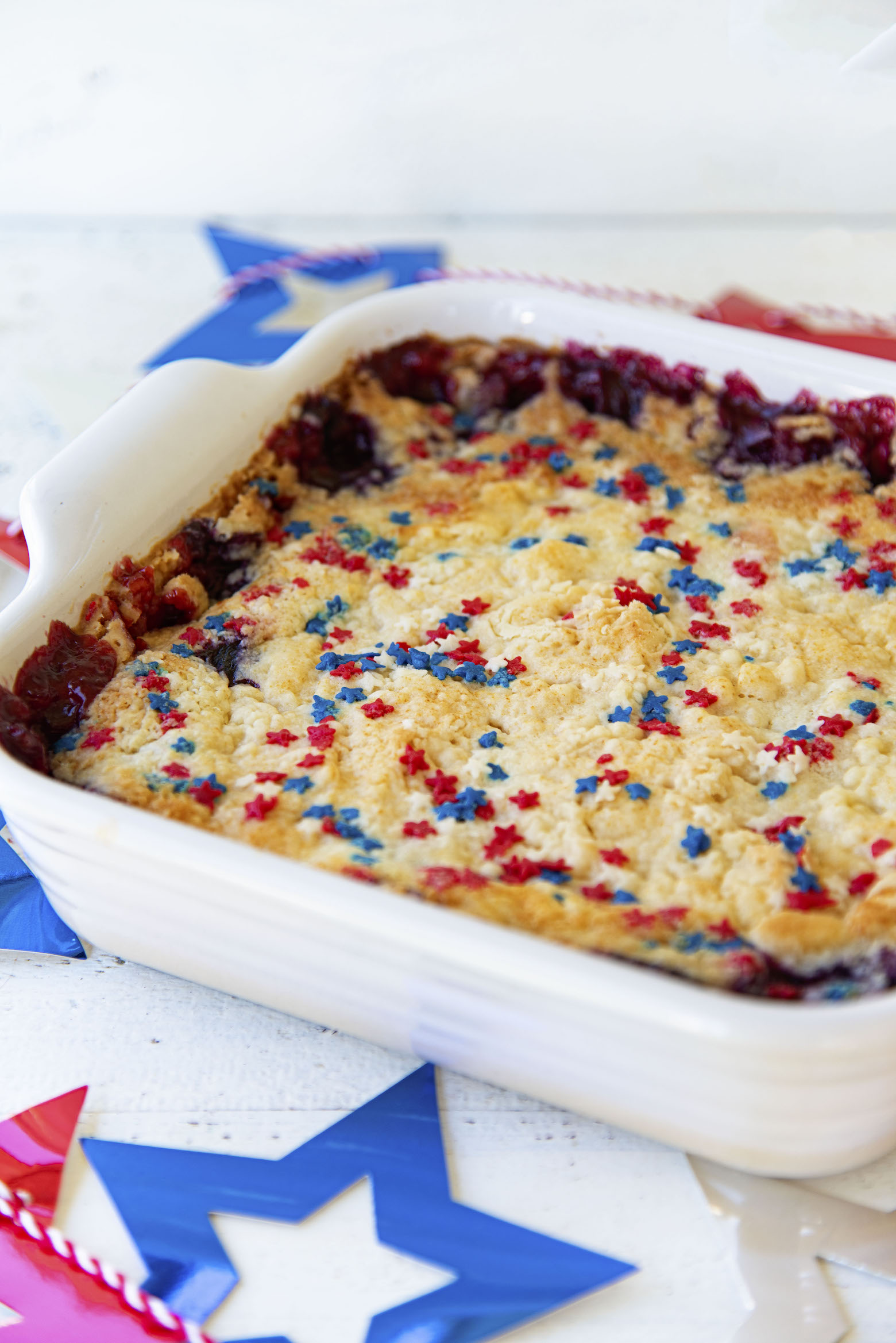 If you are unfamiliar with dump cakes think of them as a different type of cobbler.
Fruit goes on the bottom.
Then instead of having pie crust on top or streusel you have cake mix.
I have tried to use a homemade mix in the past but honestly it just doesn't work as well.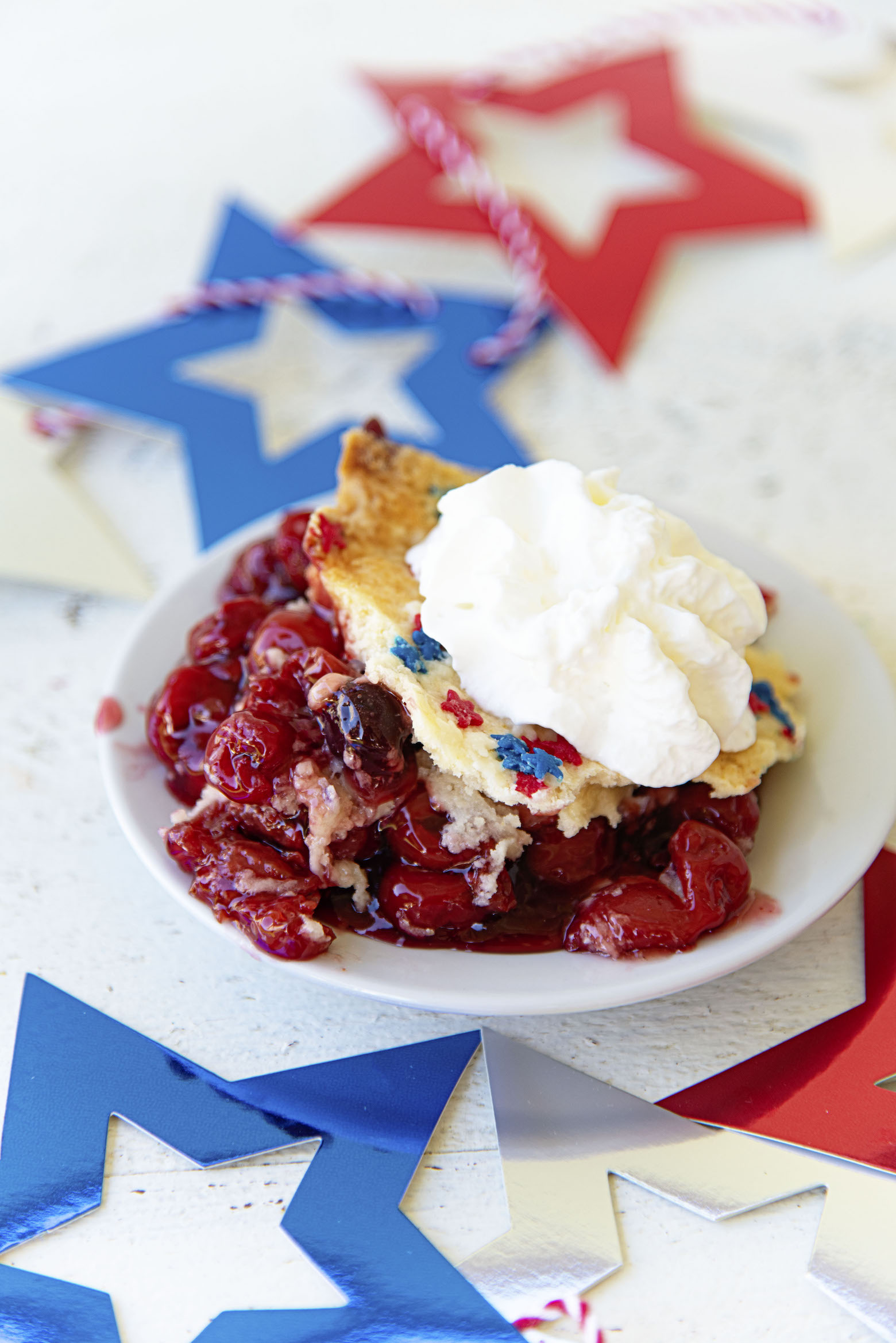 Dump cake to me is a great dessert to have a barbeques.
It's easy.
A crowd pleaser of adults and kids alike.
And it's no fuss so you can focus on the grilling.
Last but not least…it's a great time to order my cookbook. 😀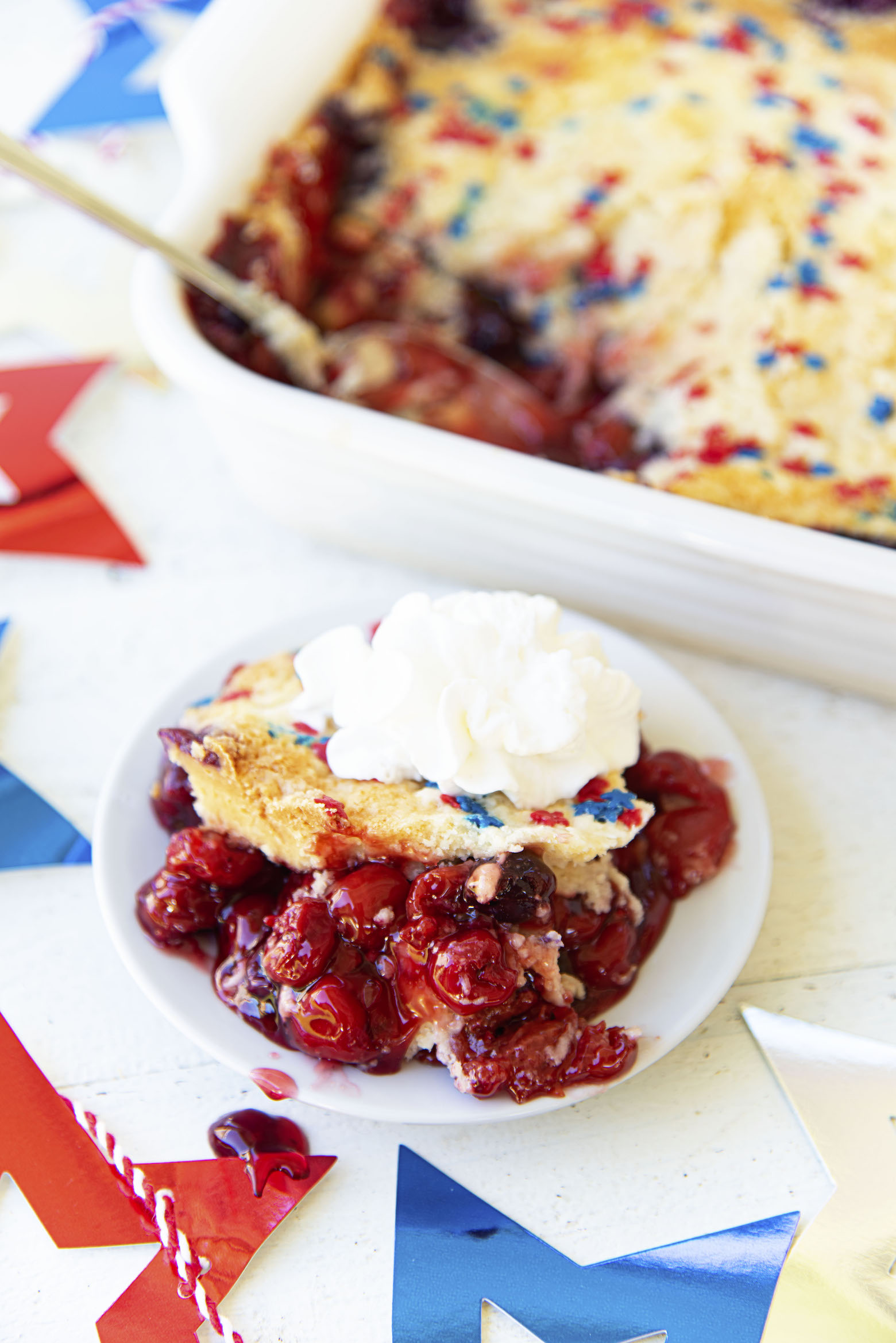 Want More Dump Cake Recipes?
Peach Blackberry Oatmeal Cookie Cobbler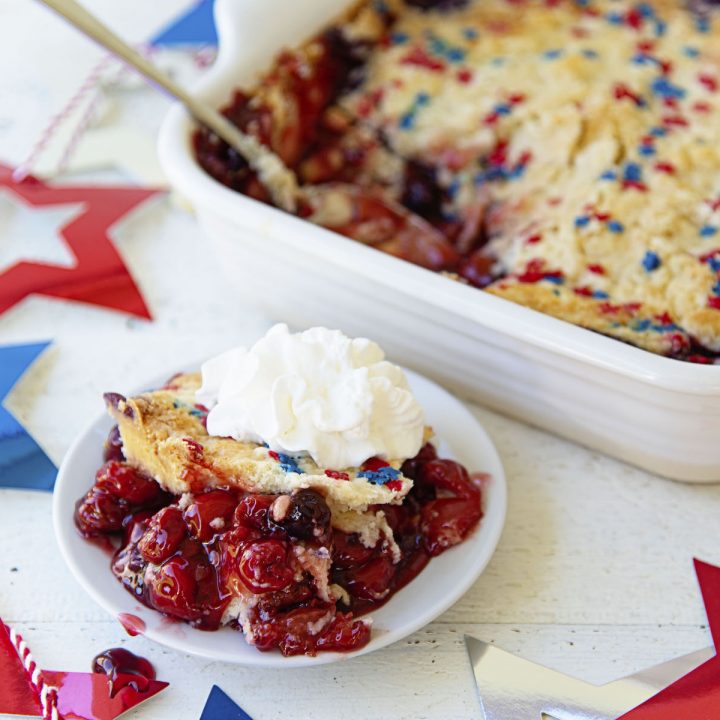 Cherry Blueberry Dump Cake
Ingredients
1 box White Cake Mix (I used Betty Crocker)
2 cans (21 ounces each can) cherry pie filling
8 oz fresh blueberries
8 oz (1 cup) unsalted butter, melted
red white and blue sprinkles
Instructions
Heat oven to 350F.
Spray a 9×13 inch pan with baking spray.
Dump the two cans of cherries into the pan.
Add the blueberries and mix them throughout the cherry pie filling.
Spread with a spatula to make even.
Sprinkle cake mix over the cherries, doing your best to evenly distribute the mix.
Pour butter evenly as best you can over the cake mix.
Sprinkle the sprinkles on top of the butter covered cake mix.
Bake for 50-60 minutes.
Remove from oven.
You can serve dump cake warm or cold.
I prefer mine warm for dessert and cold for breakfast. 🙂
Serve with ice cream or whipped cream for extra yumminess