This French Onion Soup Flatbread is made with French Onion soup that has been reduced and topped with smoked Gruyere and other cheeses.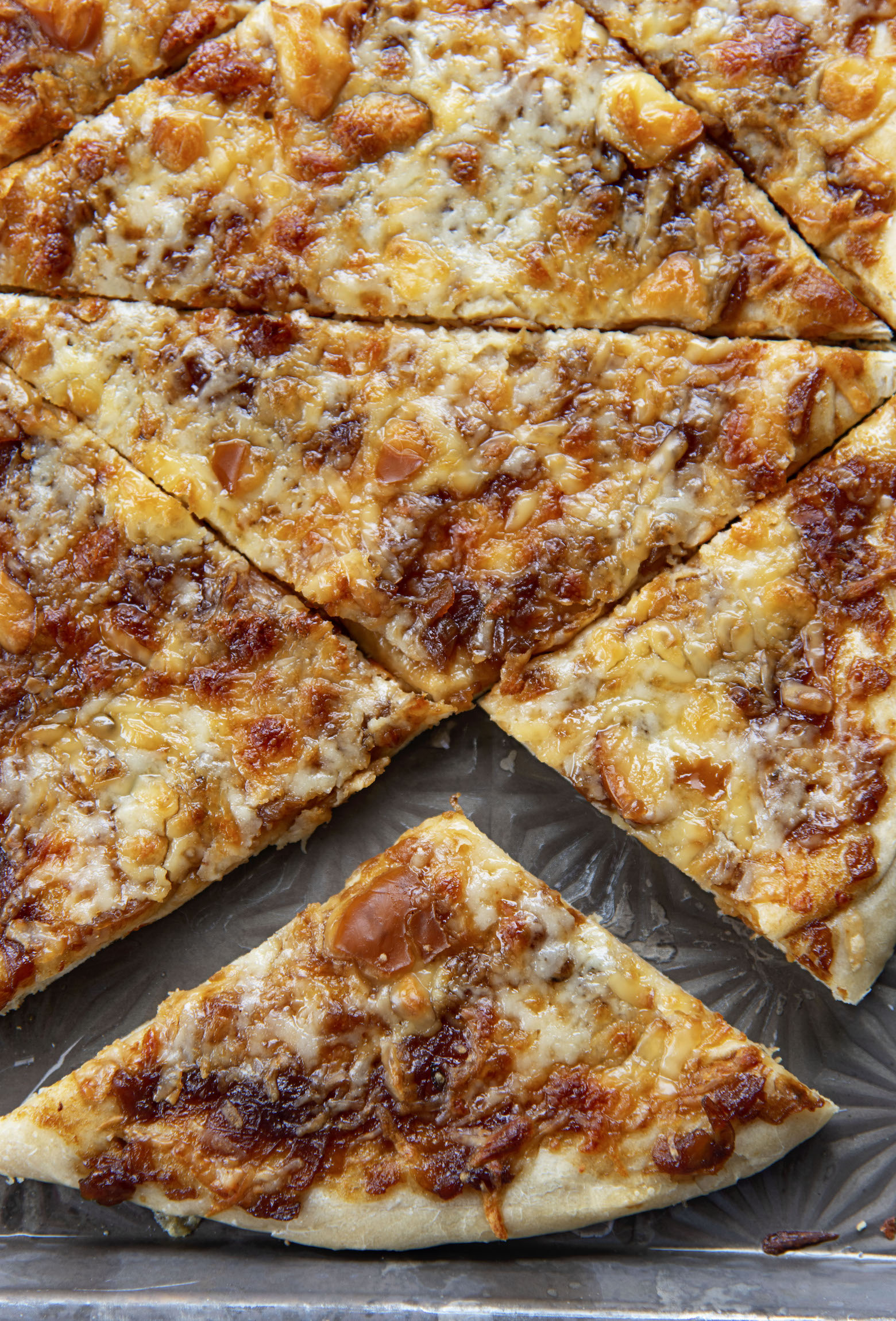 I have a love affair with French Onion Soup.
That affair was briefly interrupted when I became vegetarian.
But luckily I was soon able to convert the soup to vegetarian.
And soon after that I started reducing the soup down into a spread.
Which I have used in all sorts of recipes.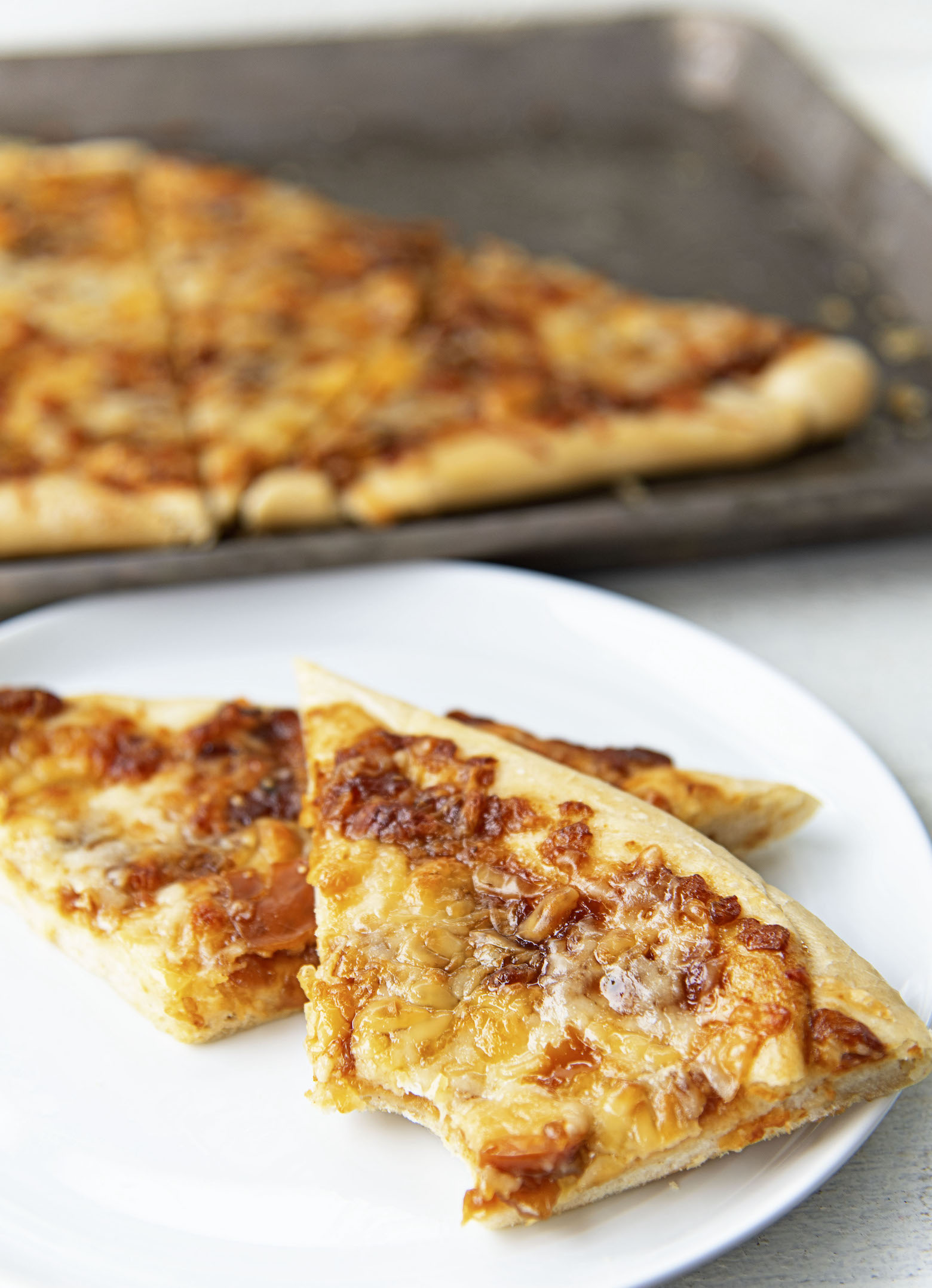 Caramelized onions are one of my favorites because they can be added to so many things.
At least once a week I caramelize some onions.
They go great in dips.
On sandwiches.
And soups of course.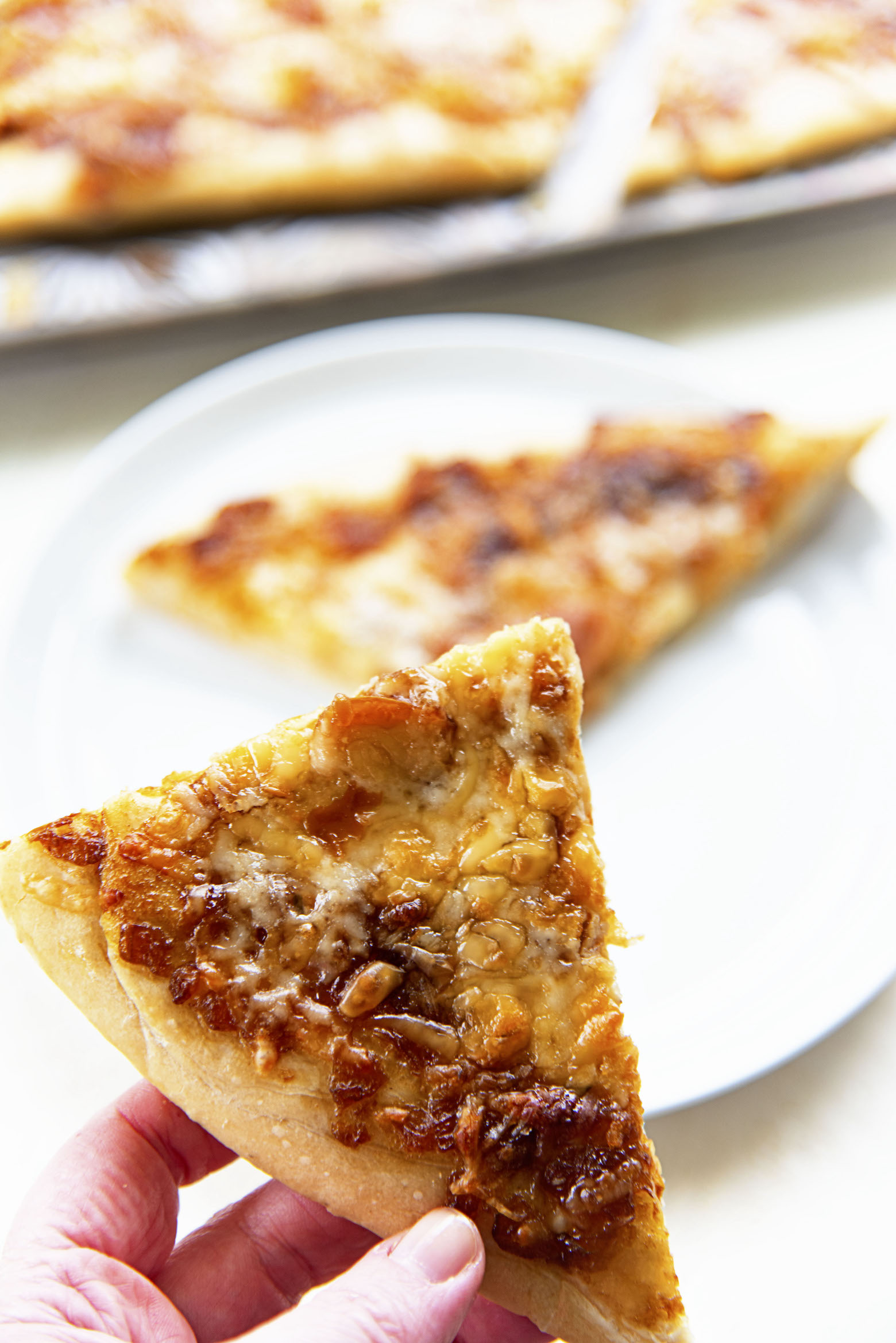 This dough is an olive oil flatbread dough.
You may also know it as pizza dough.
I made my own and have included the recipe.
But if you want to make life easier and less time consuming many grocery stores now sell their own fresh pizza dough.
You can usually find it in the deli section of the store.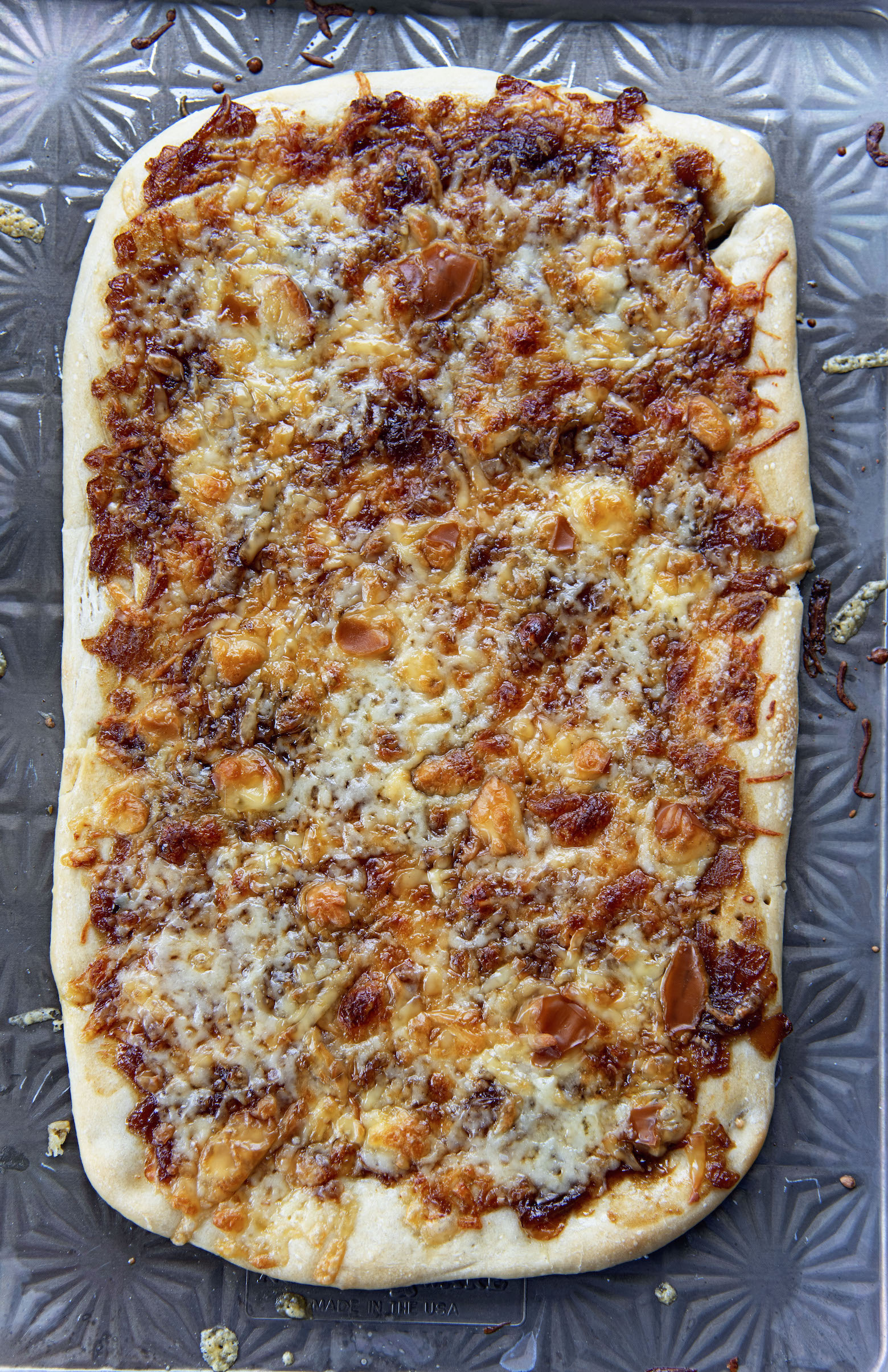 What separates this flatbread from just a French Onion Flatbread is that you literally make French Onion Soup.
Then reduce it down.
Reduce some more.
And then some more.
Until there is not liquid left.
You are left will all the flavors of the soup but now it can be used in so many ways.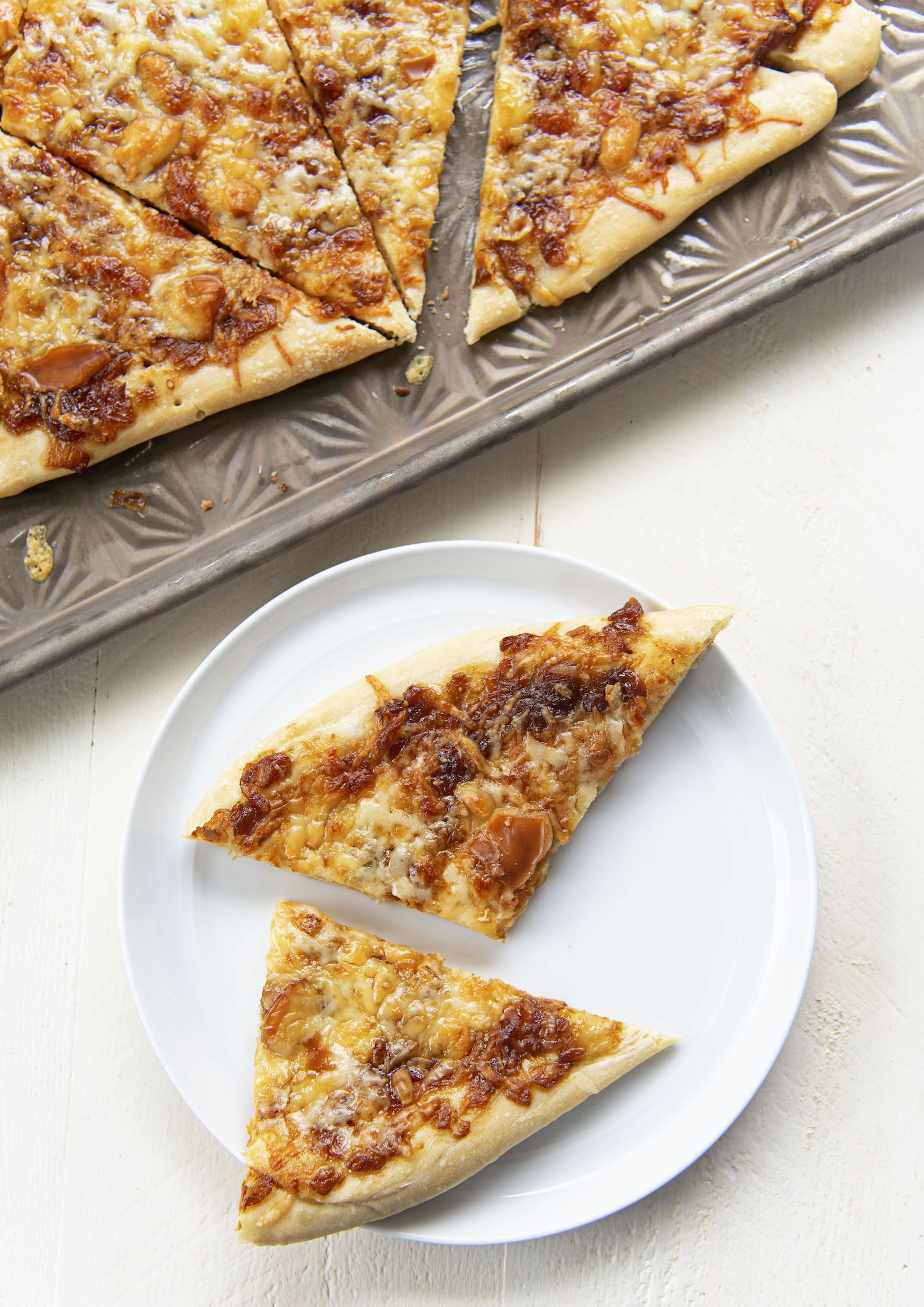 I use two different types of gruyere in this recipe.
A plain gruyere.
And a smoked gruyere.
The smoked gruyere I find in my deli and I believe Boar's Head makes it.
If you don't want to spend the money on those cheeses (they can be pricey) I suggest using Swiss cheese.
Though really, you want the gruyere…it just really adds something.
And oh yeah, it's a great day to buy my cookbook.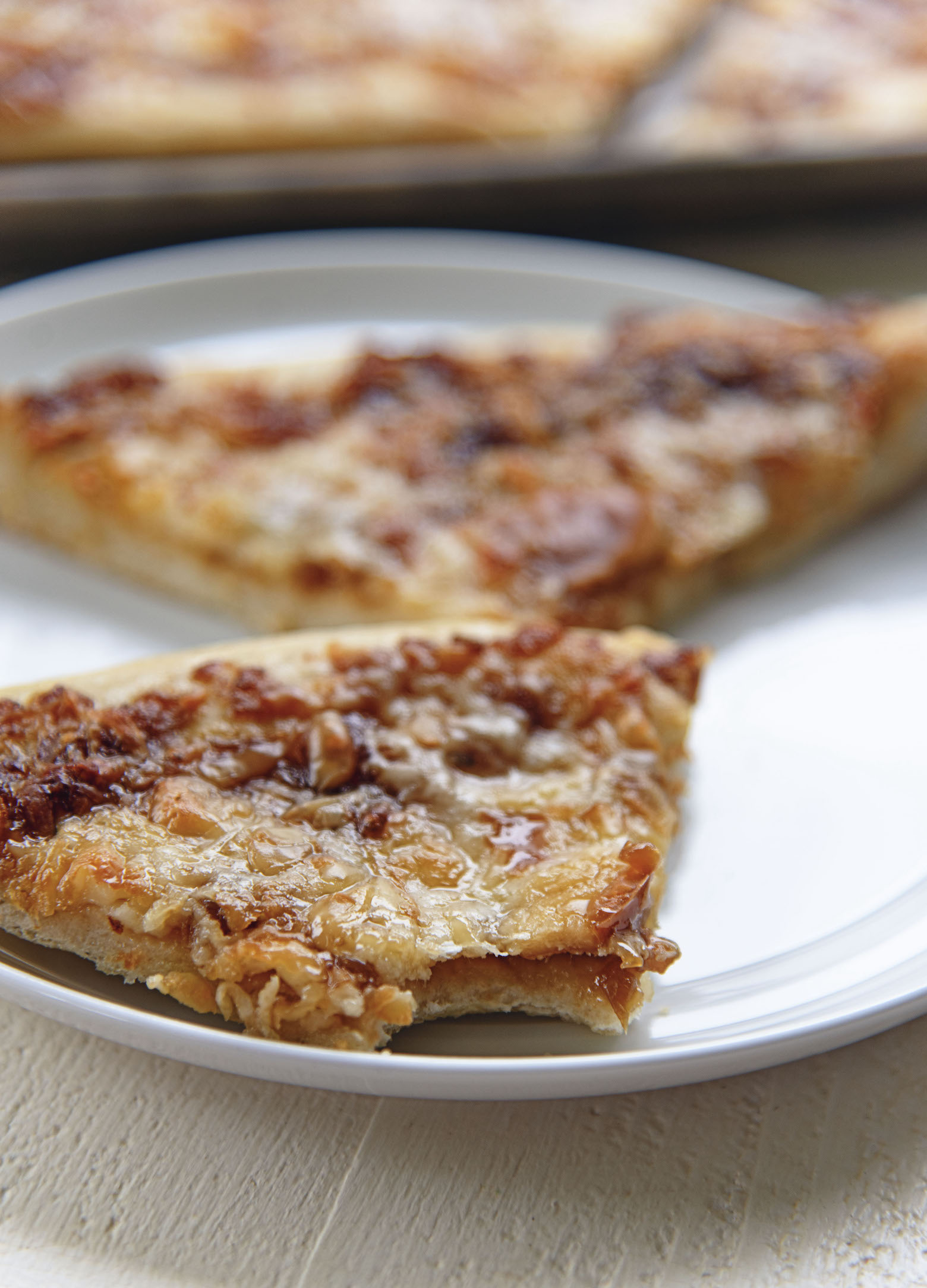 Want More French Onion Recipes?
Perfect for Two French Onion Soup Baked Potatoes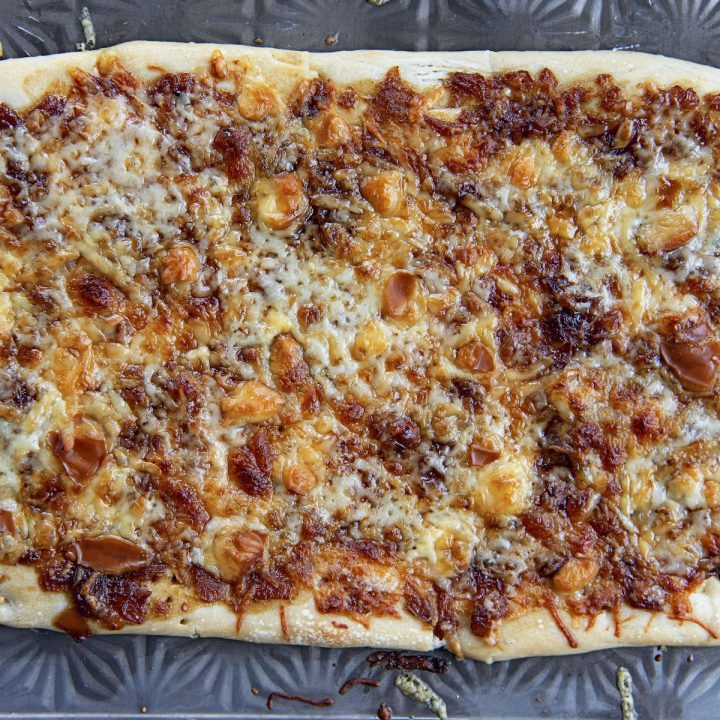 French Onion Soup Flatbread
Ingredients
For the Dough:
3/4 cup warm water (105°F to 115F)
1 envelope active dry yeast (I used Red Star Yeast)
2 cups (or more) all-purpose flour
1 tsp. granulated sugar
3/4 tsp. salt
3 TBSP olive oil
For the French Onion Soup Reduction:
1 each yellow, white, and red onion, sliced (6 cups)
2 TBSP minced fresh garlic
2 TBSP olive oil
½ cup dry white wine
3 TBSP dry sherry
2 TBSP all-purpose flour
1 ½ cups Better than Bouillon No Chicken Base (prepared with water to equal 1 1/2 cups)
1 ½ cups Better than Bouillon No Beef Base (prepared with water to equal 1 1/2 cups)
1 sprig fresh thyme
Salt and black pepper to taste
For the Topping:
1 cup smoked gruyere cheese
1 cup gruyere cheese
1/2 cup Italian blend cheese
Instructions
For the Dough:
Pour 3/4 cup warm water into small bowl; stir in yeast.
Let stand until yeast dissolves, about 5 minutes.
Brush large bowl lightly with olive oil.
Mix 2 cups flour, sugar, and salt in processor.
Add yeast mixture and 3 tablespoons oil; process until dough forms a sticky ball. Transfer to lightly floured surface. KNEAD dough until smooth, adding more flour by tablespoonful's if dough is very sticky, about 1 minute.
Transfer to prepared bowl; turn dough in bowl to coat with oil.
Cover bowl with plastic wrap and let dough rise in warm draft-free area until doubled in volume, about 1 hour.
Punch down dough.
Roll out dough...I just hand shaped because I'm lazy.
For the French Onion Soup Reduction:
Sweat onions and garlic in oil in a large pot over medium heat, covered, for 10 minutes.
Uncover pot, increase heat to medium-high and cook onions until caramelized, stirring frequently, 20 minutes. Continue to cook down until fully caramelized...¦this can take up to an hour. But it's worth it to get them just right.
Deglaze pot with wine and sherry; increase heat to high and simmer until liquids evaporate, stirring often.
Stir in flour and cook 1 minute.
Add the no chicken and no beef prepared broth and thyme; simmer soup 10 minutes, season with salt and pepper, and discard thyme sprig.
Cook down the broth and onion mixture until the majority of the liquid is gone. You want it thick and not runny. Set aside.
To make the flatbread:
Preheat oven to 375F.
On a lightly floured surface pat out dough evenly with your fingers, keeping hands flat and lifting and turning dough over several times, into a 9-inch round. (Do not handle dough more than necessary. If dough is sticky, dust it lightly with flour.)
Dust a baker's peel or rimless baking sheet with flour and carefully transfer dough to it.
Jerk peel or baking sheet once or twice and, if dough is sticking, lift dough and sprinkle flour underneath it, reshaping dough if necessary.
If you do not have a peel...the back of a cookie sheet works in a pinch.
Bake without topping for 5 minutes.
Remove from oven and spread on a cup of French Onion Soup Reduction.
Sprinkle with the various cheeses and place back into oven for another 10 minutes until things get bubbly.
You are going to want to watch this since you don't want it to burn.