Vegetarian French Onion Soup: Enjoy all the flavors of classic French Onion Soup but with an all vegetarian base filled with tons of caramelized onions and topped with gruyere toasts.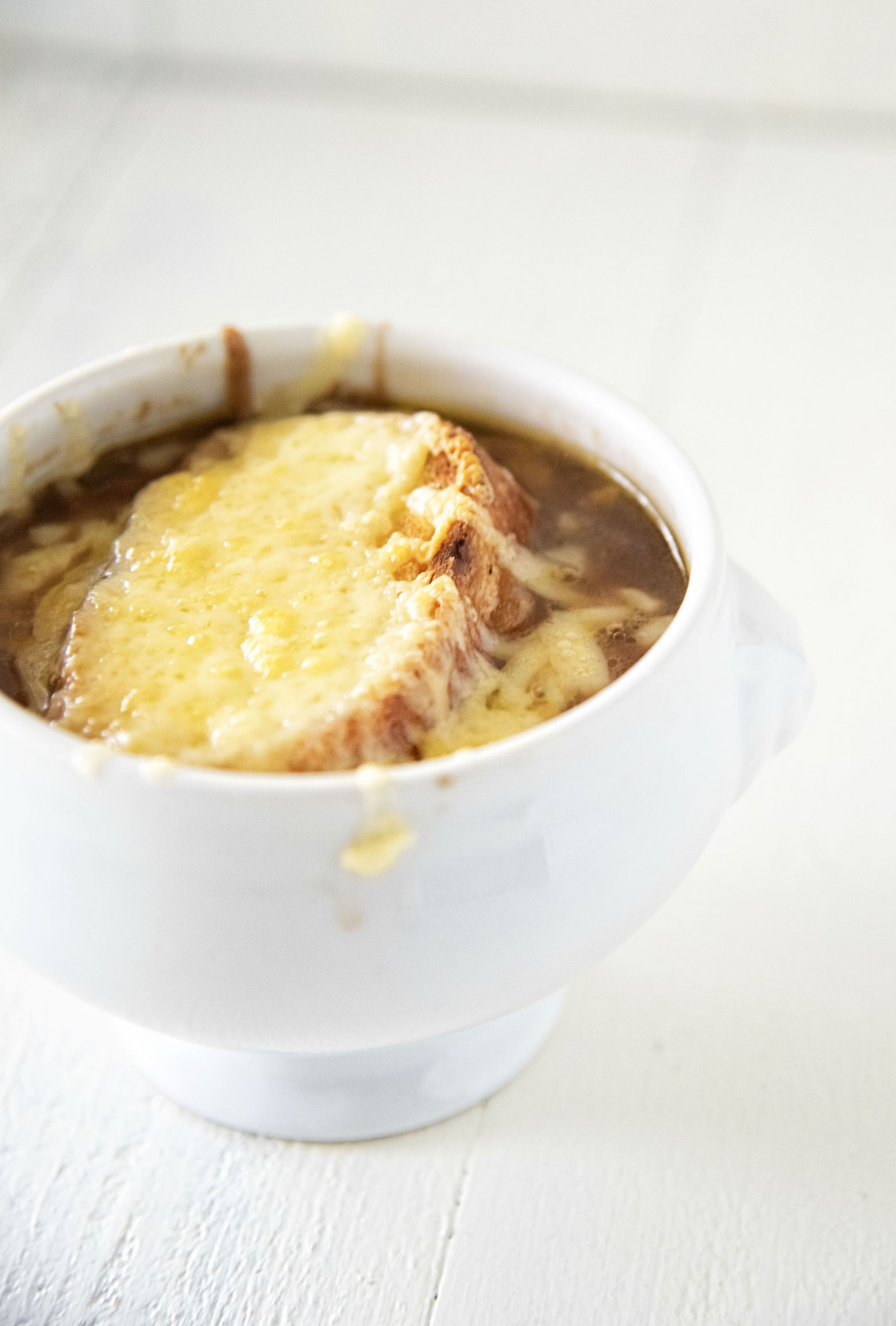 I absolutely love French Onion Soup.
It's one of those things that I would order pretty much anytime it was on the menu.
My go to soup at Panera.
But once I gave up meat I had to say goodbye.
And that made me incredibly sad.
Like saying goodbye to an old friend.
Then I found the Better Than Bouillon no chicken and no beef bases.
This is not an ad or a sponsored post but I would love to work with them.
It comes as a base and you do have to mix it with water so be sure to read the directions on the jar.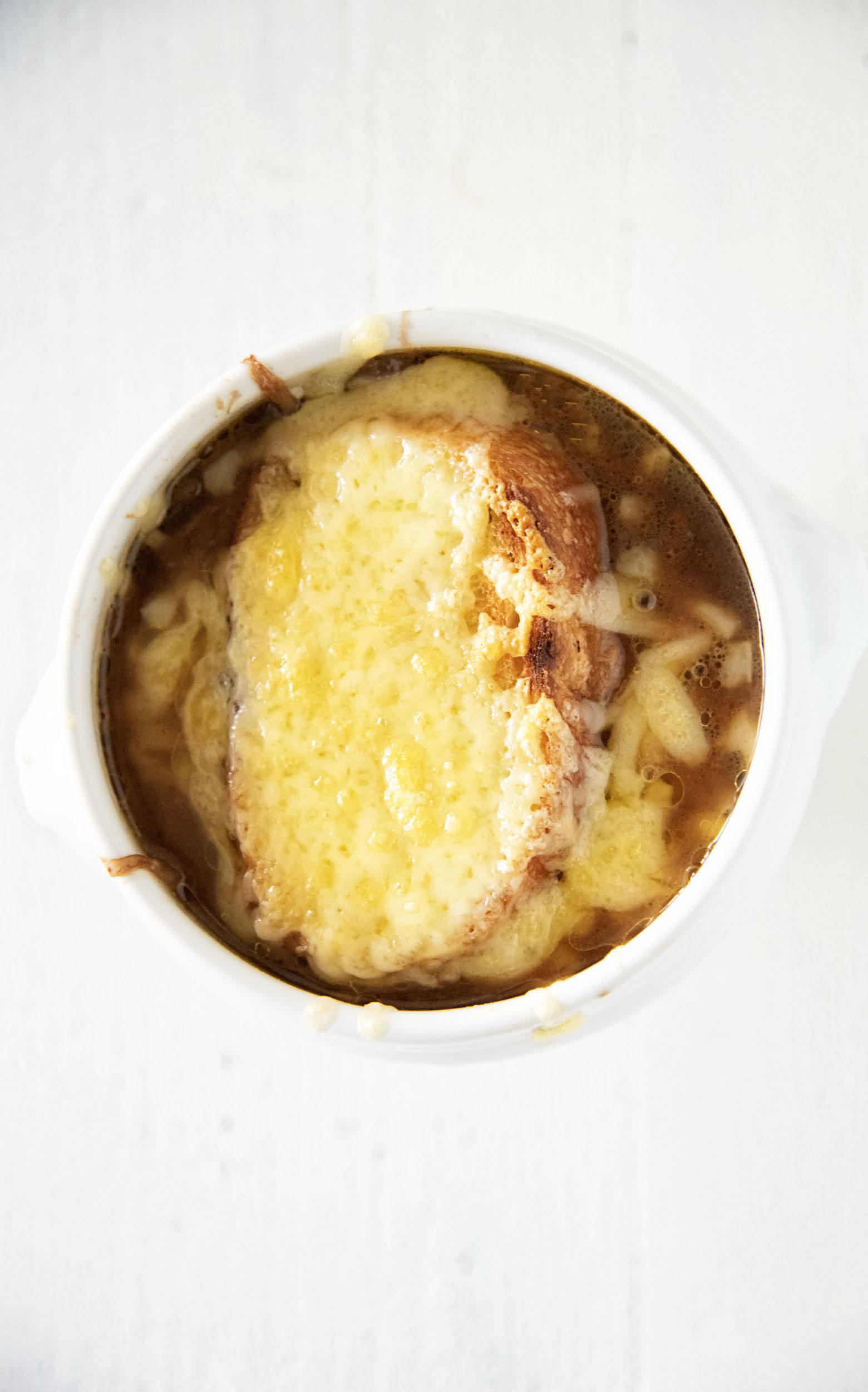 Thanks to them I got my French Onion Soup back.
Vegetarian French Onion Soup
My husband and I were thrilled.
It turned out better than we could imagine.
Make sure to not be shy on the cheese as it is half the fun of French Onion.
If you plan on baking the soups in the oven be sure that your bowl is oven safe since most are just microwave and dishwasher safe.
Can't find Gruyere or want a cheaper option try Swiss cheese instead.
P.S. It's a great day to buy my cookbook Holy Sweet!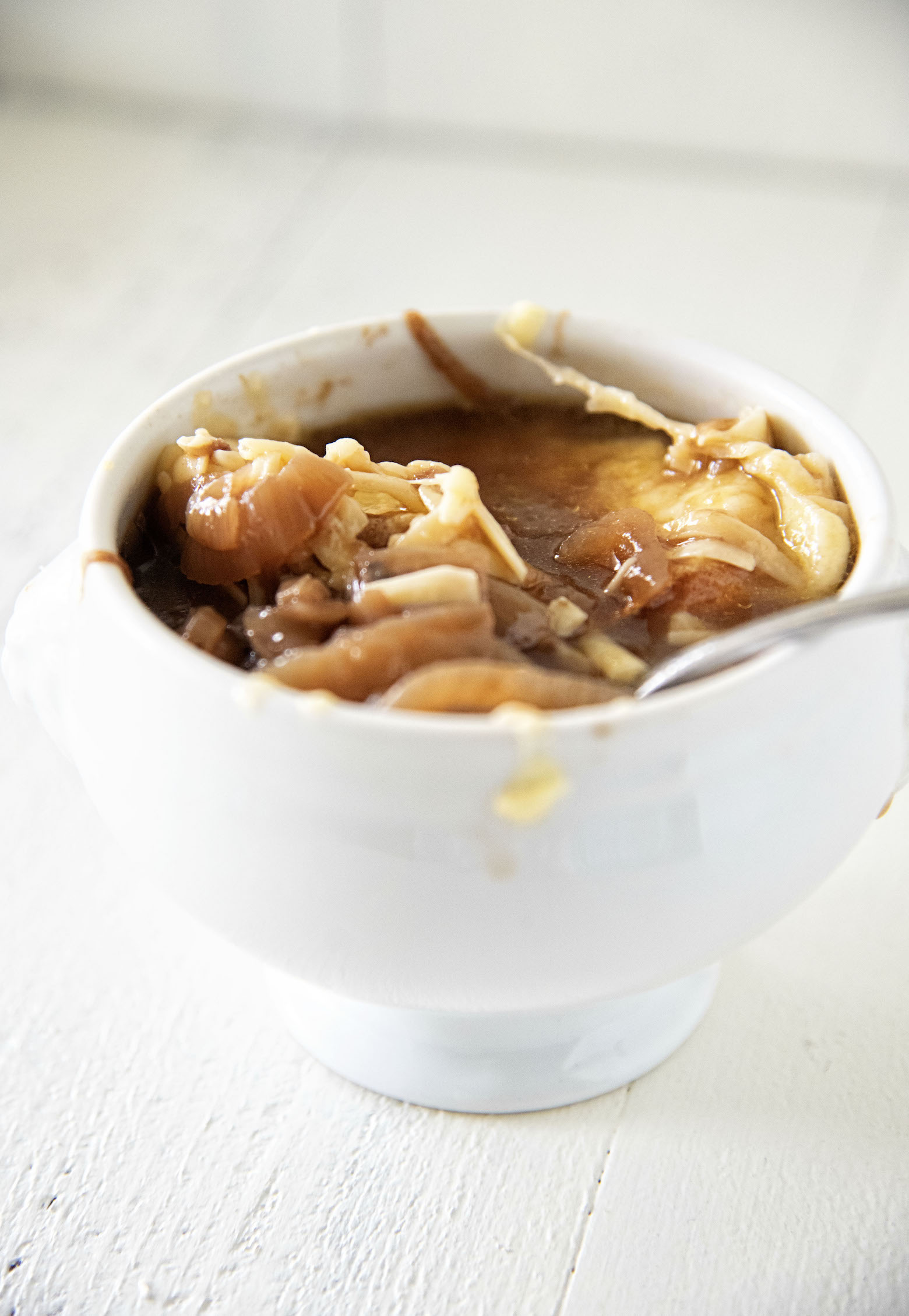 Want More Soup Recipes?
Roasted Garlic Chili White Bean Soup
Dill Pickle Cheddar Cheese Soup
Caramelized Onion Potato Ale Soup
Vegetarian Vegetable No-Beef Soup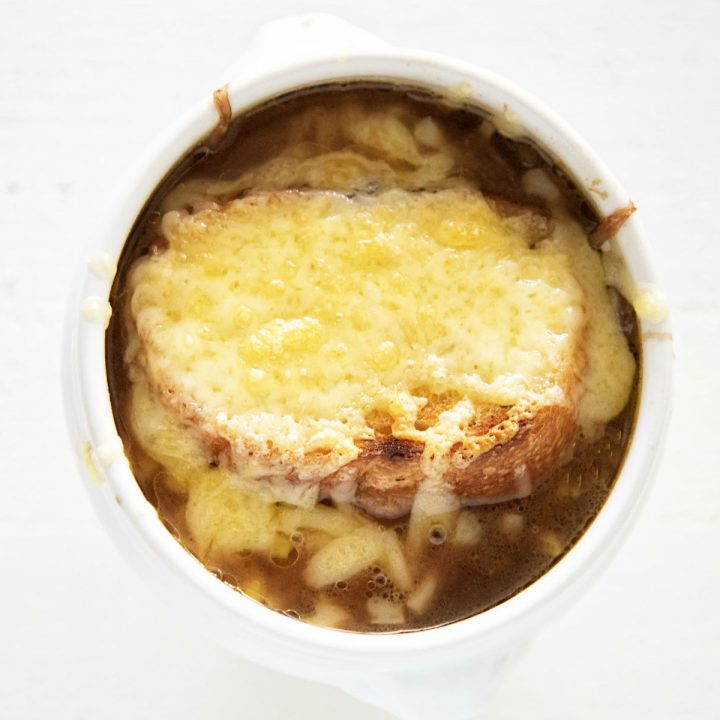 Vegetarian French Onion Soup
Ingredients
For the soup:
1 each yellow, white, and red onion, sliced (6 cups)
2 TBSP minced fresh garlic
2 TBSP olive oil
½ cup dry white wine
3 TBSP dry sherry
2 TBSP all-purpose flour
1 ½ cups Better than Bouillon No Chicken Base (prepared with water to equal 1 1/2 cups)
1 ½ cups Better than Bouillon No Beef Base (prepared with water to equal 1 1/2 cups)
1 sprig fresh thyme
Salt and black pepper to taste
Toasted baguette slices:
1 ½ cups shredded Gruyere cheese
½ cup shredded Parmesan
Instructions
Sweat onions and garlic in oil in a large pot over medium heat, covered, for 10 minutes.
Uncover pot, increase heat to medium-high and cook onions until caramelized, stirring frequently, 20 minutes.
Deglaze pot with wine and sherry; increase heat to high and simmer until liquids evaporate, stirring often.
Stir in flour and cook 1 minute.
Add the no chicken and no beef prepared broth and thyme; simmer soup 10 minutes, season with salt and pepper, and discard thyme sprig.
Preheat broiler to high with rack 6–8 inches from element.
Divide soup among 4 ovensafe bowls, top each with baguette slices and cheeses. Place bowls on a baking sheet and broil until cheese is golden, 3–4 minutes.