This King Cake Layer Cake is swirled with purple, yellow, and green layers filled with a praline crumble and of course a baby.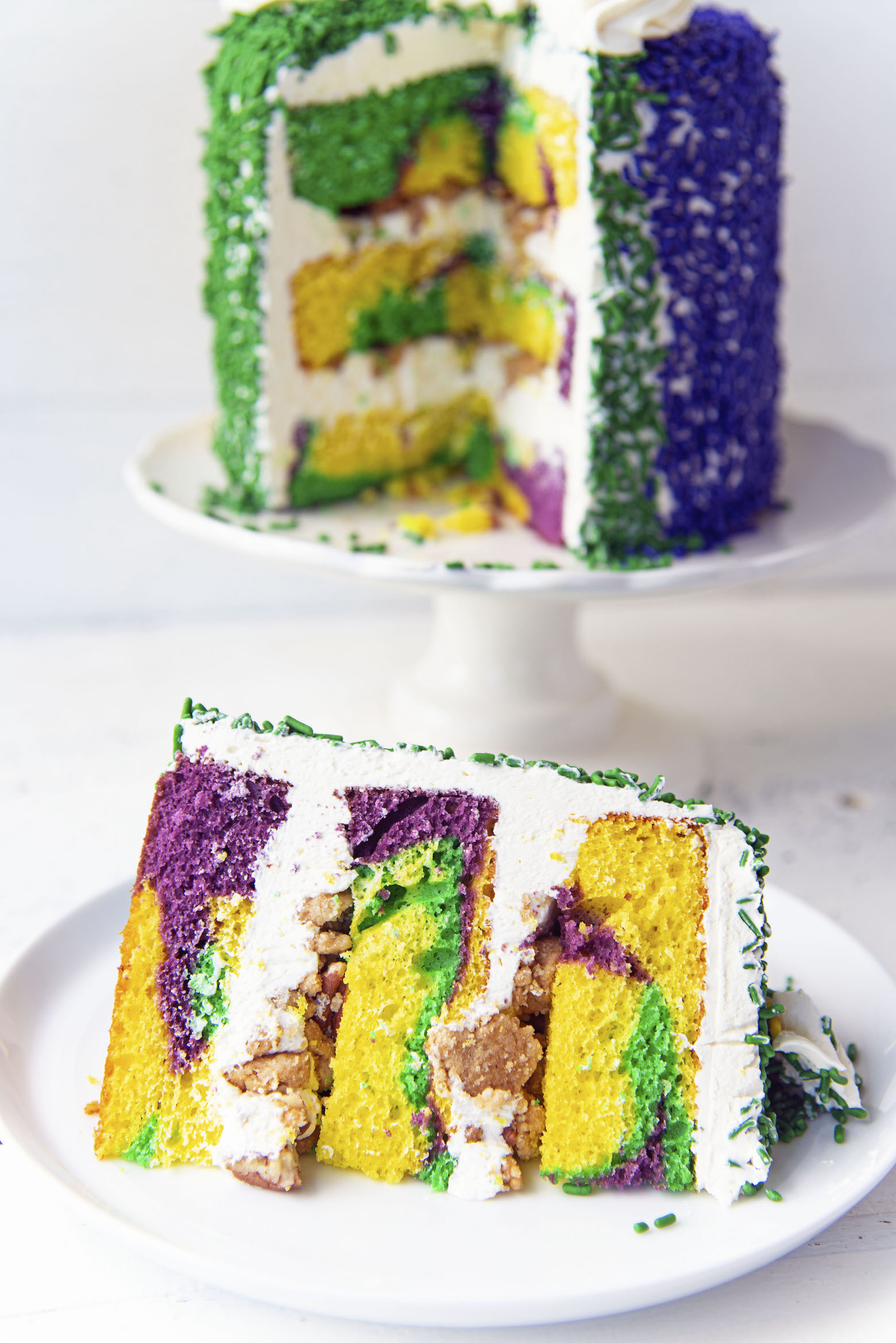 So I've never lived in a place where Mardi Gras is a thing.
I kind of sort of knew what Fat Tuesday was.
And thanks to my Catholic friends in high school I knew what Ash Wednesday was.
In college I got to learn what I was supposed to do to "earn" Mardi Gras beads which I passed on. 😀
Never even heard of King Cake until I made one in a pastry class.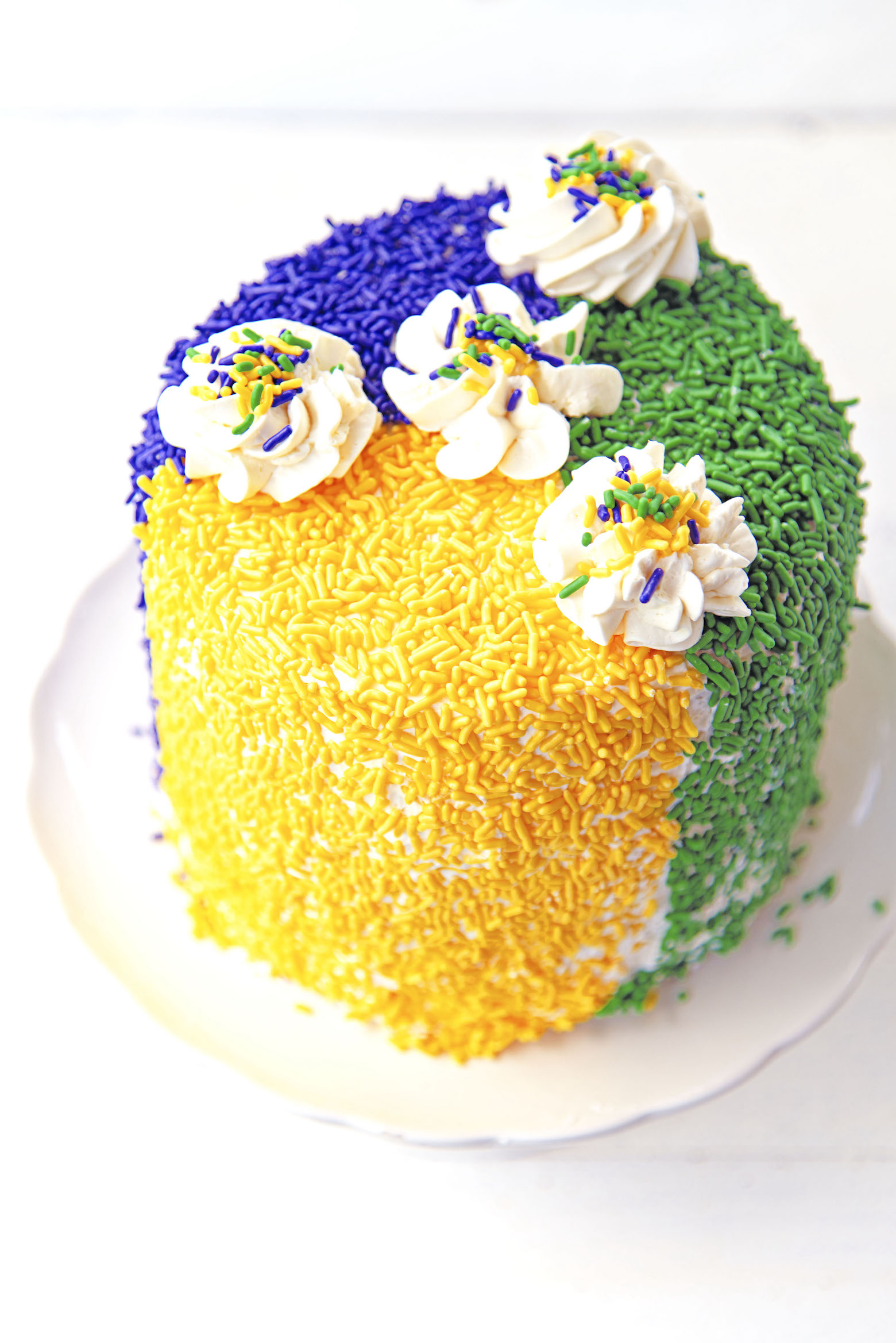 So what is King Cake?
Like so many recipes King Cake is not really a cake.
It's more like a brioche like bread.
Most commonly filled with brown sugar, pecans, and cinnamon.
Basically like a cinnamon roll.
Then it is shaped into a ring.
Topped with a white icing and then sprinkled with yellow, purple, and green sprinkles.
Why those colors?
Purple Represents Justice.
Green Represents Faith.
Gold Represents Power.
And then there is the baby.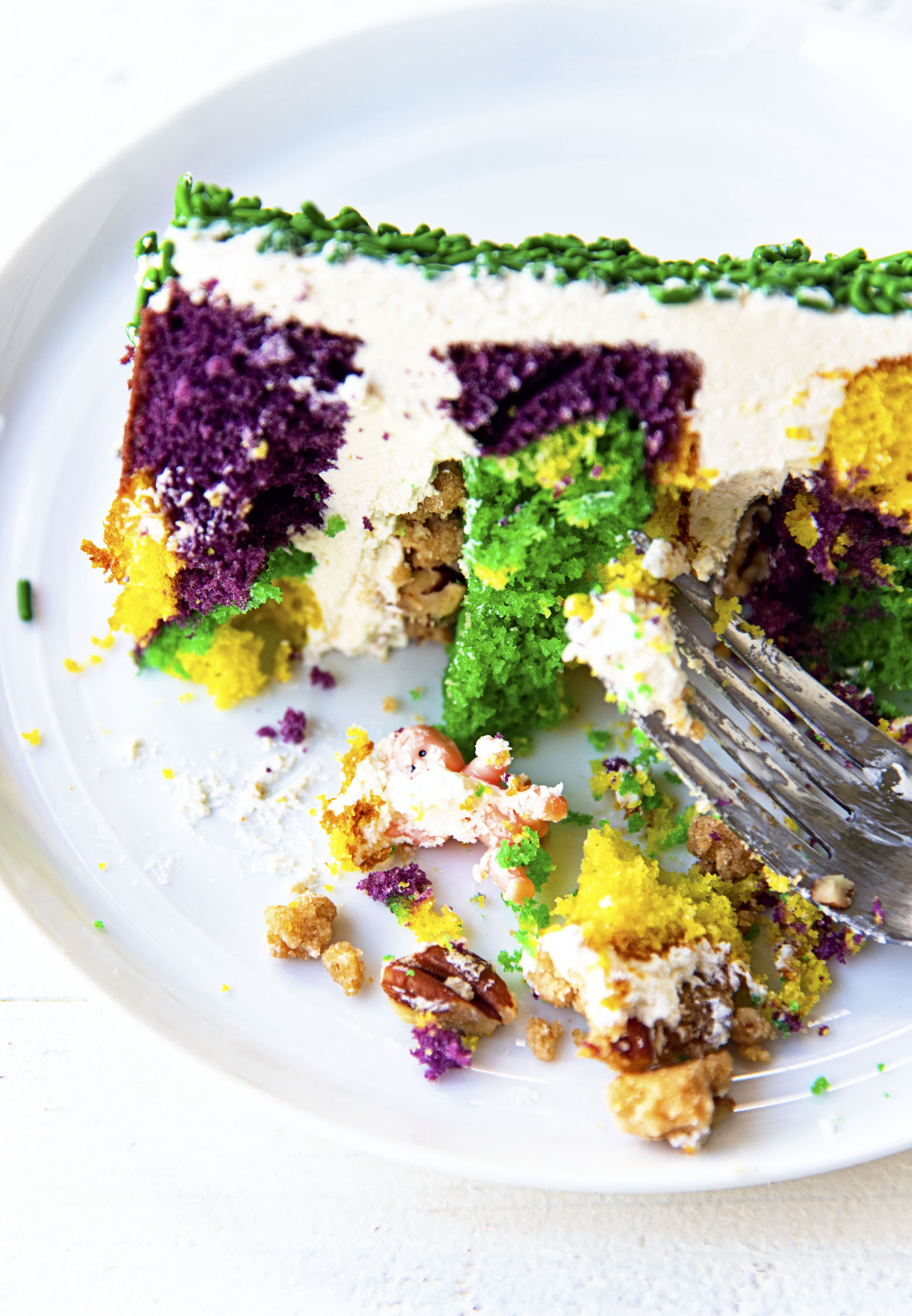 Yes, baby.
My husband thought I was nuts when he started to eat the cake and I said watch out for the plastic baby inside.
Plastic baby inside?
So I had to explain to him that in traditional King Cakes there is usually a porcelain (so it doesn't melt while cooking) baby baked into the cake.
But that I went with plastic because it was cheaper and I put the baby inside the cake after it baked.
This answer didn't clear things up for him. 🙂
I told him if you are the one to find the baby that it's supposed to be good luck.
There is a lot more to it than that but that's the answer I knew he would understand.
Because, well, it's odd.
But then again my favorite holiday involves people huddling around a groundhog to ask him about the weather.
So I'm not one to judge odd. 😀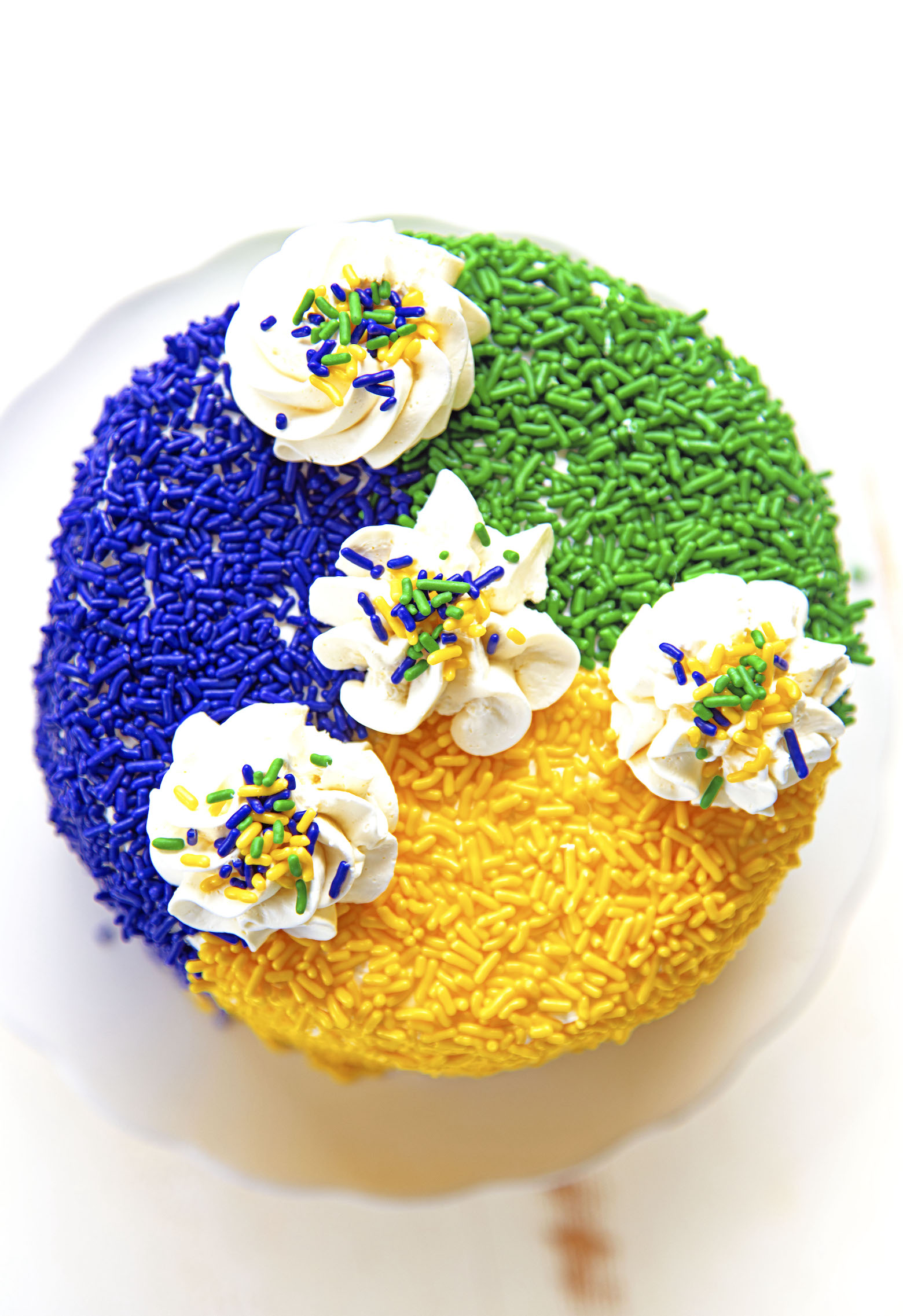 Since there are like a million yeast based King Cake recipes I decided not to make one.
However, I did not see many King Cake…cakes.
Or layer cakes in this instance.
I pictured one with the bright green, yellow, and purple inside.
So that's what I made.
Then added a praline crumb which is crunchy and adds an extra layer of depth to the cake.
Otherwise it's just a vanilla cake with vanilla frosting.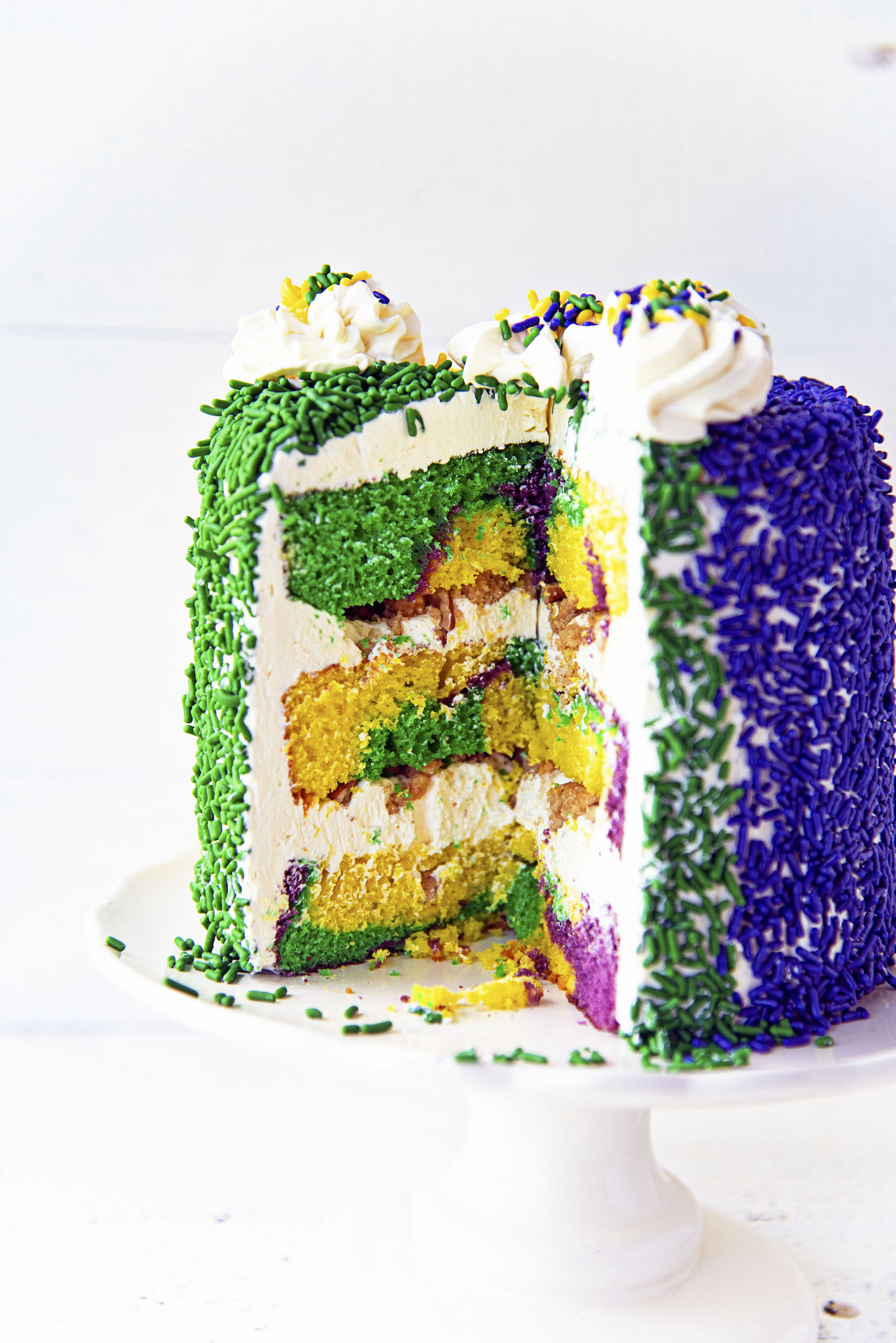 I kind of went sprinkle crazy with the decor.
You don't have to add as many as I do.
Or to separate the colors.
Because I won't lie…there was some swearing when decorating the outside of this cake.
So if you are looking for something a little different this year for Mardi Gras I say you make this King Cake Layer Cake instead of the traditional one.
P.S. It's a great day to buy my cookbook Holy Sweet!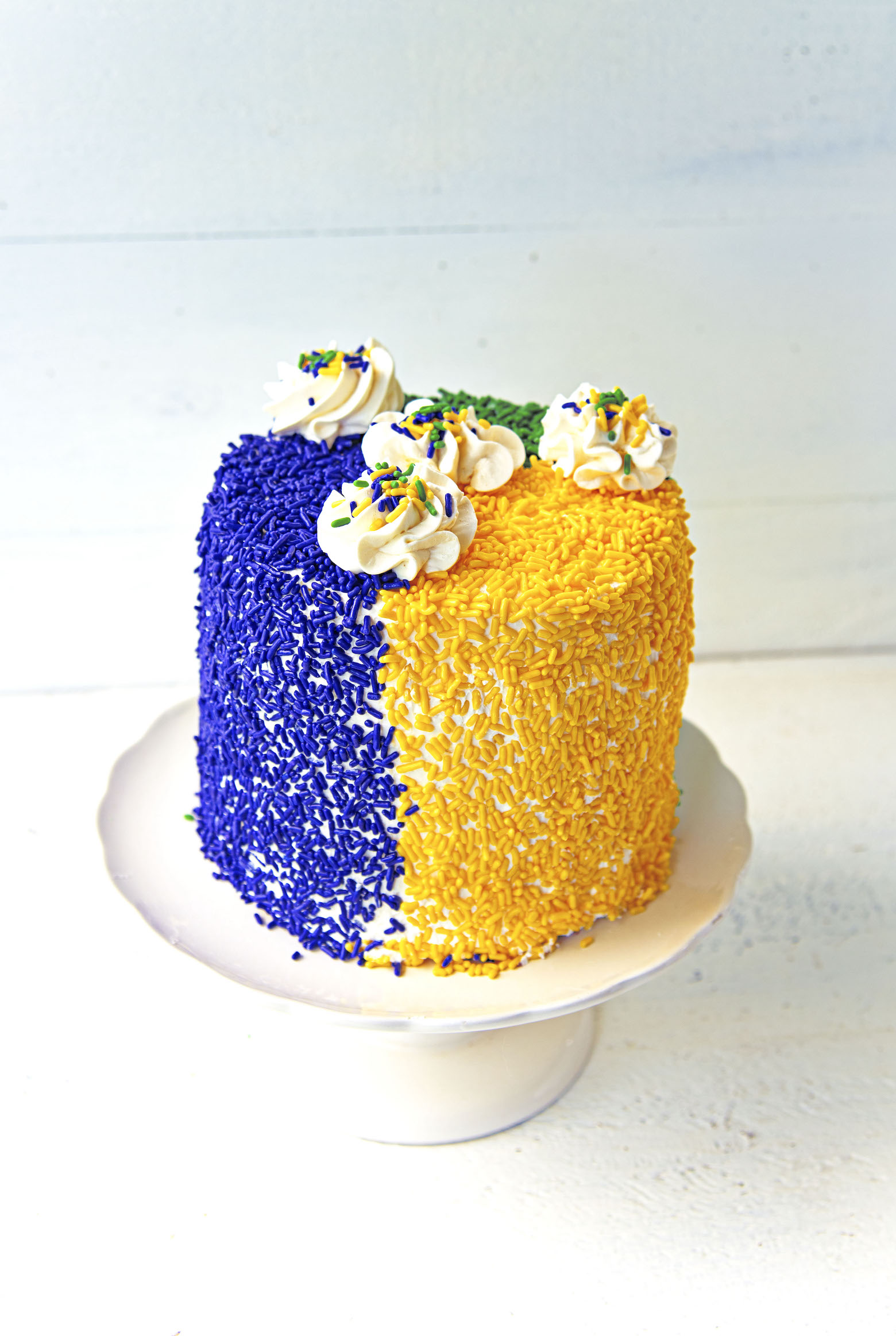 Want more Layer Cake Recipes?
Circus Animal Cookie Layer Cake
Strawberry Lemonade Layer Cake
Strawberry Mascarpone Buttermilk Layer Cake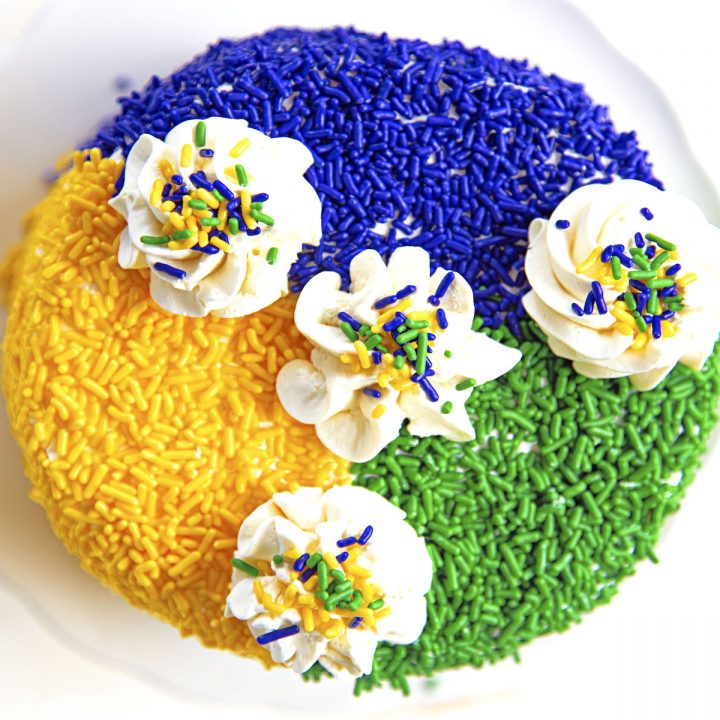 King Cake Layer Cake
Ingredients
For the Praline Crumb:
1/2 cup brown sugar, packed
3/4 cup cake flour
1/2 tsp. baking powder
1/2 tsp. salt
1/2 tsp ground cinnamon
1/4 cup grapeseed oil
1 tsp vanilla extract
1/3 cup chopped pecans
For the Cake:
4 large egg whites
8 TBSP unsalted butter, at room temperature
1/4 cup vegetable oil
1/3 cup sour cream
1 cup whole milk
2 tsp vanilla extract
1 tsp. salt
2 cups all-purpose flour
1 3/4 cups granulated sugar
2 tsp. baking powder
food coloring gel in purple, green, and yellow
For the Frosting:
1 cup egg whites
2 cups granulated sugar
3 cups (6 sticks) unsalted butter, cubed and at room temperature
pinch of salt
2 tsp vanilla extract
green, yellow, and purple sprinkles for garnish
Instructions
For the Praline Crumb:
Heat the oven to 300°F.
Using a stand mixer fitted with the paddle attachment combine the sugars, flour, baking powder, and salt and mix on low speed until well combined. You can also just use a large bowl and a pastry cutter if you don't want to drag out the mixer.
Add the oil and vanilla and paddle again mix until the ingredients form various size crumbles.
Add the pecan pieces and mix until combined and clusters have formed.
Spread the clusters on a parchment lined baking pan.
Bake for 20 minutes, breaking them up occasionally.
The crumbs should still be slightly moist to the touch; they will dry and harden as they cool.
Let the crumbs cool completely before using in a recipe or eating them all in a closet so people don't steal them from you.
Stored in an airtight container, the crumbs will keep fresh for 1 week at room temperature or 1 month in the fridge or freezer.
For the Cake:
Preheat the oven to 350°F.
Line a three 6-inch cake pans with baking spray and parchment circles.
Using a stand mixer with a paddle attachment, beat the butter, sugar, and oil together until it becomes lighter in color, about 3 minutes.
Add egg whites on medium-low speed for 2 minutes.
With the mixer running, add the milk, sour cream, vanilla, and salt. Mix for 1 minute until well combined.
Sift together the flour and baking powder and add to the batter.
Mix on medium until just combined, 10 to 20 seconds.
Remove the bowl and paddle from the mixer and use the paddle to scrape the bottom and sides of the bowl, ensuring that everything is well mixed.
Once all the ingredients are fully combined and the batter is smooth, divide batter into three bowls.
Add purple food coloring to one bowl, green to another bowl, and yellow to the third bowl.
Mix so that the color is fully integrated in each batter.
Scoop the different colored batter alternating colors so that you will have all three colors throughout the cake.
For a swirled effect run your knife into the batter and swirl the colors together.
Bake in the middle of the oven for 25 to 28 minutes, rotating the pan halfway through.
Cakes are done when the centers spring back when you touch them.
For the Frosting:
Place the egg whites and sugar in the metal bowl of a stand mixer and set over a small pot of simmering water (the bowl should not touch the water)
Heat, stirring occasionally, until mixture is 160F or hot to the touch.
Transfer bowl to stand mixer and beat on high speed with a whisk attachment to medium stiff peaks, about 8 minutes.
Reduce mixer speed to medium low and add butter a tablespoon at a time, letting it incorporate into the meringue for few moments before adding more.
Add vanilla and salt and beat on high for 1-2 minutes until smooth and creamy.
If using add the white food coloring to the frosting and mix until fully combined.
Place a cake layer on cake plate and pipe 1/2 cup of the frosting and top with 1/2 cup crumbs.
Place second layer on top of the frosting and crumb and push down slightly until you see the frosting come to the sides.
Add the plastic baby at this point.
Top with the last cake layer.
Frost the cake with a crumb coat layer and let set up for 30 minutes in fridge.
Remove from fridge and frost the cake.
Add green, yellow, and purple sprinkles to the cake.