These Cheetos Deviled Eggs bring a favorite snack food and a popular appetizer together in all it's bright orange glory.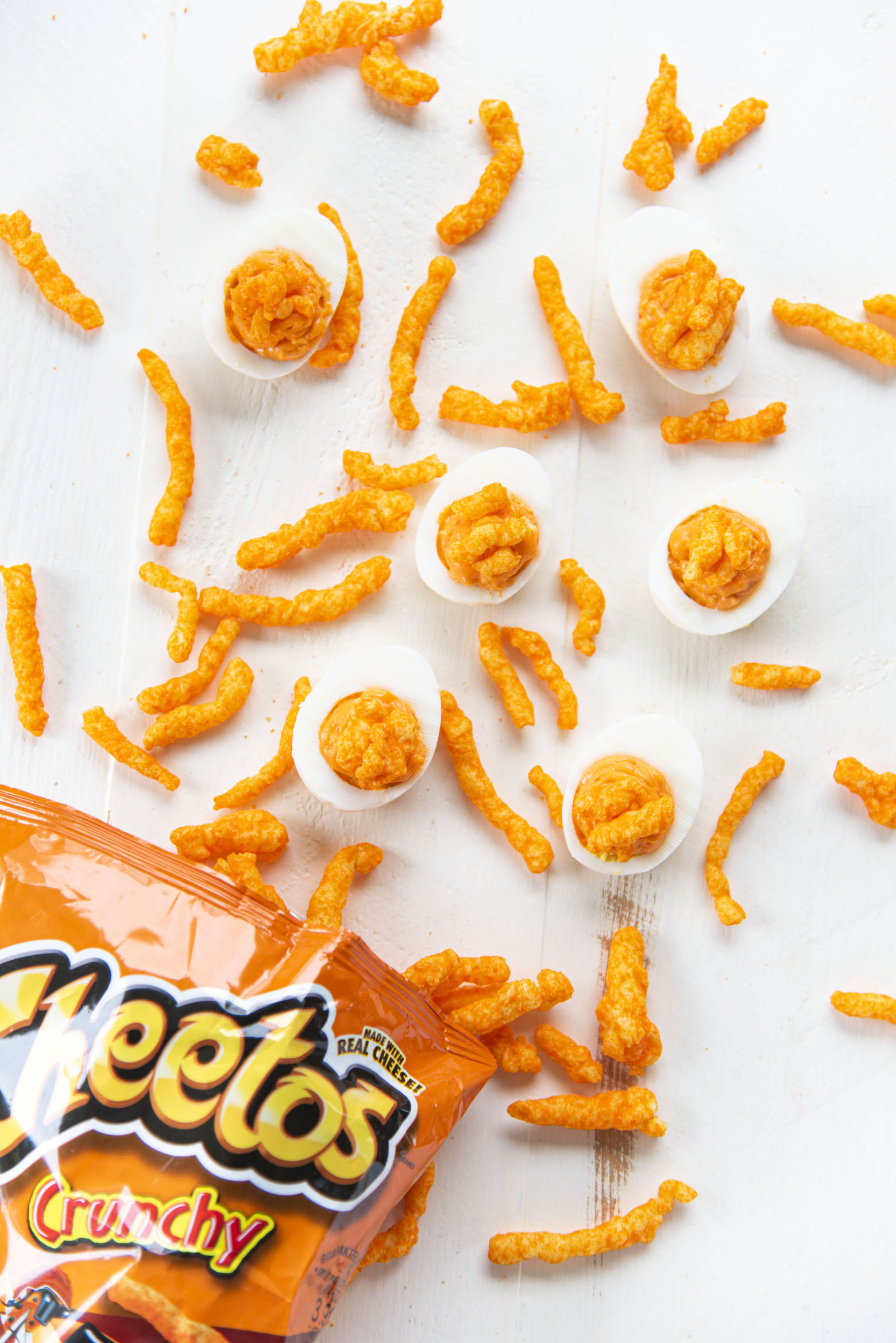 I'm not sure when but a while back Cheetos came out with their version of boxed mac and cheese.
I'll be honest and say I wasn't that impressed.
I'm a Kraft dinner girl all the same.
But while I was eating it I kept thinking about what I could make with the cheese packet.
I had been throwing around the idea of doing a pimento cheese deviled egg and so I figured let's try Cheetos Deviled Eggs.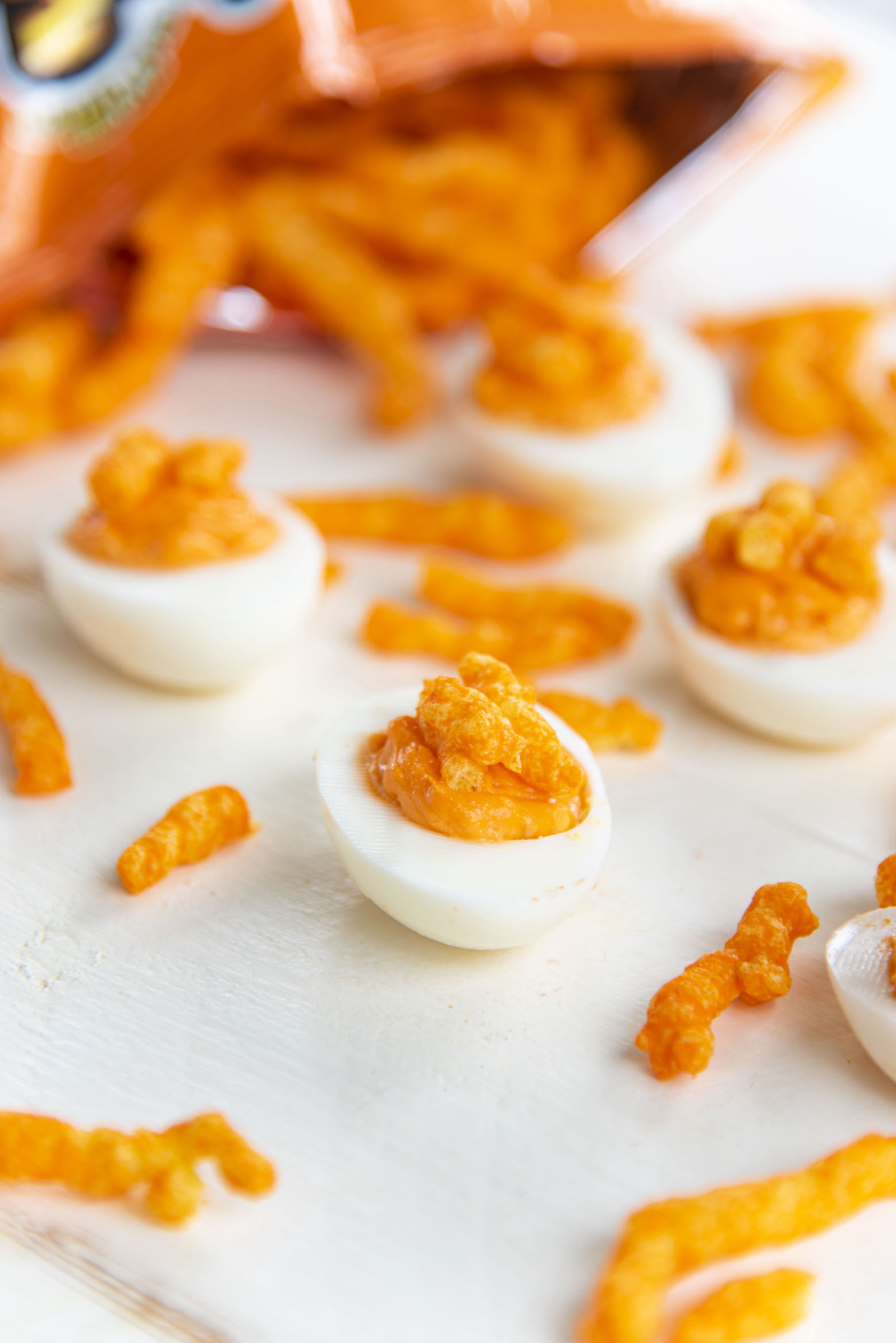 First off can we just appreciate the color on these.
I mean this is orange.
Super orange.
Stop traffic, could be mistaken for a traffic cone orange.
I didn't even use my saturate filter on these photos.
That's the color you are going to get.
So you can guarantee people won't miss them the table.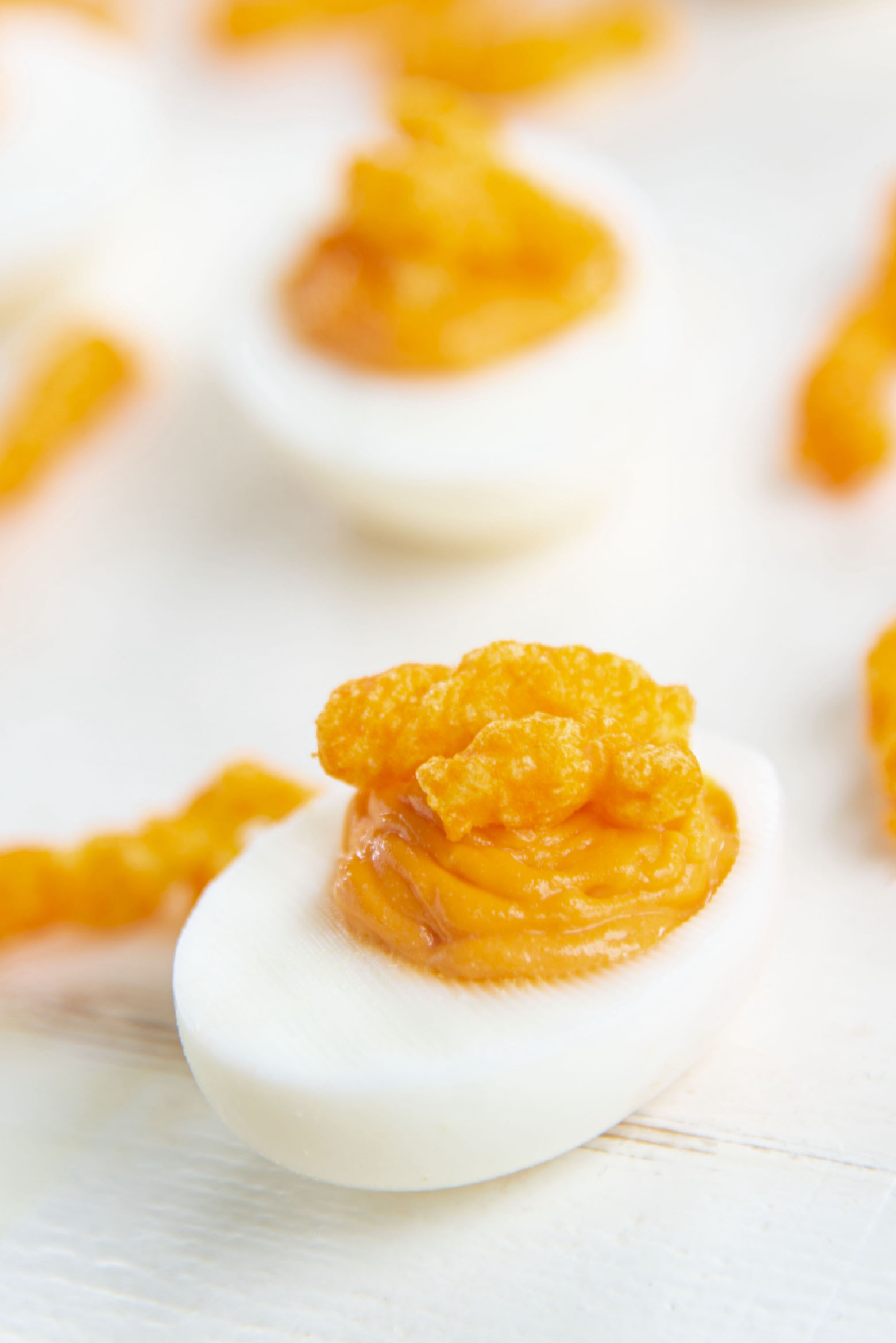 I think if you are a fan of the Flaming Hot Cheetos those could be good as well.
And what an interesting color you will get with those. 😀
But I'm not a fan of the Flaming Hot Cheetos so I stuck with the original.
I did put a little cayenne pepper in there for a hint of heat.
If you don't like heat you can leave it out.
Feel free to add more cayenne pepper if you want more heat.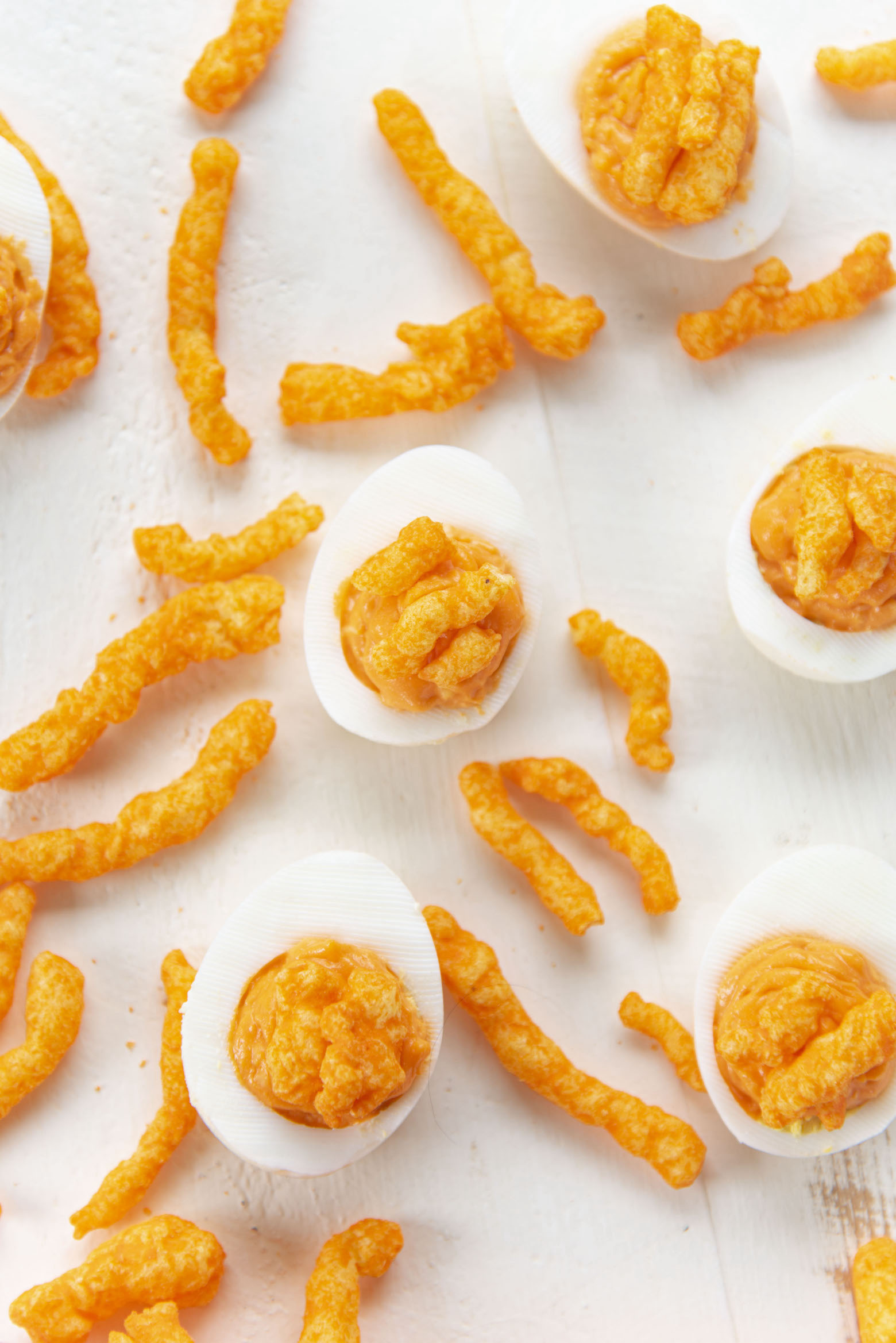 So add this to the list of the many strange ways I make Deviled Eggs. 🙂
That list is certainly growing.
If you are a Cheetos lover these are for you.
And oh yeah, it's a great day to buy my cookbook.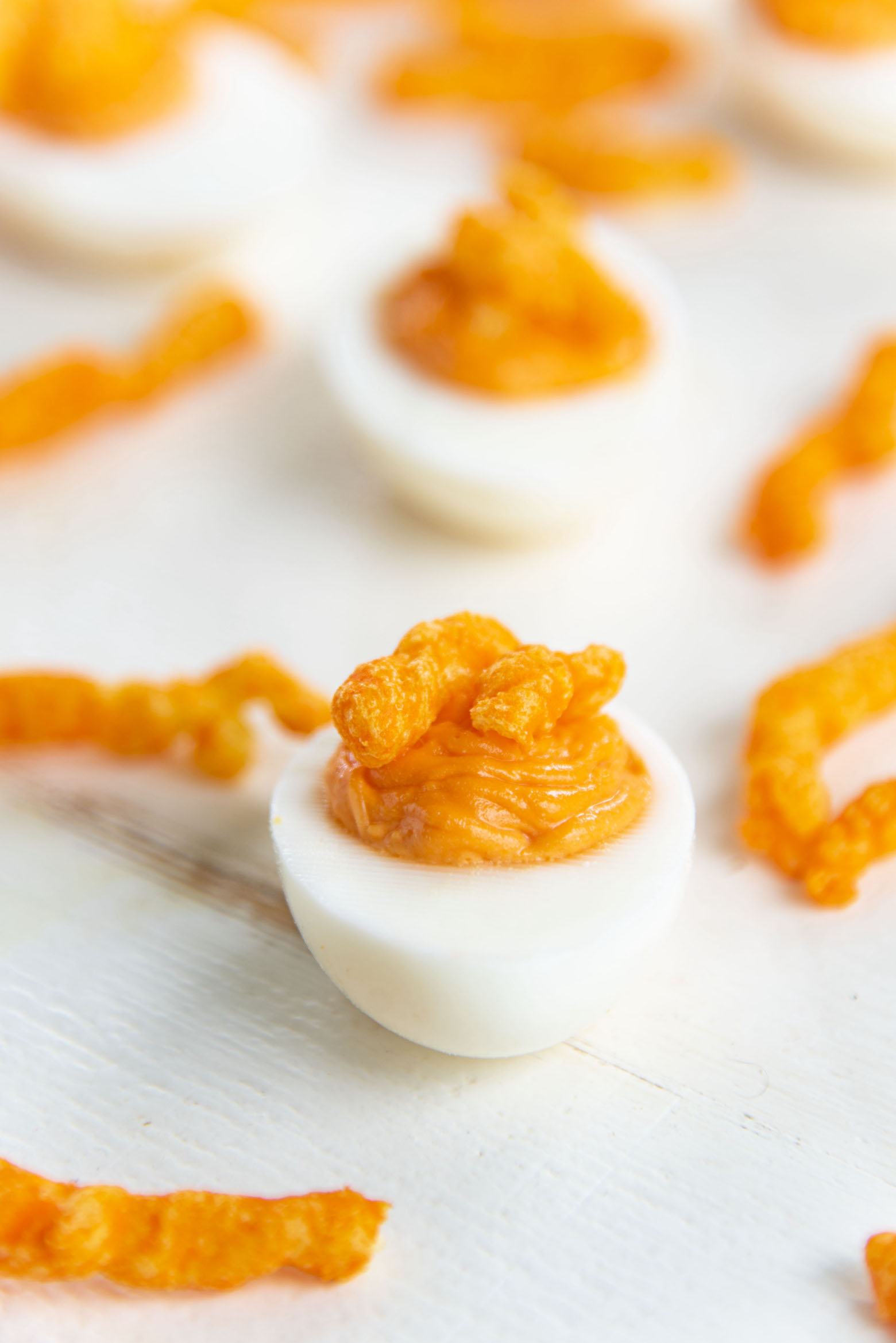 Want More Party Food Ideas?
Caramelized Onion, Bacon, and Gruyere Dip
Honey Mustard Pretzel Deviled Eggs
Bacon Caesar Salad Deviled Eggs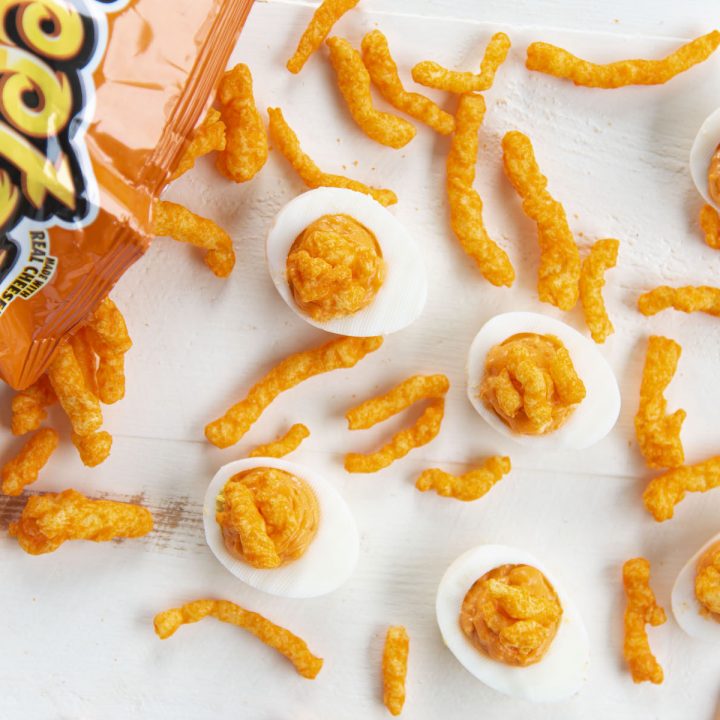 Cheetos Deviled Eggs
Ingredients
12 large eggs, hard boiled
1/2 cup, Mayo (full fat)
1 1/2 packets Cheetos Mac and Cheese Dry Mix (you are not using the pasta)
1/4 cup shredded sharp cheddar cheese
1/4 tsp cayenne pepper
salt to taste
Cheetos to garnish
Instructions
Slice the eggs in half and remove the yolks placing them in a medium sized bowl.
Put the egg white halves off to the side.
Mix together the yolks, mayo, powdered Cheetos cheese mix, shredded cheese, cayenne pepper, and salt.
Mix until creamy.
Pipe or spoon into the egg white halves.
Add Cheetos on top.
If not serving right away don't put the Cheetos on until ready to serve or else they will get soggy.