This French Onion Soup Baked Potato is topped with French Onion Soup Sauce, topped Gruyere cheese, French Onion Dip, and Fried Onions.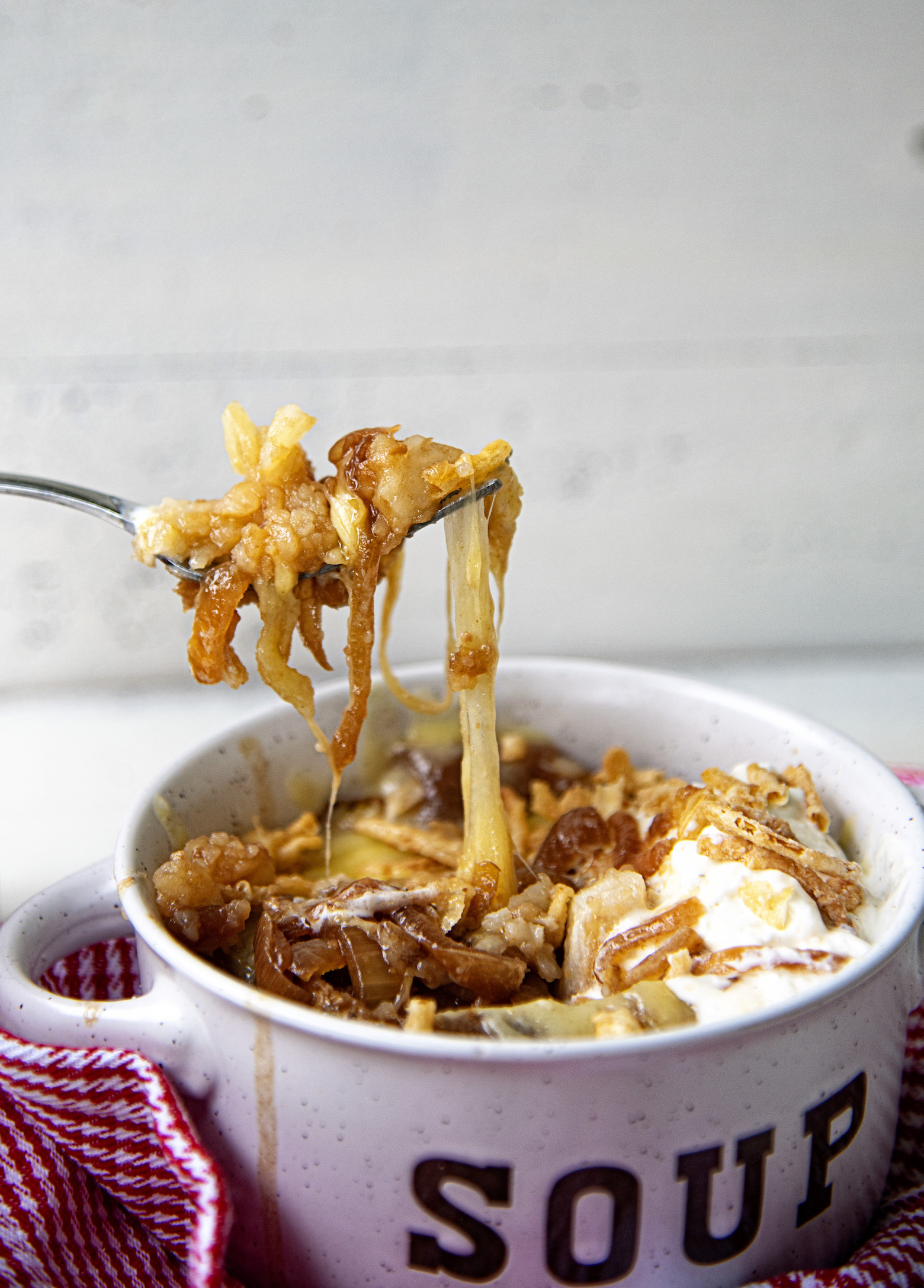 So my husband and I LOVE French Onion Soup.
We love my French Onion Soup Baked Pasta and eat it often.
But wanted to change it up a bit.
I saw a while back that Jessica over at How Sweet Eats had made French Onion Sweet Potatoes and I liked that idea.
But it was just French Onion.
And on sweet potatoes.
My hubby prefers regular potatoes…I like them both.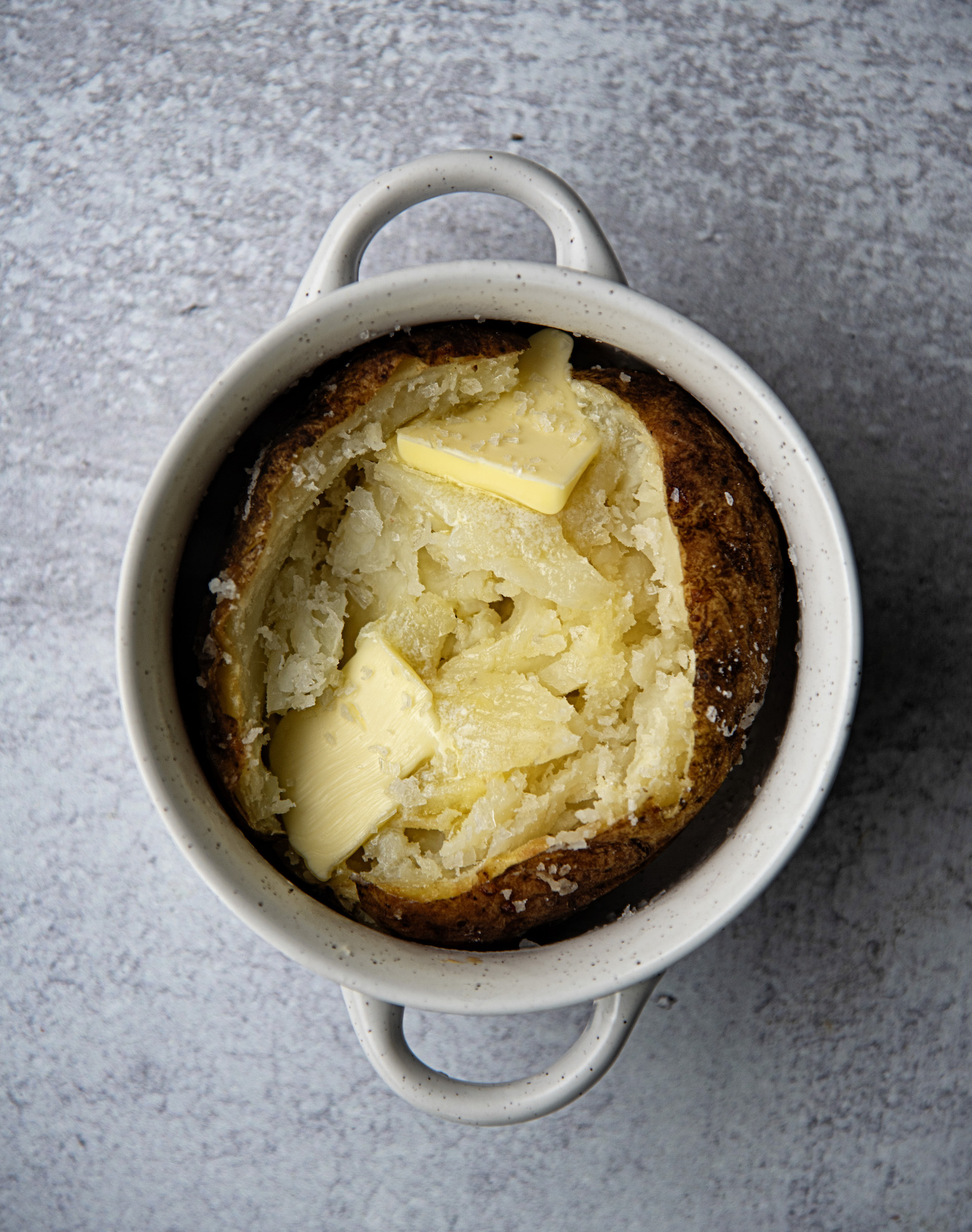 So you start off with two super giant baking potatoes.
We buy ours at Costco.
They come in a smaller bag but they are giant.
And perfect for stuffing.
Bake them off.
Place them in an oven safe soup bowl.
Slice open and put some butter in there.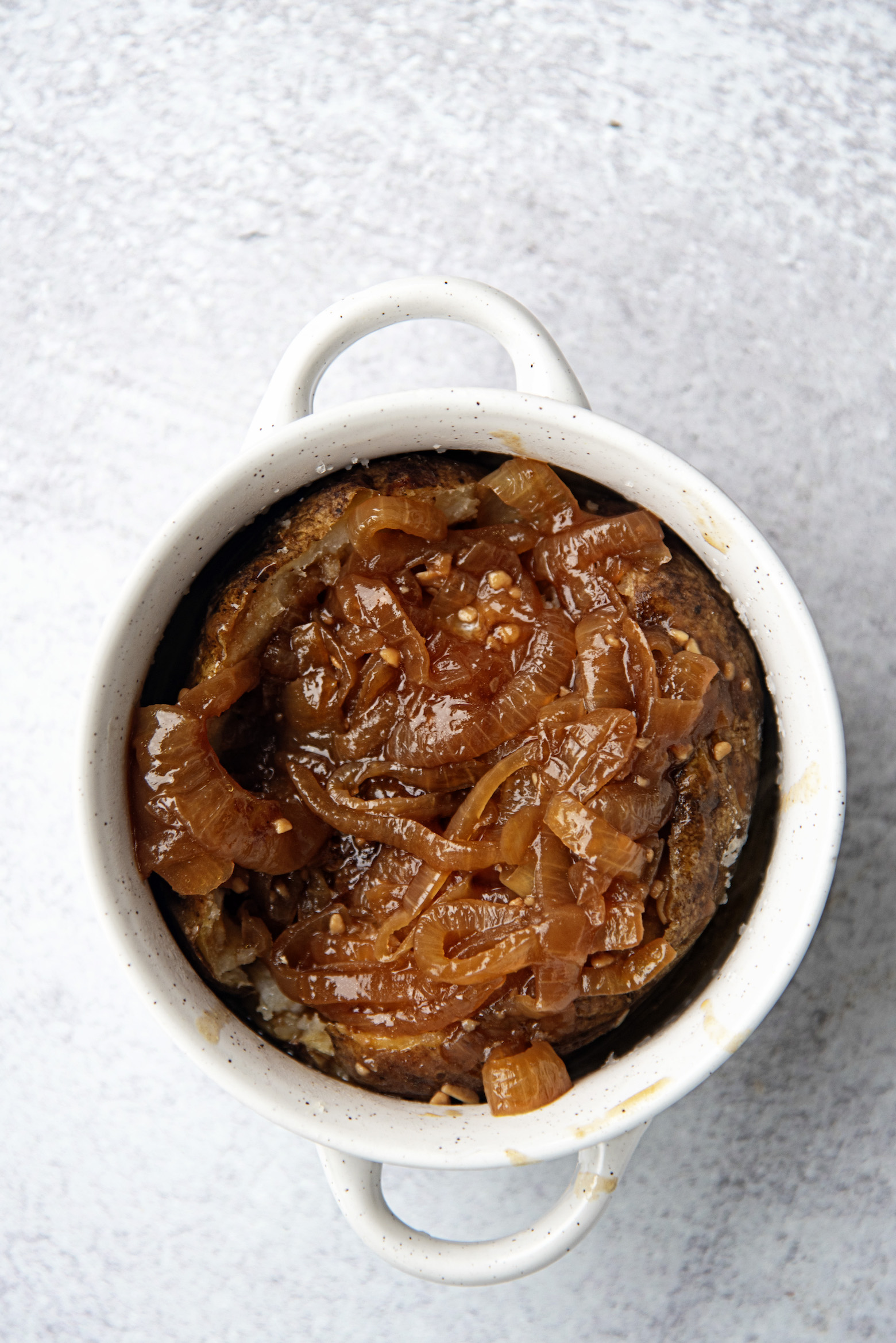 Then top with the French Onion Soup Sauce.
I make mine Vegetarian because well, we are Vegetarian.
The onions will stay on top and the soupy sauce goes down to the bottom.
That's what you want to happen.
And that way you get the French Onion Soup flavor all the way down to the bottom.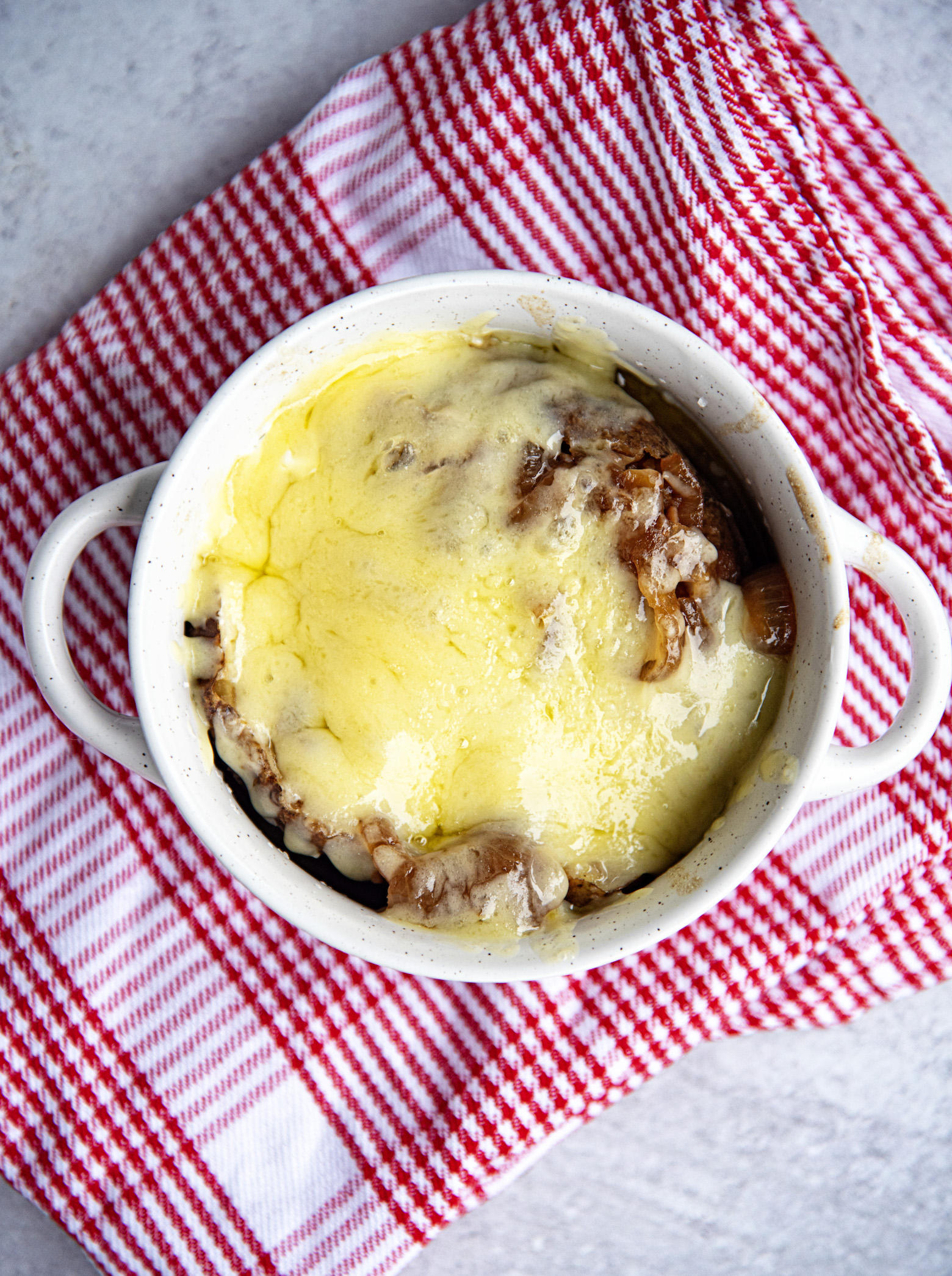 Top with Gruyere cheese and put under the broiler.
I said 1/2 cup in the recipe but really it's whatever amount you want.
No cheese police here.
I'm guessing I put more than 1/2 cup.
But I love me some cheese.
And I wanted a lot of cheese for the photos as well.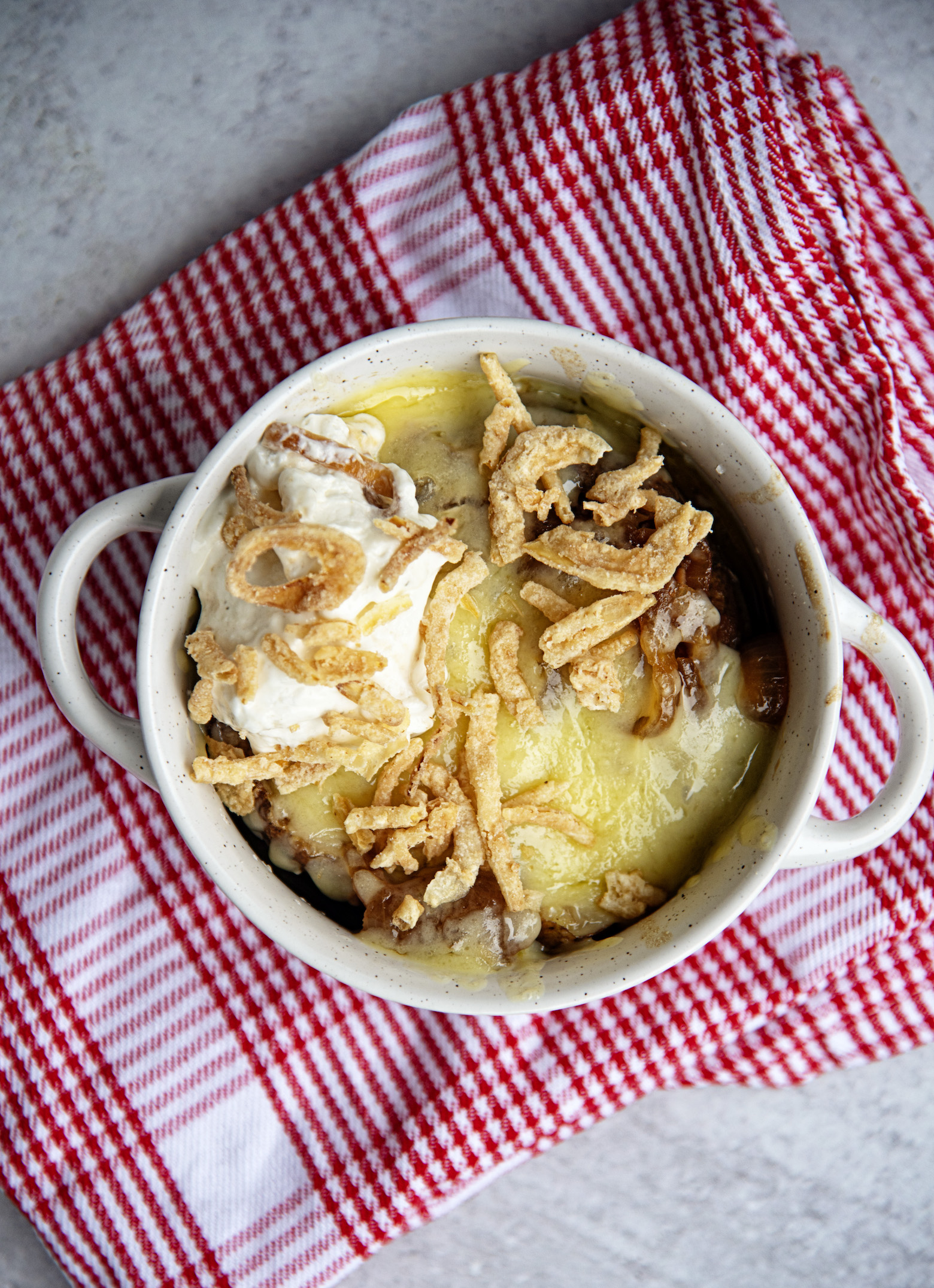 Topped with French Onion Dip.
Our local grocery store's deli makes their own and we use that.
It works great as sour cream.
Instead of bread or bread crumbs I went with French's Crispy Fried Onions….because my husband loves them.
And it's a little more on theme with the meal.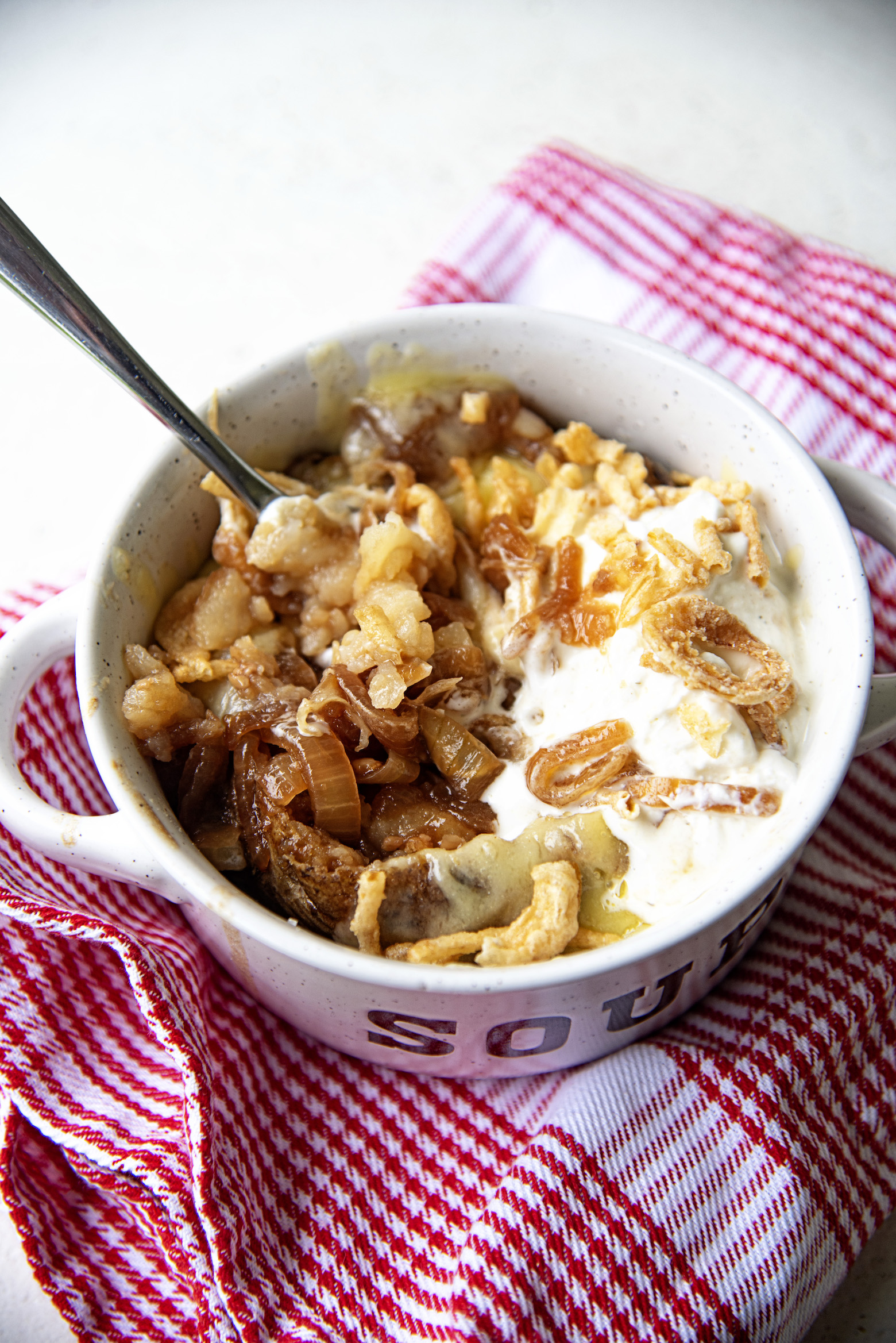 Once everything is on top of the potato you can't really tell there is a potato in there.
But I've tried to style on on a plate…so you can see the potato more and trust me…go with a bowl.
Especially because the sauce will spread out and won't go into the potato how you want it to.
So if you are French Onion Soup lover I would definitely add this to your dinner rotation.
The French Onion Soup Baked Potato recipe is only for two but can easily be doubled.
I ended up making it again the next day because well, we ate it all before I could get photos.
And because hubby was sad there weren't leftovers.
Seriously perfect for a chilly day.
Which we are having right now (December weather in October…go 2020).
P.S. It's a great day to buy my cookbook.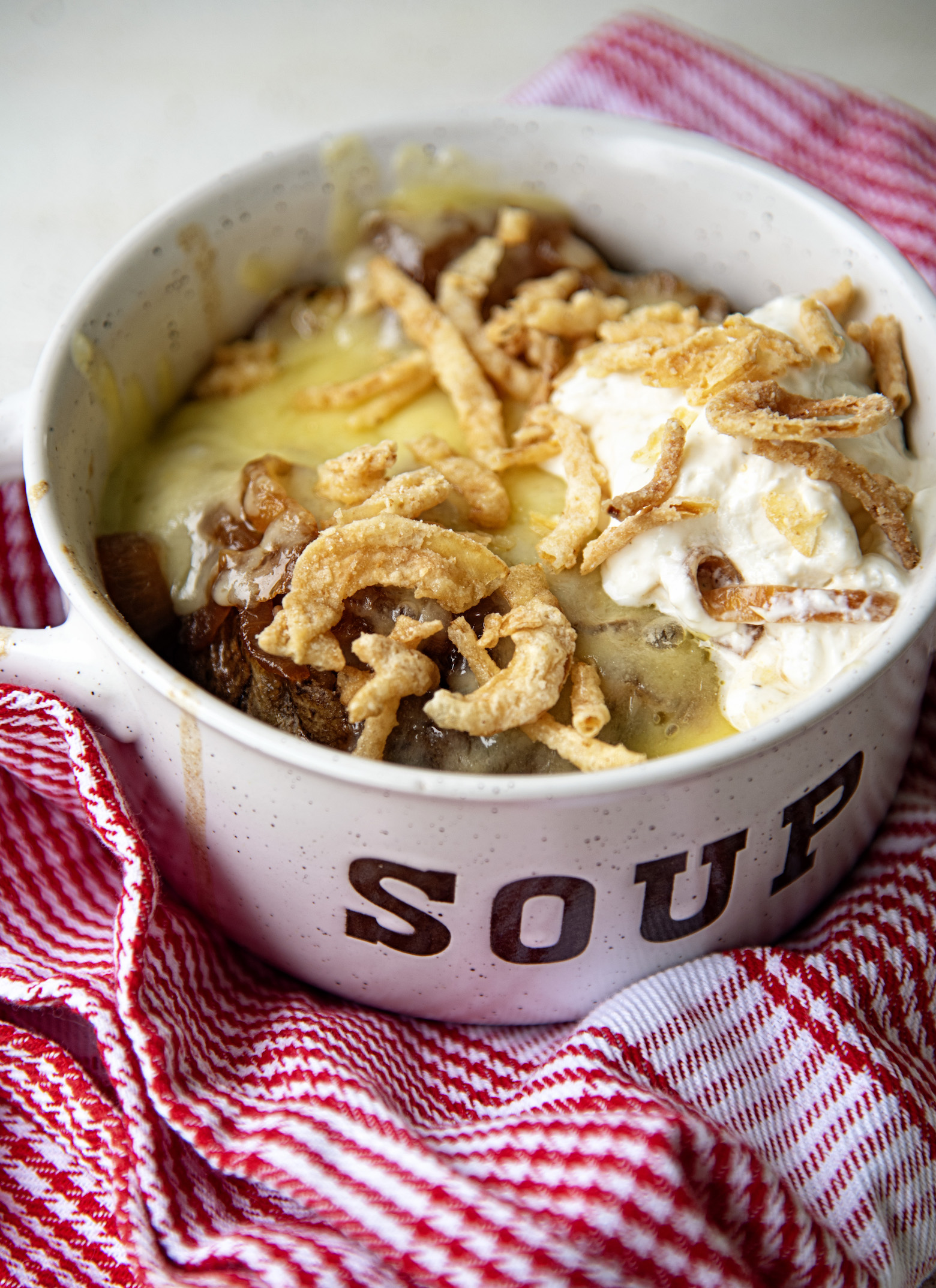 Want More Dinner Ideas?
Easy Baked Spaghetti Casserole
Gouda and Lobster Mac and Cheese
BBQ Pulled Pork Mac and Cheese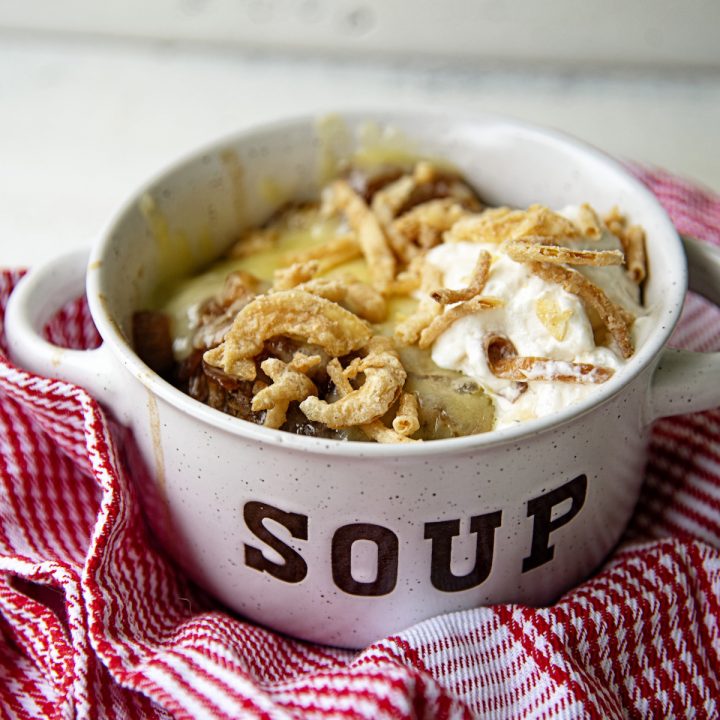 French Onion Soup Baked Potato
Ingredients
For the Potatoes:
2 Super Large Baking Potatoes
2 TBSP olive oil
1 TBSP sea salt
4 TBSP unsalted butter
For the French Onion Soup Sauce:
3 cups sweet onions, sliced
2 TBSP minced fresh garlic
2 TBSP olive oil
12 oz beer (such as PBR) or hard cider
1/4 cup red wine
2 TBSP all-purpose flour
1 sprig fresh thyme
Salt and black pepper to taste
For the Toppings:
1 cup grated Gruyere cheese (or more…I won't judge your cheese consumption)
1/2 cup French Onion Dip
Fried Onions (I used French's)
Instructions
For the Potatoes:
Preheat the oven to 425F.
Wash and dry the potatoes.
Pierce the potato 2-3 times with a fork…really get in there and stab them.
Rub oil all over the potatoes and then sprinkle sea salt on them.
Place them on a baking tray that is covered with parchment paper.
Bake for 45-55 minutes. It honestly depends on how large your potatoes are.
Place each one in an oven safe soup bowl.
Slice open and place 2 TBSP of butter each. Salt and pepper if desired.
For the French Onion Soup Sauce:
Sweat onions and garlic in butter in a large pot over medium heat, covered, for 10 minutes.
Uncover pot, increase heat to medium-high and cook onions until caramelized, adding 1/4 cup of beer at a time until the liquid evaporates.
Continue to add the beer 1/4 cup at a time and cook down until fully caramelized…this can take up to an hour. But it's worth it to get them just right.
Deglaze pot with the red wine and then increase heat to high and simmer until liquids evaporate, stirring often.
Stir in flour and cook 1 minute.
Add the no chicken and no beef prepared broth and thyme; simmer soup 10 minutes, season with salt and pepper, and discard thyme sprig.
Cook down the broth and onion mixture until the majority of the liquid is gone. You want it thick and not runny. Set aside.
To prepare the potatoes:
Divide the sauce among the two potatoes. Placing the sauce on top of the buttered potato.
Place 1/2 cup of Gruyere cheese on top of the French Onion Sauce.
Place under a broiler until cheese has melted and is bubbly.
Remove from oven and top with French Onion Dip (as if it were sour cream) and sprinkle fried onions on top.