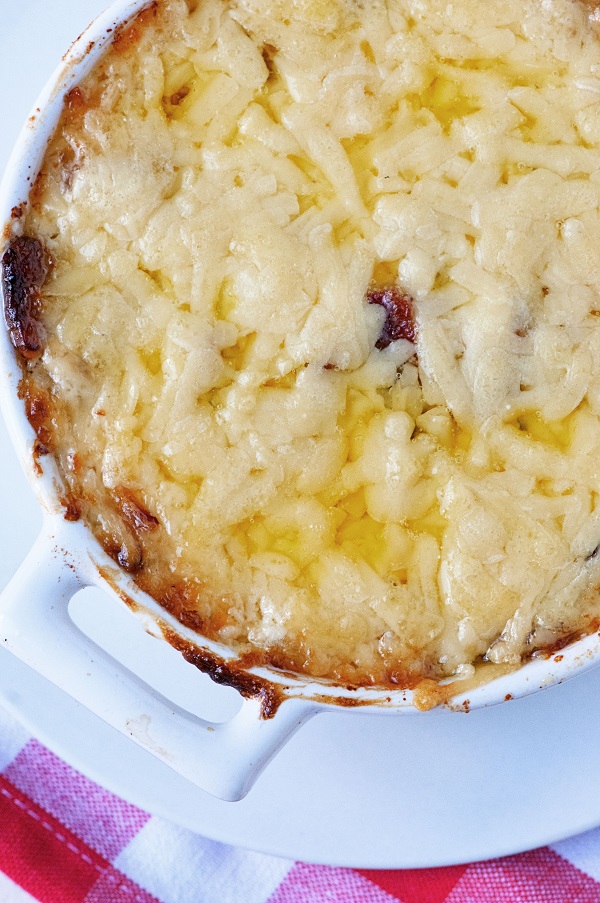 So interestingly enough I "met" Amiee Broussard by seeing her comment once on a food blogging friend post and I saw that she had cavaliers. So I friended her because well, cavalier people are almost like a cult…we love other cavalier owners, and I saw she too was a food blogger. I liked her immediately and not just the fact that she has an addiction to collecting rescue Cavaliers like me. 🙂
Amiee is from the South and makes some traditional and some non-traditional Southern food on her blog, which I love since I often discuss on here that I should have been from the South. So when she asked me if I wanted a copy of her new cookbook Picnics, Potlucks, and Porch Parties I was like YES!
I must say this is one of those times I get jealous of the south. We don't have a ton of picnics in the PNW due to our weather. We do have potlucks. And well I had to look up what a porch party was and now I totally am jealous of those that get to have porch parties. We have to have a porch in order to have one of those…and we do not.
It's a great mix, just like her blog, of some traditional favorites as well as twists. Come summer I'm totally making the Amaretto Slush Punch and Tipsy Peach Tea. I'm curious to try the Marinated Shrimp in Mustard Sauce as I've never heard anything like that and hubs wants the Pimento Cheese Poppers since ever since Nashville he is obsessed with Pimento Cheese. The Apple Cider Brown Butter Honey Kissed Wings sound intriguing. Banana Split French Toast needs to happen. I can go on and on…trust me.
I thought I was going to make a dessert originally before I got the book, but once the hubby and I looked at it (yes, MDP reads cookbooks too) we bother were like ummm, caramelized onion, bacon, and gruyere? Sign us up. I will say that we did change the recipe slightly to meet our dietary needs more…and we added more bacon and cheese because well, bacon and cheese. 😀
The book will be available first through QVC (how cool is that), she will be on May 18th 7-9 CST and then a week after that you can get it through the usual suspects of Amazon, Barnes and Noble, etc. You can also win a copy of it for yourself as well as a Le Creuset 2.1 qt round casserole (it matches the book!), a $50 Visa gift card, and a Hand illustrated Picnic shopper tote designed by KoriClarkDesigns.com exclusively for Picnics, Potlucks & Porch Parties (perfect for bringing home your groceries in style!) Don't miss your chance to get in on that. The more people you follow the more entries you get!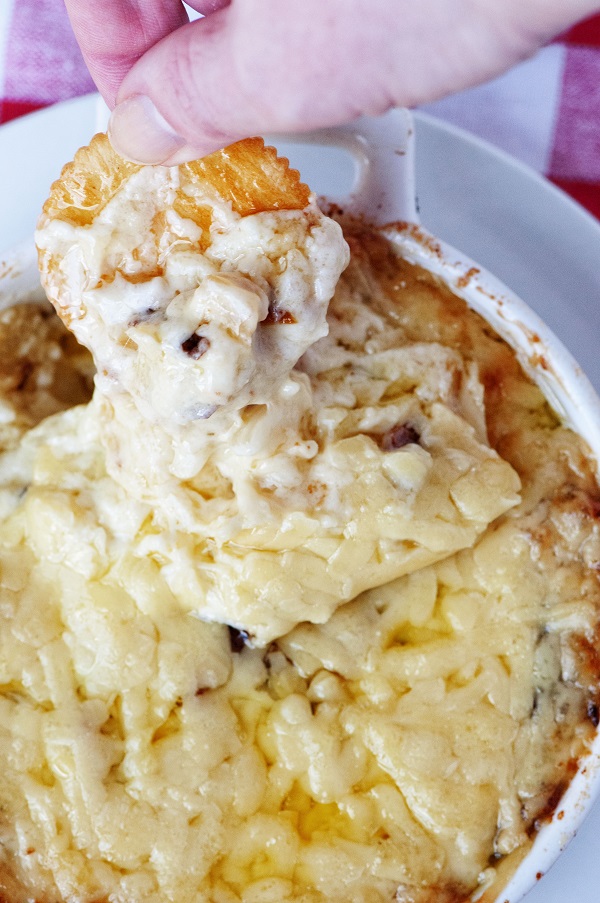 Caramelized Onion, Bacon, and Gruyere Dip
2 TBSP olive oil
3 ½ cups chopped onion (we used Vidalia)
1 TBSP butter
1/2 cup mayo
1/3 cup sour cream
5 bacon slices, cooked and crumbled
¼ tsp. salt
¼ tsp. black pepper
3 oz. Gruyere cheese, shredded, plus more for sprinkling on top
Pour olive oil into a medium pan.
Add onions.
Cook on low for 20 minutes, and then stir in the butter.
Continue to cook for another 45-60 minutes, stirring occasionally so they don't burn.
Preheat oven to 425F.
In a medium bowl, combine the mayo, sour cream, bacon, salt, and pepper until well combined.
Stir in shredded Gruyere and caramelized onions.
Place in a 1-quart baking dish, sprinkle extra cheese on top.
Bake for 20 minutes or until bubbly.
Serve with warm with crackers or crostini.
Adapted from Picnics, Potlucks, and Porch Parties by Aimee Broussard